Landcare was adopted in Bangladesh in 2012 to address the pressing issues of rural poverty: livelihoods, environmental degradation and declining agricultural productivity. The adoption of Landcare in Bangladesh was inspired by a visit to Landcare Lanka (Sri Lanka) in 2011 and then training provided by Kamy Melvani in Bangladesh in February 2012. The ongoing support of Australian Landcare organisations has also been gratefully received.
Landcare Bangladesh
was officially launched in Dhaka in July 2013.
Since we adopted a Landcare approach so many successful case studies are showing the great potential that Landcare can provide for the development of rural Bangladesh. These advances include increased food security, creating small-scale entrepreneurship and fostering community partnerships which are showing they can help to lift many people out of poverty.
Since Landcare commenced people are doing amazing things to help themselves!! We want to make a short documentary film about these wonderful changes that ordinary people can make to their lives, so we can tell everyone in Bangladesh about the power of Landcare. With your help we can start a quiet (loud!) revolution in rural Bangladesh.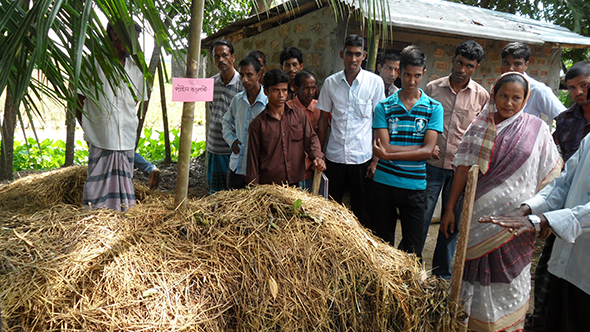 Above: Farmer to farmer learning is part of the Landcare approach.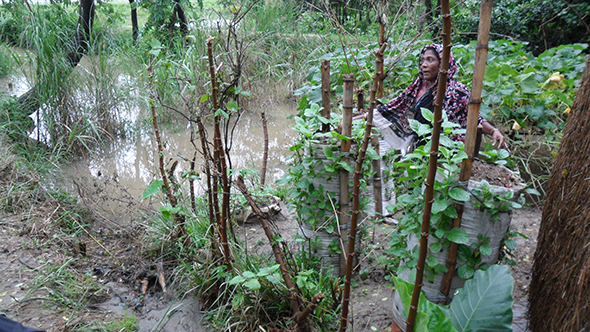 Above: Women are benefitting enormously from the home garden transition being promoted by Landcare.
Over 185 households in the Sylhet region are now participating in the Landcare program as model farms.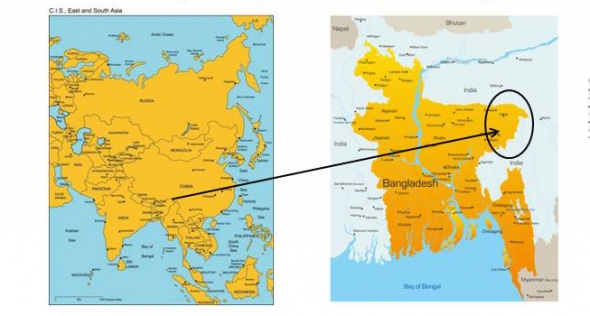 Above: Location map of Sylhet region Bangladesh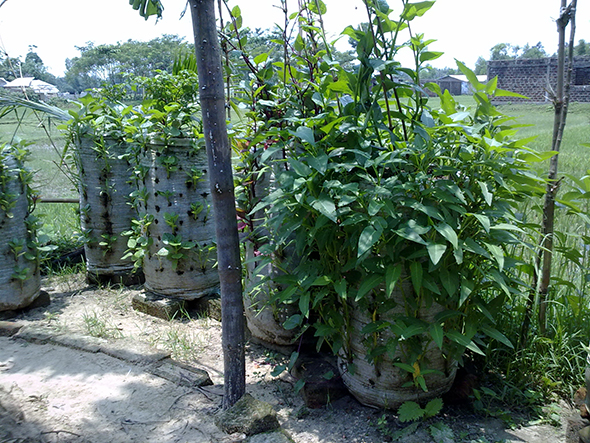 Above: Innovative use of tiny areas of land with
sack gardening technology
for food production
The project aims to show-case these case studies by developing a promotional short-film that is expected to increase the awareness and the capacity of very poor rural people to take action against poverty and gain confidence for their future. The training documentary will show how farmers (particularly women) can optimize land use efficiency, diversify enterprises, cope with climate change, value add to production and most importantly increase crop diversity and productivity with limited resources.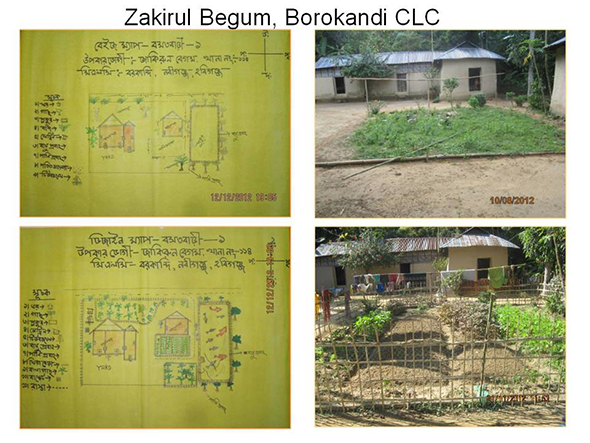 Above: The home garden transformation starts with a simple plan and a management plan.
The results speak for them selves!!
The main target is to produce a documentary film to attract more people at home and abroad to understand the opportunity that Landcare offers, particularly for developing countries. With the goal of short, medium and long term strategies we believe that it is possible to make significant change at the individual farm level to a whole community level in the developing country like Bangladesh.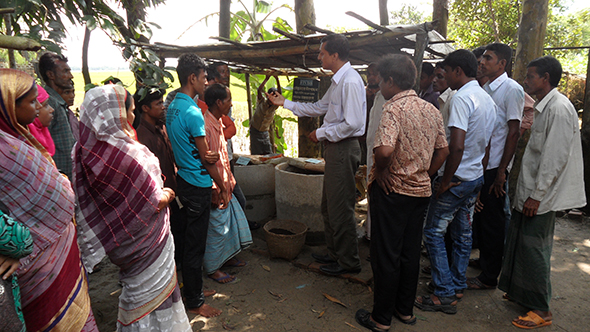 Above: Farmer to farmer learning is an effective way to make technology real.
We believe that the video would be an example for poverty elimination and will prove that poverty is more than due to a lack of resources - it is also a lack of opportunities.
If the project achieves this amount we will be able prepare the video. The filming would be conducted in the North-eastern part of Bangladesh.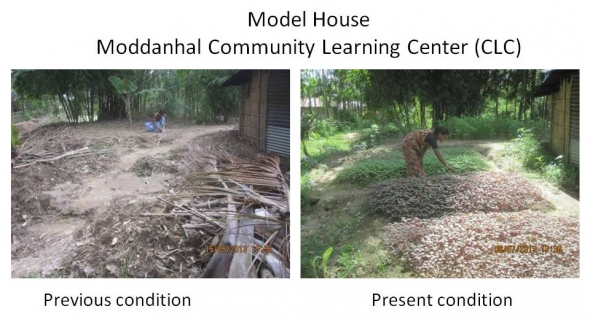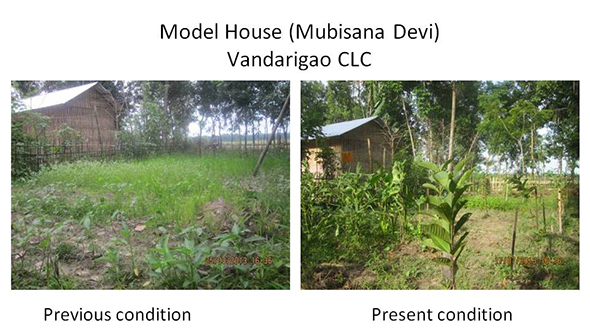 Background to the Sylhet (North-east) region
Friends in Village Development Bangladesh (FIDVB) - at a glance
If the project achieves this amount we will be able prepare the video. The video recording will be filmed in the North-eastern region of Bangladesh. The aim is to improve livelihoods and opportunity for people who live in rural Bangladesh. Landcare is proving to be a very efficient way to help people to help themselves. It works.
While many rural people in Bangladesh migrate to Dhaka, or overseas, in search of work, the farmers and rural communities that stay behind are some of the poorest farming communities in the world.
Bangladesh is a flood-prone delta with thousands of
haors
(basins that frequently flood and are prone to water logging) in the North-eastern corner.
Rainfall in the Indian Megahalaya hills has been increasing in recent years compared to the previous 30 years. The
haor
is a single crop area and a huge area of crop can be damaged each year due to early flash flooding.
These areas produce one-fifth of total
boro
(winter) rice of the country. The
Haor i
s a poverty stricken region with 37 % of households falling into the extreme poverty group (monthly income £17), with 47 % of the population reporting they are moderately to totally dependent on the haor for their livelihoods. The whole area, apart from the homesteads, remains under flood water for about 7 months of the year.
The farmers of this locality have little land for production. The ecosystem of this area is unique compared to other parts of the country. So, our intention is to highlight the best practices and innovations that Landcare has adopted in these areas that will be useful to the other parts of the country and abroad as well.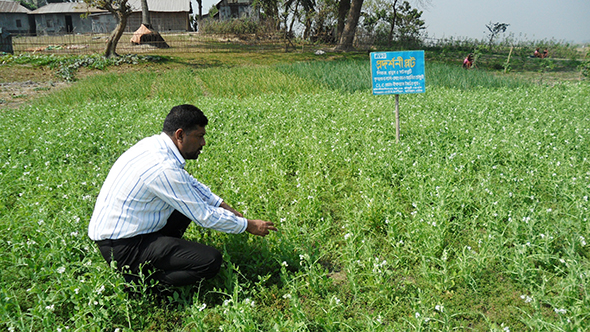 Landcare technologies that are working
Integrated Rice –Duck Farming:
The integrated rice-duck system has been practiced in some East Asian countries for many years. In 2000 it was introduced into Bangladesh for the first time by FIVDB, Bangladesh Rice Research Institite (BRRI) and Bangladesh Development Society (BDS). In Japan, this method is popularly known as 'Aigamo- rice cultivation'. The simultaneous raising of ducks with rice cultivation aids in the control of weeds and insects, thus helping eliminate the application of pesticides. The integration of rice cultivation with crossbred duck farming-also known as mixed farming-enables the poor farmers to obtain not only rice, as the main crop, but also subsidiary products (duck meat and eggs), from the same piece of land at the same time. Besides, the faeces/droppings of the ducks provides almost all the essential nutrients to the rice crops.
The yield of rice is, on average, 20% higher in the rice-duck system than the traditional rice system (sole rice), thereby ensuring about 50% higher net return and rice-provisioning ability.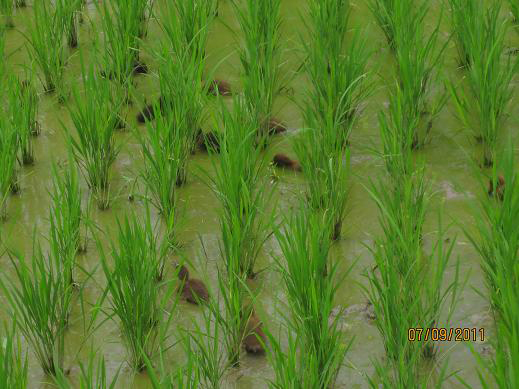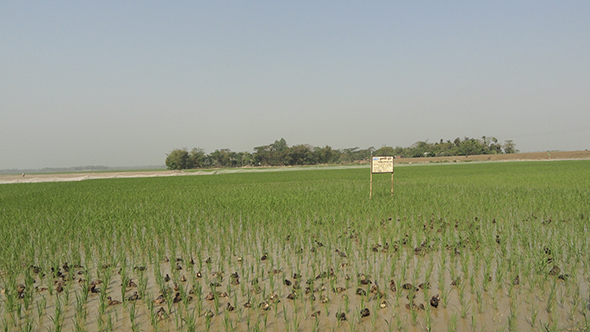 Above and below: Rice and ducks are a great innovation for improved productivity and income.

Vegetable production in a sack: see also New Agriculturist: Organic sack gardening in Bangladesh


In 2010, the 'garden-in-a-sack' technology was introduced in Sylhet division by FIVDB. Sack gardening does not require much space and vegetables can be grown according to demand and taste. The bags are also easy to move, which is important for families living on 'char' lands (flood prone areas) and riverbanks, who are often forced to move as villages are inundated. Sack gardening has also empowered women, who most often organise and take care of the gardens. Women are able to contribute to the economic stability of their families through increased income and make sure that their children consume nutritious food. FIVDB is working towards expanding the technology into other areas of Bangladesh, including slum areas in cities, rooftops and vacant spaces and in schools, to encourage children to become learn more about agriculture.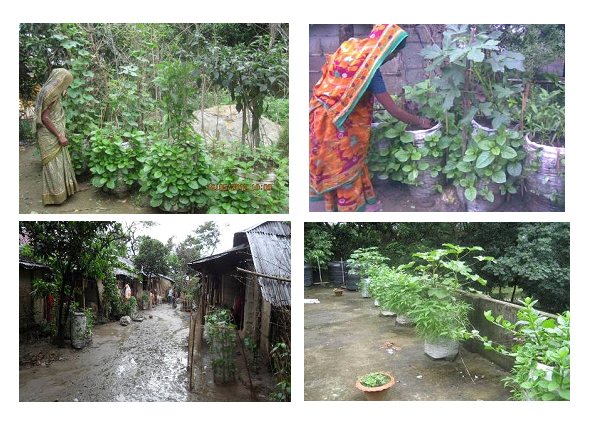 Above: Sack technology making the most of every inch of available space.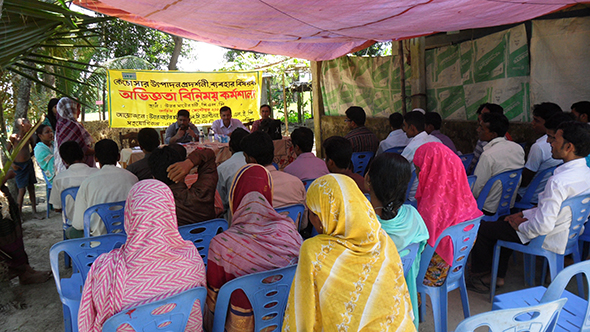 Above: Farmer to farmer training is a key to Landcare's success.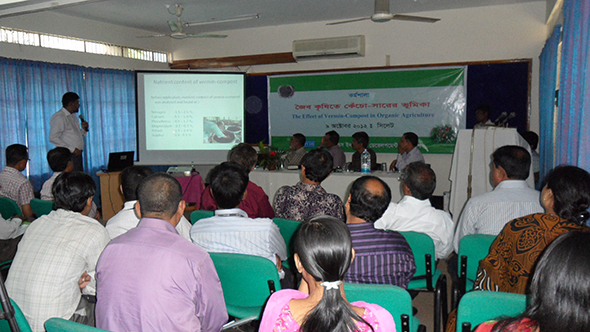 Above: Facilitator training - helping to build the Landcare team
Alecha Begum - a woman's story
In 2010 Alecha Begum became connected with the Community Learning Center (CLC) of Friends In Village Development Bangladesh (FIVDB) and received 2 days training on homestead vegetable gardening. From there she could learn about the organic manure & organic pesticides and importance organic farming. After this she started to grow vegetables in the homestead systematically and could grow crop organically successfully without buying fertilizer & pesticide from the market. Over the next four years Alecha has become a leader and inspiration to other rural men, women and young people.
Today she encourages the unemployed youth to work in this land. She likes to see the smiling face of all the people of her locality. Alecha wants to live as an ideal lady among all people.
Read the story of Alecha Begum's story on the
Secretariat for International Landcare's Bangladesh page.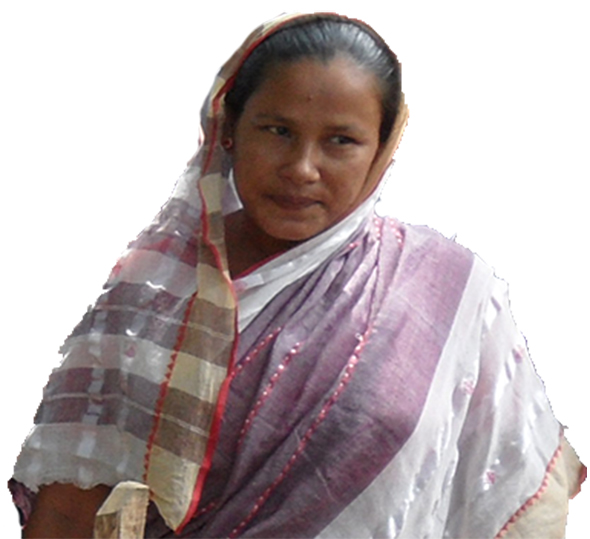 Some of our other work
Friends in Village Development Bangladesh (FIDVB) - at a glance:

Friends in Village Development Bangladesh (FIVDB), a national non-governmental organization founded in 1979 under the registration of Ministry of Social Affairs, Bangladesh and NGO Affairs Bauru, Bangladesh.
FIVDB is implementing programs for the socio-economic development of the disadvantaged sections of the population.
It started its work in the North-Eastern Sylhet Division and over time has expanded its coverage in other parts namely Dhaka, Chittagong and Rangpur Divisions. At present, FIVDB is focuses in livelihood enhancement, agriculture, health, adult and lifelong learning, primary education and financial services programs. The recent strategic assessment has identified FIVDB's comparative edge in agriculture, health, education, livelihood and community mobilization.
FIVDB has extensive experience in implementing livelihood, food security, child and maternal health care and disaster risk reduction and management. FIVDB has successfully implemented ACCESS and presently implementing Ma-Moni combining safe motherhood, newborn care and promotion of family planning activities with the support Save the Children USA and USAID. FIVDB has implemented disaster risk reduction and response programme with the support of Oxfam GB, Christian Aid UK, Save the Children UK, CARE Bangladesh, UNICEF and UNDP.
FIVDB has developed a close working relationship with Bangladesh Rice Research Institute (BRRI), Bangladesh Agricultural Research Institute (BARI), Bangladesh Agriculture University, Bangladesh Livestock Research Institute (BLRI), Soil Resources and Development Institute (SRDI) and other research bodies, which enables it to access the latest research knowledge, collaborative research and promote products derived from such research, suitable for the different areas of the country.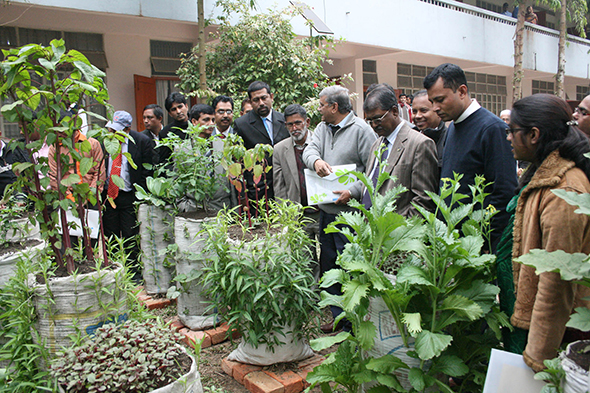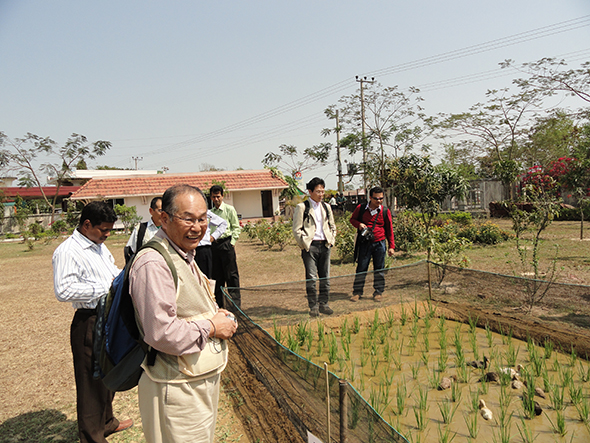 How The Funds Will Be Used
The funds will be used to employ Agri Vision Consultants Ltd to produce a 15-20 minute documentary. The filming would be over 6 days in the Sylhet Region of Bangladesh. The price includes research and script development through to editing the finished product. The audio would be in Bengali with English subtitles.

You may think the price is cheap to make a video, but in Bangladesh a dollar goes about 10 times further than in the west.
This budget will allow for the production of a fine film using all local actors!

It is always difficult to show-case the benefits of Landcare in a paper-based format, and more challenging if people cannot read well. BUT it is possible to show the best practices as a film that can reflect how small-scale farmers can improve their livelihood and productivity within their limited resources. Farmers will be the key 'actors' in this film, and they will be the key educators too.

The Challenges
The challenges for the project are few. We have the case studies, the actors and the film maker. The risk is that we go over budget. This means that FIVDB and the Project Manager (Tanveer) must carefully research and script the film prior to filming to ensure we capture all the key field sites and interview all the key people within the project film period of 6 days. Picking the best time for filming will be weather dependent so we must choose a time when we are sure that it will not be a monsoon!!