WOW! We made it! We reached the goal last night with still two days to go! I nearly did do a skip around the house, I was so excited : ) It's time to get this project to the printers I think. I'll continue to keep you updated and if you would still like to make a pledge then by all means, go right ahead!
Thank you, thank you, thank you to each and everyone of you, your pledges have made this happen xo
____________________________________
Welcome to Honey & Gold, where Faith & design meet. I have designed faith based wall prints you would actually put up in your home & memory verses that you don't mind having on your bathroom mirror. The only problem...they need to get printed!
As a graphic designer, I love beautiful things. I also believe in Jesus and scripture. This idea of designing my own wall prints has been brewing for a while. Then earlier this year, one of my sisters took her own life, and I knew that I could no longer put this off. Life is short and we are all here for a reason. I'm wondering if this is mine…
Essentially I want you to have God's word in your home. In front of you. To inspire. To remind. To re-focus. To speak truth over you. To be there in the trenches. To lift your eyes.
I know life gets messy, we all have issues, and also as a mum of three kids, I need these reminders every. single. day.
There is nothing like this on the market at the moment…unless you shop at Copperart! And I know I am not the only one who believes in Jesus and good design. :)
Thank you for your support of this project. I would normally just do this kind of stuff on my own. But we need each other don't we? So I'm going for this dream and hope you'll come along for the ride!
(if you are viewing on a mobile device, please check the present logo above for pledge & reward options.)
Follow the journey and get updates on
Facebook
&
website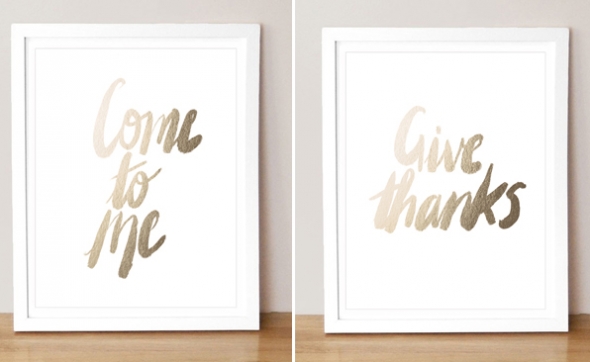 Some Of My Previous Work
I have owned and operated my own freelance graphic design studio and stationery shop for the past five years.
You can see that work here -
www.polkadotprints.com.au
Alongside some awesome clients in the media and not for profit sectors, I have had my designs featured in a number of national magazines such as Shop 4 Kids, Little One Baby, Donna Hay Kids, Peekaboo & Tickle the Imagination.
I have had my lifestyle DIY & event styling work appear on popular event & lifestyle blogs in the USA such as 'Design Mom', 'Hostess with the Mostess', 'Babble' & more, as well as collaborating on projects with other creatives both local and overseas.
I have gathered a solid following on Facebook and more recently Instagram. As well as a wide circle of friends and acquaintances, I am confident I have a strong network to make this campaign & these wall art prints a success.
How The Funds Will Be Used
Basically, for printing. I will be printing 6 different designs to start with, and I would like these wall prints printed with true foil (not just metallic ink). This is kind of pricey, but I know it will give the best and most contemporary result. "Gold is so hot right now!" (said in my best Zoolander voice) : )
I would also love to have a booth and sell these prints at Easterfest in 2015.
So if we go over-target, I would either put the money toward printing more prints, or to the dream of getting this product in front of the thousands that attend Easterfest.
I would very likely skip around the house if that happens!