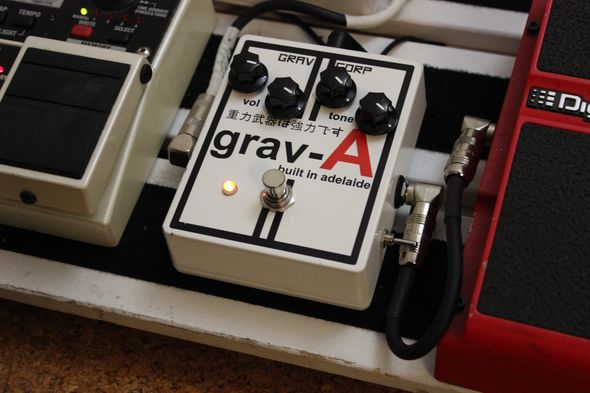 I've been a guitarist for years. Over time I tried different amps, different guitars, different effects, all to develop my own sound. When that wasn't enough anymore, I hit the workshop, modifying my guitars and pedals, tweaking and upgrading to get the ultimate tone.
This led me to strike out on my own, and I began to design my own pedals. I wanted a pedal that wasn't just one vintage sound in a box plus a tone knob. I wanted something more, so I built it from the ground up. That pedal became the Grav-A. It sounds like this: Over the past year, I've experimented, tweaked, and revised the Grav-A's design until I got something I liked. But I knew that if I wanted to share this with the world, that wasn't enough. So I took my pedal out into the real world, playing it live on stage, sharing it with guitarists, bassists, and plugging it into just about every amp I could. This process allowed me to refine the pedal into what it is today.
After over a year's constant development, the Grav-A is a musical powerhouse, going from smooth singing blues tones right up to crushing wall-of-sound distortion. Every Grav-A is handcrafted with meticulous attention to detail, to deliver the best possible tone and bulletproof build quality. I wanted to be able to deliver a pedal to the masses, built right here in Adelaide, to give something back to the great music scene here that had given so much to me over the years.
Thanks for checking out the Grav-A!
Some Of My Previous Work
I've been playing guitar since I was 13, and been doing electronics in my dad's shed since as far back as I can remember. I also hold a degree in Mechanical and Aerospace Engineering from the University of Adelaide, so I'm no stranger to design for manufacture and the processes that go into taking a product from prototype to actual production.
How The Funds Will Be Used
This has been a great journey for me over the past year, and now this is where you come in! To bring it to the masses, I've launched this crowdfunding campaign to put the Grav-A in your hands. We're looking to raise money to fund the first production run of the Grav-A, and in doing so, allow you to get a piece of a truly original guitar pedal, homegrown in Adelaide.

A lot of people out there have been saying for years that your average guitar pedal is "$10 worth of parts in a box" and not worth the money. And, as a guitarist, I really wish that were true. It was those people that inspired me to build my own pedals in the first place - and I very quickly realised the real costs. To spec these pedals out with high-quality parts that can withstand the rigors of the studio, gigging, and touring, isn't cheap. Our enclosures alone can cost upwards of $25 each even with quantity discounts, and that's before taking into account things like pots, switches, and so on. We want to build something of quality that will proudly stand on your pedalboard for years!

If we reach our funding goal, this will help us not only to get the Grav-A out to see the light of day, but also help support us as we bring even more unique and original effects into the world. To get a pedal that looks great and sounds even better has been a long road for us, but we've made it this far, and we're really excited to have the opportunity to bring this pedal to you. Help us out by taking part in this project! Thanks for checking out the Grav-A!


The Challenges
We're launching this pedal project on Pozible as an advance order/funding mechanism for our first production run of this product. We're really keen about crowdfunding as it allows us to bring our pedals directly to our customers - if you want it, you can fund it!

Pozible gives us transparency; there's no secretive hype or waiting lists - anyone interested in supporting this project or getting a pedal can see exactly what's happening with the project, and supporters don't lose any money if we don't reach our funding goal. We really like this model, as it allows us to be in direct communication with our supporters!

With any product launch, there are some risks: illness, conflicts, supplier delays and parts shortages can cause delays. From day one through our prototyping phase, we have made strong links with our suppliers, who are ready to follow us as we take the Grav-A to the masses. In addition, we have backup suppliers ready if unexpected shortages do occur. With our experience and the measures we've taken, we'll make sure these pedals get to you.

We don't intend to sit idle once our goal is reached while we await payment - our current cash reserves allow us to begin sourcing many of the materials we need to be able to complete this run of pedals once we are confident our goal will be reached!