UPDATE: Looking for Blood Moon Tonic? Our Traditional Tonic Syrup is now available via www.bloodmoontonic.com :)
___________________________________________________________________________________________________

Imagine a gin & tonic that blends the delicate botanicals of gin with a complex, yet completely subtle array of flavours that takes your drink to a whole other level. One that resurrects recipes and rituals of centuries past, and reworks them with care, respect, and love.

The tonic water that most of us are familiar with is often made with artificial flavours and synthesised quinine, and quite frankly, it just doesn't taste very nice.

I'm Karolina, and I've spent countless hours experimenting with various ingredients and techniques, from the traditional to the unusual, hand-grinding spices and brewing up batch after batch of tonic syrup on the quest to make an artisan tonic that tastes amazing, and doesn't overwhelm gin.

The result is Blood Moon.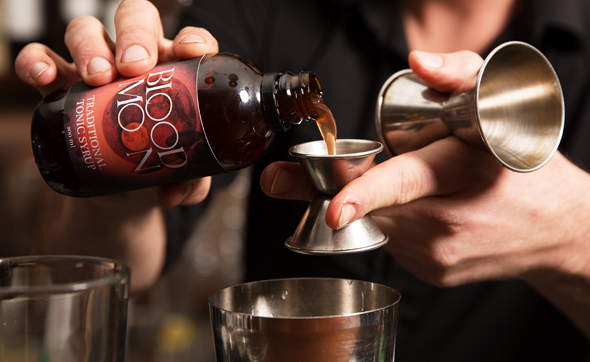 Blood Moon tonic syrup is a non-alcoholic concentrated syrup, designed to be diluted with soda water (or still water if you prefer). It is built around a core ingredient of cinchona bark, which was originally used to combat malaria in the 17th century, and is a natural source of quinine, the substance which gives tonic its bitterness.

The amazing thing about this syrup is it's so much more versatile than regular tonic water. It's flavour is subtly richer and more complex, so it works really well with many other spirits, including tequila, whiskey, and gin, and, because it's a concentrated syrup, you can use it in cocktails in a similar way to how you'd use bitters.

I've gotten a lot of great feedback from people I've given samples to, including a few people who didn't usually even like tonic, but were won over by the flavours of Blood Moon. One person told me it was like "...the difference between a single-origin cold-drip coffee, and instant..."

I know I've got something really good here, and I'd love for you to be one of the first ever people to taste what is Australia's first cinchona tonic syrup.

Through this Pozible campaign, I'm launching my first 3 tonics syrups:

Traditional Tonic Syrup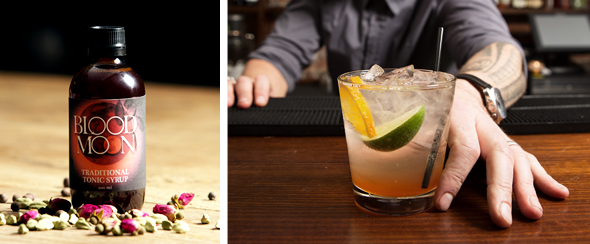 This is the classic. Based on a centuries old recipe, the Traditional Cinchona Tonic Syrup uses real cinchona bark, citrus, herbs, spices, and a little floral touch to create an intriguing syrup that lifts your gin & tonic.
Australian Native Tonic Syrup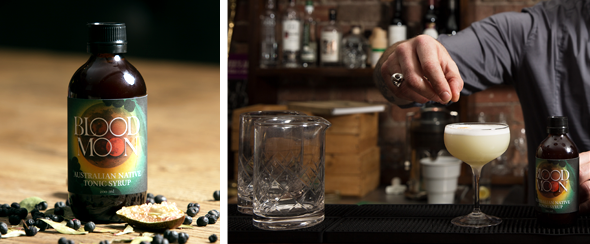 i've taken the Traditional Cinchona blend and reworked it with Australian native fruits, seeds, and leaves. It still works brilliantly in the same way you'd use the traditional blend, and it works especially well with local Australian gins.
Unsweetened Tonic Syrup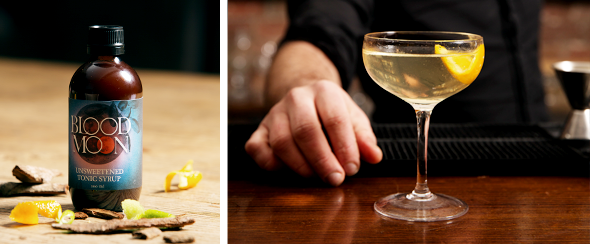 This is the Traditional Tonic Syrup with no sweetener whatsoever. Seriously. No sugar, no artificial sweetener, it's just not sweetened. So if you just don't like your drinks a bit more savoury, give this a try. That's a gin and tonic martini up there, which is just one idea of what you can do with it. And if you're quitting sugar, this is definitely the drink for you. You can leave it dry, or if you prefer, add a sweetener you know works for you. So far we've tested it with stevia and rice malt-syrup, and both of them taste awesome. Just remember to stir...
Get in touch
If you'd like to keep an eye on our progress, and find out more about the tonic syrup, you can find Blood Moon on
Instagram
,
Facebook
, and
Twitter
(there are a few swears, but loads of experiments, news, and good times...)
I'm also working super hard on a new website and blog, which will be up soon at
www.bloodmoontonic.com
. In the meantime, if you head there you'll be able to sign up for updates in your inbox. Yeah!
Blood Moon was born of curiosity and experimentation, and the best way to continue pushing those boundaries is with collaboration. If you've got an idea you think would be great for Blood Moon, or vice-versa, shoot me an email!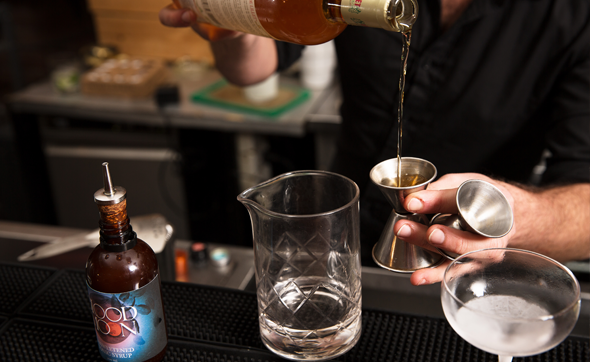 I'm already working with some really awesome people and organisations, who have helped me immeasurably with shaping this business and putting together this Pozible campaign, including The Collection Bar in Richmond, The West Winds Gin, and Sustainable Table, and I'm always up for more!
And if you have any questions and enquiries, you can contact me either via the comments tab, or directly at
karolina@bloodmoontonic.com


© Photos by Kristoffer Paulsen
The rewards
Of course there is tonic syrup, lots of tonic syrup. You have a choice of three flavours*, which are available in two sizes - 200ml and 500ml. It takes about 15ml of tonic syrup to make 1 serving, so 200ml makes about 13 drinks, and 500ml makes 30.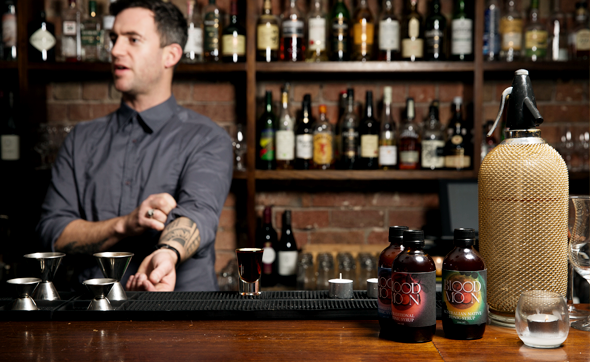 By supporting this Pozible campaign and helping me turn this dream into a reality, you'll get your hand the first batch of Blood Moon tonic syrup, in hand-numbered bottles. The bottles will be allocated on a first come, first served basis, so the sooner you pledge, the higher your bottle number will be!
And as I mentioned earlier, many of the tonic rewards also come with awesome moon-shaped spherical ice-cube moulds (each mould makes 4 at a time), so you can make a really legit Blood Moon tonic syrup drink, complete with moon!
In addtion, there is a very special reward of which there is only one available - the first editions of the three Blood Moon Flavours. These are the very first bottles of the first batch of Blood Moon tonic syrup ever made. They're hand-numbered, and you'll also get a certificate of authenticity, and an invite to...
...The Moon Party. Our launch party celebration! It's going to be an evening paying homage to the moon, with Blood Moon flowing. We can't reveal anymore... shhh... it's a mystery. The invitation is yours for the taking...
*Blood Moon tonic syrup contains quinine
SHIPPING
Make sure you choose the right shipping for your country - 'Everywhere' for Australia, a choice of Air or Sea for everywhere other than Australia, and there's also a free pickup option if you're in Melbourne :)
ORDERING FROM SOMEWHERE OTHER THAN AUSTRALIA?
I know international shipping costs can be a bit of a beeeee, so if you're based somewhere other than Aus, and are concerned about the cost of shipping, I've got an idea! Express your interest in the comments section, and the country you're based in, and if we get enough expressions of interest I'll create a special bulk shipping option! I think about 10 people should be enough, maybe even a bit less.
Also, make sure you check whether your country has any restrictions on imports containing quinine, or ask us via the comments section :)
Making a G&T - Blood Moon style
Using a tonic syrup isn't much harder than making a regular G&T. In fact, it adds an element of ritual. It's a whole lot more special. This is basic mix we recommend when using Blood Moon for the first time:
- 15ml (1/2 shot) Blood Moon Tonic Syrup
- 30 ml (Full shot) gin
- around 90ml (3 shots) soda water
Throw it all on ice and you're set! To get the full Blood Moon experience, many of the rewards include a giant sphere ice-cube mould so your drink can actually contain the moon! The other benefit of the sphere is that it takes much longer to melt, which means a colder and less diluted drink!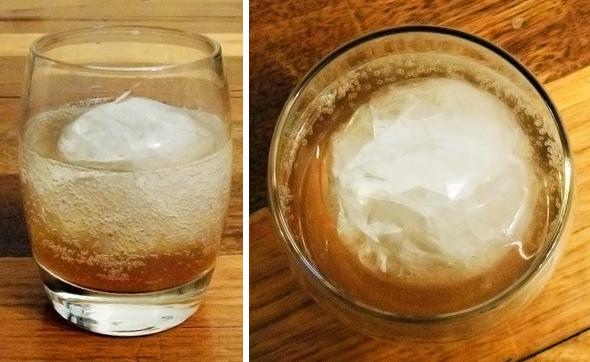 From there you can tweak it to your own tastes - some people like a full 30ml of tonic syrup in the mix, whereas others prefer to pull it back.
If you're using the Unsweetened but would like to add your own alternative sweetener, I recommend starting with about 1/4 teaspoon of stevia, or 1/2 teaspoon rice malt syrup, and going from there. :)
**Update**
We made it to 100% in less than 3 days! Such an astounding response, really proves that Australia is ready for a real tonic made with quality ingredients and heart. Thank you so much everyone!
I set my initial goal on the low side, the minimum I could possibly work with in order to MacGyver Blood Moon together. Now that we've hit $10,000, the goal is to get to $20,000, and do this real legit! If we reach this goal, every physical reward pack will get a bonus - a 3-pack of Blood Moon G&T flavoured lollipops!
The money over $10,000 will enable me to set up a smoother and larger operation. It will go towards:
- a partial lease of a commercial kitchen;
- more/better equipment (doubles of some, larger versions of others);
- website development;
- set-up & travel costs to attend industry shows such as
Top Shelf
;
- the development of 2 new flavours (that I think you guys will be all over!)
In short, the money will be used to make Blood Moon even better, and more widely available. So please keep spreading the word, and keep the pledges coming. We're all in!
How The Funds Will Be Used
To get Blood Moon off the ground, I need your help to raise $10,000. Up to this point Blood Moon has been a one man band of little old me, going a little stir-crazy testing batches in my home kitchen, grinding spices by hand in a mortar and pestle. (it's not just a prop!)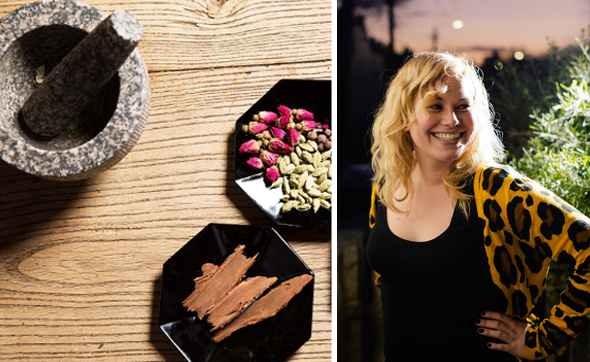 All the funds will be used to get Blood Moon into big boy pants, and make sure that I can reasonably meet demand once orders start coming in. That means - buying equipment such as a big ass stock pots with taps, filtration equipment, proper scales, and a commercial spice grinder.
Because minimising Blood Moon's ecological footprint is incredibly important to me, I've also included
this composter
in my budget, which the same type that Joost Bakker uses in his zero-waste cafes (formerly Silo, now Brothl).
A chunk of the cash will also go into commercial kitchen hire, marketing and promo, purchasing bulk ingredients, packaging and labelling, shelf-life testing, the list goes on.
It all adds up. $10,000 will only barely cover a very minimal set-up, so any funds over this amount will be used to purchase the less-essential but highly useful equipment I haven't included in the basic budget (or bigger/better versions of the ones I have), developing new products, and, if we get enough, splitting a lease on a commercial kitchen with a few other artisan food producers.
The Challenges
The biggest challenge with this campaign is simply reaching enough people. For a product which hasn't really even been launched yet, it's already been receiving quite a lot of interest and positive feedback, so I'm hoping this will continue through the Pozible campaign. You can help by sharing the heck out of this page via social media, and with anyone you think would be interested!

Beyond that, the main challenge I foresee is transitioning to working with larger batches. It's all been small-town up until now, but I've had the good fortune to meet some very helpful people along the way who are throwing loads of advice my way, so I'm confident I can pull this off.