Imagine being able to make a difference to a woman's life in a developing country with just one consumer choice. I, Roslyn Campbell (you can call me Roz), a Melbourne-based designer and social activist, am trying to make this a reality with Tsuno – beautiful, sustainable and socially responsible sanitary pads that won't break the bank, with 50% of profits going to programs set up to help women in the developing world.
After 12 long months of dedicated designing, sourcing and planning, I am now ready to make my first bulk order! I need your help to raise the $40,000 required to get what I believe to be a truly sustainable social enterprise off the ground. Let's stick it to the corporate man, and embrace the power that we have as socially conscious consumers!

Tsuno disposable sanitary pads have been designed to fulfill a range of important criteria, including comfort, design, sustainability and cost. It's taken over 12 months of design, research, blood, sweat and tears (no pun intended), but I'm finally satisfied that the product is the best that it can be.
They Work.
What, after all, is a sanitary pad if it isn't functional? Tsuno disposable sanitary pads are available as regular winged (pack of 10), overnight winged (pack of 8) and panty liners (pack of 20).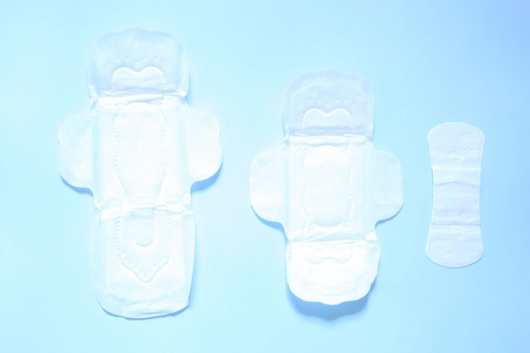 L to R: Overnight 290mm, Regular 245mm and Panty Liner 155mm.
They're socially conscious.
50% of Tsuno's net profits will be donated to projects that focus on empowering women, ranging from health initiatives (including menstrual health) to education to small business.
They're a more sustainable disposable pad.
Tsuno pads are made out of sustainable bamboo and corn fibre, individually wrapped in biodegradable plastic sleeves, and finally packaged in recyclable cardboard boxes. Bamboo is one of the most eco-friendly and sustainable fibres available due to its fast growth-rate, low demands on resources and natural resistance to pests and fungi. Although not 100% biodegradable, yet, these pads are a start in the right direction.
Bamboo is not only eco-friendly, but also super absorbent, breathable, soft and comfortable, antibacterial, and just generally amazing!
They're affordable.
A key feature of Tsuno sanitary pads is that they are no more expensive than other products already on the market. This makes your consumer choice a no-brainer. This is the key to making any social enterprise work. By simply switching your choice, you can make a difference to your global community, and take back some power as a consumer. Right on!
They're beautifully packaged.
Design is really important to me, so when creating Tsuno I wanted to provide a product for women that not only works but also looks beautiful. Each package has been made to feel like you are opening a present (even if the contents are unexciting) to symbolise the gift your purchase is giving to women in the developing world. The packaging will feature a new artist's work each month, providing income and exposure for an emerging artist and beautiful visuals for you!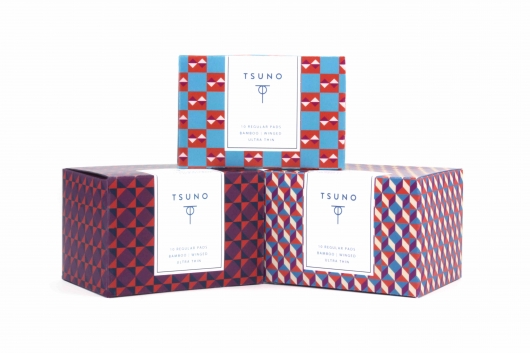 A few years ago my eyes were opened to the realities of some of the struggles faced by women in developing countries. In a talk by
One Girl
's Chantelle Baxter, I discovered that many girls missed out on huge amounts of schooling simply because of their periods. With few options available, women would often resort to using rags, newspaper, leaves and bark, which in turn caused a host of new problems.
To truly experience this myself I embarked on an unconventional (and confronting) fundraising and awareness campaign for Do It In A Dress – my challenge was to wear a dress (yep, just like the title of the project) and manage one whole period using nothing but traditional methods (i.e. no lovely, clean sanitary products). I kept a diary of my experience, which you can read
here
.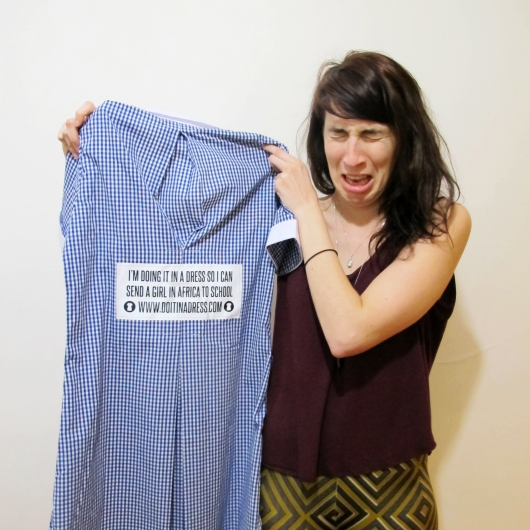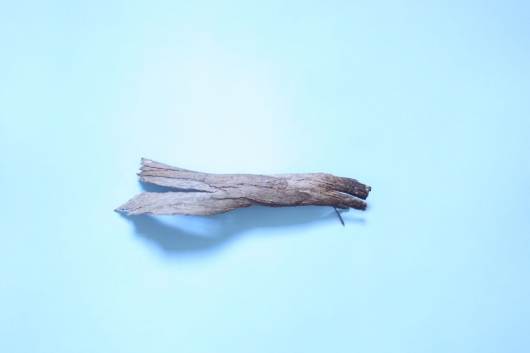 If you're reading this, there's a 50% chance you're a woman. Most women loathe 'that time of the month', but imagine how much harder it would be without access to the sanitary products that we take so much for granted. As I discovered for myself, it really sucks. It is, however, a reality for a large percentage of women around the world. And this is the reason why I am starting this business. Through donating 50% of Tsuno's profits to amazing charities working to empower women, I will be offering a helping hand to women around the world. And so will you. It's women helping women, and that's the way it should be.
The first charity on board to receive donations when Tsuno starts generating a profit is the
International Women's Development Agency
who do amazing work in Asia and the Pacific.
Some Of My Previous Work
Hi, I'm Roz, and I'm a Melbourne-based industrial designer and social entrepreneur. After studying Industrial Design at university I successfully ran a small accessories label, Minnen. My heart, however, has always felt pulled towards a more socially conscious business model. My 'Do it in a Dress' challenge was the final push I needed to make this a reality, and so Tsuno was born!
I have spent the last 12 months doing a small business course, developing a solid business plan, liasing with manufacturers, organizing packaging, clearing customs and securing insurance. Tsuno is now my full-time job, and it is ready to go.
For more information, or to ask a question (I welcome any queries you may have), please get in touch via info@tsuno.com.au
How The Funds Will Be Used

In order to get Tsuno from design to delivery I need your help. There are so many more stages than I ever imagined possible in getting the finished product to your door, and through a thorough business plan I've identified all the areas that will require funding. These include:
The Sanitary Pads - $21 500. This is the minimum order required for the very first batch of Tsuno pads.
Freight, customs fees, taxes and duties - $3200
Insurance - $2300
Warehousing - $1500
Postage- $7000
Website Design - $2000
Packaging Design- $900
4% Pozible crowd-funding fee - $1600
As you can see, this all very quickly adds up to $40,000. But I can promise you it will be worth it! Thank you so much for supporting this truly worthy cause.
Expected delivery of the first round of pledges will be July 2014, to allow for production, international shipping, processing and local delivery. You will receive progress updates along the way.
Please note:
Even though subscription payments say estimated delivery to be October- it will actually be mid July- it's an error which I can't change now the campaign has been launched!
Also, due to the environmental impact of postage to individuals across the globe, I won't be sending orders of Tsuno to individuals who pledge outside of Australia. However, I understand that sending in bulk to a distributor would minimise the impact. If you are a bulk, wholesale distributor based outside of Australia and would like to enquire about purchasing Tsuno, please send me an email to: info [ at ] tsuno.com.au
The Challenges
With the last 12 months dedicated to sourcing, sampling and planning this business, the most obvious risks and challenges are well prepared for.
I have sought out the expertise and advice of experienced customs brokers, business mentors and overseas manufacturing liaison agents.
I have taken out public and product liability insurance, and also will be taking out shipping insurance.
I have developed a good relationship with the manufacturer over the last 12 months and they admire and respect the business model, and have offered their patience and support towards this project.
If in the circumstance that this campaign goes way above the fund raising target, and beyond our set up receiving, storing and delivery capabilities, we have third party logistics organised to outsource the warehousing and delivery of the product.
The risk associated with choosing a credible charity to donate funds to has been addressed by deciding only to deal with charities that adhere to the
Australian Council For International Development
Code of Conduct. More info can be read about that
here
.