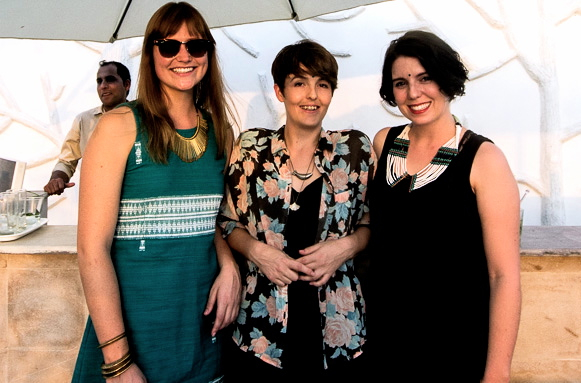 We are Fi, Katie and Sharna - three women's rights activists with a long term love affair with India and big ideas for social change. For the last decade we have been perpetual interns, traversing the globe to join with other women who work tirelessly for peace and equality. Everywhere we found the same story – funding for guns and militaries continue to grow, while money for gender equality vanishes.
Fi, Katie and Sharna came together in Delhi and brainstormed ways that disruptive technology can be used to make the world a better place. And this was how the Fabric Social was born - a simple idea that adds digital tools to support women's small enterprises to grow and supports economies for peace.
The Fabric Social is a person-to-person iOS app and online store that enables conflict affected women to sell their apparel directly to the international market. We are an ethical social enterprise - we are for-profit, for women.
We are not reinventing the wheel. We are tapping into the existing skills and expertise of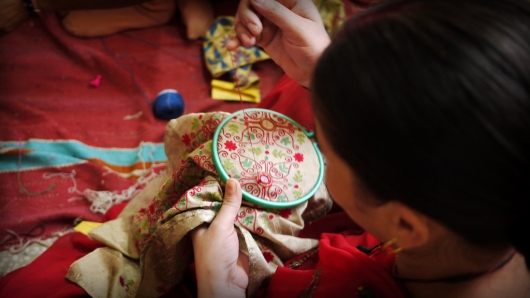 women's grassroots initiatives and introducing digital tools to leapfrog the market barriers created by years of armed conflict and economic stasis.
The Fabric Social app provides essential tools to assist in the management of the artisan's small enterprises and includes basic supply and demand data, and production and inventory management features. The Fabric Social online store allows fashion lovers all over the globe to purchase directly from the women. And the last ingredient is the clothing design. To break down the barriers to western markets we have enlisted the support of a Fashion Designer who will support our artisans to merge their traditional techniques with western cuts and styles. The end result is unique, accessible and socially responsible fashion.
In the initial project phase we will partnering with community organisations in Northeast India that support all-women weaving collectives in conflict affected areas. These all-women weaving and tailoring collectives are based on a model of mutual support and mutual benefit, and operate with a negligible carbon footprint.
We are almost ready to start launching beta versions of the app and online store and have been very busy working with women on the ground to develop a limited clothing line for initial market testing. We just need a little cash injection to put this all together.
We believe that purchasing power is political power - so donate now and help us wage peace one stitch at a time!
- Project cover photo thanks to Indi Samarajiva on Flickr
Some Of My Previous Work
The Fabric Social team have designed humanitarian support and livelihood projects, and work with women's organisations in Northeast India. We know the context well and we have witnessed first hand the commitment of grassroots organisations in the region. We fully support their work to empower women and help alleviate one of the most crippling consequences of the armed conflict: poverty.
How The Funds Will Be Used
We have completed our initial feasibility study and are ready to start prototypes and get to testing the market. We just need a little help getting off the ground!

Funds raised will be used to develop the app, website, and to develop a limited clothing line for initial market testing. Over two field visits, the Fabric Social team will:

*Collaborate with local weavers and tailors and develop designs and replicable tailoring patterns that blend traditional patterns and loom techniques with western cuts and styles.
*Train weavers and tailors to confidently reproduce the new designs.
*Identify resource persons to act as crucial supports and central communication points in the field.
*Train resource persons to confidently use the iOS app.
*Identify a Logistics and Quality Control Manager in the field to join the Fabric Social team.

ESTIMATED BUDGET

Project Development: $AUD 5,650
First round prototypes: $AUD 2,859
Second round prototypes: $AUD 9,468

Total: $AUD 17,977

Any funds above the target amount will be invested into the business to cover unforeseen expenses and future operational costs.

*All estimates are based on Indian Rupee value at March 28 2014

The Challenges
We are happy to put it all out there, we are in the very early stages of our project!
We are still in the early market testing stage:
We have pilot projects close to launch in North East India. These pilots are to test our market with a limited range of pieces of varied costs, style and fabrics. The results will inform future development.
We are in the early stages of building the app:
We have enlisted an established, innovative app developer to build The Fabric Social app. With their experience and skill we will create an intuitive and stylish app that makes connecting our artisans with ethical fashion lovers a snap!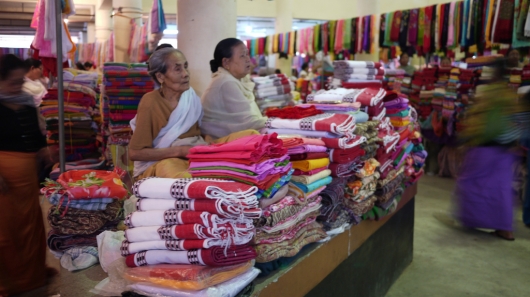 We are introducing unfamiliar digital tools to the established working methods of our artisans:
Our artisans are expert weavers, but this project will introduce them to some unfamiliar digital tools and systems. That is why we will supply field support staff with iphones and fully train them in the use of the app. Our artisans will have access to our Logistics and Quality Control staff on the ground, who can provide ongoing support and assistance.
We are working in a conflict affected area:
We are three experienced development workers with a deep knowledge of the challenges of working in conflict affected communities. The most successful projects and initiatives are always created by people inside these communities. The approach of the Fabric Social will be to find these grass-roots organisations and work with them. We will work intensively with local field supports and staff, who have the trust of our artisans and the local know-how to creatively overcome unforeseen challenges.
We have a model that we believe works, but we also know that as a new tech start-up we need to start small and think big! We have low upfront capital requirements and we are positioning ourselves for a financially sustainable future. We are investing our crowdfunding wisely into our pilot projects, which gives us the real world feedback that we need to be a successful business.
The Fabric Social is dedicated to using what already works on the ground, thus achieving a simple and sustainable model that can be replicated the world over.
Photography credit:
http://www.flickr.com/people/colleenchoi/