You've probably seen some pretty cool robots…but do you own one? Unfortunately, humanoid robots, the coolest kind, tend to be the most expensive. As passionate robot makers, we've been there: struggling to find a cool-looking yet affordable humanoid robot to advance techniques and exchange knowledge with other maker friends.

That's why, inspired by anime characters Frame Arms as well as existing prototypes on the market, we invented the Ai.Frame. Now, for the very first time, everyone can afford a humanoid robot, not to mention one with a unique, eye-catching design and a complete open source ethos. We firmly believe that, with its accessibility, Ai.Frame will get entry-level makers started faster and expand horizons for mid-level makers; in short, the Ai.Frame's mission is to positively impact the global maker community with an accessible, user-friendly robot!

Some Of My Previous Work
Although we are most proud of our Ai.Frame robot, it is by far not our first try in the robotics field:
* Drop Drone: Inspired by the beauty of water drops, we developed the Drop Drone, an aerodynamically tested micro-UAV with low noise signature that is perfect for delivering small items and shooting bird's-eye-view photos. A crowdfunding campaign will be launched in the near future, so stay tuned!
* Mini Scout: A miniature-sized, sleek bodied, two-wheel vehicle to perform miniature reconnaissance missions. Made of 3D printed and laser cut acrylic pieces, it features simple and easy navigation via WI-FI for remote-monitoring.
Sketch of Mini Scout
* Ai.Frame Motorcycle: the predecessor to the Ai.Frame Bird and Ai.Frame Robot, this compact motorcycle formed the test bed for the Ai.Frame prototype control system.
Sketch of Ai.Frame Motorcycle
How The Funds Will Be Used
Having spent nearly 2 years on research and development, we are absolutely serious about making robots. This is our first crowd-funding attempt, the result of which will shape our start-up plan as well as future research.
We plan to utilize
* 70% of received funds to manufacture and deliver physical products to backers
* 20% to support future research
* 10% to set up the company, such as rent, utility, equipment, and etc.
Your support really matters to us, and we will reward you with ownership of an amazing humanoid robot!
Ai.Frame is an open-source humanoid robot, powered by STM32 system (Arduino compatible) and metal servos. Currently, there are two prototypes: Ai.Frame Bird and Ai.Frame Robot, which differ in structure design. For a better user experience, we have provided you with two material options and four color options. All parts are 3D printed or laser cut.
Why is Ai.Frame worth having?
1. You can get a humanoid robot for less than an iPhone – a lot less! The Ai.Frame Bird is just US$199.
2. Assembling a humanoid robot from scratch is an amazing experience. We thoroughly de-constructed its body to get richer details and better agility, to help makers appreciate the beautiful complexity of robotics.
3. Its unique wooden shell and catchy color options are unlike anything else on the market.
4. The Ai.Frame is all about flexibility and upgrades. We implemented the most affordable solutions for servos, the outer shell and the control board to make replacing or upgrading any part of the robot possible, no matter your budget.
5. It allows for customization from the inside out. As an open source robot, it can be 3D printed, laser cut and programmed for over 300 motions – in short, it's the most flexible robot out there.
6. It is optimized for sharing. Eye-catching and perfect for group activities, Ai.Frame is like a platform for connecting you with your friends and fellow makers, something for everyone to work on collaboratively (or individually!).
7. Ai.Frame is highly portable (its limbs can be even folded into its torso), so you can get your robotics kicks anywhere, anytime – no flatbed truck required!

Ai.Frame Collections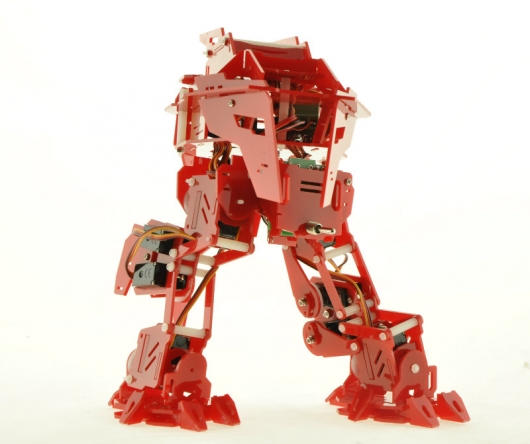 Ai.Frame Bird (Acrylic-Red)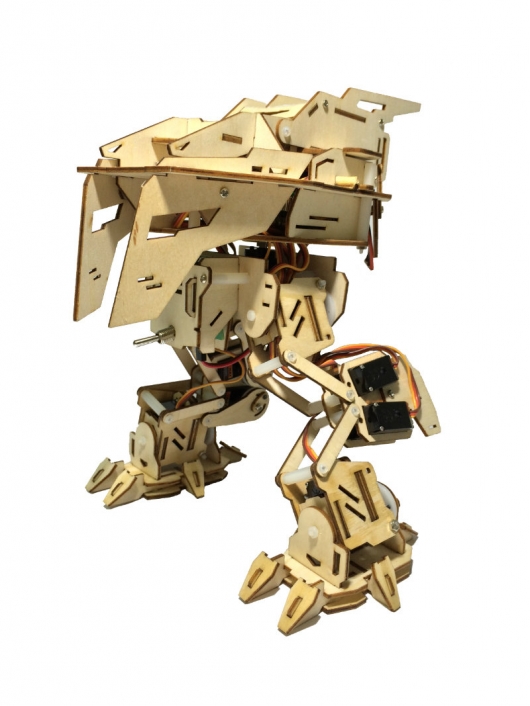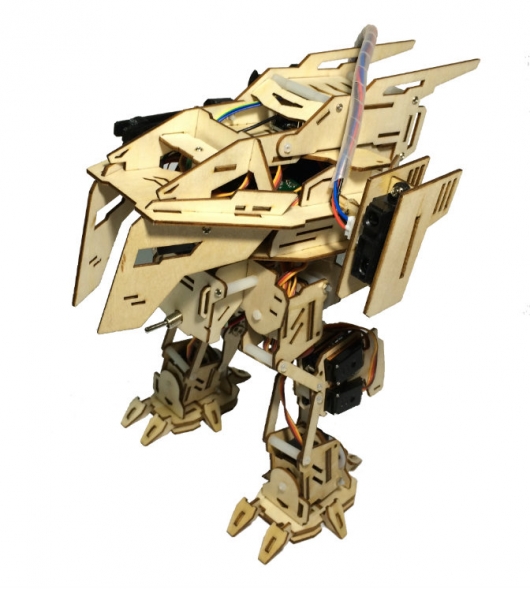 Ai.Frame Bird in Standing and Crunching Positions (Wood)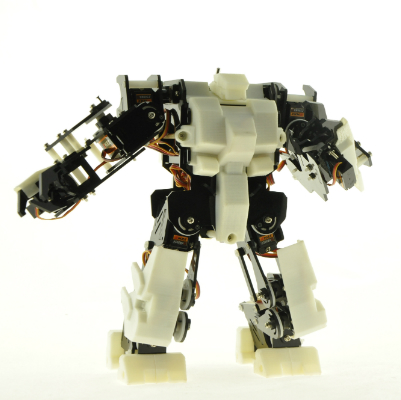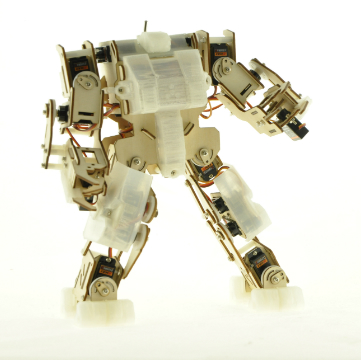 Ai.Frame Robot (Acrylic & Wood)
Upon a few upgrades, we found the most affordable and stable screws, nuts and bolts to assemble Ai.Frame joints with a maximized working range.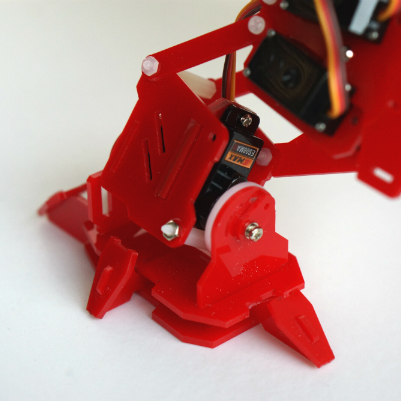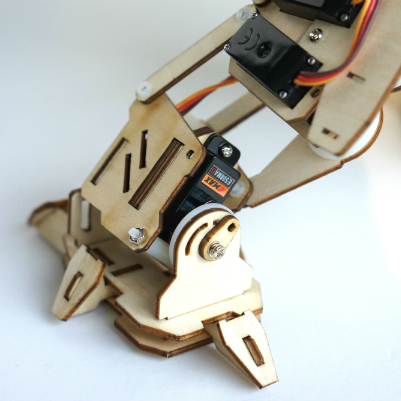 Joint Close-up (Acrylic & Wood)
What can Ai.Frame robot do? Cool motions.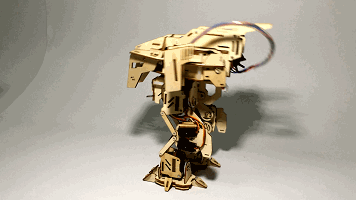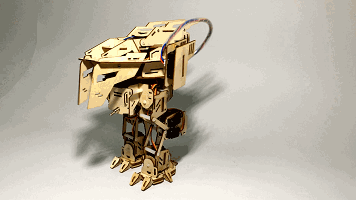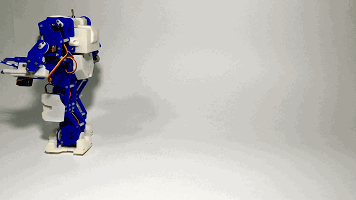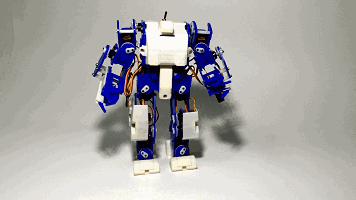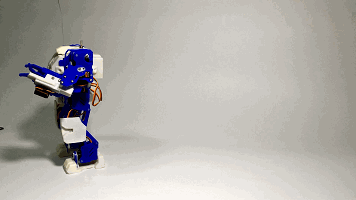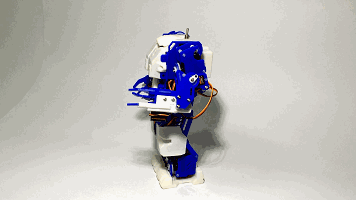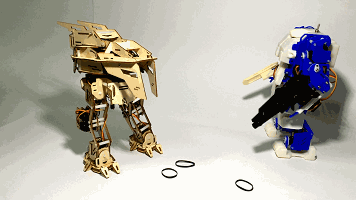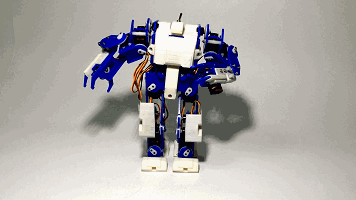 What could be more fun?
* Add-on sensors: we provide options to install audio and visual sensors to enable more interactions.
* Name it after you: you can engrave your name into the shell and make your own character.
* Come to our annual contest: we are proposing an annual Ai.Frame robot where a few Ai.Frame robot leagues compete for the Ai.Frame Award in shell design, motion customization, group collaboration and etc..
How do I control it?
We have already developed a Windows application, and an Android app to control Ai.Frame with a keyboard/mouse or a game controller via bluetooth. An iOS app will also be released soon.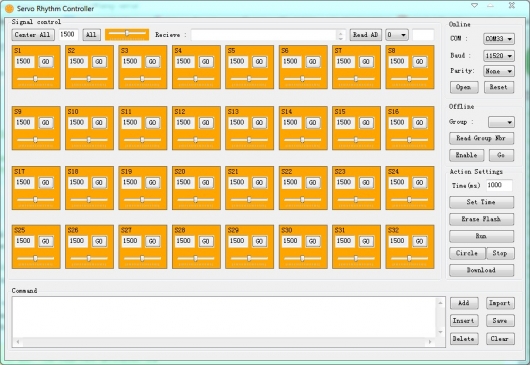 Ai.Frame Windows Application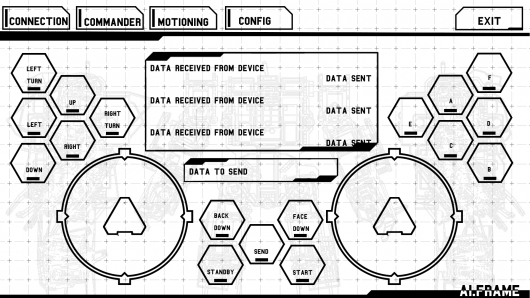 Ai.Frame Smartphone Application
To suit needs of entry-level and mid-level makers, we designed two characters: Ai.Frame Bird and Ai.Frame Robot, varied in structure complexity. A visualized step-by-step manual will be included in the package. We will upload a video tutorial to our website to help you enjoy the process even more!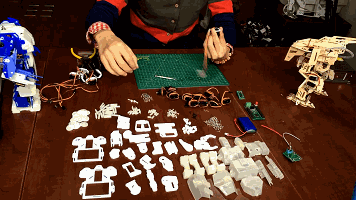 Assembling an Ai.Frame Robot from scratch
What's in the package?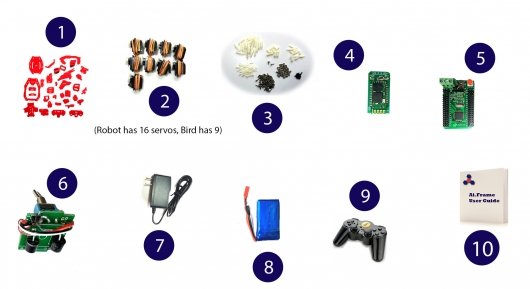 Open source!
Ai.Frame will be completely open-sourced after the crowd-funding campaign completes! Even if this project fails, we will still release all the files on our website. We look forward to glue the passionate makers together and share the exciting developments in the near future.
The Challenges
We have partnered with a global manufacturer of robotic products, DFRobot, so we feel confident that we have a solid supply of quality components and we have even begun producing and shipping out prototype units to users. During these beta tests, we discovered that some parts were more susceptible to breakage during assembly, especially the fingers and toes of the wooden prototypes. To deal with this issue, the parts will be reinforced for durability and spare parts for more fragile pieces will be included in the event of a broken piece.

In terms of safety, we have yet to have Ai.Frame certified by a nationally recognized testing lab, but we are taking steps to resolve this issue in the near future. In the meantime, we advise makers under 18 to assemble and test the Ai.Frame under the supervision of parents or teachers.