Clique is an Australian teen drama series that follows the life of teenagers Mackenzie, Cassandra and Annie and their 'clique' who are trying to discover their identity. The controversial narrative sees the young adults battle with substance abuse, mental illness, sexuality, friendships, dysfunctional relationships, crime and death.
Written by now 19 year old Amanda Duckworth when she was 16 years old, Clique is a series that tells the stories of young people in a very real and raw way. The issues discussed in Clique are relevant to not only Australian youth, but to their families, friends and peers.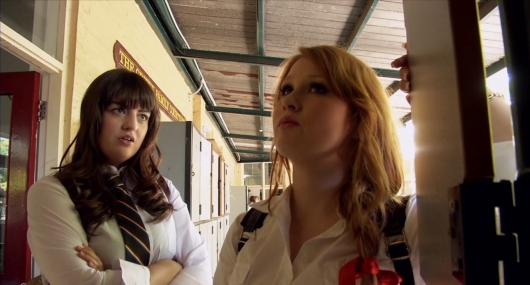 The Clique cast are aiming to showcase their generation honestly and with integrity. The young actors want to change the stereotypical portrayal of their generation on Australian television and are committed to 'changing the conversation'.
Clique is a series that has hit home with the cast and crew, and specifically the writer, producer and co-director, Amanda Duckworth. Based on issues that herself, friends and peers faced throughout growing up in suburban Australia, Clique is relatable, honest and informative. Whilst some teens are comfortable in their own skin, Clique is a support for the majority - who are trying to live up to society's expectations, whilst also learning a lot about themselves.
Some Of My Previous Work
This is series producer/co-director Amanda Duckworth's first project. Also a part of the team is co-director Rhys Malone, who has worked as an Assistant Director, Gaffer, Sound Mixer and Director on dozens of short films, feature films and TV pilots.
The cast are lead by Alivia Austin as Mackenzie, who has starred in Nine Network's 'Holly's Heroes', Network Ten's 'The Elephant Princess' and alongside Rose Byrne in feature film 'I Love You Too'. The supporting cast include triple threat Charlotte Sinnamon, who has a heavy background in musical theatre, model/actress/television presenter Penelope Liersch, stand-up comedian David Nash and theatre veteran Ezel Doruk. The cast also includes Jacob Dowling, Lauren Murtagh, Brodie Dorling, Isabel Davis, Daniel O'Kane, Hannah Vanderheide, Robin Brown, Lauren Phypers, Kara Bertoncini, Julian Campobasso, John Desengano, Jacob Machin, Mark Booth, Edward Greer, Harlene Hercules, Michelle Douglas and Alexie Petrova.
How The Funds Will Be Used
The funds raised from the Clique Pozible campaign will be used for:
Equipment hire
Catering
Location hire
Set design
Costumes
Post-production
Marketing
The Challenges
Having worked together for almost 12 months, the cast and crew have become a very close, well-oiled machine. However, the cast and crew are always prepared for any obstacles that we may face. The biggest obstacle for us is our marketing of Clique, and our time management. However, we're confident in our ability to complete Clique in our target time-frame (January 2014 - July 2014) and believe we will be able to market Clique to the best of our abilities and hopefully gain network interest in the series.