Hub Sydney: driving innovation through collaboration

Hub Sydney is a professional membership community that drives innovation through collaboration across diverse sectors, industries and generations. We offer a diverse network, social and learning events, and innovative work and event spaces.
Our innovation and coworking clubhouse opens on 8 May 2013 at 101 William St Darlinghurst. We will offer
complimentary coworking
for the month of May. On Thursday 23 May we celebrate our new coworking and innovation clubhouse with the Hub Sydney Opening Party.
Join this crowdfunding campaign to:
* Become a Hub Sydney Founding Member
* Receive a BIG discount (~50%) off your first two months membership (June %20 July)
* Get a ticket to the Hub Sydney Opening Party (Thurs 23 May at 6pm)
If you pledge at any of these Reward levels you will become a Hub Sydney Founding Member and receive one ticket to the Opening Party. A tax invoice will be issued for all individuals that pledge at any of the Reward levels.
HUB has been featured in
· …work spaces like The Hub are a glimpse into how workplaces might look in the future. –BRW
· …it's strength is found in its diversity. Proving once again that the secret sauce of any brand recipe comes from the people… –Smart Company
· It has the kind of energy and creative opportunities traditional workplaces could only dream of providing –The Australian
Coworking: get your work done & make new connections

Coworking is where individuals and organisations come together to work independently in a shared space. Unlike your typical office, coworking seeks to foster and connect individuals within the space to provide the opportunity to network, connect and even collaborate.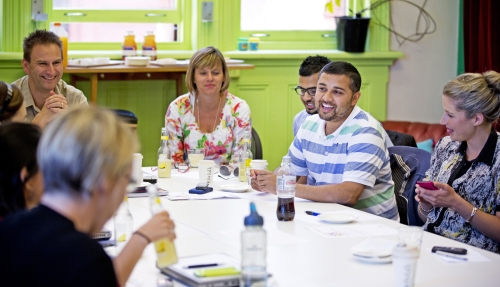 Join the Hub Sydney membership community
At Hub Sydney you can come to social and learning events, use the space a couple days per week, or even have your own desk or office.
It is a membership community, our members pay monthly fees to be part of the community. We offer connect and coworking memberships.
* Connect membership - Come to member social and learning events at Hub Sydney and connect with our diverse membership community on the online platform.
* Coworking membership - Work from Hub Sydney as frequently as works for you. We offer casual (up to 1 day per week), frequent (up to 4 days per week) and local (unlimited coworking + own regular desk) memberships.
* Team coworking memberships - Teams are welcome to work from Hub Sydney. We offer team memberships which provide unlimited coworking for up to 5 team members, plus a team table or office depending on your needs.
Become a Founding Member + join the party
This is your chance to become a Hub Sydney Founding Member. We are offering a super discount off the regular membership prices for June and July. This is also the only way to secure yourself a ticket to the Hub Sydney Opening Party on Thursday 23 May.
We like to ensure our community is as interesting and diverse as possible. We invite people from all walks of life to join as connect and coworking members. We like to know our team members personally, so these are by application only. If you would like to secure a team office or table, email sydney@hubaustralia.com to arrange an interview time.
Our innovation and clubhouse at 101 William St, Darlinghurst
Our clubhouse has been developed by leading designer HASSELL in conjunction with the community. HUB Sydney will offer cutting-edge work and event space unparalleled by other venues in Sydney. There will be activity-based workspace, along with office features like video conferencing, Skype booths and a boardroom. We will also have some fun elements like a large indoor/outdoor breakout space, swings, ping pong table and other touches to make it more comfortable.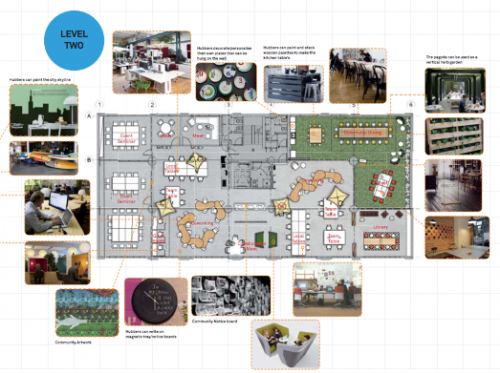 Complimentary coworking: try Hub Sydney for yourself
Hub is one of those experiences you just have to try for yourself. From 8 May to 31 May we'll be offering complimentary coworking at our innovation and coworking clubhouse at 101 William St Darlinghurst. To register your spot, click
here
.
Why are we crowdfunding?
At Hub, everything is a collaborative effort - from how we design our space to the activities we run on a day-to-day basis. So it makes a whole heap of sense to also make getting Hub Sydney off the ground a collaborative undertaking which is why we're inviting you to crowdfund with us.
These funds will be used towards an awesome Hub Sydney Opening Party, designed and curated by the
Wildwon
team. The Opening Party will take place on Thursday 23 May and the only way to get a ticket is through this crowdfunding campaign.
What does Hub Sydney offer?
* A diverse network - We are a community of Hubbers passionate about the innovation that comes from working with other people of diverse backgrounds. Our community consists of individuals and organisations from small to big business, government to education and freelancer to community.
* Social and learning events - We offer regular member social and learning events - up to 10 per week! We cover topics from cloud computing to yoga and meditation.
* Innovative work and event spaces - We provide state-of-the-art working and event spaces. Our spaces are designed in conjunction with our members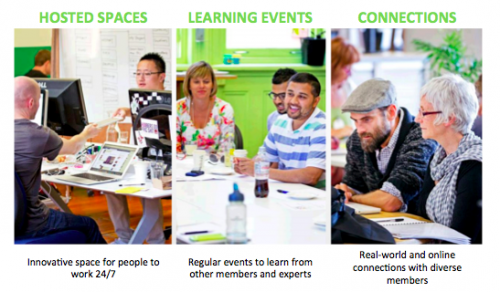 Connect with Hub Sydney
Join us for an upcoming Hub Sydney
event