Elephants and rhinos are facing extinction
Elephants and rhinos are in a poaching crisis. One elephant is killed every 15 minutes for its tusks, and one rhino every 8 hours for its horn.
Waterholes are being poisoned, elephants are being gunned down in herds, rhinos are having their back legs macheted so they can't run whilst their horns are hacked off their face, while still alive. In Angola, traumatized herds of up to 500 individuals now move at night to try to avert poachers.
We can still buy ivory and rhino horn in Australia and NZ
Governments around the world are taking a leadership role to save elephants and rhinos by closing their domestic trade. China closed its markets at the end of last year. Australia and New Zealand must join these leaders and be part of the global solution. This is a global issue that requires a truly global response.
Alarmingly, elephant ivory and rhino horn is still bought and sold in Australia and New Zealand despite these iconic animals facing extinction. The trade is completely unregulated, with not even the most basic requirement for proof of origin of each item. Ivory and rhino horn items continue to be sold in our back yard for thousands of dollars.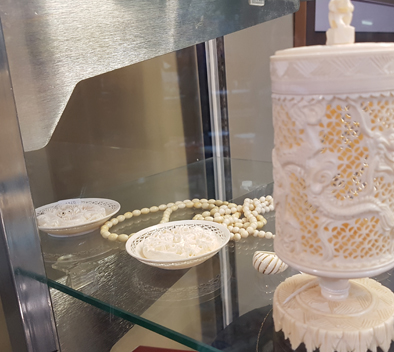 It is clear that the unregulated trade in Australia and New Zealand could easily allow trafficked, newly poached ivory and rhino horn to be sold through the legal market. Indeed, in New Zealand, court evidence has confirmed that illegally imported ivory has been sold on the domestic market. In Australia, despite hundreds of confiscations and seizures of ivory and rhino horn in Australia, there have been no prosecutions between 2010 to 2016.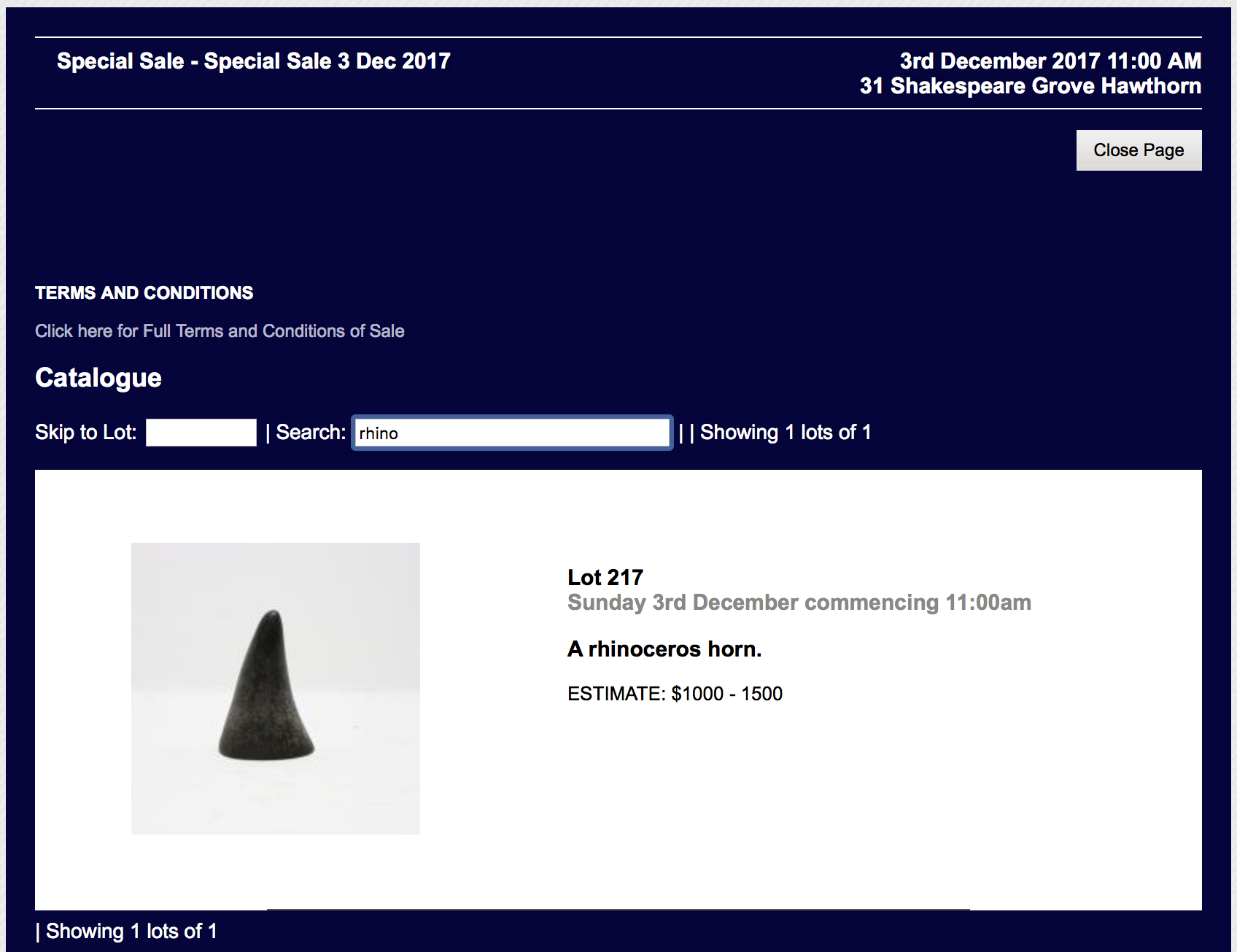 Australia's first ivory and rhino horn crush event
On World Wildlife Day, Saturday 3 March 2018, an historic event will be held in Melbourne to make an important statement for elephants and rhinos - #NoDomesticTrade. For the Love of Wildlife will host Australia's first ivory and rhino horn crush event where we will publically destroy ivory and rhino horn items. We invite you to join us in sending a clear message that Australia and New Zealand must close its domestic trade of ivory and rhino horn, and show that these items hold no value unless they are on a living animal.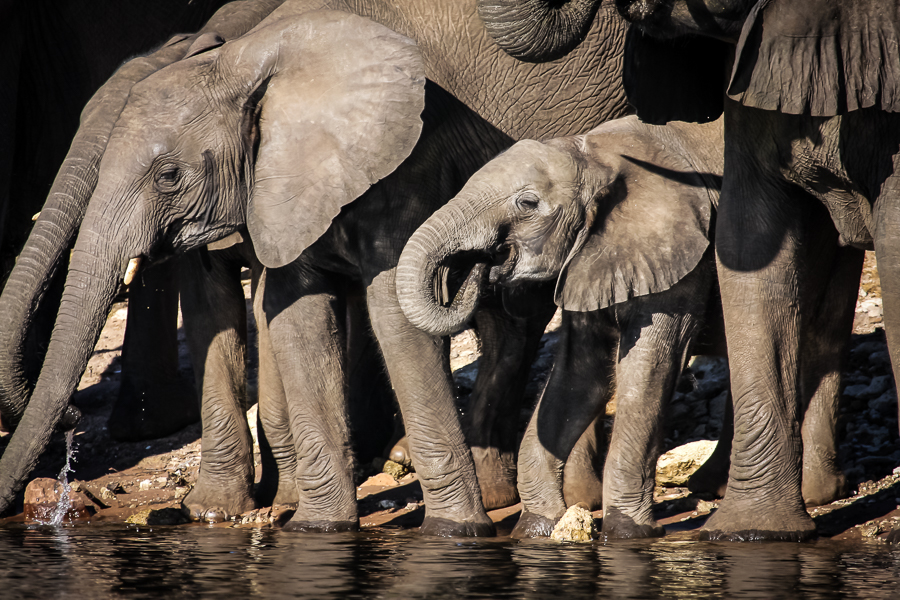 We need YOU to help be a voice for elephants and rhinos, asking for more to be done to save these magnificent animals from extinction. We do not want to be the last generation to see them roaming the Earth.
We're also extending to you the opportunity to bring your own items to be destroyed. We are often approached by people who wish to get rid of their personal ivory or horn items but do not know what to do with them. Often these items have been inherited, received as a gift, bought as a tourist trinket on travels, or purchased without knowing that an animal was killed to make them. While there is no shame in owning these items, we encourage you to become a wildlife hero by choosing to destroy your items on World Wildlife Day - whether it be a bangle, carving, statue or tusk.
For more information email info@fortheloveofwildlife.org.au
Media covering our work to date:
The results of poaching. Orphaned baby rhinos waiting for their milk - they need all the help they can get.
Budget Overview
We need your help to fund this event
This needs to be a BIG event so that the Australian and New Zealand Governments take notice of YOUR CALL to end the sale of ivory and rhino horn. It requires advertising and promotion, clever graphics, media, insurance and logistics.
This is what we need:
Bus back advertising around Melbourne - 10 x $2,500 = $25,000
Insurance - $1,500
Machinery - $1,000
Advertising on social media and digital platforms - $2,000
Creative/design/printing - $2000
We are hoping to raise $10,000 (or more) of this amount through this important Pozible crowd funding campaign.
All the work to date has been volunteer based - almost 2 years working with collaborative partners both in Australia and internationally with no funding to date. Much in kind support has been received from a variety of sources which include graphic designers, ad agencies, photographers, PR companies and our team who put in so much work to ensure Australia and New Zealand ends the sale of ivory and rhino horn.
Potential Challenges
Our Governments are listening, but they have actioned nothing yet.
We've already demonstrated to the Australian and New Zealand Governments that they have an issue that needs addressing immediately.
Minister for Environment and Energy Josh Frydenberg received a letter signed by 56 conservation organisations from across the world asking Australia to close its domestic trade. The Australian and New Zealand Governments have been provided draft legislation for their consideration. Thousands of #NoDomesticTrade letters from concerned citizens have already been sent to both Governments asking them to close their domestic trades.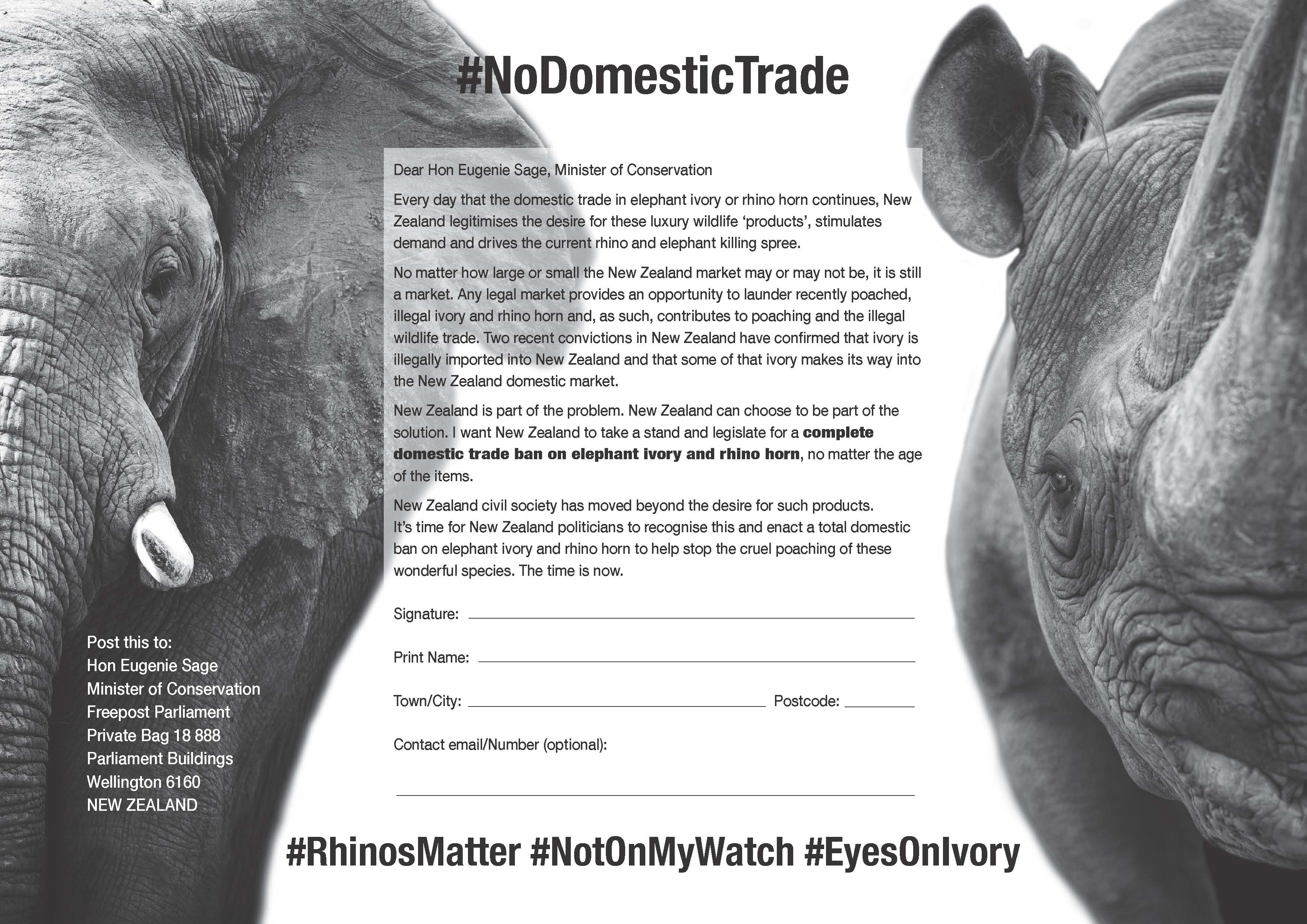 The Australian and New Zealand governments have an obligation as being Parties to the Convention on International Trade in Endangered Species of Wild Fauna and Flora (CITES) which has called on all countries to either close or regulate the domestic trade.
We know they are listening – our challenge is to move Minister Josh Frydenberg (Australia) and Minister Eugenie Sage (NZ) to enact a full ban immediately, before we see elephants and rhinos #Gone4Good.
The Melbourne crush event will help to demonstrate the commitment of our citizens to end our domestic trade in ivory and rhino horn.