If you missed the deadline to pledge your support for this project, and would like to order a CD, please email your order with name, postal address and phone number to anne@annenorman.com
Hi, Anne Norman, Artistic Director of Tunnel Number Five here to tell you about an exciting CD project with a booklet including Yolgnu and Biak lyrics with English translations and back stories.
UP FROM THE DEEP is an album of music selected from five performances in the WWII Oil Storage Tunnels under Darwin in 2016. For the last few weeks, I have been consulting with Jason Guwanbal Gurruwiwi, senior Yolngu songman of the Gälpu clan, along with linguist Yinin Dhurrkay to transnotate and translate the words he sang in creative collaboration with all the musicians of last year's festival of underground music. The words sprang from manikay (clan songs) in the languages of the two Yolngu songmen: Guwanbal's Gälpu clan songs in Dhaŋu; and Guyundula's Gumatj clan songs in Dhuwala. West Papuan singer Henk Rumbewas sang in the Biak language of his island people. Lyrics of all these songs with English translation are included in the CD booklet.
In documenting the lyrics with Guwanbal and Yinin, I came to understand how fluid a manikay can be. While a senior songman draws on his knowledge of ancient stories, melodies and rhythms of his clan songs, he is brilliant at spontaneously improvising a counterpoint to the contributions of his fellow musicians and the intent of the occasion. Words are not fixed, but come naturally. Like all music making, it is ephemeral. Of the moment.
This is a truly creative collaboration of instrumentalists and vocalists coming together, each musician encountering genres and timbres they had never worked with before. For all the performers and audience alike, each moment held the unknown, and it was exhilarating to be within the body of that huge instrument of the tunnel together.
The lyrical melisma of these remarkable Yolgnu musicians when responding to the acoustics of the tunnel was breathtakingly. Likewise, Henk joined in on two of the group improvisations lead by Guwanbal, adding a timbre and intensity that shifted the gears of all the other performers in response to his richly powerful voice.
Here is what Guwanbal has to say about the creative process:
"Every time I sing, things just come naturally. This time, listening to the tunnel, the other musicians... any song I sing, I'm in the flow."
This sums up how it is for all the musicians of Tunnel Number Five, steeped in their own musical practice and comfortable with deep listening and spontaneous expression. These pieces were born in the presence of an audience of 100 people seated along the resonant 172m tunnel, focused and lending their own energies to the music of the moment.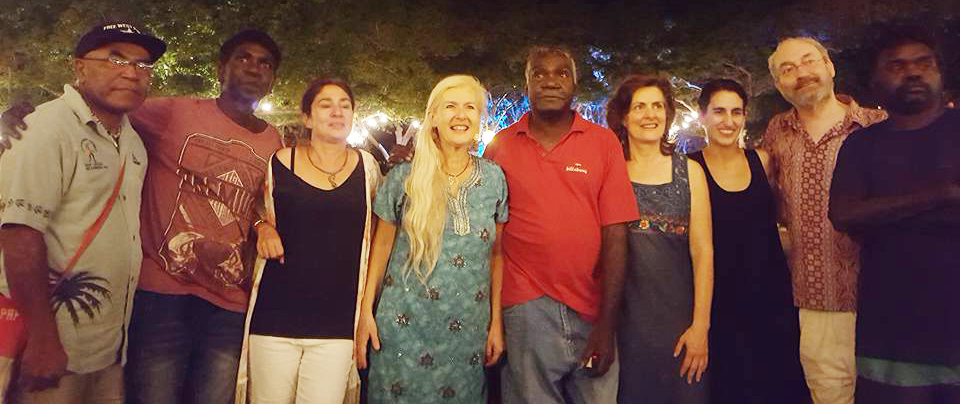 Henk Rumbewas (Biak song); Adrian Gurruwiwi (yidaki); Anisha Angelroth (production);
Sarah Hopkins (cello, harmonic whirlies, overtone singing); Jason Guwanbal Gurruwiwi (manikay);
Anne Norman (shakuhachi); Netanela Mizrahi (viola); Ernie Gruner (violin);
Sebastian Guyundula Burarrwanga (manikay). [Anja Tait (violin) &
Amanda Rumbewas (Papuan drum) are absent from this photo]
We are working hard in order to release this CD in time for this year's Tunnel Number Five: festival of underground music to be held from August 13-17. https://tunnelnumberfive.com We are seeking your assistance through the pre-purchase of digital albums, CDs and Pozible donations to help cover our costs.
How The Funds Will Be Used
There are many facets to preparing an album for publication.
Here are the costs we hope to cover via Pozible, and the order in which they will be paid:
Linguist and cultural elder's fees = $1,300
CD Mastering fee (New Village Studios, Melbourne) = $1,000
Purchase of ISRC track codes, UPC Bar Code and CD Baby album submission $70
CD manufacturing and printing costs $1,500
Postage of CDs to supporters $800 +
Internet promotions $100
Pozible fee = 5%
Contribution towards transport and per diem costs (Anne) $1,000
Sound editing time (Anne) - countless unpaid hours over many months
Graphic design of CD artwork, layout, notes (Anne) - likewise many hours. Assistance in paying the rent would be handy...
Artists' performance fees (paid)
Location recordist time (paid)
Venue hire and access fee for the use of the WWII Oil Storage Tunnels (sponsored)
The total in unpaid costs to date is $8,000+. We have decided to ask for just $5,000 to ensure first and foremost that our Yolngu translation team are paid and the CD is mastered and manufactured in time for this year's Tunnel Number Five in mid August 2017.
Any Pozible sponsorship we get above this initial target of $5,000 will begin to address the other costs.
Thank you for helping our UP FROM THE DEEP project.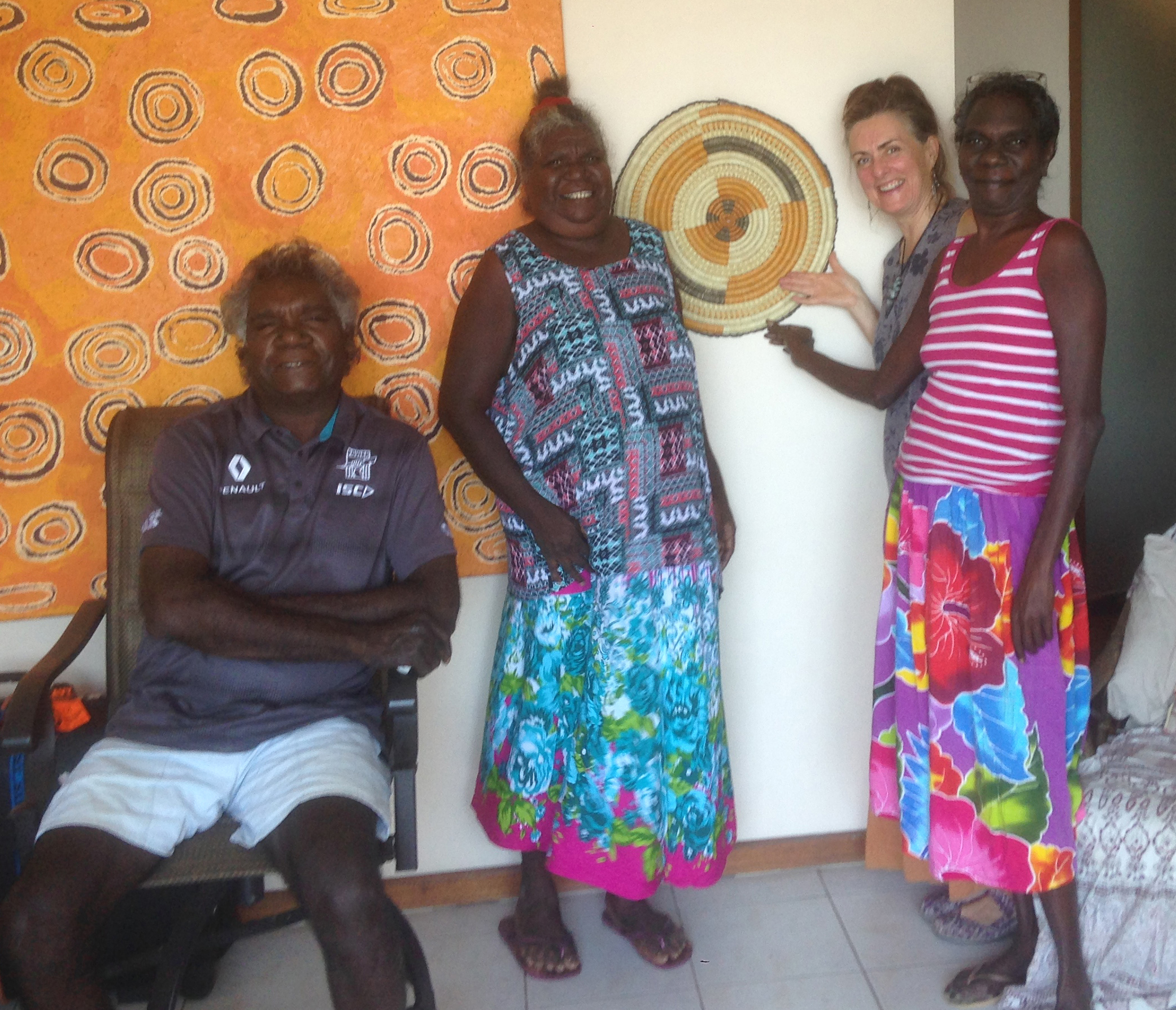 Jason Guwanbal Gurruwiwi, Beth Wunungmurra, Anne Norman and Yinin Dhurrkay.
Interrupting work on tranotations and translations to admire a different kind of disk:
a circular pandanus weaving by Susan Wanji Wanji - an Arnhem Land artist living on Tiwi Island.
The Challenges
The challenge in a project like this is always TIME, ENERGY AND MONEY. (Just putting this Pozible campaign together takes considerable time! A big thank you to Rebecca McLean of Sharp Film Productions for her video footage from the first concert of 2016.)
Working with the linguist team has been a fascinating process, learning about the ancient languages embedded in manikay clan songs and writing a bit of the back stories behind these songs to go in the liner notes. For young Yolngu people, these ancient lyrics are obscure, and we had hoped to write the back stories in Yolgnu matha as well, but due to time demands on our wonderful linguist Yinin, the explanatory liner notes will only be printed in English. We hope to publish the backstories in Yolgnu matha online at a later date.
Yinin is a traditional Wangurri woman from Dhalinybuy homeland, born and raised at Galiwin'ku. She is a multi-linguist in great demand, working at the Aboriginal Resource Development Service (ARDS) and in association with the Northern Institute in Yolngu Matha language education. She is a cousin of songman Jason Guwanbal Gurruwiwi and it has been a delight to have her en board our CD project.
Having nearly completed the liner notes with lyrics in the original languages, I plan to continue working with Yinin and songmen and cultural elders to produce bilingual essays and blogs concerning the nature of manikay (clan songs) and their connections to land and water, kinship and ceremony through story and song. So many wonderful things to learn on this journey. I get the feeling this will take many years.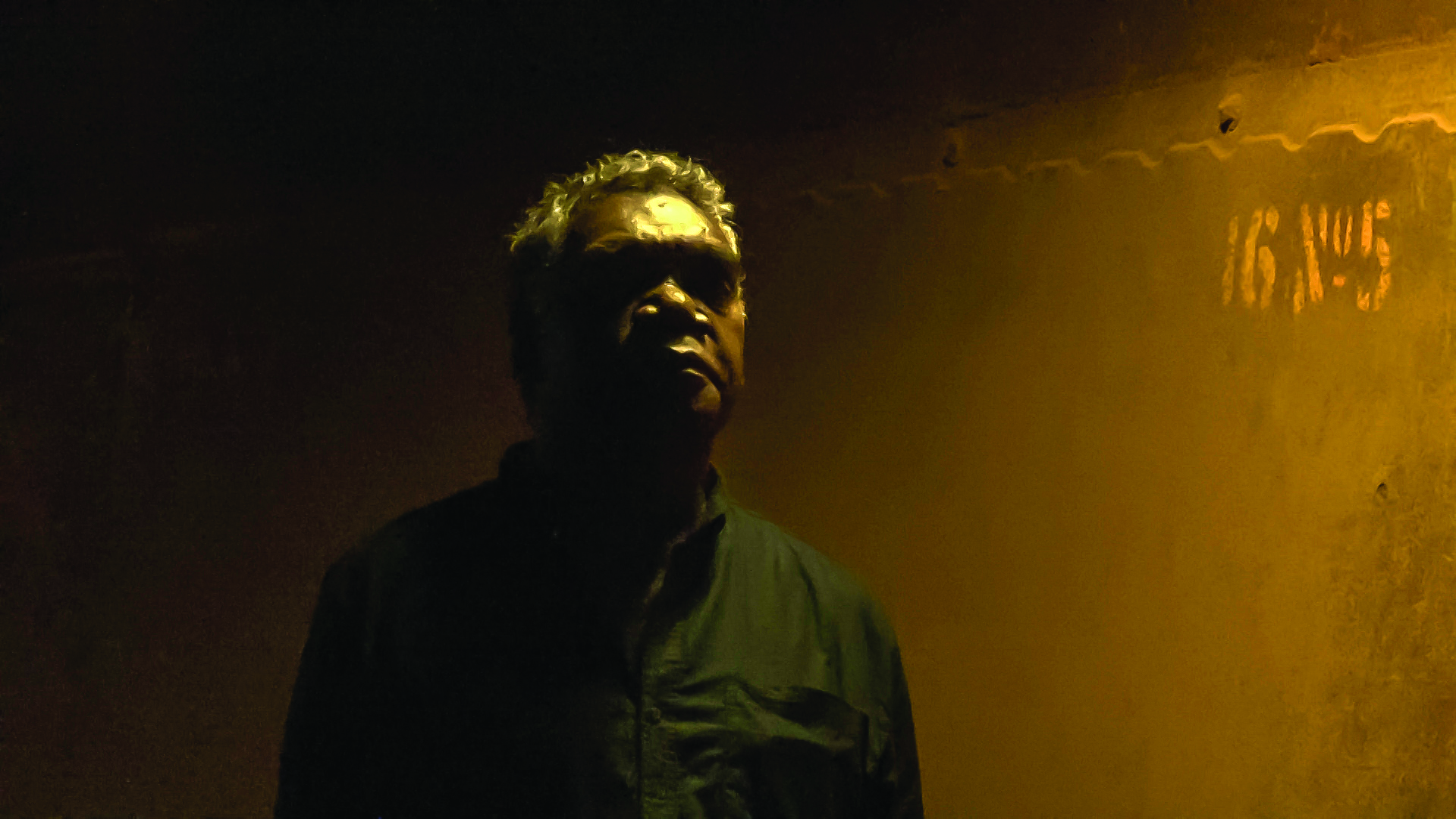 There are some incredibly beautiful pieces on this album; collaborations born within this remarkable tunnel ambience. Truly, this 5m x 7m x 172m tunnel is a most amazing acoustic to play in. It is magic to work with talented musicians who are so responsive to this unusual underground concert hall. Thank you Guwanbal, Guyundula, Sarah, Netanela, Henk, Anja and Ernie. And our support artists Amanda Rhumbewas and Adrian Gurruwiwi. And a huge thank you to David Matthews who sat in the resonant, warm and sticky tunnel night after night recording our performances, ever anxious about microphone placement and the proximity of noisy audience members. Your desire to capture the incredible ambience and magic of the tunnel and the unfolding music has paid off.
We were very fortunate to have had the five tunnel performances under Darwin sponsored by the Australia Council for the Arts. We also had the support of several individuals and organisations assisting with the hosting and running of our 2016 Tunnel Number Five: festival of underground music. We thank Marchant Enterprises and Rachel Groom for flying the songmen down from Arnhem Land; Ramada Suites Zen Quarter for accommodating all of our out of town artists; and Darwin Tours and the WWII Oil Storage Tunnels for their generous sponsorship of the performance venue. We also thank Anisha Angelroth for her considerable unpaid overtime in making sure the performances had full audiences, with excellent publicity and media coverage. More can be read about this here: https://tunnelnumberfive.com/archive/2016-archive/ And more photos of the artists may be found here: https://tunnelnumberfive.com/gallery/
Thanks for reading this far! It is my hope that you will support us in completing this project. We are striving to make the best product we can.
Anne Norman http://annenorman.com
PS. If you are able to share our Pozible campaign with your friends on social media or email, we'd be super grateful.