CHAMPION GIRLS is a documentary film which celebrates the little known Australian 'girls and ladies only' sport of Physical culture. 'Physie' (pronouned 'fizzy') as it is affectionately known, began over 100 years ago. Now with over 10,000 members across the nation, CHAMPION GIRLS, with its ensemble cast aged 6 to 96, explores the cultural and personal significance of this remarkable activity and discovers how and why the Bjelke-Petersen School of Physical Culture, has stood the test of time.

We are grateful for the support of Screen NSW and Screen Australia who have seen the film's potential and have given us the development money to get this far - now we need your help to finish the film so it can be ready for screenings in BJP's 125th birthday year.
Although crowdfunding is a fantastic way for everyone to get involved in raising enough funds finish the film - it's an all or nothing scenario! If we don't each our funding target by the end of our three week campaign – our backers will not be charged and no money will go to CHAMPION GIRLS. So please, pledge what you can to help us to reach our target! Any extra money we raise will allow us to really finesse the film and take it to the next level (and if it's really first class then perhaps we could take it to the world stage!).
I want to make this film because...
I have come to believe that Physical Culture offers much more to the girls and women of Australia than it appears on the surface - and has done so for a very long time. I was never a Physie girl and, as a ballet dancer, I never really knew what to make of this slightly unusual dancing activity they called 'Physie'. That was until one day quite recently, on the train home from work I ran into and old school friend. At nearly 40, she was still fully entrenched in the Physie world. Apart from being very impressed that she was still dancing on the Sydney Opera House stage, this encounter set me wondering – what is it that I have overlooked or assumed here? What is it that has held her in this Physie world for so long? Who else is there with her? And - what do they find at Physie that it's hard to find elsewhere? I knew then that there was a story here that I wanted to uncover and tell.

We want to create strong, healthy, thoughtful women who can help each other and stand up under pressure, physically and also mentally.' Candy Wolfson – Six times Grand Champion Girl, Microbiologist
There's something addictive about being part of the Physie community. When many of us would consider our dancing days to be over – a Physie girl's career may only just be getting started. In all probability, she is learning, perfecting and performing the same positions as her mother and even her grandmother.
As Australians, we have a habit of mocking that which we could be embracing. In recent decades, Physie has fought against this cultural cringe to shake off the commonly held perception that it is daggy and out dated – a reputation that can largely be attributed to the big hair and fake tan of the 1980s. The Sydney Opera House even once attempted to remove the Physie Senior Finals competition from their annual program – suggesting that it was not 'high art' enough.
But in 2016, Phyise has won out. In fact, there are not enough seats in the Sydney Opera House Concert Hall to seat all the fans and the huge increase in popularity of the sport could mean a shortage of teachers for the future. Such is the passion and sometimes obsession for the sport that there will rarely be Physie weddings or babies from August to December during the competition season. And despite the best efforts of the organisers, the culture of fake tan and big hair may die slowly because, actually – the ladies love it.

Although it is one of the oldest competitive activities for women in Australia, Physie is exceptionally hard to define. To understand it, we must go back to its origins…
One overcast day in Hobart in 1892, a man arrived by boat from Denmark bringing with him the revolutionary idea that exercise could benefit you. Hans Christian Bjelke-Petersen set about creating a system of exercises to improve the posture, strength and breathing of the ordinary people of Tasmania. 'A healthy mind in a healthy body' was his motto – and it remains so today. Quite improbably, from this humble beginning, the sport of Physical Culture has grown. His exercise routines eventually became the basis for PE in schools and for the training of the Australian Armed Forces for WW1. But when the male trainers joined the war effort, Physical Culture for boys died out.
In the hands of women, Physie has fought a constant battle between tradition and innovation – but incredibly, next year marks the 125th anniversary since it all began. These are ordinary women who have embraced an almost lost and forgotten part of our sporting repertoire and made it their own. We will follow three generations of the Physie family who tell us their journey through the sport they love and which has helped them, in more ways than one, to stand up straight in the world.

Almost as a testament to the longevity of the sport and the ladies who do it, a long running campaign to introduce an over 60 years individual competition section has finally succeeded. No longer will these ladies have to share the competition floor with the slightly more spritely 50 year olds on Ladies Masters Day. Across town at the State Sports Centre, the daughters and granddaughters of these ladies compete to be 'Champion Girl'. Here, there is a unique bond shared across generations.
There is a fierce competitive side to Physie and equally fierce friendships. There is also a continuity that can be relied upon – many girls move away from the sport to have families and pursue careers, only to return as adults, sometimes even in a different part of the country, knowing that they will be accepted back into the fold.

Over the past 3 years I have had the privilege of sharing the multicultural, ageless, classless world of Physical Culture with my incredible ensemble cast - aged from 6 to 96 - from the cites and country towns of Australia who cannot imagine life without Physie and whom you would never guess - love wearing leotards. Girls and ladies – you are extraordinary and, together, we will explore the unique and important cultural space that is Physical Culture - wondering if it's a relic from the past or a model for the future.
For those who know Physie, this film will undoubtedly reaffirm your love for your sport and the family you belong to. For those that don't know Physie – you'll wish you'd known about it sooner.

ABOUT THE FILM MAKERS
Hilary Balmond (the Director) is a factual TV and documentary film editor and CHAMPION GIRLS is her first major foray into directing. Hilary's documentary editing credits include 'Night Parrot Stories', 'Suzy and the Simple Man', 'Life on the Reef', 'Once Upon a Time in Puchbowl', 'Move It Mob Style' and currently, 'David Stratton's Stories of Australian Cinema'. Hilary is also an educator with the Documentary Australia Foundation's Youth and Education Program engaging and supporting students and teachers to make the most out of documentaries and documentary film making across all areas of the primary and secondary school curriculums. Based in the Southern Highlands of NSW, Hilary has a wonderfully supportive and creative partner who is also a great cook, two amazing young daughters and she hopes to have some chickens soon too.
Merran Lang (the Producer) has always loved a good story, especially one that opens your eyes to another world - and the Physie world is fascinating! Her film credits include Line Producer 'Night Parrot Stories' and 'Ka-Ching! Pokie Nation'; Production Manager 'Deafinitely Me' and Canberra Centennary Documentary Making with Young People. Prior to filmmaking she clocked up over 15 years experience in the advertising industry with a variety of blue chip clients, including Canon. Merran is currently General Manager of the documentary film production company, Looking Glass Pictures. She started off her working life as a nurse, so if you're in need, she's also very handy with a bandage.

How The Funds Will Be Used
Final filming of competitions and follow up interviews with our contributors. This includes paying our wonderful professional cinematographer – Justine Kerrigan
Camera and recording equipment hire
Professional editing of the film and hire of an edit suite
Music licensing / composition
Archive research and usage fees (There's gorgeous footage from the 1920's - 1940's in the National Film and Sound Archive library but it costs a bomb to use. We believe that it should see the light of day as part of our film rather than being locked away in a vault!)
Sound mix and picture grade (making the film look and sound awesome for screenings)
Graphic design
Interview transcriptions
Costs associated with distributing, marketing and screening Champion Girls
Paying our hard working Producer - Merran, and covering productions costs (including legal fees – boring but necessary)
Covering the production and postage of the tea towels for those lucky enough to have nabbed one!
Pozible fees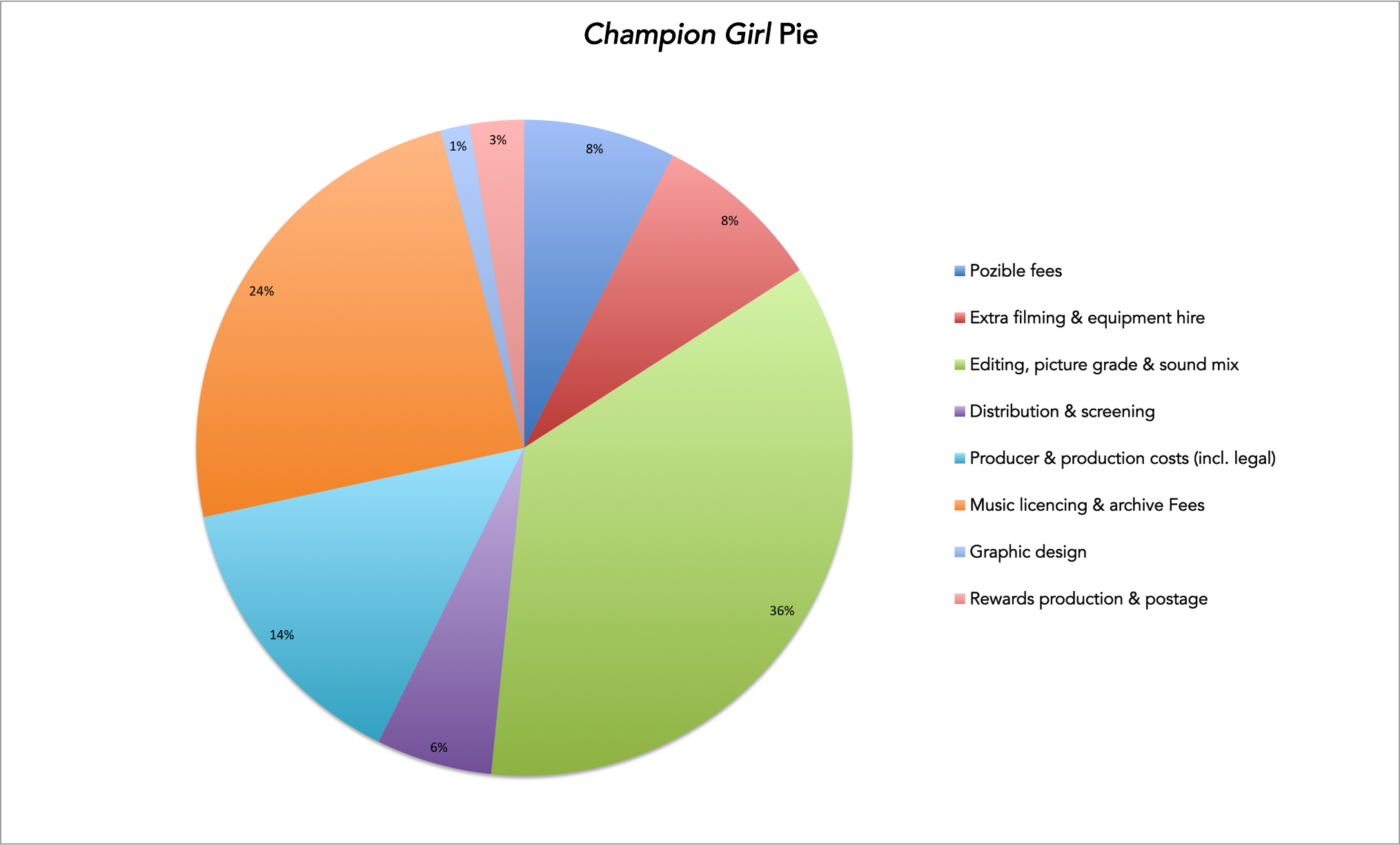 And if we happen to raise more than our target amount...
For our target amount of $70,000 we could make a great film. And if exceed that target, here's what we'd do with any extra money:
for $75,000 we could hire a sound recordist to skillfully capture all those sounds assoiated with Physie (think hairspray, the rhythm of fingers clicking and the the footsteps of an assoiate walking purposefuly across the competition floor with the results in her hand).
for $85,000 could licence more music which will allow us more freedom to edit with tracks from all your favourite Physie music or we could even have some music specially composed for Champion Girls.
for $90,000 we would be able to create and film some choreographed or historical re-enactment scenes
And if we really hit the jackpot with $100,000 plus I would LOVE to reversion the film to enter into dance film festivals around the world (The film would need to be made a little differently for a non-physie audience).
The Challenges
The biggest challenge in making a documentary film is deciding which scenes and characters will make it into the final cut. The film must be engaging, thought provoking, entertaining and memorable so there must be light and shade within the journeys and stories that we follow. After three years of filming I have a huge amount of beautiful, and often emotional footage that I have fallen in love with. And so, it will take a long time to make well considered decisions about which stories work best with each other to form the final shape the final film (which will only be about an hour long!). I know from bitter experience that to end up with the best film possible, many of my favourite scenes will end up 'on the cutting room floor'. BUT this is a great problem to have as it means we will have a fantastic film to celebrate 125 years of Physie in Australia and maybe we can even show it to the world!
So c'mon! lets get together and overcome the very first challenge - and raise enough money to bring CHAMPION GIRLS to the screen. And remember - it's an all or nothing campaign - we must reach our funding target! We thank you enormously in advance for any help you can offer.