Dear Friends
From the bottom of my heart, I would like to say the biggest thank you to everyone for your support of The Great Rhino Room Migration - for the extremely generous pledges and touching comments, the recounting of old memories and absolute love that people have shared with us throughout this entire campaign.

We started this campaign as a way to make the wider public aware of what was happening with Rhino Room and even more so, of the exciting new adventure that is about to begin. But what it has achieved, beyond this, is bring together all of our friends, past and present, and show what a close-knit community the true lovers of arts and comedy are.


We always talk of Rhino Room as a family but never before has it felt like such a tight crew and we have been completely humbled by your overwhelming support.


So, to everyone who has been part of this epic journey, even for a small period of the 20 years at Frome Street, we can't wait to see you at the new venue and look forward to enjoying a drink, partying and creating some amazing new memories for you on the stage at your new Rhino home.
Here's to another 20 years.
Mick and the Rhino Team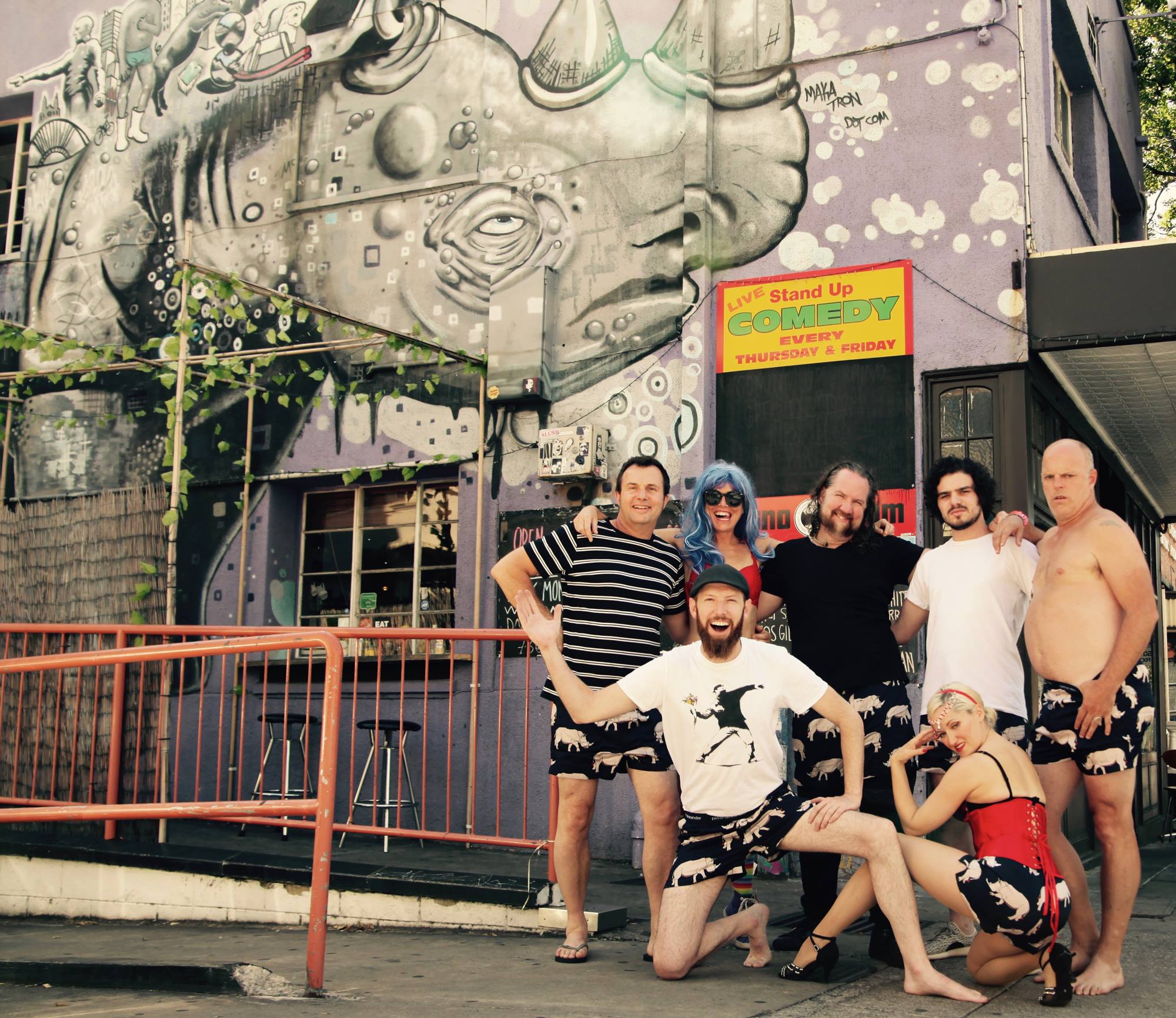 Below is a bit more about our campaign:
"Rhino Room is the perfect comedy oasis for great comics, young and old to play and create together." Greg Fleet
Seriously, you guys have the most thriving comedy scene I've seen since Sydney in the early 90s. Mikey Robins
"Rhino Room is not only a great venue to see comedy; it's also THE place to go for a drink if you want to view the comedians in their natural habitat." Arj Barker
What is the Great Rhino Room Migration all about?
You may have heard the rumours or seen the media announcing that the building at 13 Frome Road, the home of Rhino Room for 20 years, has been earmarked for demolition to make way for a 36 level hotel. Sadly, it is true! At the end of Adelaide Fringe 2017, we will begin the migration to our new home.
We have secured a new premise at 1/131 Pirie Street and will remain committed to providing a space for our emerging artists, entertainers, DJs, comedians and our Rhino family.
However, we really need your support. This is a big and costly move for our small South Australian business. Building and infrastructure, removalists, sound equipment, security and licences are just the basics. So we are trying to raise $38,000 to help Rhino Room start this new chapter.
Before we get into the nitty gritty about how your pledge will be supporting us, here's a little bit of background on Rhino Room:
Established in 1998, Rhino Room began as an offshoot of Urban Cow Studio, providing a venue for emerging performing artists in the same way Urban Cow provides an opportunity for emerging visual artists. Rhino Room still maintains the same ethos to this day and is recognised Australia-wide for its commitment to up-and-coming entertainers.
Providing an eclectic atmosphere, Rhino Room is known as being the 'spiritual home of comedy' to comedians around the globe and is the venue for world-class standup shows run by Adelaide Comedy as well as being a hot-spot for Adelaide Fringe artists and guests for more than 18 years. Celebrities from all genres have graced our stage, including Arj Barker, Wil Anderson, Tom Green, Ross Noble, Dave Hughes and many more. Rhino Room also specialises in private parties, offering an atmosphere unlike anywhere else.
I love the Rhino Room because it's the best comedy room in Adelaide. As for the bar … I can always remember walking in but I can never remember walking out. Too much fun." Tom Gleeson.
How The Funds Will Be Used
We are hoping for your support to help us build a NEW PERFORMANCE SPACE at Rhino Room. A functional, eclectic, beautiful and engaging environment to allow our performers and Rhino family to continue making their art in Adelaide.

Funds raised will be put directly into creating this space at the new Rhino Room at 1/131 Pirie Street.
The money will be used for new staging, design, curtains, a sound system, lighting, green room, airconditioning and painting. All the things associated with building a new room for the next generation of South Australian comedians, musicians and visual artists. A fresh, functional Rhino Room with the vibe of the old one!
While saving the Rhino Room we wanted to consider the plight of flesh and blood rhinos around the world, so 5% of the total proceeds awarded from our crowdfunding campaign will be donated to a Save the Rhinos initiative run by Monarto Zoo who are currently raising funds to relocate about 30 White Rhinos from South Africa to Monarto Zoo.
"More than 1,300 rhinos were poached last year in South Africa alone, and we've nearly reached the tipping point where more rhinos are poached each year than are born. At the current rate of poaching, rhinos in the wild will be extinct by 2024. To save the rhino, we must increase our efforts to safeguard and breed rhinos in protected places which is why we are relocating these rhino. It is hoped that the first rhinos will be relocated in the next twelve months. As a conservation charity, Zoos SA is committed to helping ensure the future of this near-threatened species and we are proud to have already bred five Southern White Rhinos." Zoos SA
Rhino Room and Adelaide Comedy are both very excited about supporting Zoos SA in a small way through this campaign and are looking forward to working with them on future projects to save more actual Rhinoceros. So stay tuned for that! Click Here to find out more about the Australian Rhino Project.


The Challenges
Time and resources are huge challenges for us. We are about to move 20 years worth of love, laughter and life. We are looking forward to knocking these challenges out of the park and with your support, we will provide an amazing space to create lots of new memories for our Rhino family and the new generation ahead.