The Coburg Plan
A book of photographs and essays documenting a suburb in flux: the decaying past lives of old Coburg and the new layers of residential architecture erasing these past lives from its landscape.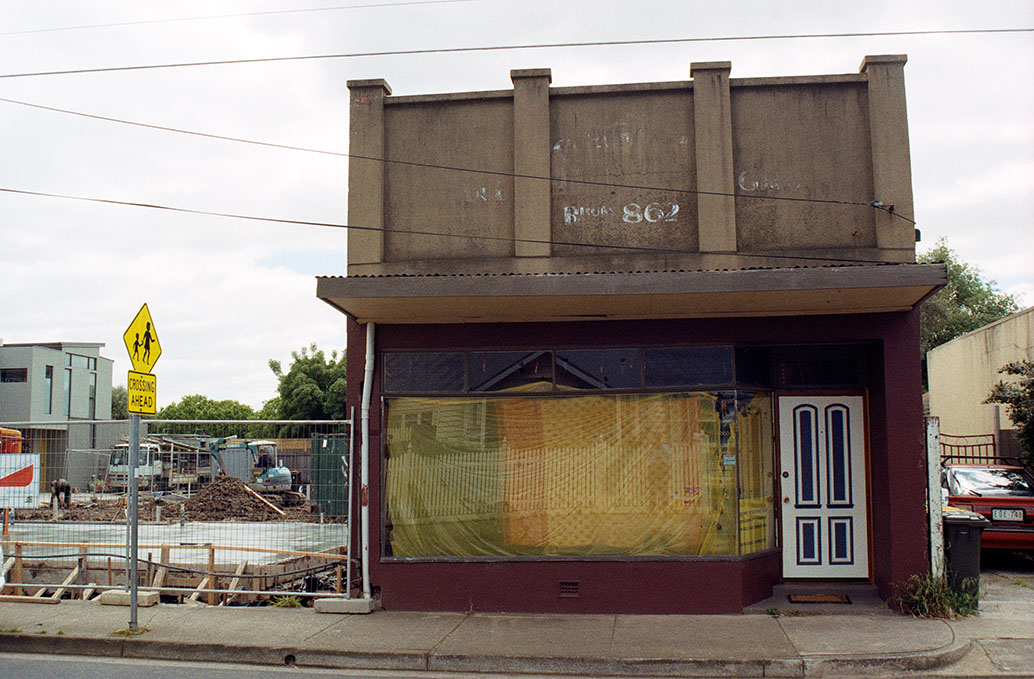 About the book
Suburbia may seem static from the outside, regressive even. In reality it is in perpetual motion, shooting tendrils ever further into the grasslands and paddocks surrounding Melbourne, as well as constantly regenerating itself from the inside out.
'The Coburg Plan' is a book of photographs by artist Jessie Scott, accompanied by commissioned essays, exploring the suburban terrain of Coburg in flux.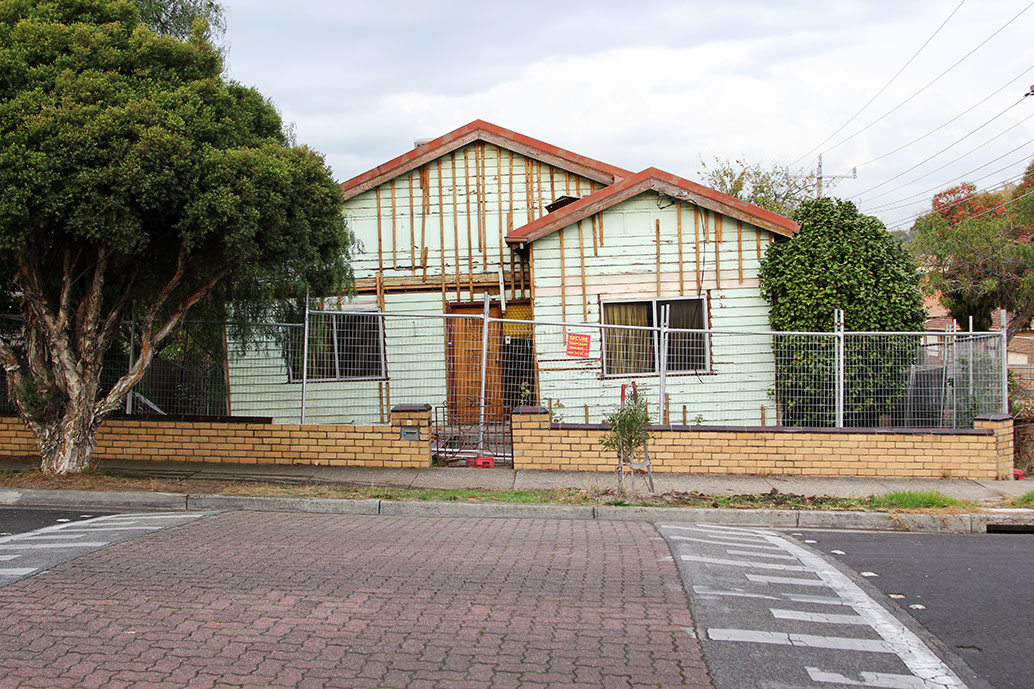 Scott began photographing the houses in her suburb as she walked bleary eyed and exhausted with her dog and her baby around the streets of Coburg. This led to a fascination with details she'd never noticed before, patterns she began to see in her immediate environment, a need to understand it better and document it before they were erased from the landscape.
Coburg is unique, and 'The Coburg Plan' is a loving ode to its specificity. Yet it sings the familiar strangulated refrains of a chorus of suburbs under development within a 20km radius around any big city in Australia. As Moreland City Council continues its limping march to the staccato beat of urban renewal, 'The Coburg Plan' documents these layers of change, the architectural trends of an incoming residential community and the fast-fading evidence of past building stalwarts.
The essays explore what a shifting urban landscape might reflect about the economic and political forces that shape architecture, urban planning and infrastructure. Each writer has a different take on how communities and individuals living in these suburbs are influenced by these forces, or indeed, how their expectations of home and place shape place and enable changes in the built landscape.
CONTRIBUTORS
Principal Artist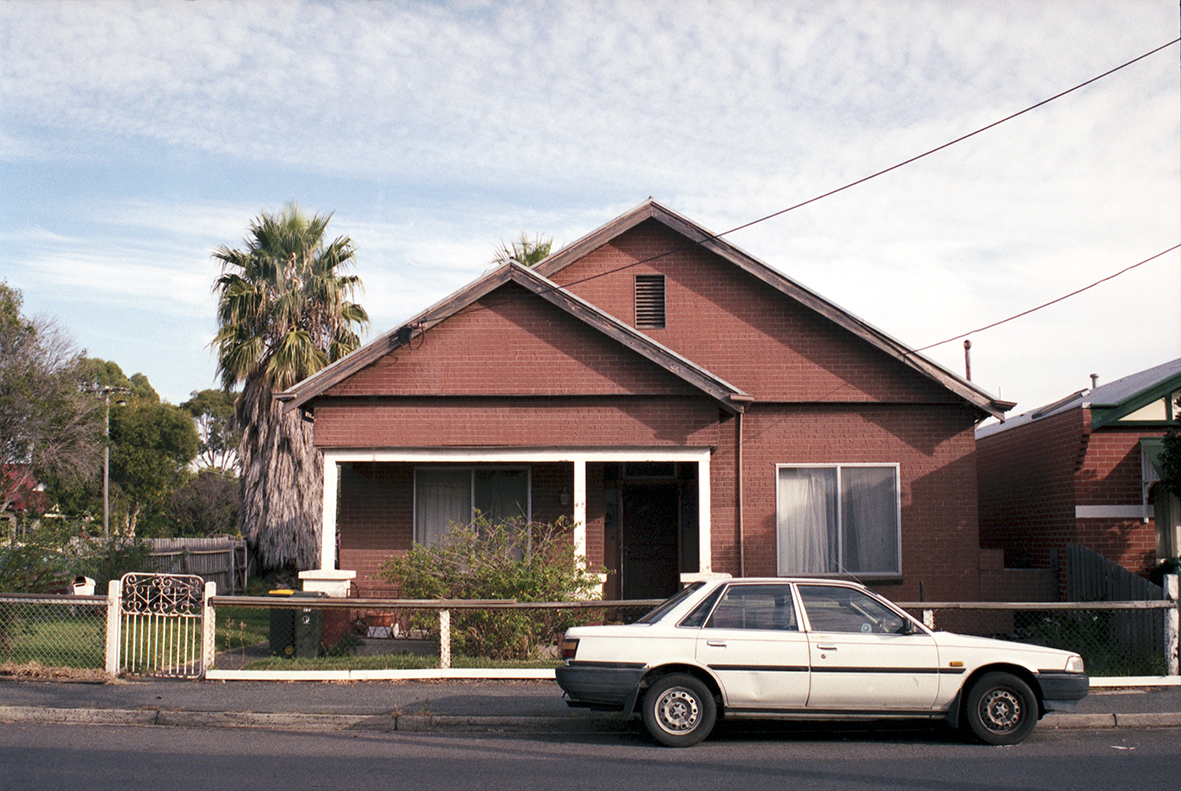 Jessie Scott is a practising video artist, writer, programmer and producer who works across the spectrum of screen culture in Melbourne. She is a founding member of audiovisual art collective Tape Projects, and co-directed and founded the inaugural Channels Video Art Festival in 2013. Jessie's video and photography work concerns the affective fabric connecting place, community and the built environment. Some of this work can be seen on her Instagram account: @the_coburg_plan. She is also actively engaged with the politics of parenting while making art via various collaborations examining the daily compromise at the nexus of being an artist, mother and worker. Recent solo exhibitions include Death Watch at Screen Space (2012), The Coburg Plan (2013) and Romance Traces (2014) at Tinning Street, Miraculous Ribbon (2015) at Grey Gardens and Multidwelling (2016) at Bus Projects. She has performed extensively with sound artist Alice Hui-Sheng Chang since 2011, and she has performed and screened her work widely in Melbourne as well as in Sydney, Hobart, Alice Springs, Taipei, Tainan and Brooklyn. She currently teaches video art at RMIT and in 2017 was shortlisted for the inaugural Footscray Art Prize.
Writers
Timmah Ball is a writer, spoken word artist and urban researcher of Ballardong Noongar descent. She has written for The Griffith Review, Cordite, Meajin, Overland, Westerly Magazine and won the Patricia Hackett Prize for writing. She wrote and performed Last Stone Left for Yirramboi Festival and is currently co-producing Wild Tongue zine for Next Wave Festival in 2018. Her first chapbook will be released later this year with Rabbit Poetry.
Tilde Joy is a writer, musician, activist, retail employee and transwoman living and working in Narrm/Melbourne. Her background includes a slew of gallery installations as a sound artist and computer technician, a history of improvised guitar performances, organising in artist collectives and trade unions, and publishing emerging artists' written, sounded, seen, thought and felt media. She is currently acting as noise correspondent and co-editor for the workers' publishing house ULTROS_PROFESSIONAL
Eugenia Lim is an Australian artist who works across video, performance and installation. Interested in how nationalism and stereotypes are formed, Lim invents personas to explore the tensions of an individual within society – the alienation and belonging in a globalised world. Lim's work has been exhibited, performed and screened locally and internationally at venues, festivals and fairs that include: Tate Modern, GOMA, ACMI, HUN Gallery NY, Next Wave, FACT Liverpool, 24HR Art (Darwin), Substation (Singapore), Schoolhouse Studios, Experimenta, Sydney Contemporary, Melbourne Festival, ACAF (Shanghai), TINA, Dark MOFO, Bus Projects, West Space and MPavilion. Collaboration, artistic community and the intersection between art and society informs her practice: in addition to her solo work, she co-directed the inaugural Channels: the Australian Video Art Festival, is a board member at Next Wave, the founding editor of Assemble Papers and co-founded Tape Projects.
Emma McRae is a curator and writer. From 2008-2017 Emma was Curator at the Australian Centre for the Moving Image where she curated exhibitions including Philippe Parreno: Thenabouts (2016), Daniel Crooks: Phantom Ride (2016), Candice Breitz: The Character (2013), Star Voyager: Exploring Space on Screen (2012), Game Masters (2012), and Hollywood Remix (2009). Emma was Project Manager & Associate Curator with Experimenta Media Arts from 2004-2008, where she co-curated Experimenta Playground (2007) and Experimenta Vanishing Point (2005) (both co-curated with Liz Hughes). Emma has also curated screening programs for organisations including Next Wave, Sydney Film Festival, and Urban Screens Melbourne. Emma's writing has been published nationally and internationally in exhibition catalogues and publications including RealTime, un. magazine, Assemble Papers, Broadsheet Journal, and art.es.
Maggie Scott is a writer from Melbourne. She is interested in feminist ideas and issues, and has co-edited and contributed to two anthologies of women writers published by Pan Macmillan, Just Between Us (2013) and Mothers and Others (2015). Her writing has also appeared in Kill Your Darlings and The Big Issue. In a closely related parallel universe, she is a film buff which has led to volunteer feature film previewing for MIFF, reviews for the Screen Machine TV and Picture Skew blogs and she is currently a co-host of the podcast Club Soderbergh, the incredibly niche podcast chronologically following the feature films of director Steven Soderbergh.
Kyle Weise is a writer and curator. Together with Simone Hine, he co-founded and co-directed two Melbourne art galleries: the not-for-profit gallery Screen Space (2010-2016), dedicated to the moving image, and the commercial gallery Beam Contemporary (2010-2014). He has curated or co-curated exhibitions in Brisbane, Melbourne, Sydney, Perth, Miami and Milan, and has written widely about contemporary Australian art, across catalogue essays, and articles for Eyeline, Dissect, Un Magazine and Millennium Film Journal, among others. Together with Simone Hine, he has recently founded Kuiper Projects, an independent art initiative in Brisbane, and is the Curator of Exhibitions at Metro Arts, Brisbane.
Frank Lloyd Wrong (Ugly Melbourne Houses)
Frank Lloyd Wrong is a Senior Executive Amateur Content Delivery Professional at @uglymelbournehouses, an outbound marketing and non-sales platform that attracts followers/customers by reviewing uploaded ugly house imagery based material. He graduated with Honours from The University of Outer Eastern Suburbia with a dual Degree in Business Non-Administration and Vaguely Abstract Creative Writing Majoring in Probably Being Architect in his Day Job. After graduating, his passion for large ugly inanimate expressions of social status and up-scaled fast paced client interaction led him to a role as UMH's first and last ever Executive Intern Re-Assignment Job Title Allocation Production Manager. Realising his undeniable skill for intensely rapid workflow decision based team manipulation, Senior management reallocated him to the Powerful Imagery Caption Department. Frank is a renowned obsessive perfectionist and workaholic. In his spare time he goes hunting for ugly houses in the outer suburbs of Melbourne with his 4 Irish Wolfhounds, Pikasso, Monnet, Provinciale and Eiffule Towwers.
Designers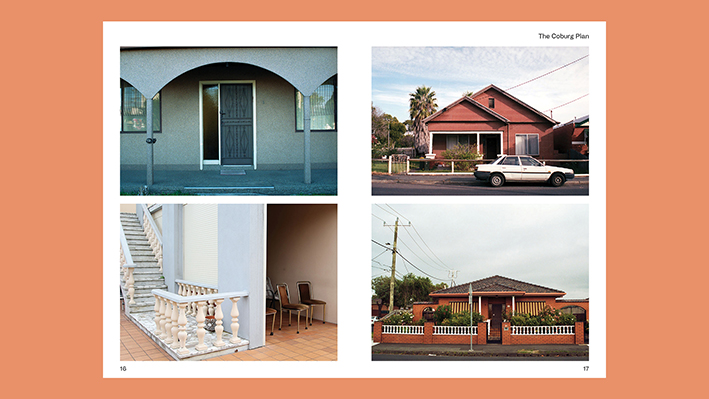 Hope Lumsden-Barry is a Melbourne-based graphic designer. Her research-driven practice is concerned with design-lead publishing and cross-disciplinary collaboration. Recent design projects include: Filmme Fatales #6-#8 (issue #6 designed with Stuart Geddes); catalogues for Lamington Drive's inaugural ceramics show, Cooked; Indignata, a publication for sound art collective (no)signal, designed with Ryley Lawson; and the catalogues for the Material Exchange exhibition series at c3 Contemporary Art Space (2017). Hope also presented a workshop on zine-making for creative practice as a part of Material Exchange. She has convened panel discussions at RMIT and the NGV Art Book Fair.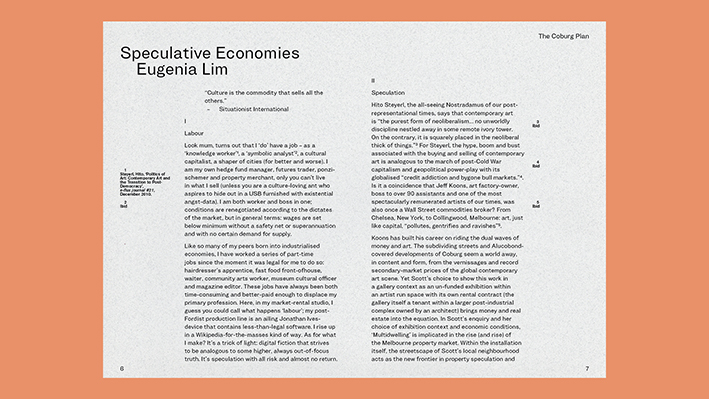 Ryley Lawson is a design researcher based in Coburg. His practice is focussed on the intersections between design and power, with ongoing explorations into precarity, community building, and spaces of dissensus. He currently works at a small strategic design studio called PaperGiant, and has recently worked in various research positions with Australia Post, RMIT University, and the Design and Social Innovation in Asia-Pacific Research Network. Earlier this year, Ryley and Hope organised an exhibition during Melbourne Design Week called Making Space, which explored the conditions that support critical, socially-engaged, and political design practices.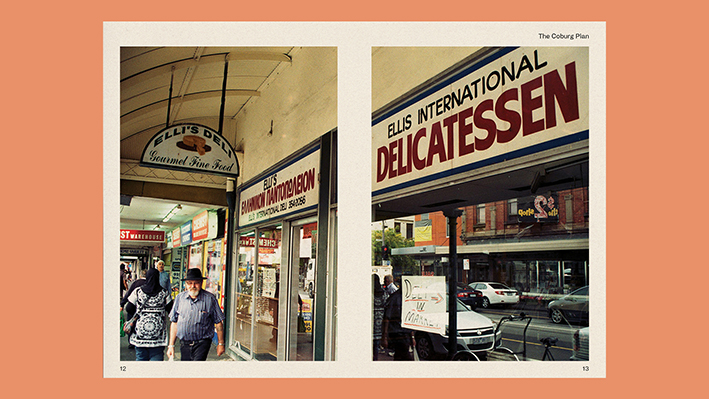 Dennis Grauel is a type & communication designer working in Melbourne. He plays with letters and language. His font, Brunswick Grotesque, responds to the challenge of communicating a sense of place. Building upon the ideas of Peter Bil'ak, Fraser Muggeridge and Vincent Chan, this typeface incorporates a suite of OpenType features to transfigure its texture. 5 different widths are blended in each line of text, echoing the irreverent inconsistencies in signage within Brunswick. Rare instances of accidental glyphs reflect typographic gaffes spotted variously in the landscape. The resulting coarseness befits the suburb's progressive multiculturalism, diversity, and informality.
Budget Overview
I am lucky enough to have two wonderful project partners in Assemble Papers and Open House Melbourne, who have offered in-kind support for promoting the book, and it's launch in July.
But I need to raise the cash to produce the book itself:
Design, print and assembly: $5000
Writer fees ($150 per writer, 6 x writers): $900
Distribution budget (postage, general admin expenses): $2100
Total: $8000
+ Expected income from sales (not included from rewards/presales on this Pozible campaign): $1750
NB: So far I have expended $3300 of my own money on this project and would like to be able to recoup those costs, increase the writers fees (so far they have only been paid $150 each) and increase the design fee, which at the moment is neglible.
Any extra income accrued from this campaign will go towards paying an intern to help distribute the book after it's printed.
Potential Challenges
Everyone involved in this project has agreed to work for cheap or nothing. My first priority is thus raising enough money to pay them properly and also not leave myself too much out of pocket.
One of the major challenges of this limited-run, self-published artist book is distribution. Without a publisher I will have to be contacting booksellers, websites, galleries, retailers and book fairs individually to place the book. This usually involves then sending books out to them by post (or dropping them off in person if practical) and then following up to find out if they've sold, and separately invoicing each outlet.
This is, as you can imagine, a huge amount of admin. Normally this would be happy busy work that I would do in my spare time, but I'm pregnant with my second child and due in May. So by the time the book is finished, I will have a very young infant along with my 3-year-old in tow. I probably won't be sleeping a hell of a lot and may not be leaving the house much! So any extra money made on this campaign, and through book sales, will go back into distribution of the book - which has a much longer tail than the production itself.
My ultimate goal is to NOT have boxes of unsold books taking up room in my cupboard at the end of this thing! I want to get the book out there and into people's hands as much as I possibly can as an individual artist, so if I can pay an intern to manage the distribution part, it will mean a huge weight off my shoulders, as well as hopefully providing some paid work experience to someone interested in art, publishing, photography or arts management in general. And it means all the amazing work of my collaborators will find an audience, and the 6+ years I've spent working on this photographic project will also have a fine and fitting resolution.