Welcome Adventurers!
The Sydney Harbour Skipper's Challenge is a unique event on and around Sydney Harbour, best of all, no sailing experience or yacht required! If you love a little mystery, adventure and being on Sydney Harbour, keep reading.
The event involves mini survivor-type team challenges for 24 crew only – 6 teams of 4 people. You should be able to collaborate, communicate, balance, persist, coordinate, interact, be a team player, all while enjoying the journey. Athletic ability isn't the focus, it's team work. If you love Sydney Harbour and want to experience 4 hours on a luxury catamaran while competing in team challenges, this gig is for you. You'll have plenty of time to enjoy the harbour, there's a tasty BBQ on the vessel in the last hour to crown the winning team with custom minted Skipper's Challenge medallions. Part of the mystery is not knowing exactly where in the harbour you'll be going for the challenges or what you'll be doing until we are there. Be rest assured, nothing too risky.
Required: Sense of adventure, a love of Sydney Harbour, towel & togs (if you're game), sense of humour, an appetite and a competitive spirit. Must be 18 years of age or above.
We are offering supporters unique experience-based rewards! There are 24 tickets available and the event is on Sunday, 15th October 2017. However, if we get more than 24 ticket pledges we will run more events. The ticket rewards we are offering are about 40% cheaper than usual retail prices.
How did the Sydney Harbour Skipper's Challenge come about?
My brother and I thought it would be a good idea to create an Australian made lifestyle brand with clothing, accessories and adventure. So, Sydney Harbour Yacht Club set sail. We're not a bricks and mortar yacht club, we are a lifestyle brand along the lines of Beverly Hills Polo Club. There is no physical yacht club, but many people think there is…maybe one day. We wanted to create a unique event on Sydney Harbour that would appeal to all adventurers, not just sailors, so for the past 18 months we've been developing the Skipper's Challenge. We are almost there...
SHYC is a 100% Australian made, geographically specific lifestyle brand which is our unique difference. Our brand is all about leisure and the much envied Australian lifestyle. Our goal is to keep production in Australia which supports our community and economy. Believe us, it would have been so much cheaper and easier to get all our products made overseas like 92% of all clothing sold in Australia, but that wasn't the point of the exercise.
We've almost added Adventure to our range, and that's where you come in, our supporters. Now you have the opportunity to experince Sydney Harbour as it should be experienced, with the sun on your face, sea spray in your hair and a trace of adventure in the breeze!
More information on the event can be found here - https://sydneyharbouryc.com/sydney-harbour-skippers-challenge/
Read the FAQ section for more detail.
Budget Overview
Bottom line, we're looking for micro investors to get the Skipper's Challenge over the line. We are a small business and we've invested all our money to get the brand where it is today, but we need a little more for insurance, equipment and staff. If you or your group of friends want to get involved in this project, we would appreciate your support. If you love being on Sydney Harbour with a twist, this is your chance to participate in a unique event.
We only require $2530.00 to make ends meet to cast off and set sail on this voyage of discovery. To do that we are offering our supporters the chance to get on board and join the crew with our experienced based rewards for pledges.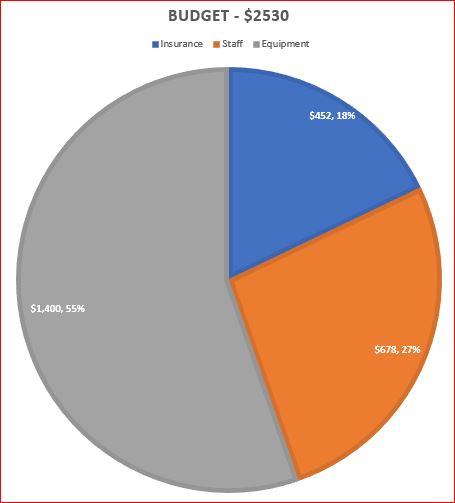 Potential Challenges
The only challenge to this project would be if we don't get the pledges to meet the shortfall in project funding. If this were the case, the event will be postponed until next year.
Event tickets are unlimited
There are only 24 tickets available for the event on October 15th 2017, but if we get more ticket pledges for this event, supporters will automatically be rolled over to the next event date on 12th November 2017. If that is filled, we have another event date on 10th December 2017. All supporters who pledge for ticket rewards during the campaign will be issued ticket/s for one of the event dates. We will be filling one event at a time and will continue events over summer if initial funding is acheived.