Piggy in the Middle - On Farm Butcher House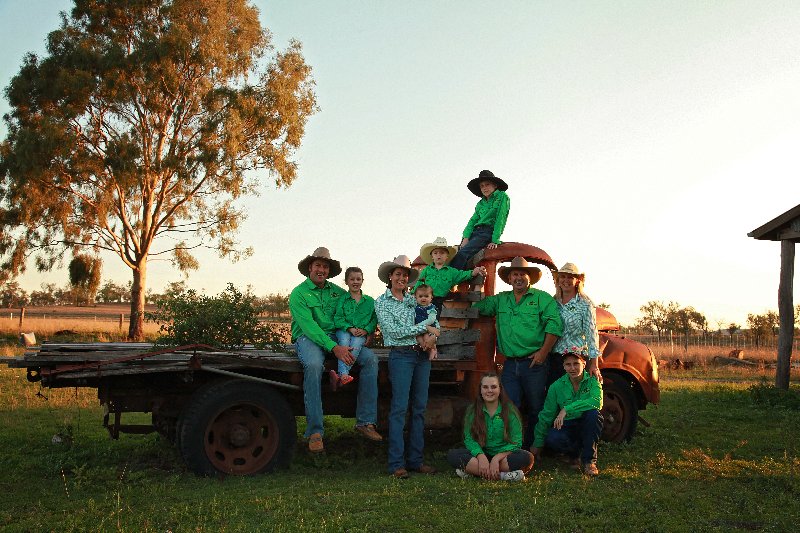 Hello
We are Team Piggy!
Mason & Krystal with Layla, Alfie & Tilly
Dean & Kate with Cooper, Melissa & Beau
Piggy in the Middle began only 7 short months ago when we came together as a team. Mason, Krystal, Dean and myself (Kate) moved our families to Kilkivan in January to pursue our dreams of owning and running an ethical farming system and providing the complete package of paddock to plate for our customers. We combined all we had and a whole lot of hard work to start our farms, and create a business which is now selling to our valued customers up and down the Sunshine Coast.
We all grew up in central Queensland, having a long family history of farming and grazing behind us. Between us we have a wealth of knowledge and understanding of the land and animals.
Mason and Krystal share a passion and respect for the land and their animals, inspired and motivated by the holistic grazing methods and applying them on their property. They have studied with and gained wisdom from a range of ethical farmers (including lunatic farmer Joel Salatin of Polyface) also completing 3 years of Ag business development. After looking at Joel's work they began noticing changes in the grass and cattle, this led them to look more closely at conventional beef production and the journey from the farm to the consumer, which then broadened to lamb, pork, poultry and eggs.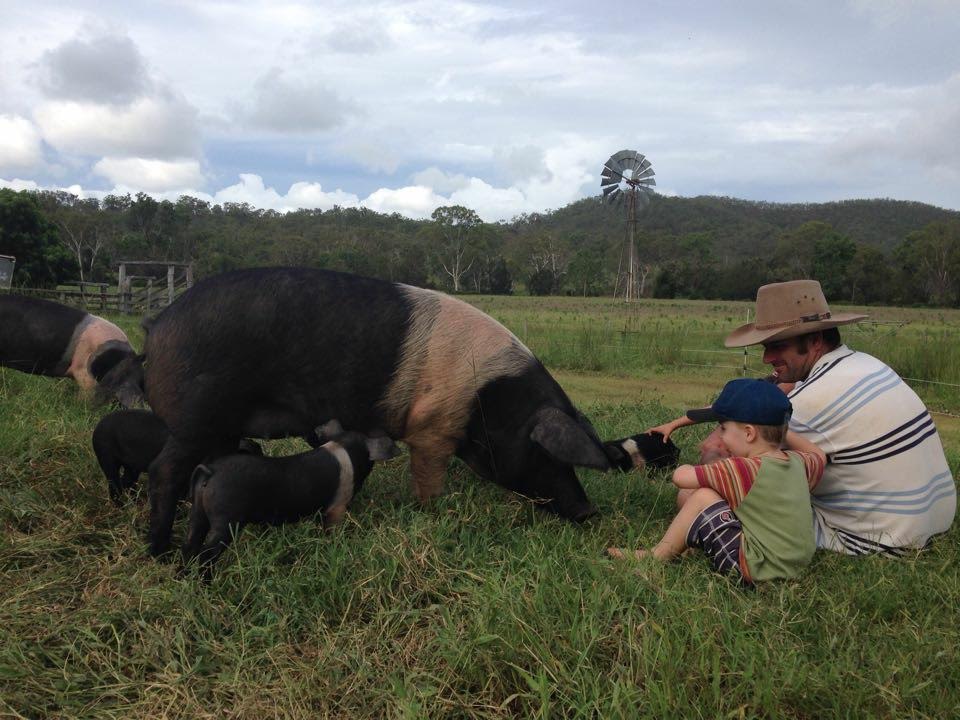 Allergies in our family prompted Dean and I to look into the foods we were providing for our family. With Dean's background in butchery and his growing interest in heritage breed pigs he began producing a more healthy alternative for our family. It is important for us to know where our food comes from and how it is produced. With gluten and nitrate free meat and small goods Dean's main focus, it wasn't long before these fantastic products were soon in high demand. With the local community enthused by Dean's passion for high quality meats and charcuterie (the craft of salting, smoking and curing).
At Piggy in the Middle we rotationally graze sheep, pigs, meat chickens and laying hens on our two farms at Kilkivan, QLD. From here we transport them to the abattoir; we then travel 3 hours round trip to the butcher (including butchering and packing time we then lose a whole day) and sell direct to our customers at farmers markets. We feel we are losing valuable time and money, which would be better spent on the farm tending to the animals and improving infrastructure.
This brings us to the next step; we have exciting plans to build an on farm butcher house. We have an existing building that we can convert to a Safe Food licenced butcher house. With the help of qualified friends and family we plan to install a cold room and boning room, where we will be able to butcher our own animals.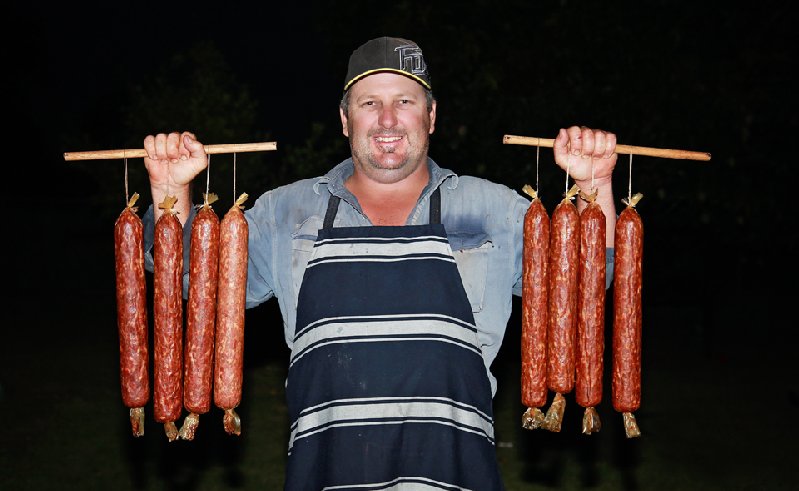 Dean has the training and experience to continue providing the premium quality cuts whilst also expanding our produce range. Our family has enjoyed Dean's salami, kabana, sausages and ham's: we can't wait to share these with you all.
It is not easy to ask for help, however to achieve what we plan in such a short time we need all the help we can get. In helping us, you to get to be part of something great and at the same time earn yourself some awesome rewards. We pride ourselves in having some of Australia's best meats, no matter the size of your pledge you will experience some of what Piggy in the Middle is all about. Whether it is a delicious breaky pack or a farm tour from a helicopter followed by a 3 course meal prepared by celebrity chef Matt Golinski on our farm, there is something for everyone.
Rewards: We have an estimated time of delivery, we hope to get your rewards delivered to you well before the due dates. This will all depend on the seasons, animal numbers and work load at Piggy in the Middle farms. If you have any queries or concerns please do not hesitate to contact us on our email info@piggyinthemiddle.com.au
(You can follow our progress and developments on our Instagram, Facebook and or Piggy-tales Newsletter. We will share all the excitement as each step of the build happens!)
How The Funds Will Be Used
We understand that we are asking for a lot of money, we appreicate and value your pledges.
Below is a list of how the funds will be distributed:
Floor/drains: $2000
Plumbing: $2000
Electrical: $4,500
Coldroom panels & coldroom motor: $7000
Sink, benches & doors: $2000
Licensing and accreditation: $2000
Builder: $3000
Butchering equipment: $7000
Pozible fee: $2500
The Challenges
Challenges we experience before the build:
Not being able to be a part of each step in the paddock to plate philosphy we follow.
Once we have our butcher house, we can give our customers confidence that we are respecting the animal during all stages, also ensuring that they are receiving ethically raised and produced meats. This way we can confidently answer exactly what goes into our products, from the paddock to the customer.
Challenge during the build:
The financial cost of labor.
We have (begged and pleaded) enlisted the help of some truly wonderful family and friends with skills to help with the tough stuff, including building and electrical work. With their help along with Mason and Dean being more than capable of doing the bulk of the work, we believe this challenge will not be a problem.