I want to render beautiful photographs centered around the concept of grief….
My mission for this project is to publish a photography book, full of beautiful photographs, with compassion and grit.
This will include people's stories and experiences with grief and create a sense of community and understanding centered around talking about grief.
This is about the people and their stories.
This project has grown quickly. It began with an idea to photograph Jodie and her story, and then emerged to include many people grieving around Portland. The outpouring of interest continued and we received interest from four other states.
Instead of keeping the photographs and stories local to just Portland, we thought we would try to take this nationwide.
Our cover photo is of Jodie, herself, who lost her 1-year-old son, Silas, to SIDS. These are her words that will be handwritten and shown with her photograph.
Jodie writes: We struggled with infertility and were told he was not coming. Decided that our family was complete. Mourned the loss of the second baby that was not to come. Then naturally and unexpectedly, he arrived. My Silas. Our dear, sweet, miraculous baby. Overjoyed, we had him in our arms for 371 days. Celebrated his first birthday. He was often smiling, almost walking, loved to eat pears and books. We thought he was sleeping through the night for the first time. Wrote it on the calendar with the other firsts. He had not slept through the night. With no calls for help and no explanation, he died. My grief and my love will last a lifetime.~
What we are finding is that it is a very meaningful series for many people.
I would love to know your story and photograph you, and eventually include a paragraph in your own writing right alongside your image, rendering the story of your loved one(s) who have died and your experience with grief.
I am a photographer local to Portland, OR. I have shown in New York and Portland and I am also a member of Soho Photo Gallery in NYC. I have also been internationally published. I am doing this in collaboration with Jodie Brauer, M.S. Grief Advocate and Founder of the Celebrate Silas Memorial 5k in Portland, OR ( celebratesilas.com )
Please note that this is the first of TWO campaigns. This first campaign will help get travel funds initially allocated so the photography in five states (OR, WA, NY, MI and MN) can begin! The larger of the two campaigns will come after this one if it is successful and that one will include travel costs to at least five more states -AND- the final costs of publishing the book. This is an ALL or NOTHING campaign and if we do not reach our target goal of $9000, your account will not be charged.
Pledge your support in appreciation of this growing project!
Please email me if interested in participating: jadybates@gmail.com
You can see some of my current and previous work here:
How The Funds Will Be Used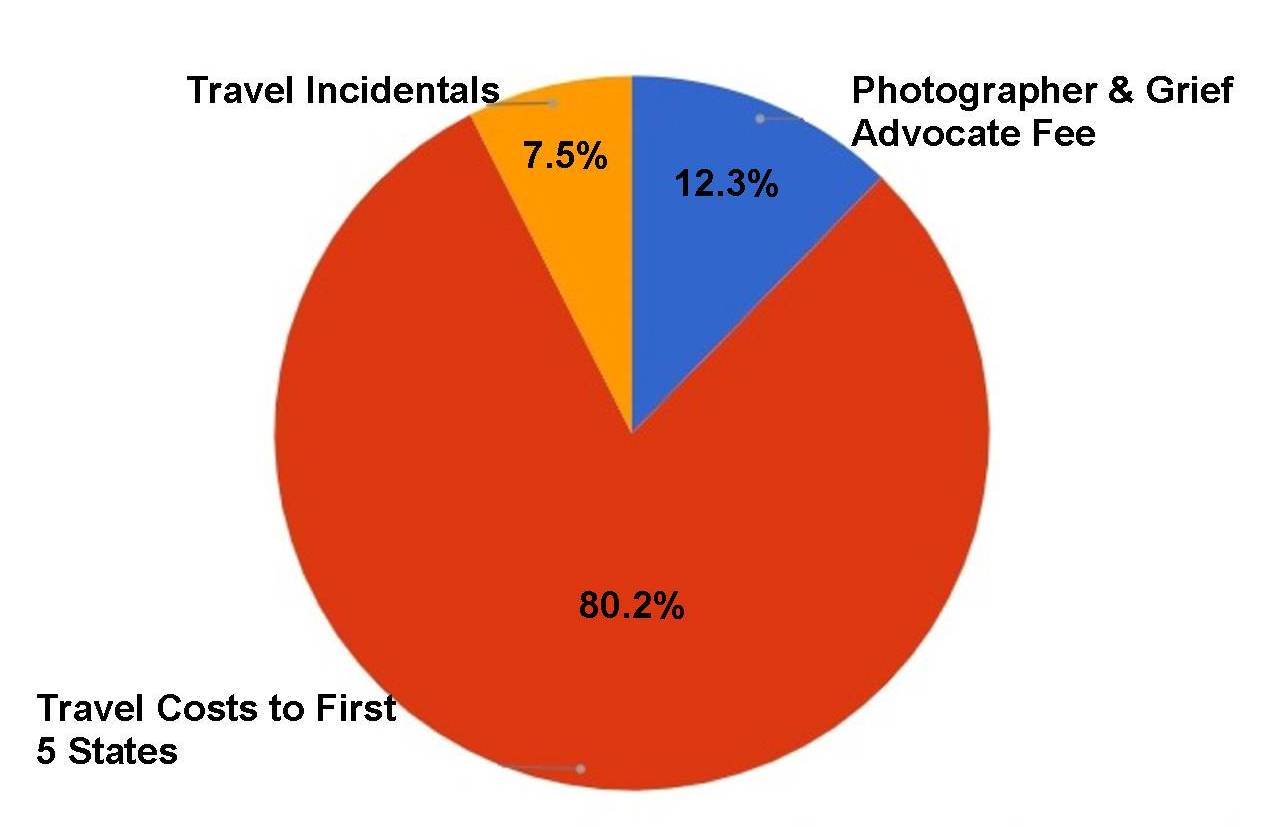 The Challenges
We have the creative vision. We have a grassroots network to reach out to all local subjects.
What we need is YOU! We need your funding and your help to spread the word! , SHARE, SHARE, SHARE!