Who are we?
Hot Chicks with Big Brains is a publication for women who work. It's full of interviews, memoirs, and essays by and about all kinds of women and all kinds of work. We've sold out of biannual Issues #1, #2, and #3, and now we're up to Issue #4. We've NEVER crowd-funded before, but we've got some exciting news - we're going quarterly - and we need your help.
If we can get enough pre-sales and subscriptions for Issue #4, then with our increased print run and new distribution model, we'll be VIABLE AS A BUSINESS. No kidding. A viable print publication. We just need this little boost, pretty please.
Individually, we are Bri Lee (Founding Editor + Manager) and Anna Apuli (Art Director and Assistant Manager). We've been friends for literally 20 years. We run Hot Chicks with Big Brains from Brisbane, Australia, but we feature national and international content. In our team we also have Emma Kate Lewis as Blog Manager, Yen-Rong Wong on our e-newsletter and Twitter, and Lauren Muggleton as an online content assistant. With our powers combined, we are Hot Chicks with Big Brains.



What's in Issue #4? Why should I buy it?
We're so glad you asked! We'll have actual product shots of Issue #4 for you in a few weeks once we pick the copies up from the printers and do a glamorous photoshoot with them. In the meantime, here is the content:


Award-winning British artist Zarah Hussain talks to journalist and friend Amy Ridout about bringing Islamic art into the digital age pushing back against the pressures for women to look and act a certain way in the art world.
Marie Claire Australia's Fashion Editor-at-Large, Clare Press, wrote a book about ethical fashion called Wardrobe Crisis and Bri Lee interviewed her about her career in print and now podcasting.
Audrey Oh is a trans woman currently serving in the US military. Her blistering memoir and conversation with another, retired trans troop, is accompanied by Anna Apuli's original illustrations.
Darug elder Aunty Jacinta Tobin talks Country with Izzi Manfredi of The Preatures whose single Yanada features Izzi singing in the Dharug language. Their funny and touching chat has been capture in pictures by Jesse Mullins.
Phoebe Veldhuizen has photographed her mother, Kaz, who works as a chaplain in emergency rooms. Kaz is a queer, disabled woman, and these images run alongside a moving conversation between mother and daughter.
Patience Hodgson of The Grates and Rachel Burke are best mates and crafters-in-arms. They talk about hot glue guns being incompatible with babies (and more generally, the pressures of balancing motherhood and career and hobby) with bright, glittering pictures of their meeting by Bri Lee.
Three different Canadian chefs, all battling dudebro kitchens, talk to Brianne Dempsey about how more women graduate from culinary schools, but find the culture of their workplaces unbearable. Accompanied by Anna Apuli's delicious illustrations.
Hello to Wendy Ma, our Featured Artist. Wendy's ceramics and photography are both on display – she's photographed her jewellery on her model and friend, Deena.
Kim Wong-Shing is a Black woman navigating the politics and hard work of farming in America in the 21st century. So is Nailah Marie, who studies farming and dreams of having her own farm one day. So Kim interviewed her about it.
Some creatives don't fit the mould and Sarah Firth is a cartoonist, filmmaker, graphic recorder, visual artist, and writer. Bri Lee spoke to her about being all kinds of artist.
Greens MP Dr Mehreen Faruqi is fighting for all the things you care about – abortion access, greyhounds, the environment, and domestic violence – and it's hard work. Bri Lee interview Mehreen about how she keeps fighting.
Madison Griffiths went to interview soccer stars Candela Ferrerya Bas and Courtney Hueston about how awesome they are, and on that very afternoon they found out they wouldn't be getting paid for their work. This outrageous interview is accompanied by some original art by Madison herself.
Acclaimed author Fiona Wright introduces us to her dog, Virginia Woof, in a beautiful memoir about support animals that Anna Apuli has illustrated.
Extraordinary dancer and dance-maker, Amrita Hepi, is interviewed about her extraordinary routine by the expert on all such things: Madeline Dore. Anna Apuli has illustrated some of Amrita's dancing, and there are plenty of beautiful photos of her as well.
FREE POST in Australia now! Order in time for Christmas!
We're delighted to say that all orders - even those including t-shirts and tote bags - will be shipped for FREE in Austalia. Print subscribers in Australia will get free post for the duration of their subscription. For international rates, please check your region at the checkout.
Pre-ordering Issue #4 through this Pozible campaign will also guarantee that your rewards will arrive in time for Christmas! Think if the hottest chick with the biggest brain in your life, and imagine her smiling face when she unwraps the $50 t-shirt + tote bag package on Christmas morning. If you want anything posted straight to the recipient, rather than yourself, leave us a note at the checkout and we'll write the card out to them.


Are you in Brisbane? Come to our launch party on Friday November 24th!
Huge thanks to Josephmark for sponsoring our Issue #4 launch party. We'll be getting together at their epic office space from 7pm to 9pm at 110 Arthur Street, Fortitude Valley. There will be high ceilings and fancy plants, chill beats in your ears, nibblies in your bellies, and buckets of ice for your BYO beverages. (Plus Alana Potts taking event socials pics because hot-dang you folk always BRING IT to our launches.) If you want to pick up your reward at the party, just pick it from the drop-down postage menu. Head to the Facebook event for more event details.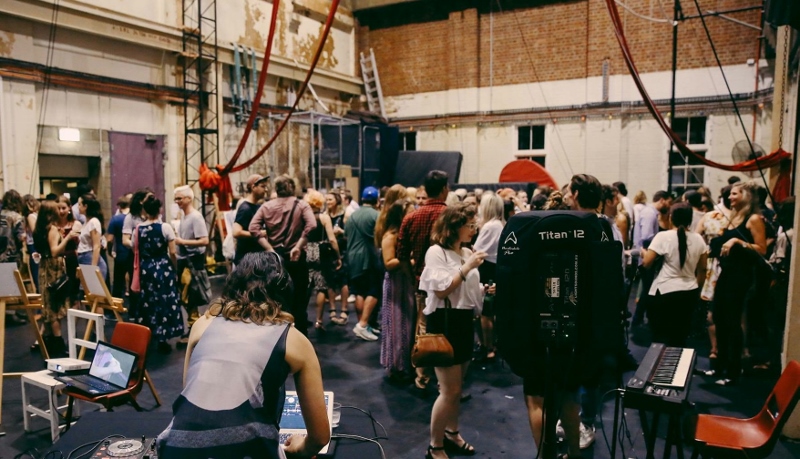 Budget Overview
Where is this 5k going?
The $5000 is to cover a large portion of the up-front printing costs of Issue #4. The plan is to then make enough money in sales of Issue #4 to be able to fund Issue #5, and so on and so forth. Until now Bri has been putting the printing costs on her credit card and then madly selling enough copies in 55 days to avoid interest. With your help we can make this operation sustainable!
What is actually costs us for Issue #4 is:
$2500 contributor fees (writers, photographers, and featured artist)
$250 Pozible's campaign fee
$5,800 for printing 1000 copies
$350 for 1000 postcards with two different prints of Wendy Ma's work on them
So where's the rest of the money coming from?
We've covered a portion of the rest of the costs with advertising from Obus, Ironlak, The Print Bar, and La Boite Theatre Company. (PS: All those organisations rule, please support them!) With an increased print run and a more sustainable distribution model, after Issue #4 we'll never have to crowd-fund again.
Potential Challenges
Making an entire publication from start to finish is pretty tough; you need a tight team with almost miraculously complimentary skills. Hot Chicks with Big Brains have delivered a super high-quality, diverse, exciting publication twice a year for two years in a row now. Going from a small-scale, indie publishing model to something more commercial and sustainable is a huge leap, but if anyone can do it, we think we can. Attracting advertisers means needing to have a higher print run and more readers, which is a chicken-and-egg problem when you're starting out with no-waste, sell-out runs (like we did for Issues #1 to #3) so this Pozible will mitigate the risks involved with increasing to a 1000-unit print run.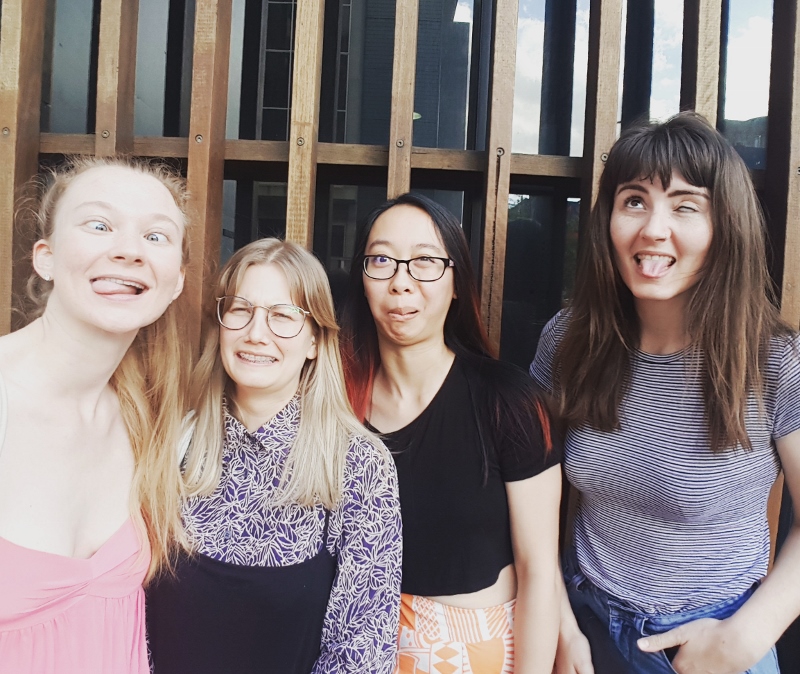 We're connected to the writing industry, the design scene, various grassroots feminist organisations, and have started to gather connections in the paper, print, and digital media industries. We're just a couple of weeks away from signing with a distributor who will take us from our Queensland home to the rest of the country. Eventually we think Hot Chicks with Big Brains will be available all over the world. Thank you for your support!