Earth Goddess Festival
30th NOVEMBER - 2nd DECEMBER 2018
Imagine……an amazing women's festival set in the Victorian Central Highlands.
Bringing women together from all backgrounds......to discover, learn, share and celebrate their femininity for 3 wonderful days!

My name is Tessa Ambrose.
In 2014 I started the Clunes Open House Dinners. This initiative was started, to provide healthy affordable meals and a chance to connect with the community. Four years in, the dinners are still held every Tuesday night and continue to serve 40-50 locals and visitors every week.
In 2015 I founded the Clunes Makers' Market, a not for profit event created to support local artisans. What initially began as a small market with 12 local artisan stalls, has now grown to 75+ stalls which brings in over 3000 visitors.
In addition to these events, I volunteer for a number of other community groups: the Clunes Agricultural Society, Clunes Tourism & Development Association and Clunes Landcare & Waterways.
My decision to create and develop the Earth Goddess Festival was inspired by a need for a women's space in Western Victoria.
Earth Goddess Festival will provide an enriching experience for all the women that attend and also support our facilitators and entertainers.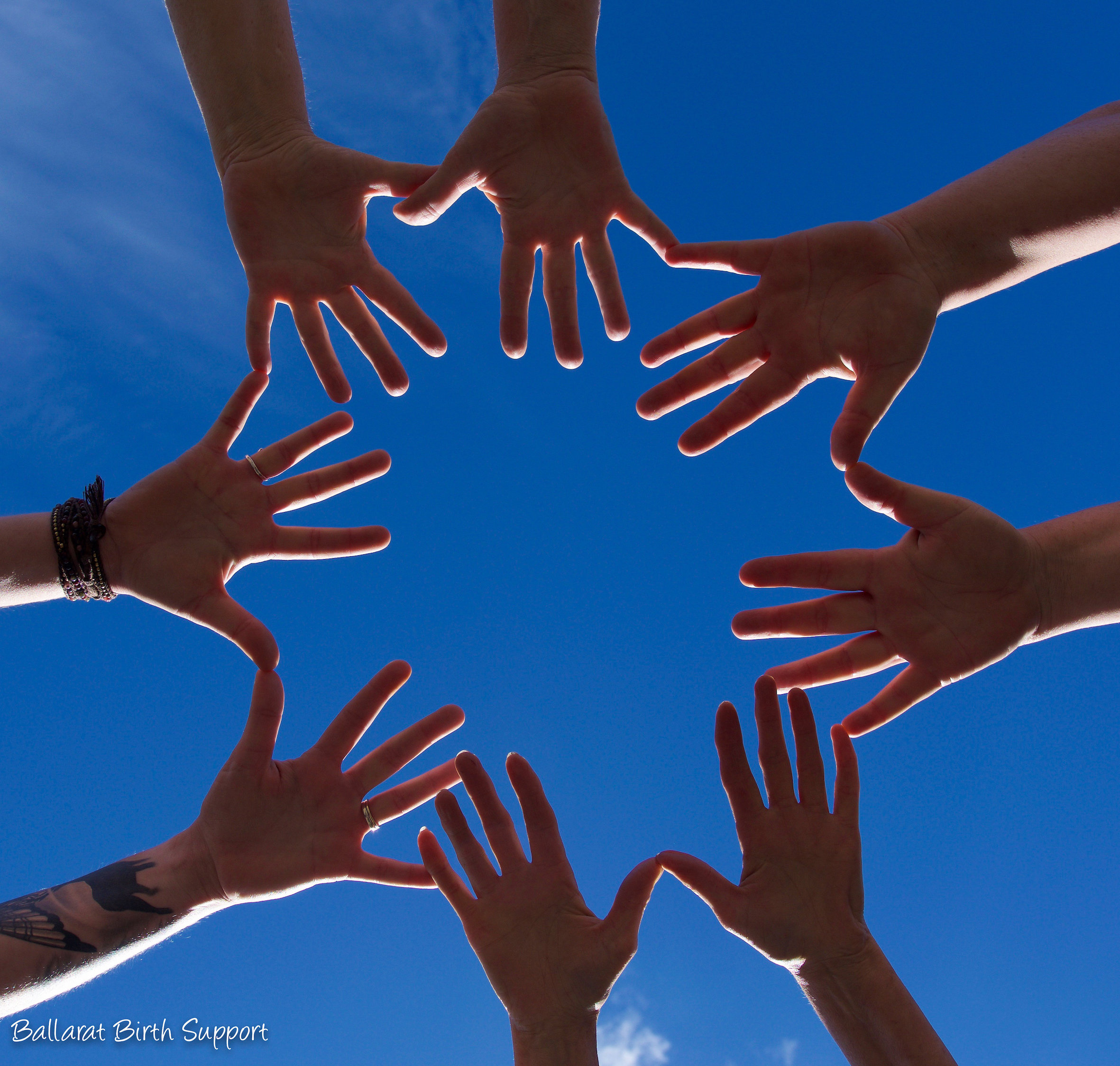 THE FESTIVAL
Held in the gorgeous springtime here in Central Victoria, the Earth Goddess Festival welcomes anyone who identifies as a woman. We embrace women of all sexualities, cultures and spiritualties.
The Earth Goddess Festival is a chance to:
Learn new skills
Spend time with like-minded people and make new friends
Be empowered in all aspects of your mind, body & soul
Find the support you need
Get back in touch with nature and the earth
Get involved in a charity project
Take a break from life and relax
One of the festival goals is to create zero waste, use only recycled or reusable materials and use only solar and bio fuels. The first festival will incorporate:
on site rubbish sorting into recycling and compost
compost toilets
vendors use compostable or recyclable packaging
no plastic straws, cutlery, packaging or plastic bags
solar lighting
Local community groups will be given the opportunity for their volunteers to work at the festival as a fundraiser for their organisation. The Clunes Neighbourhood House will be running the community kitchen and other groups will be helping to keep the facilities clean.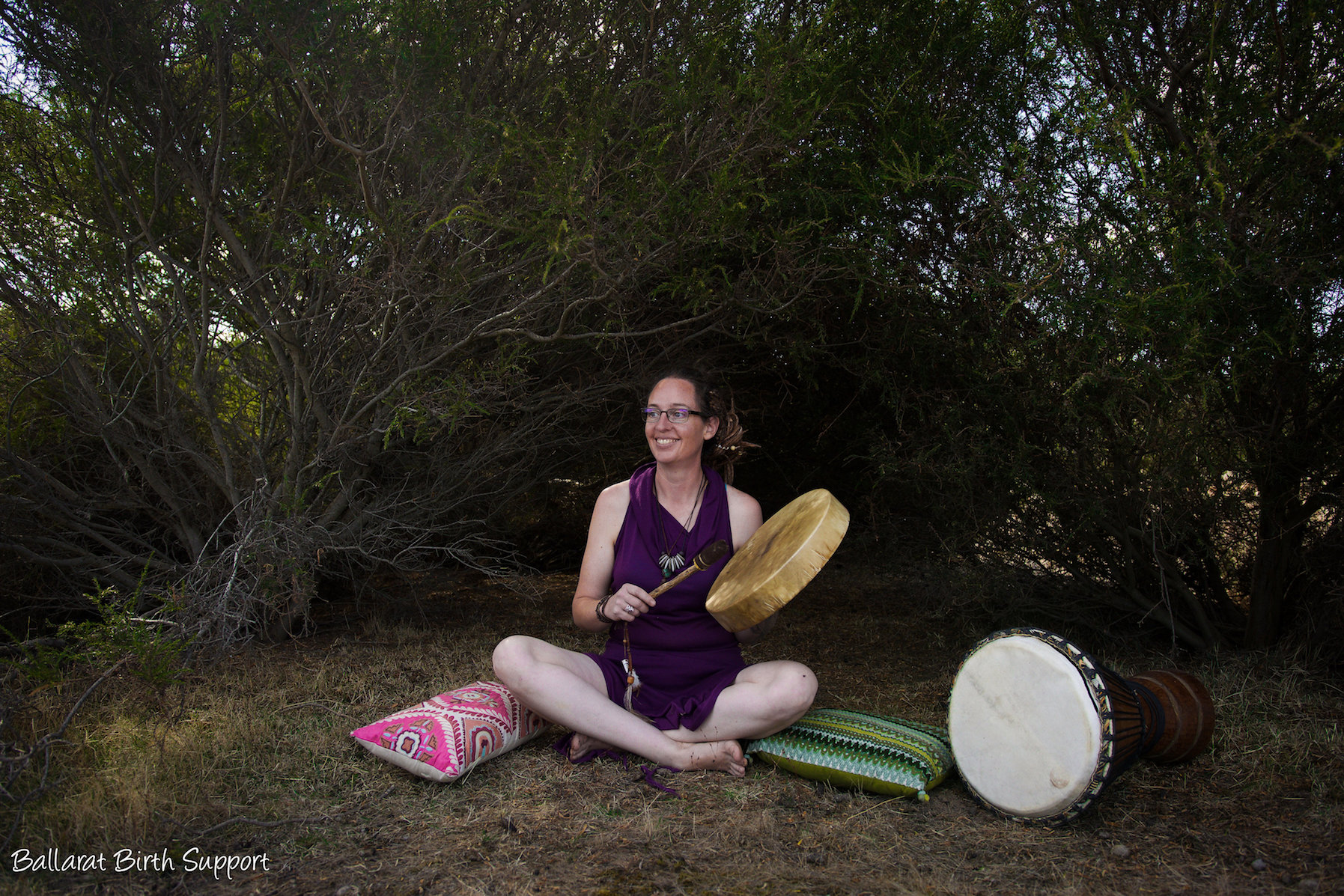 What you can expect at the festival:
MARKET PLACE
A thriving market, full of yummy food stalls and artisan products
STAGE
Entertainment throughout the day for you to chill out or dance to
ART INSTALLATIONS
Meet the artist and find out about their creative process
8 WORKSHOP SPACES
Workshops and classes will run all day with 80-100 facilitators.
Some of the workshops proposed are:
MIND
Meditation
Mental Health
Writing/Poetry
Astrology
BODY
SPIRIT
Sexuality & Sex
Personal Development
Spirituality
HEALTH
Herbalism
Edible weeds
Food
Gut Health
MUSIC
Drumming
Sound healing
Singing
LIFESTYLE
Business
Permaculture/Sustainable Living
Bush tucker
Survivalism
HANDMADE
Wire work
Drum Making
Mosaics
Basket Weaving
Art
Textiles
Sculpture
Jewellery
NEW SKILLS
Repurposing/Recycling
Carpentry
Stone Carving
Natural building techniques
INDIGENOUS SPACE
Experience indigenous heritage and culture
CAMPING
Areas will be set aside for BYO accommodation including tents, vans and campers
FIRST AID & MENTAL HEALTH WORKERS
Available 24hours a day during the festival
HEALING SPACE
Massage & reiki
CHILL SPACES
Hammocks and swings to chill on throughout the festival
FACILITIES
Camp sites
Compost toilets
Showers
Drinking water points
Disability facilities
ATMs
Bins
VOLUNTEERING
Free tickets and meals will be available for all volunteers. However volunteer numbers are limited and once all positions are filled we will be unable to accept further applications.
Volunteers will assist the organisers in the setting up, smooth running of the event and packing up of the space. Volunteering applications will be available once the festival funding is successful.
If, after purchasing your ticket for the Earth Goddess Festival, you would also like to volunteer at the event and your volunteer application is successful, your ticket price will be refunded to you.
CHARITY PROJECT
Throughout the weekend we will be making up packs for women who are homeless, affected by domestic violence or generally need a helping hand. You will have the chance to come and make a bag or blanket and put together a pack for someone in need.
________________________
Come to the inaugural event and help celebrate this amazing 3-day festival.
WE NEED YOUR HELP TO MAKE THIS HAPPEN!!!!!
Your pledge will ensure this event has a permanent home and secures the space for other groups to enjoy and use.
_______________________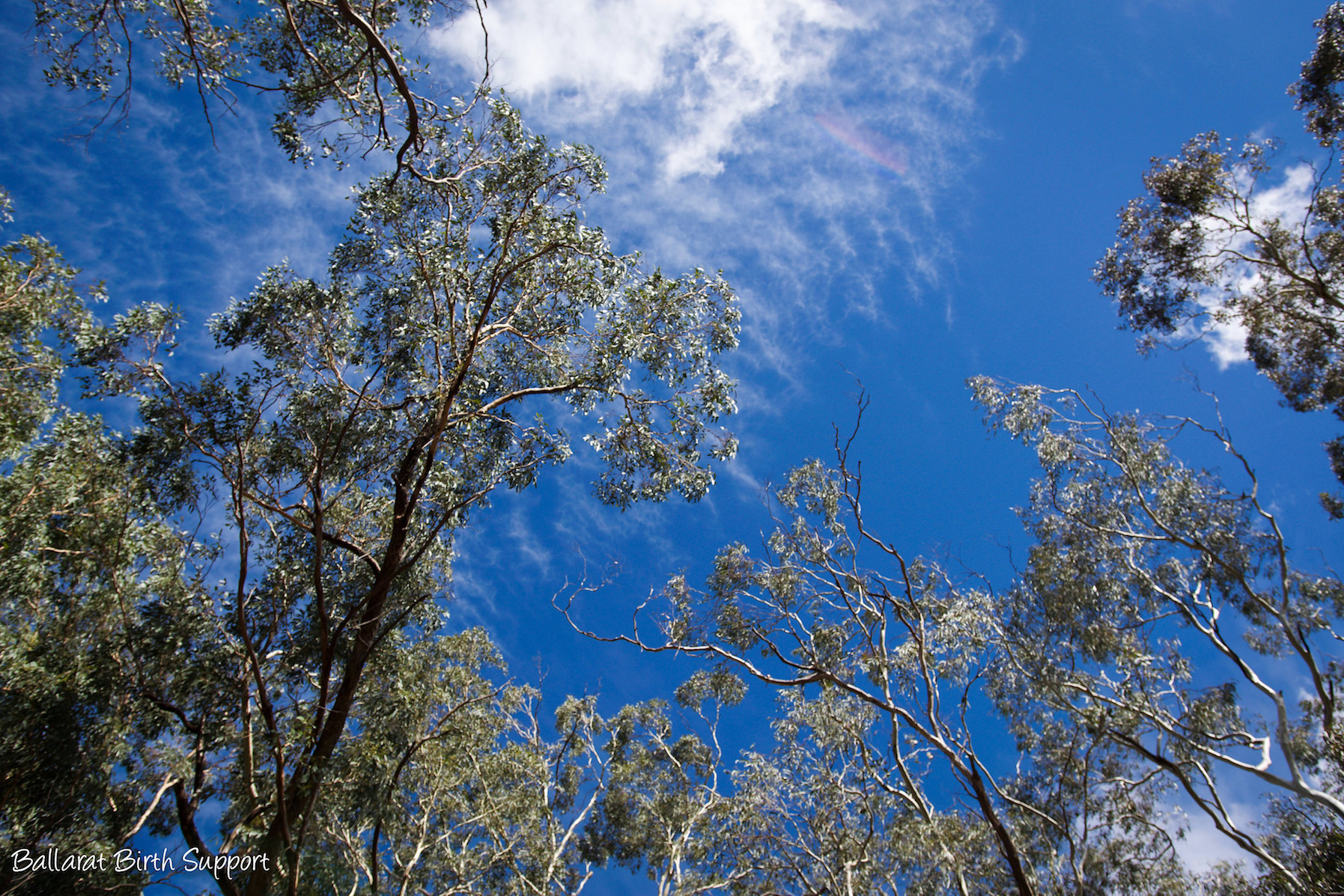 THE PROPERTY
The Earth Goddess Festival will be held on a beautiful property, set in the picturesque landscape of the central highlands.
Not only are we raising funds to make this festival happen, we aim to purchase the 60 acre property as a permanent home for the Earth Goddess Festival. The property will also be utilised as a space to gather, connect with nature, and provide facilities for other festivals and community events. This will also encourage more people to explore this wonderful town.
Talks have already been held with the current owner, so if we raise enough funds the sale will go ahead.
The purchase of the land will ensure that permanent infrastructure can be built on the allotment and the ongoing annual festival will not be threatened by a lease expiring. There will be no risk of the event moving and no ongoing lease costs.
Funds from this project will also enable us to improve facilities at the property to include:
Dedicated pathways and disabled access
Camping area
Composting toilets
Showers
Fencing and revegetation
There are many more ideas for what can be achieved at the property and how the community can be involved, but securing the title is the first step!
___________________________
Supporting this project will enable us to offer:
An event that empowers and supports women to learn, grow, share knowledge and come together in regional Victoria
An annual event that supports the local community and community groups
A property and event space that can be utilised and enjoyed for years to come by community groups and event managers
A property and event space that can add to the tourism potential of Clunes and the surrounding district
__________________________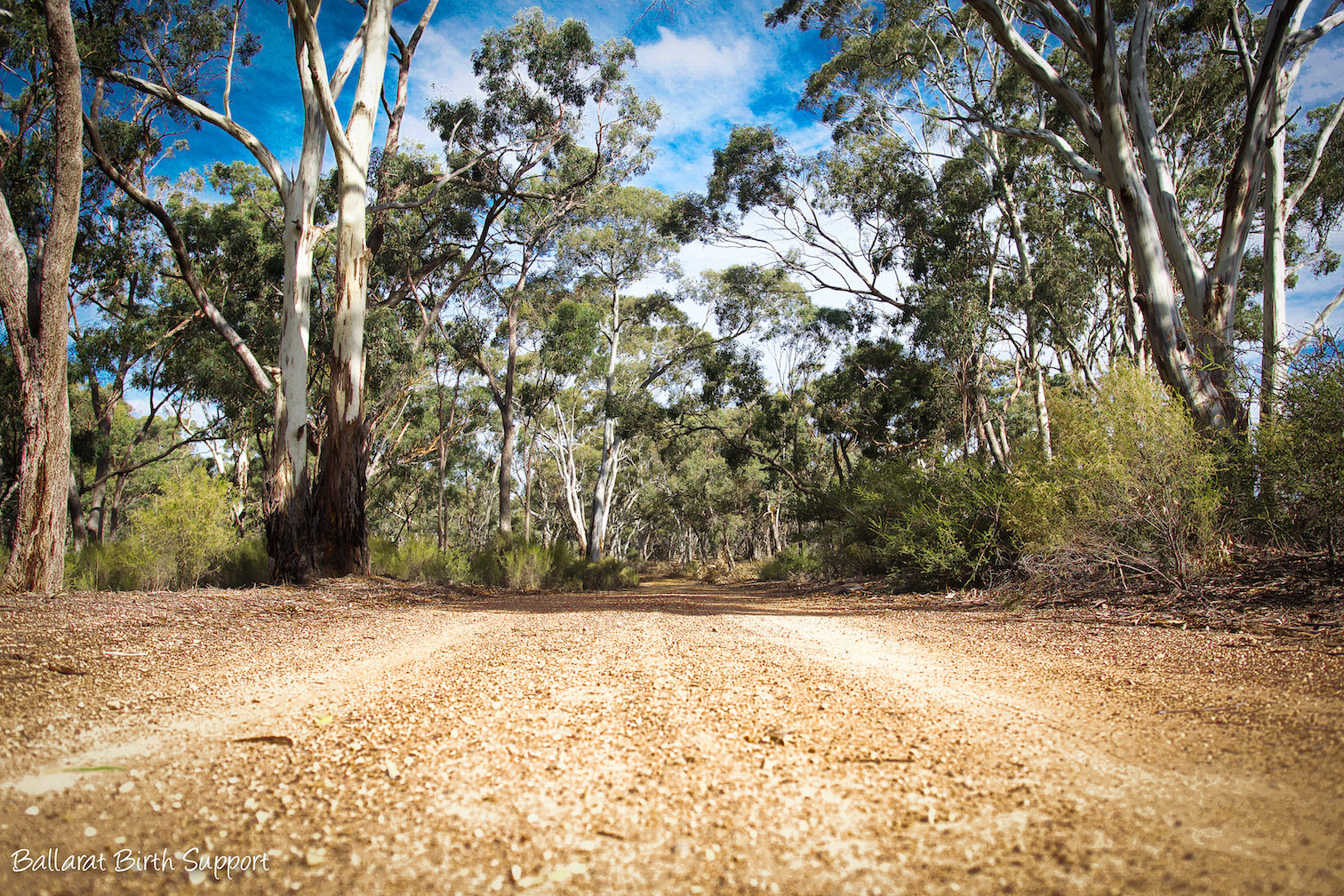 Budget Overview
The festival size and complexity will depend on the funding goals which are met, however the main difference between the two budgets is the purchase of the property. If the property is purchased it will allow us to build as much permanent infrastructure as possible which will reduce ongoing costs and ensure a permanent home for the Earth Goddess Festival.
Any additional funds raised from the event will go toward philanthropy projects.
Goal $450,000 (leasing the land)
If we achieve the goal of $450,000 we will go ahead with the festival and lease the land for the first festival. This scenario includes much more hired infrastructure.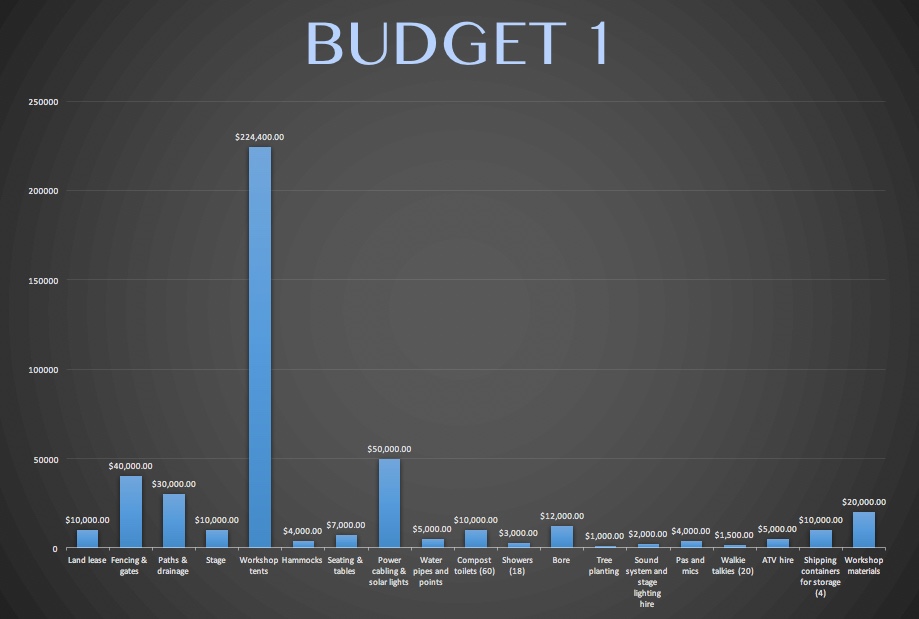 Cost Breakdown:
Fencing & gates $40,000
Paths & drainage $30,000
Stage $10,000
Workshop tent hire $224,400
Hammocks $4000
Seating & tables $7,000
Power cabling & solar lights $50,000
Water pipes and points $5,000
Compost Toilets (60) $5,000
Showers (18) $3000
Bore $12,000
Tree planting $500
Sound System and stage lighting hire $2000
Pas and mics $4000
Walkie talkies (20) $1500
ATV hire $5,000
Shipping containers for storage (4) $10,000
Workshop materials $20,000
Land hire $10,000
Goal $800,000 (includes land purchase)
If we achieve the goal of $800,000 the property will be purchased, which will mean we can install permanent infrastructure such as toilets and showers. The items that will not be permanent in this scenario are the workshop tents as these cost up to $400,000 each to purchase outright, the sound equipment and the ATV hire.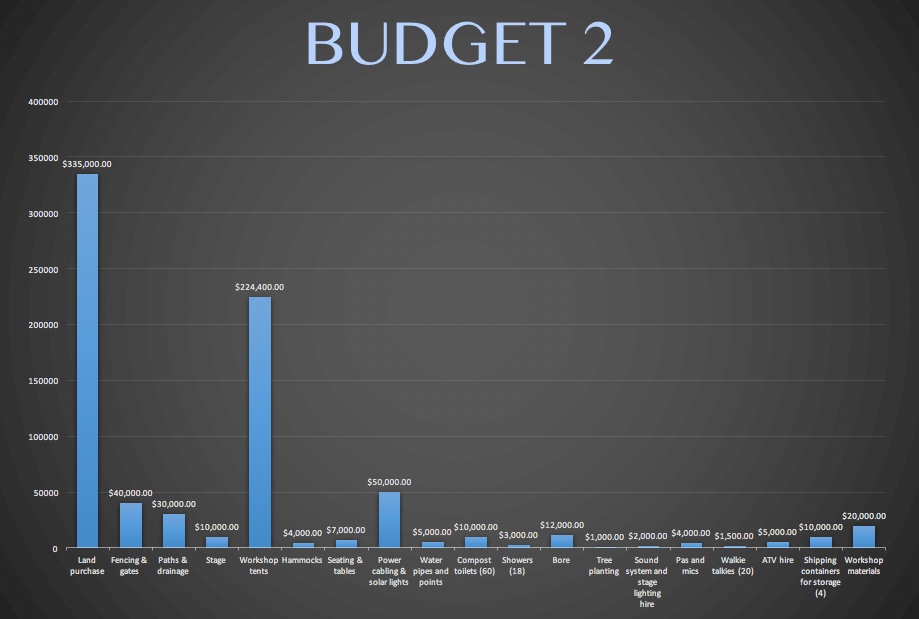 Cost Breakdown:
Fencing & gates $40,000
Paths & drainage $30,000
Stage $10,000
Workshop tent hire $224,400
Hammocks $4000
Seating & tables $7,000
Power cabling & solar lights $50,000
Water pipes and points $5,000
Compost Toilets (60) $5,000
Showers (18) $3000
Bore $12,000
Tree planting $500
Sound System and stage lighting hire $2000
Pas and mics $4000
Walkie talkies (20) $1500
ATV hire $5,000
Shipping containers for storage (4) $10,000
Workshop materials $20,000
Land purchase $335,000
Potential Challenges
Weather
The Central Highlands of Victoria is renowned for long periods of dry and hot temperatures. We will ensure that adequate shelter is provided and free drinking water will be available throughout the site.
In the event of inclement weather, the workshop spaces will also provide shelter for all attendees.
In the unlikely event of fire or flash flooding, there are a number of safe evacuation zones in the nearby town of Clunes.
Budget
The festival infrastructure has been budgeted for as per the above budget overview graphs.
Engaging community support, utilising volunteers and obtaining second hand materials will all go a long way to mitigating any budget blow outs.
Council Approval
Discussions are already underway with the Hepburn Shire events staff and I am confident that they will be supportive of the event.