Dear friends,
As so many of you know, I have been working on this epic, and ever evolving, body of work called 'Cups of nun chai' since the summer of 2010 when 118 civilians died in pro-freedom protests in Indian occupied Kashmir. Taking shape through 118 cups of nun chai and conversation this 'participatory memorial' is at once a search for meaning in the face of something so brutal it appears absurd, and an absurd gesture when meaning itself becomes too much to bear.
Over the last year 'Cups of nun chai' circulated as a newspaper serial in Kashmir Reader, reaching tens of thousands of people on a weekly basis during one of Kashmir's most intense periods in recent history, following the death of the very popular Hizbul Mujahideen commander Burhan Wani. These newspapers now provide an important historical and creative insight into Kashmir, one that brings the memory of 2010 into the everyday of 2016.
I now need your help to see this work to completion, in a way that will give it life for many years to come. I'm fundraising to scan, bind and circulate this collection of over 100 newspapers that formed the serialisation of 'Cups of nun chai' in Kashmir.
THE BACKGROUND
'Cups of nun chai' began in response to the loss of life that took place in Kashmir during the summer of 2010. Over the course of two years I shared 118 cups of nun chai with 118 people across Australia, in Brussels and Bangkok, across different parts of India and finally in Kashmir itself. I took a photo of each person holding their cup of tea and wrote from memory about each conversation, which connected Kashmir's story and the summer of 2010 to countless other places and peoples around the world. In the face of the violence, the growing number of dead and the lack of serious media coverage it felt necessary to speak, to connect, and to write in a form that would somehow reach places where the news headlines do not.
After a rigourous period of editing, with generous advice from Arif Ayaz Parrey and David Watson, in June 2016 'Cups of nun chai' began its life as a newspaper serial in Kashmir. Three times a week over a period of 11 months Kashmir Reader published 'Cups of nun chai' in print and online, enabling the work to reach thousands of people on a weekly basis.
This media intervention was a means of 'exhibiting' the work in Kashmir, while also bringing these stories of 2010 into dialogue with the news of 'today'. The newspaper serial began in early June 2016 on the anniversary of Tufail Ahmed Mattoo's death, a 17 year old boy who died on the 11th of June 2010 from a tear gas cannister. Less than a month after the serial began the death of the popular mujahideen commander Burhan Wani set off a wave of violence not seen in Kashmir since 2010. Hundreds of thousands of people across Kashmir came out to mark the martyrdom of Burhan Wani and his companions. Protests unfolded. Mourning continued. And the state responded with ever greater force. Once again in Kashmir people were dying and suffering serious injuries on a daily basis. In the public imagination of Kashmir, and in the pages of Kashmir Reader, the news of 'today' collided with the memory of 2010 in momentous ways.
Tens of thousands of people were arrested and injured, and more than 100 people died. Amidst the government's crackdown on civil society in Kashmir, on the 2nd of October 2016 Kashmir Reader was banned indefinitely for 'inciting violence'. This censorship is just one part of the ongoing violence of the 'world's largest democracy'. Kashmir Reader was banned for being good at journalism. It was banned for thinking and writing in a war zone.
After three uncertain months, as the relative quiet of winter snow set in, the government lifted the ban and Kashmir Reader resumed publishing on the 28th of December 2016. And with it the newspaper serialisation of Cups of nun chai continued until April 2017.
If 2010 seemed to herald new forms of creative dissent and protest, the fact this was not met with any meaningful response means that 2016 and 2017 have been marked by a renewed armed struggle and increasingly overt defiance of the military by those without arms on the streets. These newspapers containing 'Cups of nun chai' — over 100 in total — capture an important period in Kashmir's recent history, one uniquely written by and unfolding from within Kashmir itself.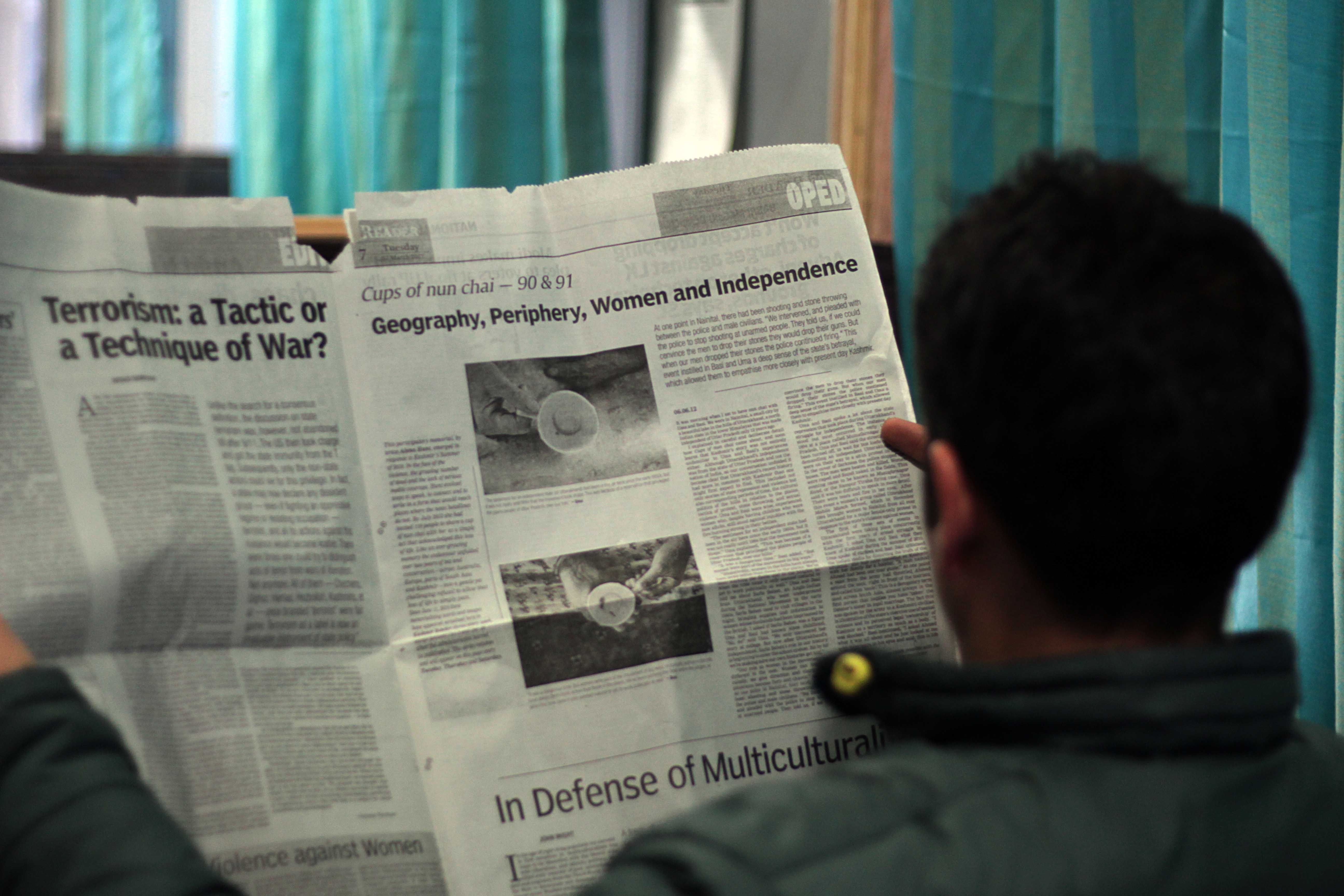 photo by Faisal Khan
How The Funds Will Be Used
We are aiming to raise at least $5000. The more we raise the further we can circulate the work.
With your support we will:
Bind together all these newspapers containing the nun chai serial (plus 36 blank newspapers symbolising the three month ban) into three volumes with accompanying essays, images and acknowledgements
Scan two pages from each newspaper for archival purposes and the possibility of printing a specially produced newspaper about the project for distribution near and far (see below)
These three volumes of bound newspapers will then travel to different libraries, reading rooms, exhibitions and venues around the world. This will enable those outside of Kashmir to glimpse Kashmir's own story, and the creative centre of this participatory memorial to continue indefinitely...
If we are able to raise funds beyond our immediate target of $5000, this will enable us to:
Print a new newspaper containing a collection of all the nun chai stories and select pages from 'Kashmir Reader' for wider distribution. Imagine hundreds, if not thousands of Kashmir newspapers/'Cups of nun chai' circulating throughout the world
Pay contributing authors for their essays
Transport the work to different venues around the world
All support both large and small is invaluable. It's not just the financial contribution but the intent and belief behind this contribution that is key. All supporters will be acknowledged in the printed volume of newspapers and on the 'Cups of nun chai' website. You will also join our supporters' newsletter.
The Challenges
Although its title may be unassuming, 'Cups of nun chai' is a challenging and rigorous work that has explored ideas of freedom, memory and loss in one of the longest, most overlooked, contested and violent of modern day conflicts. It's political nature and unusual artistic form is not something easy to fund.
I've often produced work on a kind of shoe string budget — using mediums that were accessible and within reach. Like little bits of photocopied paper that I printed and hand cut and then sent to Kashmir as a thousand paper txt msgs. I used the internet to circulate videos and pdfs. Through this we got the media in India and Pakistan to talk about topics they had previously been silent on. I've used cups of tea and conversation as a starting point to try to understand and learn about Kashmir's need for freedom and the right to self-determination. And I used newspapers to circulate this work and reach audiences within Kashmir where an ordinary art exhibition on this kind of subject matter would not only reach a very small section of the population, but would in all likelihood be impossible to orchestrate. Kashmir is the most densely militarised place in the world.
But now, to bring this work to the conclusion it fully deserves, I need financial support to enable high quality binding, scanning and printing, and to then circulate the work to the world.
Every bit counts.
With immense gratitude,
Alana