This project is your opportunity to support one passionate scientist to make a world of difference.
Climate change is THE issue of our generation.
It has the potential to change life on Earth as we know it, forever.
This change is happening within our lifetimes and includes a future of more extremes; more heat waves, more droughts and more extreme rainfall events.
This change also includes a future of more uncertainty. Uncertainty related to food security, increased loss of species, and even political instability and conflict as natural resources become scarcer.
To help world leaders set the best policies for a climate-secure future, the world desperately needs more scientists, who understand the complexities of climate science, to lead the movement for climate action.
I'm beyond proud to have been selected as one of the 80 female scientists chosen from around the world to join the second-ever Homeward Bound, a 12-month leadership program, including an expedition to Antarctica, to help raise the global voice for climate action.
Homeward Bound is a global movement aiming at raising awareness for the low representation of women in leadership positions in Science, Technology, Engineering, Mathematics and Medicine (STEMM).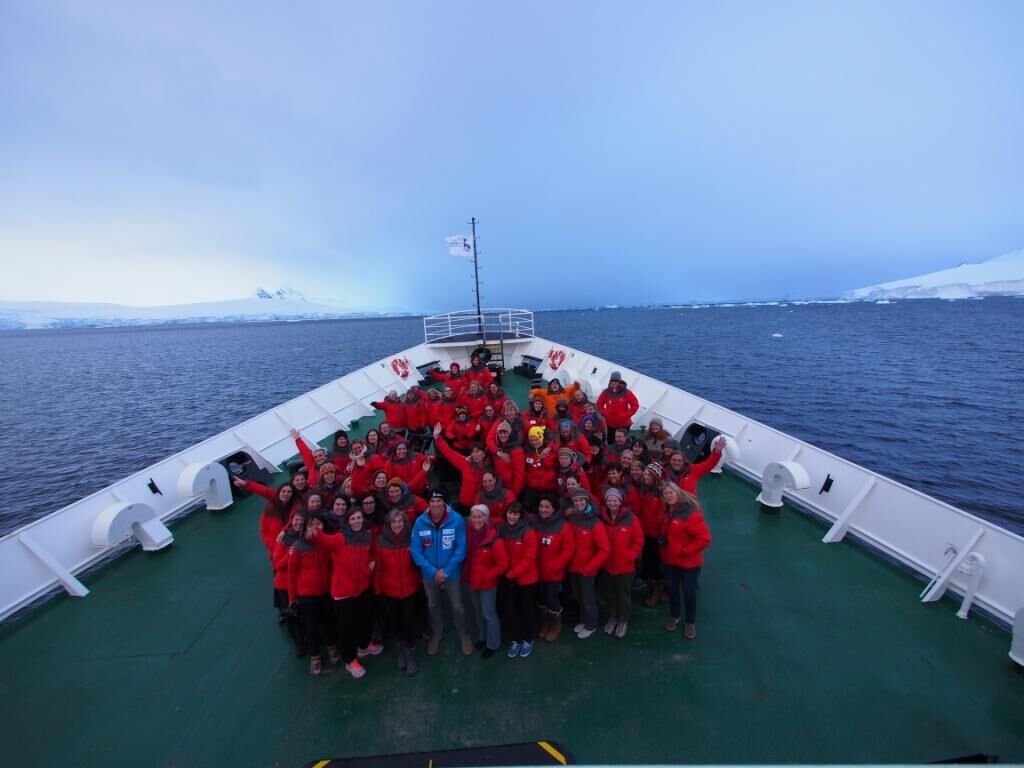 It also strives to equip collaborative groups of women with the leadership capabilities to influence significant issues at global level including climate change, deforestation, species extinction and quality of life.
Homeward Bound is more than an Antarctic expedition. It's the opportunity to join a network of the world's leading female scientists collaborating together to educate and drive action on climate action and other sustainability issues. Following the voyage I am expected to step up and lead at a regional, national or even global level to help drive change to preserve the environment.
Due to the significant cost of the program and expedition I am seeking support to crowdfund my ship berth.
As an independent sustainability educator, my voice is 100% my own and I'm not afraid to challenge the status quo. While this position allows me the freedom to share true environmental statistics and opportunities for change, it has many challenges where finances are concerned.
That's where you can help!
Your pledge is an opportunity for you to be part of the change.
Thank you for your support.
About Laura Trotta Plus Some of Her Work
Laura Trotta is an environmental engineer (with a Masters Science in Environmental Chemistry) and is one of Australia's leading home sustainability educators. She has a knack for breaking down complex global environmental issues into bite-sized, digestible pieces that the regular person can action to reduce their environmental impact.
Following a successful 11 year career as an environmental engineer in industry, Laura took her passion for sustainability online in her mission to "make green mainstream".
Laura founded and ran a multi-award winning eco-baby ecommerce business for six years prior to selling it to focus her efforts on inspiring and educating people "how" to live more sustainably.
She launched her first online eco-living ecourse, the highly acclaimed Home Detox Bootcamp, in early 2014 and has since guided hundreds of women to break up with toxins in their homes. In 2016 Laura created her popular membership program and community Self Sufficiency in the Suburbs which guides members to create a fully sustainable home.

Through her online programs, blog and Eco Chat podcast, Laura inspires and guides thousands of parents around the world to live more sustainably.
Laura has won numerous regional and national awards for her fresh and inspiring take on living an 'ecoceptional' life. She has a weekly segment on ABC 639 Radio and is regularly featured on I Quit Sugar, 1 Million Women and Pinky McKay.
Laura is a passionate believer in addressing the small things to achieve big change, and protecting the planet in practical ways. She lives with her husband and two young sons in Outback South Australia.
Links To Laura's Work:
Self Sufficiency in the Suburbs Membership Club
As Seen In:

Why Crowdfund this Project?
I'm not paid to participate in Homeward Bound and need to cover all my costs of the program / expedition. As a self-employed / independent environmental educator this is a HUGE stretch... hence the crowdfunding campaign to secure my berth.

So please, if you want to help create a better world for tomorrow, please pledge your support today.

Thanks so much xx
How The Funds Will Be Used
Pledged funds will cover the cost of Laura's ship berth for the 21-day Antarctic expedition (~ AUD 22,000). Any additional funds raised will be spent on flights to/from Australia to Argentina, accommodation on route, travel insurance and artic gear (additional ~AUD 11,000 in total).
If support exceeds all program and travel costs, excess funds will be diverted to ongoing marketing and content production costs to spread the messages of sustainability as far and wide as possible
All pledgers will be kept in the loop with updates at every stage of the project.
The Challenges
Paling into insignificance when compared with the financial challenges of participating in Homeward Bound, other challenges include sea sickness during the crossing of Drake's Passage, being away from my young family for 4+ weeks and the general isolation that accompanies a trip to the most remote corner of the planet. Not to mention swapping the daily 45°C temperatures of Outback Australia to the -15°C of the Antarctic!
Having lived and worked in remote Australia for over 16 years I feel confident I can handle the isolation. I'm not so sure about the sea sickness, sub-zero temperatures and missing my family! Thankfully a doctor and psychologist will be on board the ship for any additional support required. :-)