WHAT IS BEACHY?
Beachy is a hotel providing affordable luxury beach holidays in the Maldives. Located at the island of Dhiffushi, Kaafu atoll, beachy offers all the benefits of spending top-notch beach holidays in the Maldives with loved ones at a fraction of the cost for hotels in the same range. The Maldives is a top-luxury holiday destination for celebrities and the wealthy. Beachy has 12 rooms in 3 categories as well as an à la carte Café & Bistro exclusive to its clients. Guests can enjoy a selection of excursions and water sports activities. Beachy enables guests to enjoy the white sandy beaches, bathe in the crystal clear turquoise waters and learn the culture of living without stress, the refined artisan lifestyle of generations of local Maldivians.
GETTING TO BEACHY HOTEL
How to reach Beachy Hotel, in Maldives is an uncomplicated journey, abroad excellent airlines offering world-class services. there are numerous international airlines traveling to Maldives daily and weekly. Click here to view all airlines operating to Maldives.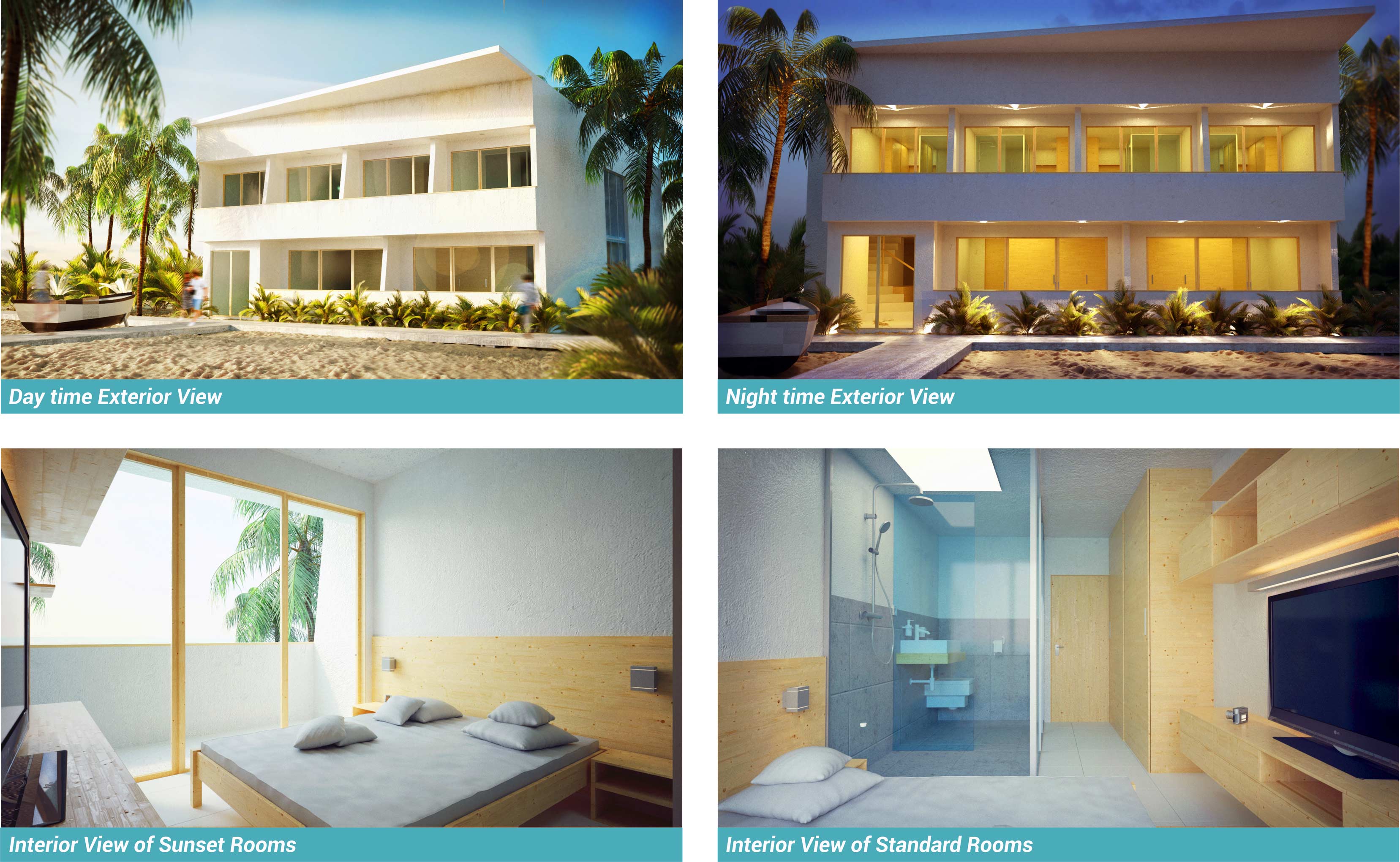 ROOMS
Beachy Hotel includes 3 categories of rooms, which are the standard rooms, sunset rooms and deluxe rooms. rooms are designed to be chic, simplistic and comfortably elegant.
All rooms come with Flat screen TV, Coffee/Tea maker, Mini-bar, Safe and modern, chic, comfortable interiors and WIFI internet access to all guests.
ACTIVITIES
Beachy Hotel offers its guests numerous activities to keep the adrenaline kicking during their stay, Excursions include; Sandbank paradise excursion to spark romance for honeymooners/couples and enjoy the ultimate romantic getaway, if you love fishing you can reel in a few marlins, tuna or groupers by choosing the Night fishing or Big-game fishing excursions. Learn about Maldivian culture from the Island hopping excursion, experiencing the local culture, enjoy the golden sunset with your loved ones from the Sunset cruise excursion, if you're lucky a few dolphins may join your cruise. There's plenty more Water sports activities as well, such as; Banana boat riding, Wake boarding, Diving, Kayaking, Surfing and Jet-skiing. Snorkeling equipment are provided complimentary to guests staying at Beachy Hotel.
Experience the Maldivian beach by viewing a 360 video (Courtesy of Mr. Makoto Hirose).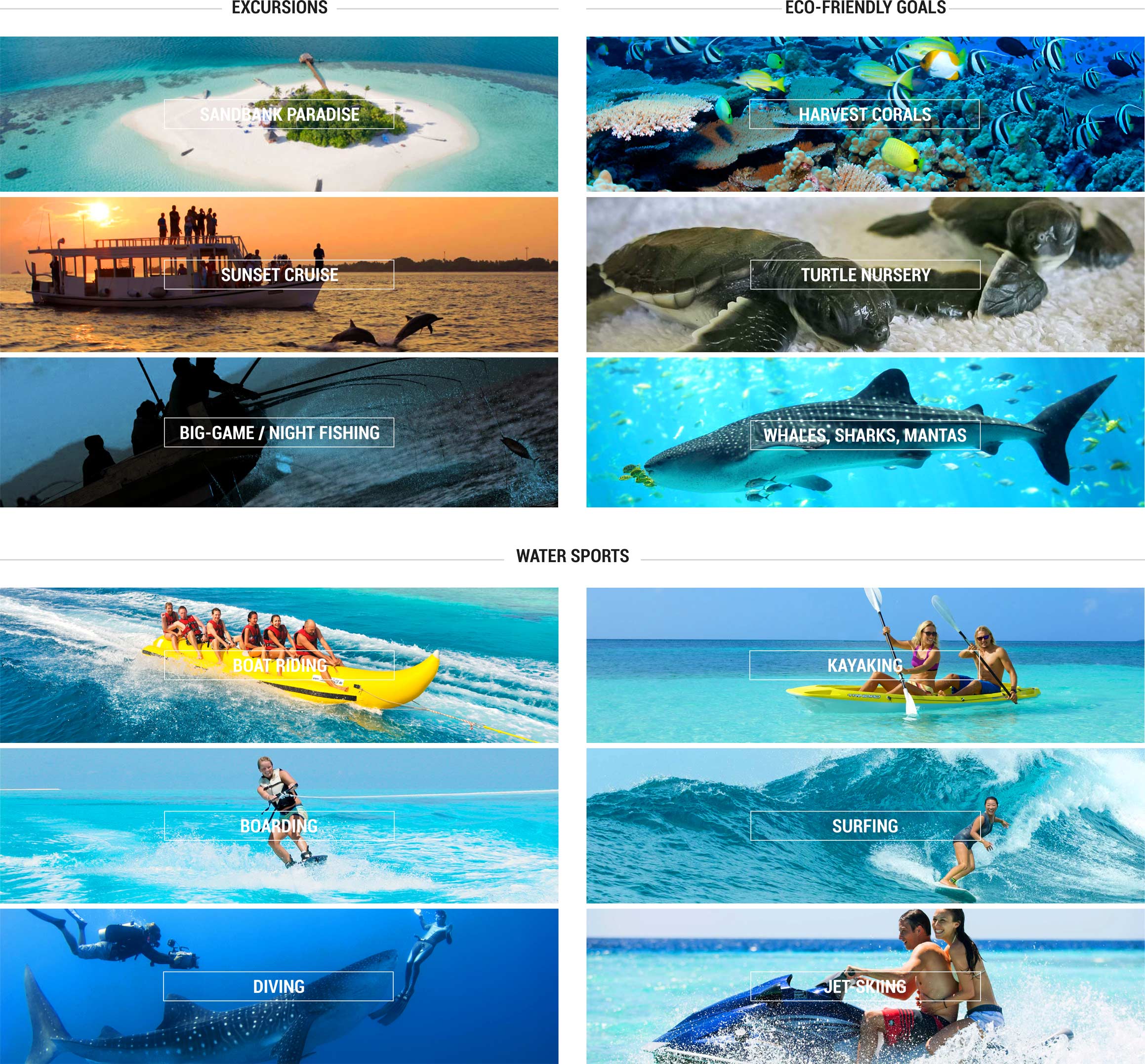 ECO-FRIENDLY GOALS
Beachy Hotel is very environment friendly and has 3 main eco-friendly programs to conserve and preserve the environment and marine life. The first program is to harvest corals and make coral gardens, as corals being the base of most marine life this will increase marine life abundantly, it will also act as a diving spot for tourists to appreciate and connect with nature. the second program is the turtle nursery, baby turtles are prone to the harsh environment and many do not survive to become adult turtles, Beachy Hotel would nurse baby turtles to maturity which significantly increases their survival rate. The third program is to raise awareness within the local community about eco-friendly habits which could be easily practiced, also raising awareness about marine species which affects the marine life circle such as whales, sharks and manta rays.
Beachy Hotel would contribute to its eco-friendly goals from your contributions, backing this project will directly affect the fragile environment by conserving and preserving a wide range of marine species. support our eco-friendly goals by enjoying the sun, in the Maldives.
Please view our guide to Plan Your Visit and if you have any questions please check our our FAQ. Check our website for more details and for early-bird bookings.
Please like and share our facebook page and twitter page to view updates about Beachy Hotel, or you Sign-up for Newsletters for our latest updates.
If you have any questions or queries please email us at; info@beachymaldives.com
How The Funds Will Be Used
Beachy Hotel is transparent in regard to how we use the funds raised. A breakdown is elaborated below as per projected budget plans. The total funds required for Beachy Hotel Maldives is AUD 276,120 of which we have already arranged AUD 152,034 funded by a Private Angel investor, hence we need 124,086 for the completion of the hotel, which will be accumulated by our rewards based accomodation perks.
We have already secured 55% of total required for Beachy Hotel to be developed, and we are confident we will succeed in establishing Beachy Hotel, we want this to be a positive campaign which would empower the audience. Below are summary of funds which have been already arranged and which we require in order to complete our goal.
| | | |
| --- | --- | --- |
| Description of Scope of works | Amount Required | Status of Funds |
| | | |
| --- | --- | --- |
| 1. Final Architectural plans and acquiring approvals | AUD 18,010 | Arranged by Private Funding |
| 2. Development of Concrete structure and roofing | AUD 124,086 | Arranged by Pozible crowdfunding |
| 3. Finishing works and completion of refining room amenities | AUD 58,592 | Arranged by Private Funding |
| 4. Establishing water sports and recreational facilities | AUD 34,731 | Arranged by Private Funding |
| 5. Eco-goals establishment (turtle-nursery, coral harvesting, awareness programs) | AUD 25,280 | Arranged by Private Funding |
| 6. Initial marketing | AUD 15,421 | Arranged by Private Funding |
The Challenges
RISKS & CHALLENGES
General
In crowdfunding, there's always potential for unexpected challenges, and although we hope none of these will come up, sometimes things happen. From experience, we discovered that development, in regard to our delivery timeline, could be an unexpected obstacle and may result in slight delays in delivery of the holiday packages. We've strengthened our established relationship with our development and operations partners to ensure that we minimize the risk of any such occurrences. We are working hard on Beachy Maldives Hotel to comply with the specified time, but we have to note that the specified schedule is only an estimate. A big concern on our part is not to waive environmental standards and humane working conditions, only to comply with the production schedule. The quality of Beachy Maldives Hotel should not suffer from tight deadlines.
Delivery of Holiday Packages, Travelling & Air-Fare
All Accommodation perks will be eligible for a holiday package of 6 days or 10 days, as selected by backer and Beachy Maldives Hotel will assist the backer in reaching Beachy Maldives Hotel the best of its capacity, slight delays to respond to backer's query is possible, in such case please remain calm and we will respond as soon as possible. all backers will be provided with an E-Travel Voucher once the order has been processed Beachy Maldives Hotel does not provide any air-fares to reach the hotel but will assist the best of its capacity to aid with reaching Beachy Maldives Hotel.