Hi, I'm Lisa Butler, and my mission is to ensure the future of the Australian Songwriters Conference for all music creators and the industry that depends on them.
what is the asc?
The Australian Songwriters Conference (ASC) is an essential career development event that equips music creators with the skills and music business acumen they need to build a successful career. Along with networking opportunities that are second to none, the ASC is loaded with workshops, industry speakers, live showcases, song pitching to publishers and an on-site recording studio. ASC offers songwriters, producers and performing artists a unique opportunity to connect with hitmakers and build relationships with industry professionals.

In 2018, the ASC will be held from Thursday 7th to Monday 11th June, on the beautiful NSW Central Coast. Our venue is the stunning Ettalong Beach Tourist Resort, where the event has now been held three times.
The Australian Songwriters Conference includes:
Speakers & Mentors – Hit songwriters and Music Industry execs discuss writing, publishing, production and more.
Seminars & Workshops – Attendees learn the secrets of hit songwriting & career momentum from the best in the business.
Publisher Song Pitching – A truly unique opportunity for attendees to pitch songs directly to the Publishers.
On-Site Recording & Production – Attendees learn from, and work with, our hit producers in the on-site studio.
Live Showcases – Attendees perform their original material to the pros, attendees and public.
Exclusive Song Contest – 'Attendees Only' song contest with great prizes.
Networking with Industry Pros & Hit Songwriters – Attendees connect with the career-makers one-on-one.
Watch this promotional video created after ASC2010
'ASCers' fly in from around Australia to participate in the event, and already a number of them have gone on to write and record with Faculty and hit local and overseas Producers, have signed publishing deals, achieved #1 hits and national success, received song awards and commercial radio airplay, and made huge leaps in their careers – all as a direct result of attending the event.
Click here to read about some of our successful ASCers.
The costs associated with staging an event of this magnitude get higher each year, so in late 2018 we want the ASC to become a non-profit association. This will make it easier to obtain arts and government funding for the event, and secure its future for the benefit of all Australian songwriters for many years to come.
But for now, we have an event to run in June - and we need your help to make it happen!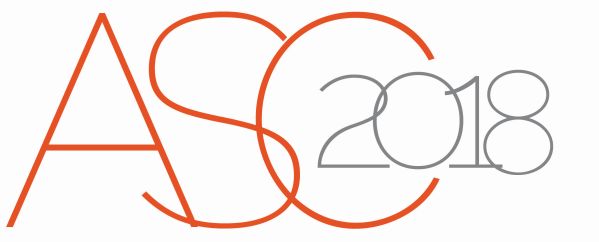 The bulk of the event costs are paid for from the registration fees that come in throughout the year. We also have some fabulous 'in-kind' sponsors who supply equipment such as microphones and amps for the live showcases and the on-site recording studio. But these don't cover all the costs, and that's where you come in.
what you can do
We'd love you to pledge your support for the ASC so we can continue to assist our songwriters - after all, they are the future of Australian music. If you are a songwriter, music artist, DJ or producer (or you know one), there are plenty of great rewards you'll love. If you are a music fan, there are some awesome rewards for you too, and we encourage you to share this campaign with your muso friends and family too.

SPREAD THE LOVE share this campaign far and wide - we'll love you for it! PLEDGE YOUR DEVOTION... and your dosh, as many times as you like. REAP THE REWARDS from ASC 'All Access' passes to works of art - there's even a lucky dip!
the rewards
We have some epic rewards to offer music creators and fans alike.
If you're a songwriter, you'll love the opportunity to have your original song pitched to the Publishers during ASC2018. A panel of publisher representatives will hear the songs in a private listening room. Publishers will be given your contact details should they wish to speak with you regarding your song.
Need some mentoring? We have a number of options for you!
Dont miss the chance to be mentored by LA-based Grammy Award winning songwriter and songwriting teacher, Alan Roy Scott. In your hour-long private session, Alan will be happy to critique and workshop one of your original songs that you feel needs work. You can also ask Alan any questions you may have about songcraft, production, the US music industry and so on. Want to know more about Alan? Click here.
Adrian and Barbara Hannan of The SongStore are offering two fabulous mentoring sessions specifically dealing with recording and production of your music. If you want to record, this session is for you. Learn more about Adrian and Barbara here.
Are you a country music songwriter or artist? There is just one mentoring session available with Award-Winning Country Music singer-songwriter, Connie Kis Andersen, that you'll absolutely love. Click here to learn more about Connie.
Ever dreamed of co-writing a song with a Grammy Award winning songwriter? Now's your chance! Limited to just three opportunities, take advantage of this rare once-in-a-lifetime opportunity to co-write with Alan Roy Scott. Want to know more about Alan? Click here.
Pledge to own one of the beautiful prints by Sydney fine artist and singer-songwriter, Susan Muranty. A long-time ASCer, Susan has kindly offered them to us for this crowd funding campaign. They are truly spectacular! Find out more about Susan at her website: www.susanmuranty.com
We know that one of most popular rewards will be Schmooze with the Hit Makers, an exclusive and intimate evening hosted by ASC Founder, Lisa Butler in her suite at the venue. Relax and enjoy drinks and nibbles as you take advantage of this very special opportunity to connect with the hit songwriters, producers, publishers and managers on our 2018 Faculty.
Spend some time with us at ASC2018! There are four separate rewards on offer; attend one speaker or workshop session, attend for one day of the event, attend the full four day conference, or check out The Big Shiny Rewards Box, where you get two full ASC events, Schmooze with the Hitmakers, a mentoring session with Grammy Award winning songwriter, Alan Roy Scott, three years membership to ASC Inc, - plus heaps more! Our event program for 2018 is still being finalised however you can view the ASC2016 program here to get an idea of the activities we present.
Don't forget our ASC membership rewards, to become a foundation member of our new non-profit organisation that we will be setting up in July-August. We want to continue to support the careers of songwriters into the future, and going non-profit will secure the event for good. ASC Inc will allow us the opportunity to apply for funding that is currently unavailable to us, making it easier to cover the costs (we're having fun with this crowd funding gig, but we don't want to make it a habit!), plus there is so much more we want to do for our talented music creators, and being a non-profit will give us greater opportunity to make their music career dreams a reality.
SPREAD THE LOVE
PLEDGE YOUR DEVOTION
REAP THE REWARDS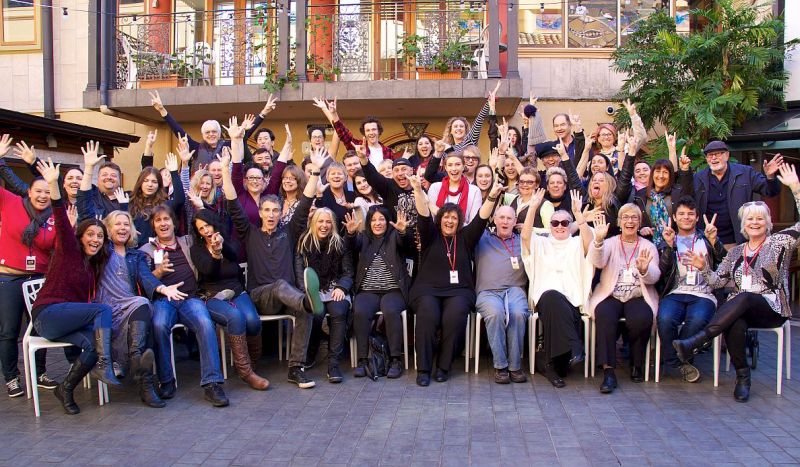 "Unique opportunities such as this are rare in our music industry and yet they are so important in helping
to harness the creative talents of songwriters
who are keen to grow their craft."
- Connie Kis Andersen (Award-Winning Australian Country Singer/Songwriter
Budget Overview
We have shaved everything we can from the budget this year. Our fabulous professional speakers have waived or reduced the speaker's fees we offer, our awesome venue, the Ettalong Beach Tourist Resort, has reduced the space hire and accommodation costs as much as possible, and our marketing budget has been reduced to almost nothing (we rely heavily on social media and email marketing to get the word out about the event).
Currently the cost of the event is a smidge over $35,000: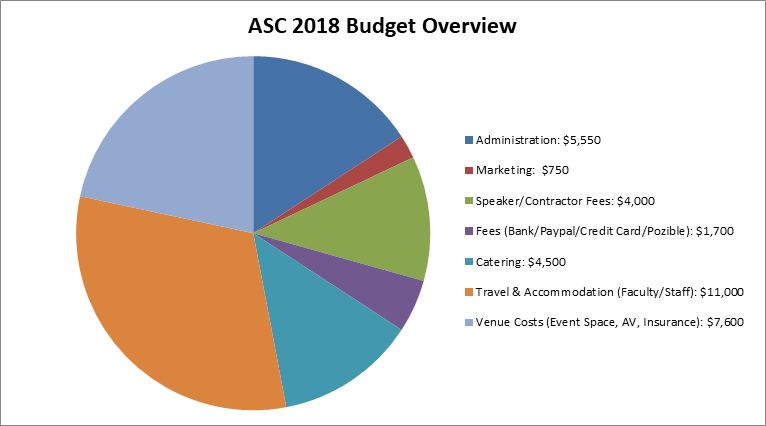 Income from event registrations over the coming months (as per previous years), is expected to be around $15,000 (less GST) and we currently have approximately $10,000 in the bank. This leaves us with a budget shortfall of approximately $10,000.
We also wish to transition the event to non-profit status to help protect its future, so after the pozible fees are paid, the rest of the pledges will go toward the set up costs of ASC as an Incorporated Association.
Should this campaign exceed the target, the extra pledge money will go toward much-needed marketing and promotion of the event.
Potential Challenges
With almost no marketing and promotions budget, getting the word out about this project will be our biggest challenge. That's why we need you're help to...
SPREAD THE LOVE share this campaign far and wide - we'll love you for it! PLEDGE YOUR DEVOTION... and your dosh, as many times as you like. REAP THE REWARDS from ASC 'All Access' passes to works of art - there's even a lucky dip!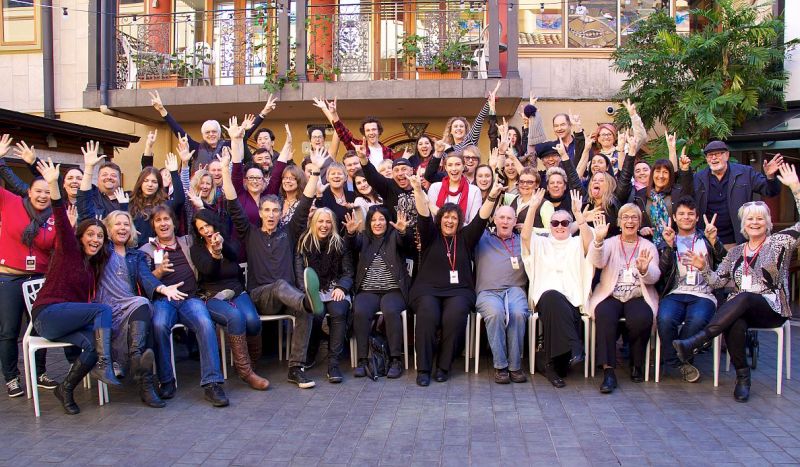 Thanks from all of us!