[EN] As a child, my imagination - like that of so many other children - was awakened and fuelled by stories of magical adventures, chronicles of heroic quests, fairy tales, myths, and legends. It's probably not such a wild stab-in-the-dark to state that most (if not all) artists retain much of this otherwise childlike imaginative nature in some form or other well into adulthood; imagination and creativity are intrinsically linked after all. With that in mind, this project is an attempt to map out some aspects of my own over-active imagination, such as my fondness for epic fantasy, fascination with my cultural heritage, and first attempts at songwriting. If there is a common thread running through these thirteen tracks, it is the notion that the impossible may occur: sceptics of romance will fall head-over-heels in love, sweethearts and old friends will be reunited, fairies and other magical creatures will meddle in human affairs, victories beyond hope will be achieved, kitchen appliances will come alive, cats will play musical instruments, and a celestial body will get astonishingly, utterly drunk.
The Enchanted Forest, as a metaphor for the human imagination, is a place where anything can happen...
[SV] Nar jag var liten väcktes och närdes min fantasi av berättelser om magiska äventyr, sagor, myter, och legender. Det är nog inte helt galet att påstå att de flesta (om inte alla) konstnärer behållit dennaannars så ungdomligt fantasirika natur: fantasi och kreativitet är trots allt djupt förbundna medvarandra. Med detta i åtanke är detta projekt ett försök att kartlägga olika aspekter av min egenöveraktiva fantasi, som min förkärlek till episka äventyrsberättelser, min fascination för min egenkulturella bakgrund, samt första försök till att skriva musik. Om dessa tretton nummer har någotgemensamt så är det aningen att vad som helst kan hända: den som inte trodde på kärlek kommeratt bli upp över öronen förälskad, segrar ingen vågat hoppas på kommer att vinnas, köksapparturkommer komma till liv, katter kommer att spela musikinstrument, och en himlakropp kommer att bliordentligt rund under fötterna.
Den Förtrollade Skogen, som en metafor för den mänskligafantasin, är en plats där allt är möjligt...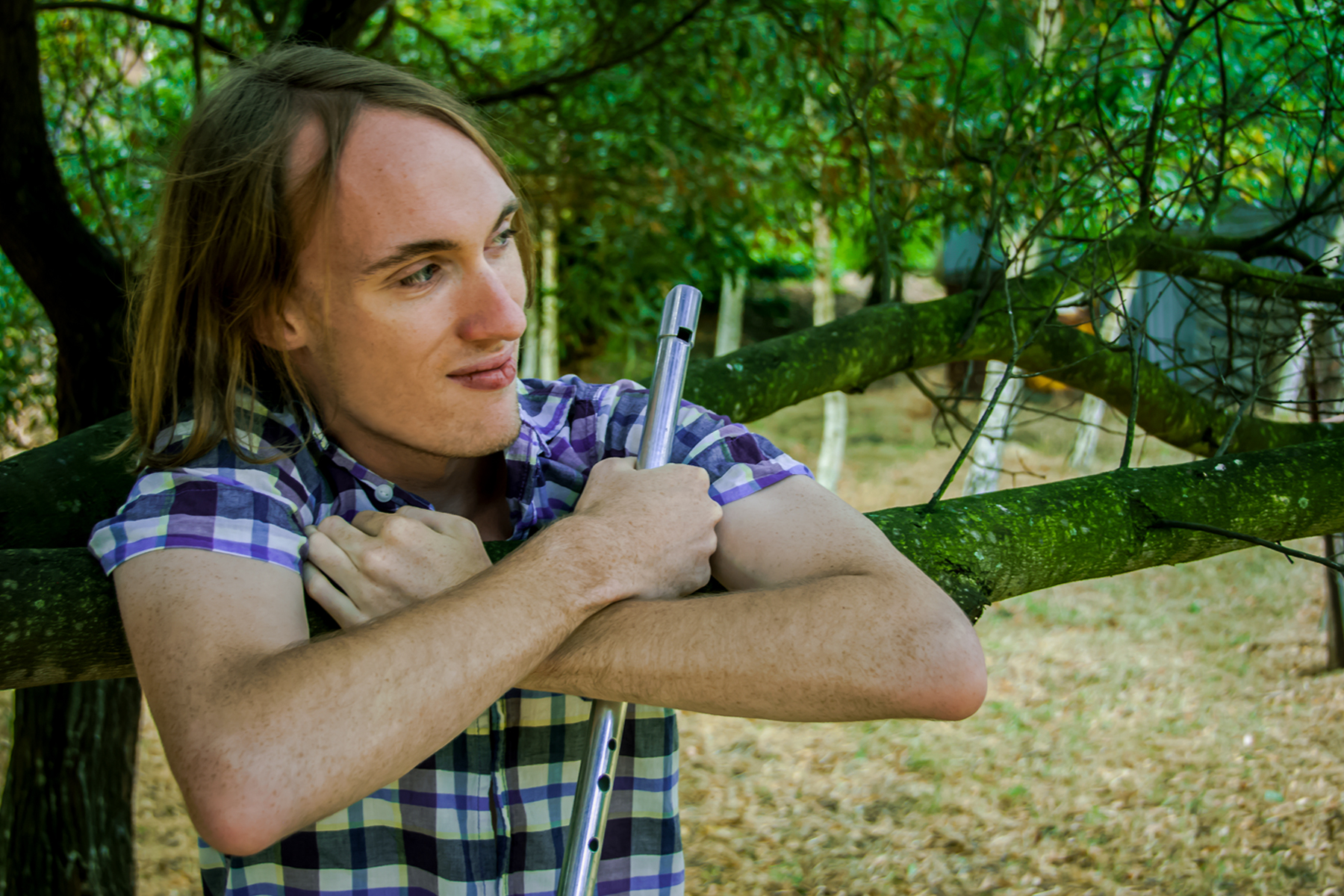 Three years of growth
See that photo? That's me back in 2014 - innocent youngling that I was - partaking in a photoshoot for my first album, The Day Before the Fair. Since that photoshoot, I have been through a lot: three years of gigs, folk sessions, open mic nights, busking, jamming, often as not living out of a backpack, heartbreak, rejection, spiritual hardship, mental challenges, extreme emotional highs and lows...basically three years of discovering just what a tough nut the music industry is to crack, especially for a budding troubadour from a small town in one of the most sparsely populated countries in the world (there are more people per square kilometer in Iceland than there are in Australia!)
Thankfully, since the release of Fair, there have been many positive things happen to me as well: I am now acquainted with many incredible musicians who also happen to be good friends and keen collaborators. I've had to opportunity to be involved in some amazing festivals in various locations around Europe and Australia. I have the beginnings of a European fanbase. I have acquired an even more amazing and sexier low whistle than the one pictured above! And most immediately important, I have discovered this brimming-with-potential fundraising platform...crowd-funding! What better way to connect with an audience then to get them directly involved with the creation of a project? Enter the concept for Enchanted Forest, my second solo album and the artistic culmination of all the contacts I've made, everywhere I've been, and everything I've done, learned, experienced, and felt since that photoshoot back in 2014.


The Forest so far...
The first steps in creating something definite for this album (that is, something more than a concept floating around inside my head) happened back in 2008 while I was still a student. I was playing with some chords on a piano at school and suddenly realised they were in a similar pattern to the chord structure of a pop song I was fond of at the time (and have since become fond of again). I developed these chords into a modal, mysterious prelude for the song, which is now shaping up to be one of the most exciting pieces on the album! The following year I composed an instrumental piece, which to this day has remained untitled (a situaion I hope to rectify very soon)! More original material followed in the next few years: while thinking about a poem by one of my favourite authors whilst walking to uni one morning in 2011, a melody for the poem suddenly materialised in my mind, and I developed it into a song that same day. After some experiences of intense emotion in late 2013/early 2014, a chaotic, almost angry, yet slightly hopeful song in two different keys and two different time signatures emerged from my imagination. It has undergone almost constant lyrical re-working since it first took shape and is now a song about confronting the dark side of the human psyche that I hope everyone can relate to in some way. I composed two songs on the subject of "inter-continental bromance" in 2015, one in January, shortly following that year's edition of Cygnet Folk Festival in southern Tasmania, and the other in October during the European leg of The Day Before the Fair's launch tour. To those five original (or semi-original) pieces, I added a selection of traditional Celtic songs and tunes, plus covers of work by my two favourite folk artists, and the tracklist was complete!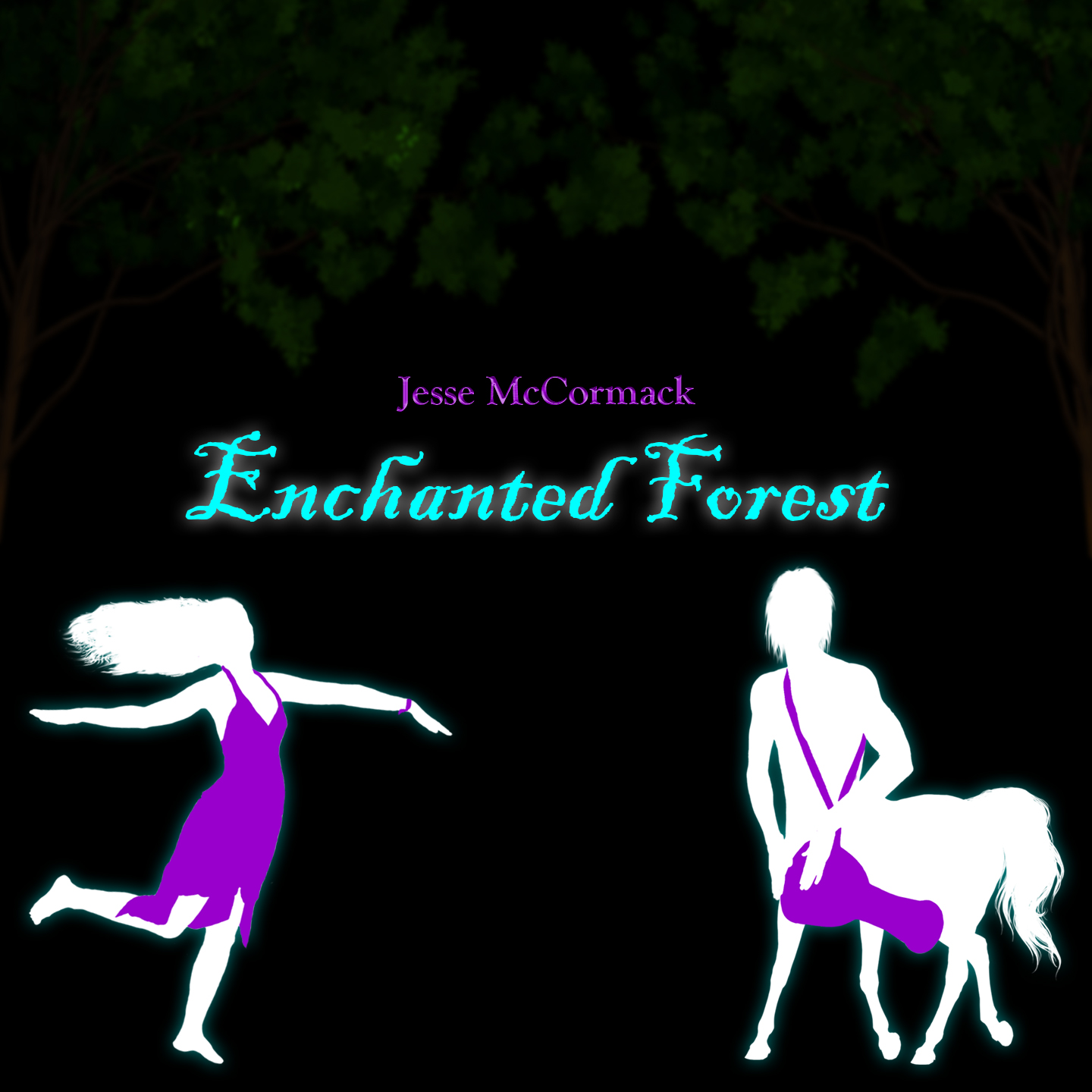 The next part of the album to begin taking shape was the CD artwork. Since the European leg of Fair's launch tour, I have been photographing models and scenery to use in the creation of the package design. I have already begun using two of these images, in silhouette form, in promotional material for the album, including the demo artwork (pictured above). The finished front cover of the album will feature the actual images - not just silhouettes - in a detailed photomanipulation artwork which I am currently working on. I have also recruited German visual artist Martin Kepler to illustrate other aspects of the CD packaging (some of his earlier work is pictured below).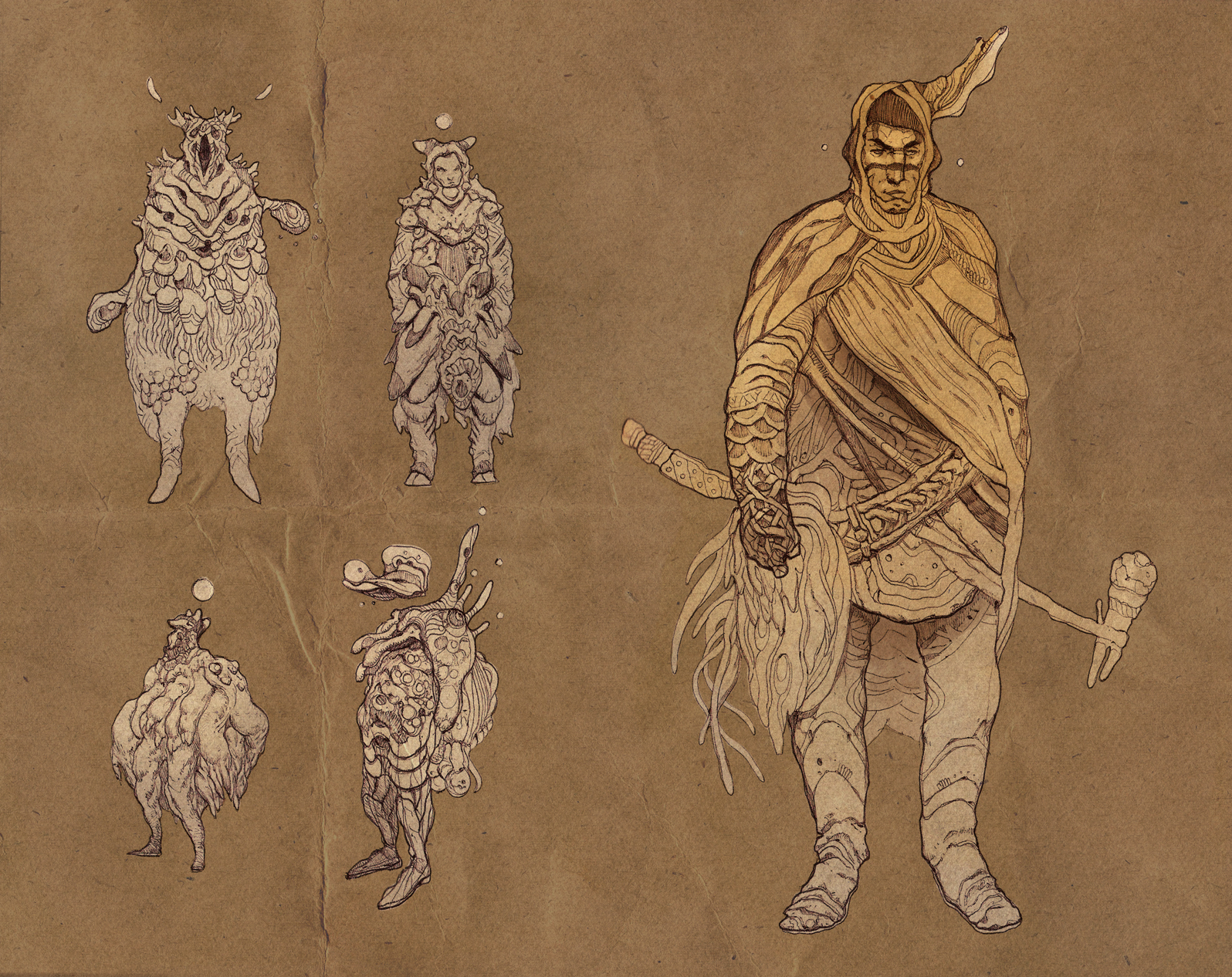 Then, of course, there is the music itself. There are many sounds that I want to experiment with on this album, and although I play quite a lot of instruments, I don't quite play enough to properly do the job of the arrangements I have in mind. So I initially found three incredible people to help me create the kind of sound I want to achieve. My primary accompanist from Fair, Alastair Hawkins, will once again be helping me out in the studio with his impressive skills on acoustic, electric, and bass guitars. Alastair and I have been collaborating for well over half a decade now, longer than almost any other musician who I regularly work with. Also from the musical cast of Fair, violinist Emily Sheppard will not only be bowing (and occasionally plucking!) her instrument with enviable finesse on many of the tracks, but will also be using this project as one of the first outlets for her newly acquired viola skills. On top of that, she and I have been working together to come up with some top-quality string trio arrangements for violin, viola, and cello which will feature on two of the tracks, lending a hint of orchestral grandeur to the album. Emily is an occasional member of the Tasmanian Symphony Orchestra, and has collaborated with the likes of Paul Kelly, Katie Noonan, and Michael Kieran Harvey. She and I also frequently play together as classical-folk fusion duo Zoukin (pictured below).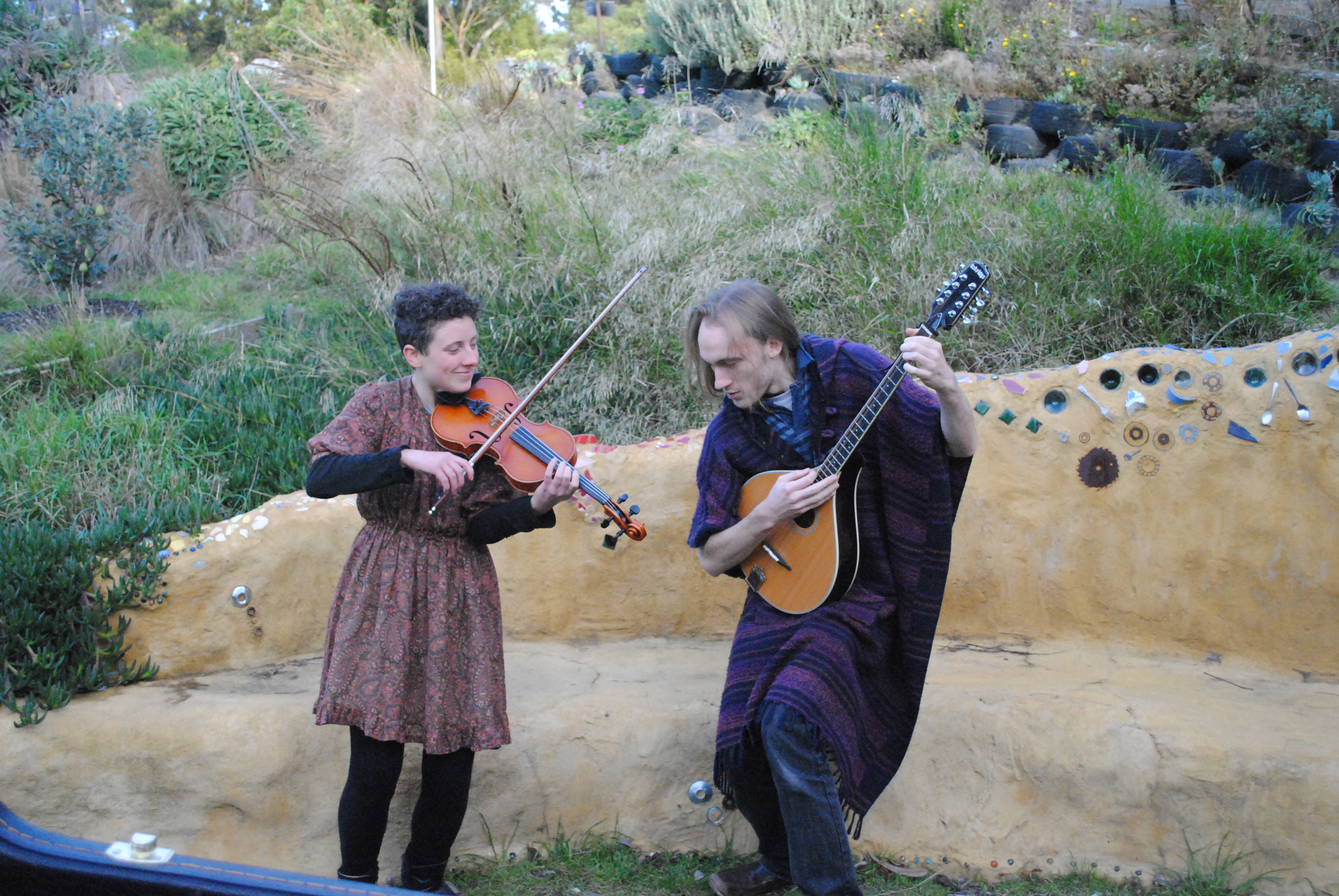 Finally, I could not create an album called Enchanted Forest without including what I consider to be the most magical sounding of all instruments in at least some of the tracks, and on that note, I am honoured to be working with one of the most amazing harpists in the Australian folk scene. based in Melbourne, Claire Patti is well known as a member of Celtic girl-group and vocal ensemble Co Cheòl, Scottish folk music band Taliska, or simply as one of the only (or at least the only one I know of) solo artist clever enough to play jazz on the harp! She and I began collaborating last year, and working with her has provided me with many musically challenging yet highly inspirational experiences in arrangeing and vocal technique...whilst in return some of my new-found obsession for Nordic folk music has rubbed off on her!
I'm stoked to have these fantastic musicians and good friends on board with me for this project...but in addition to that, there are also a couple more special guests lending their skills to the album who I've never worked with before! More on them later...
How The Funds Will Be Used
As recording is already well and truly underway, the vast majority of funds raised here will go towards mixing and mastering. A small portion has also been reserved for illustration, costume design, and photography. Cue the obligatory pie-chart...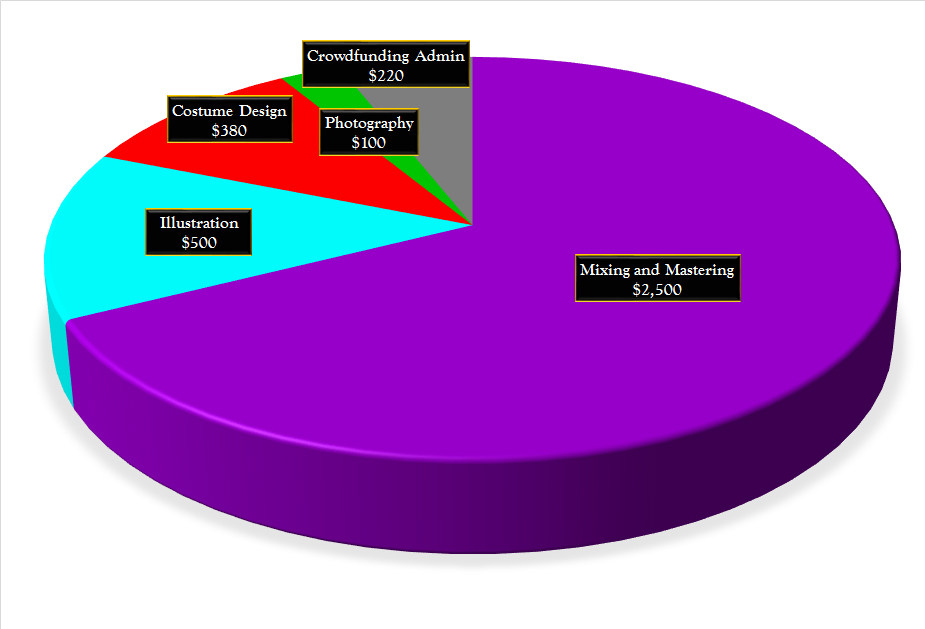 If my campaign is successful, Arts Tasmania will contribute an additional $2,000 under the Crowbar Program. These extra funds will go towards the artist fees for my guest musicians.


Notes on the Rewards...
Most of the information you see on the right-hand side of this page is self-explanitory, however, I feel like I'd best clarify one or two things that the maximum word-count didn't allow for.
For all rewards, there is free shipping for pledgers living in Australia and New Zealand. A small extra fee for shipping applies for the Asia-Pacific region (geographically closest to where I'm based), as well as Europe and Canada (the areas where I'm most keen to tour as regularly as I can in the near future...minimal shipping cost is my present to you! You're welcome). Slightly larger shipping fees apply for the rest of the world.
Items on the rewards list marked with a * will be delivered to you IN PERSON!!! This goes for the two "experience"-type rewards: The 10% (Fika) and The House Concert. These rewards are only available in certain areas, based on where I intend to be touring in the next year or so after the release of the album. I hope to be launching the album in November 2017-February 2018 with a tour of the three countries where I have the most contacts: Australia, Sweden, and the Netherlands. I will be "delivering" any fika date and house concert rewards during this time to pledgers in these countries, but if you live elsewhere on the European mainland (eg: Austria, Belgium, Czech Republic, Denmark, Finland, Germany, Norway, etc) and are feeling generous enough to contribute that much to the project, I can of course be pursuaded to extend the tour to include your area! Later in 2018 I am hoping to tour in New Zealand and Canada for the first time, as well as returning to other locations in Europe such as Iceland, Ireland, and the United Kingdom, during which time I'll dish out the house concert and fika rewards, if any, for those countries.
So the "only available" clauses on those rewards are intended as a rough guide only. Leave a comment if you're unsure about your geographical eligibility, and we can start a discussion about it. I will try to be as accommodating as I can but do bear in mind that international touring is an expensive undertaking and an administrational nightmare!
Finally, all pledgers (except those who wish to remain anonymous) will have their name immortalised on the Enchanted Forest page of my website, and all those who pledge $100 or more (or equivalent) will have their name featured in the credits of the actual tangible album!
The Challenges
This is my second attempt at funding this project via the medium of crowdfunding. I can now say with total confidence, backed by first-hand experience that the biggest challenge to such a project BY FAR is spreading the word. So please...if you've read this far, I must have caught you interest somehow, right? Even if you don't plan on pledging, I would be so incredbly grateful to you if you would share this with your social media followers, email the link to your family, friends, and colleagues, or even write a letter to your grandmother. It will only take you a minute or two...and who knows? The one degree of separation between me and that last pledger who will get me over the line might very well be YOU!
...I seriously can't stress this enough. Share. This. With. Everyone. Pretty please, you amazing human being!