The four of us spend our time playing, listening to, composing, recording, and thinking about jazz music.
Although we all spent our learning years playing together in Sydney, our professional careers have meant that we have moved to different cities around the world.
Spike Mason...

is a professional jazz saxophonist. He has played jazz all over the world in such places as the USA, the UK, Italy, Germany, The Netherlands, The Czech Republic, New Zealand, Singapore, Turkey, Canada, and Greece. He has played on over 150 albums and has worked with many great Australian Jazz musicians including Simon Barker, Judy Bailey, Roger Frampton, Kristin Berardi, Craig Scott, Sandy Evans, Phil Slater, Matt McMahon, Kelly Ottaway and Tom Vincent.
Mike Kenny...

has been working as trumpet & flugelhorn player, composer & arranger, bandleader and music teacher on the Sydney Jazz scene since the early 90s. He is the bandleader of the 'Selah Ensemble' and 'Mike Kenny's Lab Band'. He is also a regular member of the Kinetic Jazz Orchestra. He performs in and around Sydney regularly most recently with 'Mike Kenny's Lab Band' which has just released a live album recorded at Sydney's Colbourne Ave.
Mark Lau...

is a bassist/composer originally from Sydney, Australia now living in downtown Manhattan, New York. He has played at major festivals around the world including the Umbria Jazz Festival in Italy, the Pori Jazz Festival in Finland, the Rome Film Festival, the Wangarratta, Manly, Brisbane, Melbourne and Bellingen Jazz Festivals in Australia, the Hong Kong Fringe Festival and Newport and Cape Cod Festivals in the US and has played on numerous recordings and albums.
Henri Peipman...

is a jazz pianist who has played at festivals and gigs in Estonia, Singapore, UK, France, Philippines, and Australia including the Shoalhaven Jazz Festival, Bellingen Jazz Festival, Jazzgroove Festival, Manly Jazz, and the Jazzkaar Festival. He has recorded with many groups including The Java Quartet, The Richard Maegraith Band, Selah, and Spike Mason. He has two original jazz albums under his own name, 'Virmalised' and '30. detsember'
When we found out last year that our dates would align in Sydney again we jumped at the chance to record an album. In the months before our get-together we wrote 2 tunes each, thinking of each others musical strengths. We then emailed them to each other so we could learn them. On the day of the recording we met together and recorded the album in the traditional jazz way, playing live and simply capturing the sounds as they happened.
When we listened back we loved it, and so we're now releasing it to you!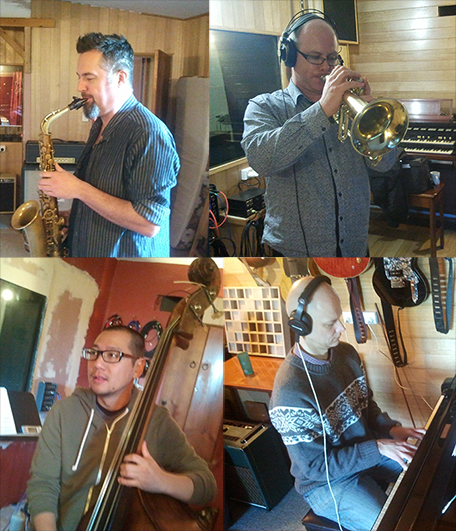 How The Funds Will Be Used
We have paid for all of the work done on "A Moment In Time" so far.
Including:
- Recording the album @ Aphek Studio in NSW.
- Mixing and Mastering the album @ Spiral Studio in TAS.
"A Moment In Time" is ready to be made into a CD.
We are asking you to help fund:
- The design of the artwork at a cost of $650.
- The printing and pressing of the CDs at a cost of $1850.
For a total of $2500.
The Challenges
As jazz musicians, our challenge is to get the music we make to the people who love to hear it. Pozible helps us overcome this challenge by allowing us to speak dirctly to those people and empower them to directly support the music they love.