PLEDGING FROM INTERSTATE OR OVERSEAS?
We've added a new $35.00 pledge reward; a Kustom Kommune T-shirt, including delivery anywhere in the world. Perfect for those overseas or interstate that want to show their support for the project from afar.
---
THANK YOU! THE KOMMUNE WILL OPEN!
The Kustom Kommune is now a reality! We have hit our $30k target and this means we can officially open in the coming months. We can't thank everyone enough for the support of this project, its absolutely amazing to see pledges coming from all over the world.
Theres still time to pledge and score the awesome Pozible rewards. The more funds we can raise through Pozible means the more the Kommune will have to offer when we open the doors.
If we reach $40k we will be able to include;
+ Paint department included in the initial fit out.
+ Extra machinery such as Radial Draw Bender & Metal Lathe (make your own handle bars, tail loops, mounts etc)
+ Ipads for each bay where you can google those bits you're unsure of!
+ Upgraded tool kit for each DIY Bay
Again, a massive thanks to all our new friends. We can wait to build some killer customs with you all!
---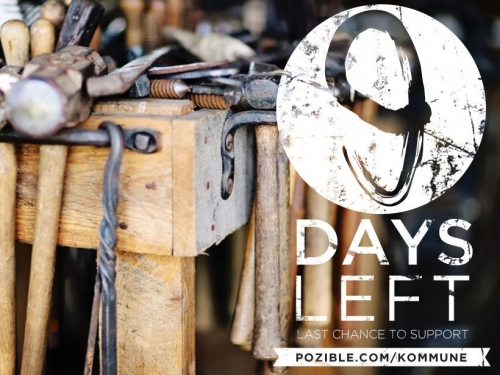 ---
After years of struggling with poorly equipped tool kits and a lack of workspace we've decided to do something about it. Melbourne's space poor inner city dwellings are no place for budding motorcycle builders and mechanics. Inspired by similar projects in other countries we are planning to open a communal motorcycle workshop in Melbourne's inner city suburbs that we call 'The Kustom Kommune'.
Behind the scenes of the Kustom Kommune you'll find Jimmy Goode and Geoff Richie Baldwin, two of Melbourne's most obsessive supporters of the custom motorcycle scene. In 2012 we hosted the first ever 'Oil Stained Brain' exhibition, which introduced the general public to some of Melbourne's best backyard custom bike builders. Oil Stained Brain was the first exhibition of its kind in Australia to celebrate the art form of custom motorcycle building and the lifestyle that surrounds it. More art exhibit than bike show, Oil Stained Brain had a strong focus on forming connections between builders and showing the public just how creative and unique these rolling works of art can be.
Jimmy is an avid moto-enthusiast, builder and professional event coordinator working with Rockabilly King Productions (Camperdown Cruise, Ballarat Beat etc). Richie is the man behind custom motorcycle blog 'Return of the Café Racers' and is a regular contributor to Fuel Magazine. We have both experienced first hand the challenges of working on front porches, in living rooms and on street verges. We know what it's like losing sleep while fretting about your wheels parked out in the rain or on a dodgy street corner and want to make a change. Building a community and solving a common problem is what the Kommune is all about but we need your help to get it started.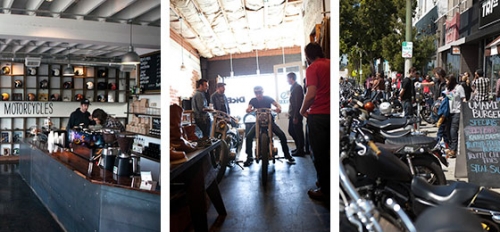 WHAT IS THE KUSTOM KOMMUNE?
The Kustom Kommune will be Melbourne's first ever communal motorcycle workshop. A cool, stylish decked out community space. The Kommune will have a fully equipped DIY motorcycle workshop located close to Melbourne's CBD (surrounding suburbs, looking at space around Fitzroy / Collingwood / Bruswick) where you can hire a fully equipped work bay to work on your motorcycle project. Restorations, scratch builds, custom projects or general maintenance, no project is too big or small. The Kommune will be a community of like minded motorcycle enthusiasts learning from one another and building friendships.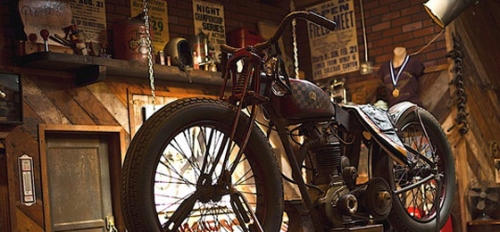 WHAT CAN I DO AT THE KUSTOM KOMMUNE?
At the Kommune members can hire DIY bays to work on their motorcycles. The Kustom Kommune will offer motorcycle based training courses where we will show you exactly how the professionals do it. Basic welding, electrical wiring and metal fabrication will be explained simply, so you can improve your skills as-you-go in a relaxed, supportive environment. When you're not working on your project come in and hang out with other like minded motorcycle enthusiasts in our man cave (common room), watch a movie or lend a hand in the workshop. A home away from home for the budding builder. Rather than simply a Motorcycle workshop, the Kustom Kommune will also be a creative space for art and music.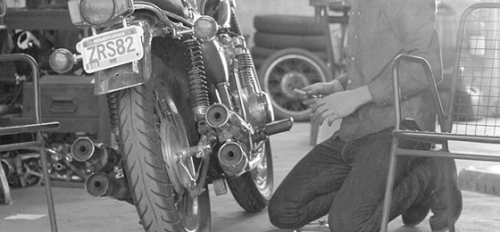 WHAT IS A DIY BAY?
A DIY bay is a purpose made workspace designed especially for motorcycle servicing and customising. DIY bays are available for hire by Kustom Kommune members at an affordable hourly rate and can be booked in advance. A DIY bay includes a full set of metric and imperial tools (spanners, sockets, allen keys, screwdrivers...everything you'll need!), a bike lift, protective gear, enough space for you and a mate and assistance from our on hand staff. We'll even include consumables such as cable ties, rubber gloves, degreaser and cleaning products in the price of bay hire. In the future we hope to expand to be able to offer metal lathes, complete welding tools, metal presses etc. Early stages will include all the hand tools you'll ever need.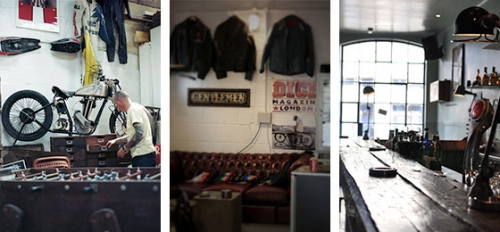 HOW MUCH DOES IT ALL COST?
We want the Kustom Kommune to be affordable to everyone. Our annual membership will set you back $150 (get a discount by donating now). This allows you to hire the DIY facilities and partake in Short Courses. DIY bays will be available from as little as $15 per hour and can be purchased in bulk for even lower rates. Training sessions will be from as little as $50 in groups of only 10 people per class. Parts and consumables will be available from our store at competitive prices with rewards for regular customers.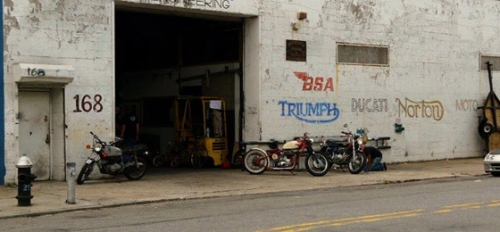 I WANT A MOTORCYCLE BUT DON'T HAVE ANYWHERE TO STORE IT? CAN THE KUSTOM KOMMUNE HELP?

Yes we can. At the Kommune you can ride in and ride out or you can store your project for as long as you need. With opening hours from 11am to 8pm during the week (Tues-Fri) and from 6am on weekends you can access your motorcycle easily. Our opening times will also give you plenty of time to book a DIY bay and get cracking on that project! We want the Kommune to be accessible to everyone.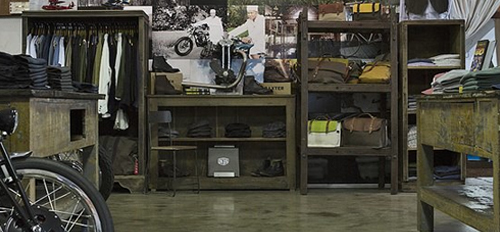 We hope this has given you some insight to what we've been working towards and encourages you to become involved. As you can see, this is a very ambitious project and is going to require a rather substantial investment to launch; this is where the 'Kommunity' comes in. Our goal is to crowd-fund a large portion of the establishment costs by pre-selling memberships. By selling Kustom Kommune memberships we will be able to fit out our workshop and pimp up our first four DIY bays in a warehouse style workshop less than seven kilometers from Melbourne's CBD! If we do meet our target, with your support, The Kustom Kommune will be up mid 2013! We have been working on this project for nearly 12 months now, and can't tell you how excited we are to be nearing an official launch. Stay tuned for updates as project Kustom Kommune progresses.
WHAT DOES IT MEAN WHEN WE HIT OUR FUNDING GOAL?
$30k is the minimum we need to realize this dream. When we hit our funding goal, we will lock down a space and start the fit out process. $30k means the venue will have:
+ 3 DIY Bays fully Stocked with Metric & Imperial hand tools
+ Basic fabrication tools
+ Range of After Market Parts that you can test fit on site
+ Free Internet Access (to Google those How-To's)
%20 Motorcycle Storage Space
%20 Rec Area
We should be up and running within 2 months of hitting our target.

DON'T STOP DONATING!

The more we raise the more we can invest in creating a larger space with more features! If we hit $40k-$50 the Kustom Kommune will be able to expand!
+ 4 DIY Bays
+ More comprehensive range of tools to ensure we have EVERYTHING!
%20 Paint Room to spray your own tinware
%20 Ipads for each bay to Google those How-To's
%20 Larger Range of Fabrication tools to include MIG/TIG welders, Drill Press, Grinders etc
%20 Longer Opening hours to ensure there's plenty of time to get wrenchin'
%20 More Motorcycle Storage
%20 Part Time Mechanic to assist with projects
%20 more!

ADDITIONAL DONATIONS

Its going to take a lot of support to see this ambitious project come to life, if you can assist with tools, bike lifts, fit out, labor, planning, etc we would love to speak to you. We offer can offer numerous sponsorship packages for businesses and individuals. If you are as passionate as us get it touch via: getgreasy(at)kustomkommune.com.au
FOLLOW US FOR THE LATEST UPDATES ON FACEBOOK:
www.facebook.com/kustomkommune
*Images are for illustration purpose only, and although do represent our passion they are not of the actual venue.