*You haven't missed out! Pre-orders are still being taken!*
To the people who have contacted me, concerned that they have missed out: Though the pledge pre-order minimum order limit has been reached, copies are still available.

UPDATE: Note, we have now introduced a $40 Pledge, see 'Rewards'.
_________________________________________________________________________________
"Ok. Impress me."
From the critical acclaim and incredible reader feedback we have received, we're certain that we have created a work that
"...
promises to become a classic of Down Under graphic horror and is one not to miss
"
(Source:
Scaryminds.com)
Paul Bedford originally penned the story a decade ago, dusting it off in 2005 when Henry Pop and Tom Bonin joined him to bring the story to life in all its dark glory. Self-published in three instalments over six years, hundreds of hours went into producing over 800 illustrations to create a modern horror epic..
"It's not just another one of those slasher-stories is it?"
Sure, there's an abundance of blood, violence, gore and dismemberment - but just when you think you've got it pegged, The List will surprise you as its undercurrent slowly probes your mind, leaving you unsettled and contemplating...
How far could
your
beliefs take you?
"Who are these mad looking geezers?"
Bedford (below right) and Pop (below left) can be found skulking around a Carlton Pub at the monthly Melbourne Creators Meet (with Bonin when he's in town). This is where a group of comic writers, illustrators, editors, publishers and fans gather to discuss and share their work, encourage each other... and drink beer.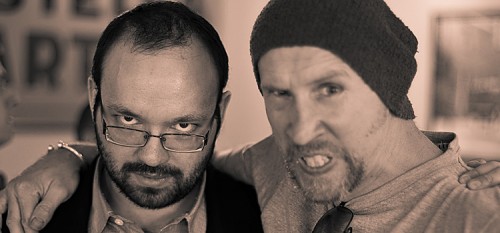 Yep. Six years of working on The List makes you as crazy as its main character.
The funds raised will be used to finance a beautiful edition of The List in the format it was always intended: a single volume, 200 page Graphic Novel. Whilst their grassroots are firmly planted in the local indie publishing scene, the guys hope that this Pozible project will bring The List to a larger audience by giving them a quality product to distribute and submit to major publishers around the world.

"Yeah, that all sounds impressive guys, but what's in it for me?"
We don't just take your money and run off to make a lovely book for ourselves. Contributions of $30+ act as a Pre-order of the book (see 'Rewards'). Aaand... this book is complete and ready to print! You won't have to wait months for it to be written, edited, pencilled, inked, lettered and layed-out before you get it!


"Fair Deal. But why would I want it?"
The List is a work that respects the intelligence of its audience, challenging the reader to piece together the events and find hidden clues as they search for the reason for all this insanity. Furthermore, this is not a story that finishes with the turning of the last page. It leaves an unshakable impression on its readers; it stays with them days after reading as they are haunted by its relentless darkness, implications and themes.
"Ok, you've almost convinced me. What else you got?"
Well, don't just take our word for it, here are some quotes extracted from English and Australian reviews:
"...that uncertainty, the mistrust is also at the core of The List being a brilliantly constructed piece of horror as, while I was trying to figure out what was really happening, I was pulled further into this gruesome world, more deeply into this guy's mind and his grisly experiences." Source: Vividscribe.com
"The finale to The List was as harrowing a read as I expected from the set-up of the early volumes. Days later, I'm still digesting the symbolism of its emotionally-charged ending, dissecting events and reinterpreting their meaning over and over. A rare phenomenon these days for someone who finds it near impossible to remember from one month to the next what happened in the previous issues of the few super-hero books he still reads. Charged with a brutal, creative passion, The List is an unyielding, tenacious work that revels in immersing its audience in an orgy of uncomfortable, ghoulish voyeurism. Traumatic, disturbing, yet refreshingly honest, this is horror comics at their most unflinching."
Source: Brokenfrontier.com
"Simply put, the best graphic novel to have ever been published in Australia with the script and artwork combining to make a statement about what can be achieved when unrestrained talent is thrown at a project. 10 /10 Stars - Bedford, Pop, and Bonin, deliver a masterpiece." Source: Scaryminds.com
As you can see, The List has made its mark with brutal efficiency. It is this impact that has kept us pushing this work with a view to reaching (read: scaring!) as wide an audience as possible.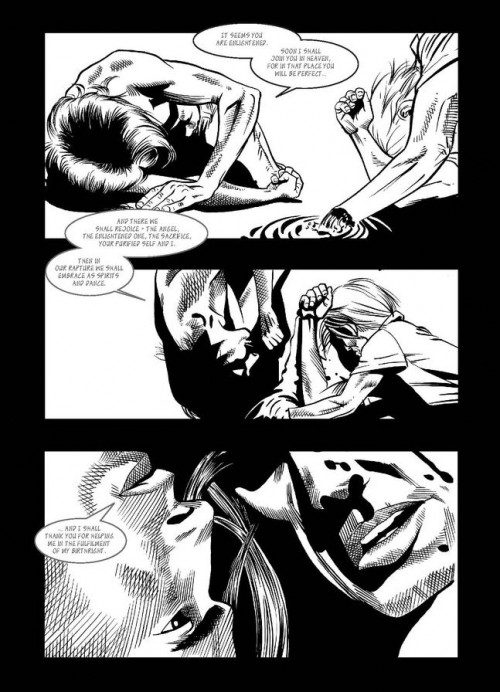 A sample page from The List.
Oh, we better let you know that The List has a potty mouth:
Mature Content Warning:
Frequent Strong Violence
High Level Course Language
Dark Themes
Horror
Nudity
Recommended for mature readers 15+ as it may cause offence.