The Sensorium Project is a fusion of art and science.
It is a collective project utilising the latest interactive technologies to provide greater insight into the creative process and show how art has the ability to influence reality.

Featuring artwork from visionary artists around the globe and incorporating some of the latest cutting edge devices in motion sensor and biofeedback technology the project is really set to dissolve some boundaries.

Artists are creating madly and software developers are currently writing proprietary code to create a novel and inspiring experience for you all.

Below is some highlights of what will be occurring inside the Sensorium at the first installment if our funding target is reached in time. Creative contributors are growing daily, for more details see – 'Sensorium Artists'

Virtual gallery of visionary art
Artwork from visionary artists worldwide is being curated and will scroll autonomously around the walls of the dome.

Interactive motion sensor technology
A virtual drum kit will map body movements of drummers and convert the data into sound and vision.

Live digital art
Performances and experiments involving wireless touch screens, stylus technology and motion sensors will generate live art before your eyes.

Biofeedback
EEG machines will detect brainwave frequencies of participants and convert this information into visual patterns for all to experience.

Workshops
Group guided meditations will align your being with multi-screen, multi-media, audio-visual experiences of colour, sacred geometry, light language, toning, analogue synthesis and crystalline healing technology.

VJ Performances
A fine selection of VJ's will generate live visual experiences across all screens and dissolve you into pools of light.

3D Visuals
Custom 3D generated visuals with 3D Chroma depth glasses will create imagery with great depth as artwork jumps out and pulls you back in.
Cinema
A selection of documentaries, animations and short films produced by those attending EGA will be screened.
Audio
Surround sound inside the dome will consist of soundscapes, atmospheric, drones, experimental glitch tweak frequencies provided by some inspired audio engineers and DJ's.

Astronomical tours
Take flight into space and experience a live tour around our solar system, far away galaxies and out into deep space with our real time program.
And the list is growing…… :)


If you will be attending EGA (www.entheo.net) or festivals beyond where the Sensorium might land, think of a donation now as your early bird ticket or an investment in the quality of your future, as it surely is. :)
As you enter the Sensorium you will know the full capacity of the experience if you make a donation now, dopamine rushes will tingle down your spine and you will realize that you helped made this happen. :)
We have invested a huge amount of time and energy into this project and as much money as we can afford, if we could afford more we would just pay for it ourselves - because we're mad and totally inspired!
We are not seeking to be paid, we require funds to cover a few remaining materials and additional hire costs to first feature it at EGA in all its magnificence. Providing us with the ability to feature it once will give us all the documentation, proof of concept and evidence of community support required to prepare a solid proposal to apply for much greater funding to take this creation to its limits.
Please assist us in making this happen!
We are raising money for screen materials, projector, lighting, surround sound and air-conditioning hire costs, transport costs and insurance.

Over $7000 has already been invested into the project through self funding and private donation. But we still need to raise another $7000 minimum to facilitate the completion of stage one and exhibit it at its first event.

The structure is based on an 11.11metre diameter dome and the crowd funding round ends on the 11/11/11 at 11:11am.


Where is everything at?
The dome is now fully built, 11.11m diameter with raised 2m vertical sides.
The external exhibition structure is under construction.
The hanging and mounted lanterns are being welded and sewn.
Artwork from a selection of visionary artists is being collected for Large format banners.
Interactive media projects are well into development.
A library of visionary art is being collected to be screened in the virtual gallery.
VJ material, animations, short films and video media is being collected for screening.
Soundscapes, ambient tunes, spoken word and experimental surround sound is being mixed.
Planetarium tours are being prepared.
Second Life construction is under way.
The first update of featuring artists has been uploaded to the artists page, please check out Who and What, there is some very exciting ones. 'Artists'
A program is being drafted featuring; virtual visionary art gallery, video media, live digital art, workshops and other mind bending experiments.


What's inside the dome?
Inside the dome will be 6 HD video projectors running off three separate computers, video mixing equipment, motion sensor cameras, other interactive controllers and surround sound.
Across the front spanning 180 degrees and 2m high will be three synchronized 1080p HD projectors forming one seamless screen. This will be used to screen the visionary art library, VJ material, live digital art, short films, animations and other experimental projections.

Each side at the back will be two mirrored ancillary projectors screening other pre-rendered and live video material.
The domed ceiling will be entirely covered using a mirror dome projector. Most excitingly, a deep space program will allow travel and navigation in real time around the earth, our solar system, other solar systems and far out into other galaxies and deep space, all in detailed 3D rendering. The mirror dome will also screen slow morphing temple like imagery, mandala animations, artwork, patterns and textures crawling all over and around.


Featured Artists
The response so far has been great, we have received a huge amount of encouragement and creative contributions. The lineup of featured artists is rapidly expanding, below is an overview. Visit the artist's profile page for details 'Artists'

We hope this paints a clearer picture of how the space can be utilized.
Stay tuned, there is a whole lot more to come. :)

Banner Art
Brad and Katie Izwoz - www.izwoz.com.au
Gav Seed /Pixelogix - www.sensorium.net.au/artists/pixelogix
Katia Honour – www.katiahonour.redbubble.com/works
Andy Thomas / Android - www.andythomas.com.au
Adam Scott Miller - www.corpuscallosum.cc
Daniel Miranti – www.danielmirante.com
Linnea – Linnea Photography - www.linearphotography.com
Illuminated Sculpture
Pixie Lou / Creatura - www.sensorium.net.au/artists/pixie-lou-creatura
Interactive Media and Motion Sensor
Jayson Haebich - Broken Pixel Productions - www.brokenpixelproductions.com
Nano / Nathen Street - www.nathenstreet.com
Gav Seed /Pixelogix - www.sensorium.net.au/artists/pixelogix
Internal Projections
VJ Material
Gav Seed / Pixelogix - www.sensorium.net.au/artists/pixelogix
Shiptu_Shaboo - www.sensorium.net.au/artists/shiptushaboo
Animation using 3D Chroma-depth glasses
Anita Muscaria – Delirium Tremens - www.facebook.com/pages/DeLiRiUm-TrEmENs/125178417502038
Jayson Haebich - Broken Pixel Productions - www.brokenpixelproductions.com
Short Films
Krusty – Space Boy - www.sensorium.net.au/artists/eugene-e-nrg-aka-dj-krusty
Beau Deeley – Worlds within Worlds - www.beaudeeley.com/news
Katia Honour + Daniel Miranti – Screening of entheo art DVD - www.sensorium.net.au/artists/katia-honour-daniel-mirante
Workshops
Coalessence – Heath Myers + Scott Baker - www.coalessence.net
Experimental Live Filming for Documentary
Sally Dennis - www.sensorium.net.au/artists/sally-dennis
Virtual Visionary Art Gallery
Izwoz – www.izwoz.com.au
Pixelogix - www.sensorium.net.au/artists/pixelogix
Sylph Aeon - www.sylphaeon.com
Adam Scott Miller - www.corpuscallosum.cc
Daniel Miranti – www.danielmirante.com
Katia Honour – www.katiahonour.redbubble.com/works
Andy Thomas / Android - www.andythomas.com.au
Phoebe Celeste – Mandala Dreaming - www.sensorium.net.au/artists/phoebe-celeste-mandala-dreaming
Donna Raymond - www.sensorium.net.au/artists/donna-raymond
Ronny Simulacrum - www.flickr.com/photos/72249211@N00/collections
Linnea - Linear Photography - www.linearphotography.com
The Sensorium Project - Visionary - Interactive
Sensorium

- The totality of those parts of the brain that receive, process and interpret sensory stimuli, to which impressions from the external world are conveyed, perceived and transformed into sensation.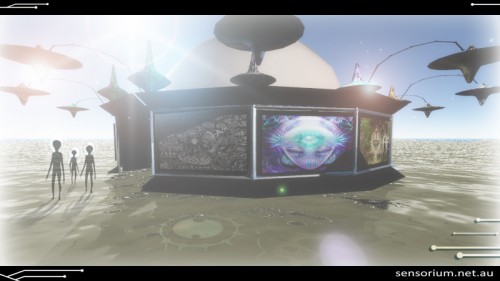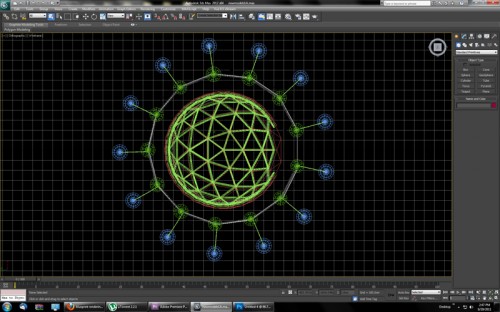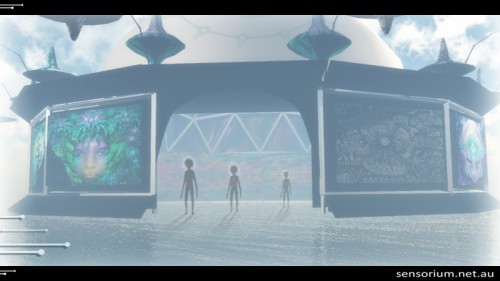 What is it?
The Sensorium is a community-based mobile arts project, a multidisciplinary collaborative gallery, created to exhibit interactive media, visionary art and sculpture. It is an independent self-contained multi-media installation fusing entertainment and education and is set to tour festivals, expositions and events around Australia.

Surrounding a raised 11.11m geodesic dome is a 13 sided (moon cycle) exhibition structure displaying a large array of visionary art and illuminated sculptures. Inside is an expansive space with six video projectors covering the entire inner surface. Combined with surround sound and motion sensor technology this produces a completely immersive environment.

The Sensorium can accommodate a 100 person audience and can be utilised as a cyber gallery of visionary art, cinema screenings, workshops, lectures, VJ performances and motion-sound-visual experiments.

The Sensorium Project aims to become an iconic and innovative multi-media platform - providing a unique exhibition space for many professional and emerging artists, developers and international special guests.

A few specifications:
11.11m diameter three frequency raised geodesic dome
13 sided (moon cycle) exhibition assembly
177sqm footprint (crop circle logo)
84sqm of large format printed banners
230sqm of inner projection screen


Why build It?
There is accelerating growth in the field of interactive media and a growing focus on the world of visionary art. The Sensorium is designed to provide a focused and dedicated exhibition space within festivals. As a completely immersive environment it brings the audience closer to the artist and reveals the creative process more intimately than ever before. As technology and talent evolves to produce more complex and innovative artworks, so too must the venues that exhibit such works.

Where will it exhibit?
The primary venues where the Sensorium is intended to feature is at arts, music, lifestyle, technology and state festivals, followed by themed expositions, and symposiums around Australia.
The Sensorium is an independent installation within an existing event, a venue within a venue; being self-contained it will be easy for any established event to host such an attraction. This is attractive to event promoters as there will be minimal work required on behalf of the hosting event to feature such a complex and ground-breaking installation.

Who will benefit?
Artists and Developers
Visual, sculptural, multi-media and performance artists will benefit from The Sensorium, as it will provide an optimal venue to showcase work to their target audience and enhance the quality of their creative networks. The Sensorium will encourage collaborative creativity and a sensorium community is envisioned to develop.
Audience
Festival goers will be introduced to a new wave of creativity; It will open many people's eyes to the wealth of visionary art and potential of interactive media.
Local and Regional Communities
The Sensorium will offer regional communities the opportunity to experience a collaboration of many kinds of cutting edge media toured in one package to their local area.
Students
Along with the potential to host lectures and workshops, the Sensorium will be proud to facilitate research opportunities for students completing their PHD's in interactive media and psychology.


Artist and Developer Invitation and Participation
The Sensorium is designed as the optimum space to showcase the latest and benchmark works of established and experimental visual artists, animators, sculptures and software developers. Invitation is open for anyone to submit an application through the website to feature their work within the space at upcoming events, an updated list of contributors and special guests is featured on the Sensorium website.

Areas open for submissions are:
Floating Gallery of Visionary Art
Inside of the dome is a floating cyber gallery of visionary artwork scrolling around on all surfaces. Submissions are open for anyone to contribute one or multiple digital copies of their inspired works to be exhibited at upcoming events. Credits and links will be featured where appropriate and we appreciate the need for security of your image files.
Internal Projections
The screening of video animations, feature length productions, short films, documentaries or screened workshop presentations, live digital art, VJ's, experimental, beta stage and fully developed work is welcome.
Interactive Media
Interactive projects of any kind; advancements are so rapid in this field its hard to keep up. We would love to see what your working on and see how we can make it work and use the space to push experimental projects further.
External Sculpture
Selected sculptural work; preferably interactive or illuminated. Any work that can be clamped to the exterior banner frame, or situated at the entrance or surrounding grounds.
External Banner Art
Selected visual artists will be able to exhibit their artwork as large format (3x2m) banners. Opportunities exist to sell these prints. The Sensorium will keep a small commission - profit will go to the artist.

The Sensorium Project will be of interest to a wide range of industries such as:
Interactive media and technology industry
Moving image and animation industry
Gaming industry & Demo scene
Visionary arts community
Music, arts, lifestyle & film festivals
State festivals & regional events
Themed expo's

Future Development
The Sensorium is designed to evolve with complexity as more artists exhibit their work and more funding is raised from private, public and community avenues. As popularity and awareness grows so will the innovation of the overall production.


Acknowledgements
The Sensorium Project would like to thank everyone who shared their energy and helped in any way. It is only due to the hard work by the dedicated team, support from volunteers and the community that this project is becoming a reality.

Most of all, The Sensorium would like to thank all the artists and creative contributors. Without the incredibly beautiful and ground-breaking work you are all developing and co-creating, there would be no reason to build a Sensorium at all.