Thankyou to everybody who is supporting us, especially those trying to get us on Today Tonight, A Current Affair etc. Also those trying to get our product into hotels such as Accor and Novotel. We really appreciate your help. Thanks to all our LinkedIn connections who are taking the time to look at our project and share it with their connections.
Wholesale $75 Sales commission $25 & rrp $149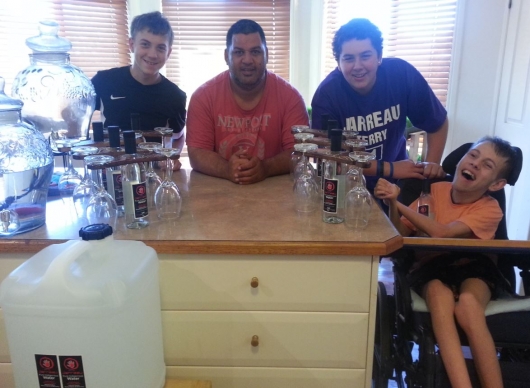 Our team left to right - Dylan, Gary, Jayden, Brodie
%23socialcic
Help us rebuild our communities; time to put people before profit.
Why?
Learn how to make a better life for Brodie who was diagnosed with ALD and about our exciting project that needs your funding and support that will not only help and impact Brodies life and health. You can help to create a movement for social awareness to change the world bottle by bottle of our indigenous water. Read more below and become part of it today!"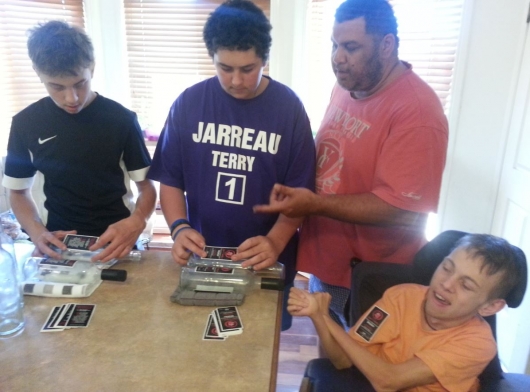 The boys labeling
Who is Brodie?
My little bloke Brodie has a terminal condition called Adrenoleukodystrophy (ALD) (reference Lorenzo's Oil). He is such a fighter; even the doctors are amazed at how well he is doing to this day. He's in a wheelchair and can't talk anymore or move much but let me tell you this, you know when he wants something. hahaha My other two boys have been working with me on the technology and process, so Brodie wanted to come and help as well. I didn't know how it was going to work out so I figured, sure let's give him a supervisor position. OMG what a taskmaster he is, you should see him. Remember our process is all manual labour intensive; no machines like cappers, labellers, nothing like that. We do everything manually so Brodie sits in his wheelchair and watches the bottles fill up and when they get to the top he calls out for one of the other boys to quickly swap it out. It's funny to watch. Brodie is so serious and focussed; he does not want to waste a drop. At the end of the shift, which may be four hours, he pushes his hand out best he can and says MONEY! LOL!! What a capitalist hahaha
So can our people with special needs and disabilities play a positive and productive part in the manufacture of this product? The answer is absolutely, without question.
As we produce water under an indigenous label in a glass bottle, the display is beautiful. We will keep trying to make a sound social difference and continue to create jobs for those that need them the most. Our young bloke with ALD will be 18 in December and we know that nobody will give him a job, so we need to make this work. We need this new social manufacturing plant under the CiC to work.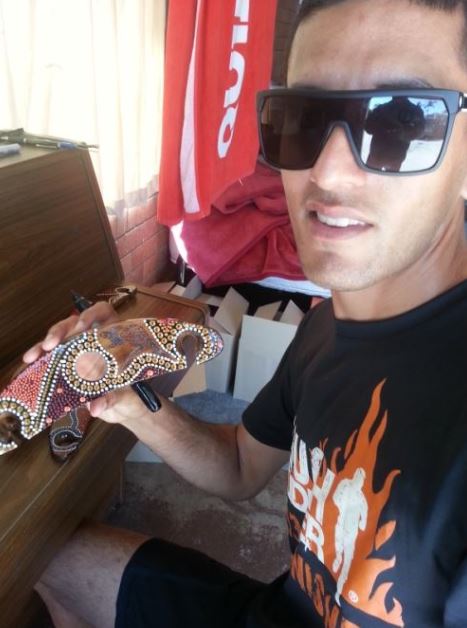 Jarreau signing the artwork displays
How?
We have worked long and hard on the How. The answer we have found is Social Manufacturing, which equates to people before profit. We will use the product to make an impact on Brodie and other people.
We had to create Chuptu Indigenous Corporation (The CiC ICN# 7783) as this was the only legal entity where we could embrace and address social imbalances and the environment using new economic models and formulas.
What this allows The CiC to do is realise peoples true value and create a social manufacturing model and formula based on these findings.
How is it possible?
Firstly we had to start with a product that had a broad market, and for this we chose bottled water. Not just any bottled water but Jarreau Pure Indigenous Water in a glass bottle.
1. It being indigenous isn't a play on words as water is the very foundation of our culture. We have the technology and formulas that actually produce water as it was naturally produced by Mother Nature back in the day before the industrial revolution and pollution etc.
2. It's in glass and we all understand the benefits of glass as opposed to leaching plastic.
3. Its health benefits, even if it's simply as hydration, that's a good thing.
4. Its ability to be manufactured locally because of our new local manufacturing model will be explained in detail later.
5. Its sustainable employment platform which caters to our indigenous, young, long term unemployed, single parents, people with disabilities (over 55s, pensioners and seniors via our mentor employment program).
6. People before profit. As it is under the CiC, profits are absorbed by job creation.
7. Multipliers. As it is such a unique product select small retailers will have an edge on their larger monopoly/duopoly competitors.
8. Being an indigenous corporation puts us in the arena with both state and federal procurement mandates. This would be on a 10 year contract, as a number. This was put in play by Penny Wong and Mark Arbib.
9. Decentralised social manufacturing model.
Just filled the bottles, letting them cool down prior to labeling
What is the model?
It is similar to a franchise where we have a small manufacturing plant to accommodate a number of suburbs and have a specific amount of retailers retailing our product. This way it is sustainable and generational with the government procurement mandate as a buffer not the main sales channel.
Example Qld: One in Morayfield, Caloundra, Maroochydore, Tewantin, Maleny, Glasshouse Mountains, Mooloolah Valley.
This is not a hypothetical. We have been testing not only the product and its health benefits, but also different age demographics and those with disabilities to prove the model is viable.
In relation to our seniors, retirees and vets, those that want to be a part of this new model, we need them to play a mentoring role. As I have said before they are our knowledge bearers. We believe that where we are today and the formulas we produce are a direct result of our upbringing and the ethics and values that were instilled in us at a very young age.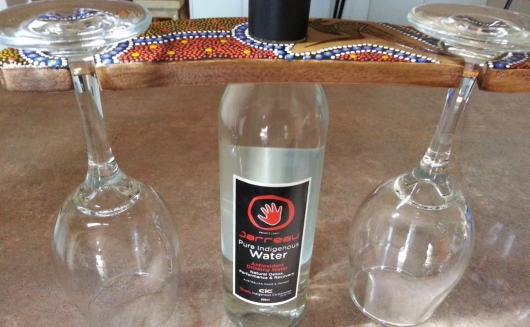 Our bottle display
What?
At this point we have bottled water and displays as corporate gifts.
We understand that people are buying bottled water now, and will whether we are in the equation or not, therefore we want them to have a choice of high quality water produced locally by local people who need the jobs. What this means is those who buy a bottle of water from us will be playing a very important social role and we want them to understand this as time goes on.
The Challenges
It is ImPozible to go to a bank and ask for a loan to build a social manufacturing plant that makes great profits, however we will be unable to service the loan because we invest it all back into people via job creation. This has more value to society on a whole than any amount of interest paid to the bank ever could. Only you on Pozible can make our social manufacturing project Pozible.