Illuminart bring buildings and public spaces to life with projection art - illuminated animations and illusions that take audiences on a journey and activate spaces.
Hart's Mill Re-animated is our own production, created in collaboration with the community of Port Adelaide. It represents the ideas, hopes and visions that people have about the forgotten, vacant building complex known as Harts Mill, and captures the many stages of its industry and development. Like the local Port Adelaide community, we think this place is very special and although it's currently disused and derelict, it's a landmark, a place of memory and a site that offers the community a legacy that all Australians can share. And hence through this show, by projecting the story of the Mill onto the Mill itself, we are creating a timeless project that all the crowdfund pledgers and sponsors will feel proud to have been part of.
Australia is such a young country that we don't have a lot of historic architecture compared to Europe or other parts of the world. Yet many of our most important old buildings are neglected and left in poor maintenance, and we are losing iconic buildings faster than we realize. Harts Mill is a landmark building that has been vacant for decades and had employed thousands of men, women, Indigenous people and even children during its years of milling industry. In its early days it overlooked the Sailing ships and across the river were the campsites of the Kaurna residents and traditional owners of the area. It was built entirely by hand and steam power, brick by brick. It was a monument to the vision of Captain John Hart who wanted to ensure there would be food for the growing colony, and it endured fires, strikes, droughts and failed developments. This building, though vacant and abandoned, is a survivor. So... why does it mean so much to the locals?
Through this groundbreaking projection art show, one of Australia's oldest buildings tells its story through light and image.
Harts Mill is the venue and central character for the projected narrative, which will feature beautiful animations and mapped projections that cover the western facade of the building, in seven chapters of narrative from deep time through to the future. The audience will be taken on the journey to experience the significance of the mill, the once bustling industry surrounded by the tall masted ships of bygone sailing days, in ways that give Australian's a deeper connection to their heritage and an appreciation of architecture. It will present the ongoing transformation of the Port Adelaide area and enable two thousand people to share the story of this historic building and the Port River. After the show it will be packaged into an online presentation showcasing Australia's first animated mapped narratives in full.
Crowdfunding will enable illuminart to add new animation to the sequences already produced, to take it to a thirty minute show, with new sequences representing the changes to the Port Adelaide area, and its destiny into the future. The entire show with new animation will be shown in an exciting public presentation in late March 2014 and launched online in April 2014.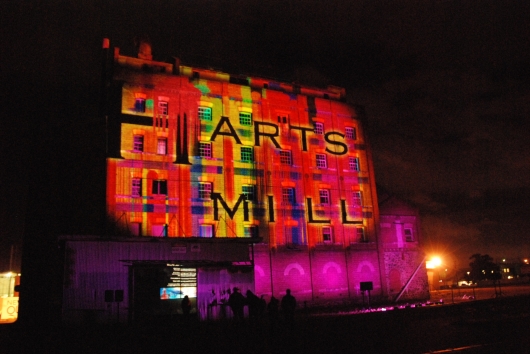 How this architectural projection supports Australian heritage:
Urban development and renewal can mean change to the landscape, sometimes affecting the icons and landmarks that mean very much to local people. In Port Adelaide, the iconic Harts Mill has been the site of contention and debate over many years, as firstly it was vacated, marked to be surrounded by new development, and then lay dormant as the development stalled.
This project is timely, as the Harts Mill is now the centre of exciting new developments to transform and landscape the precinct into a public park and festival space. To celebrate the renewal of the Harts Mill precinct illuminart plan to present the original twenty minute show, and add new sections that reflect the new renewal of Port Adelaide, celebrating the positive changes. By celebrating and acknowledging the story of Harts Mill, this project will affirm the value of iconic heritage architecture and landmarks.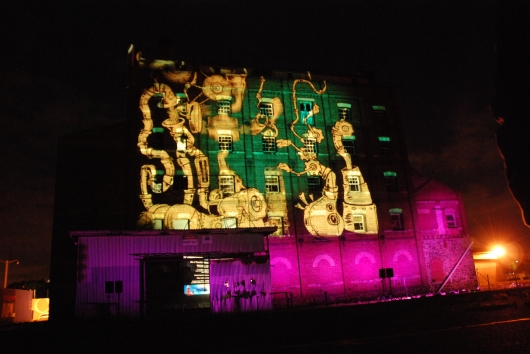 What is architectural projection and architectural storytelling?
Architectural Projection art is a large scale illuminated transformation of a building. Architectural storytelling is a transformation of a building with a narrative. Storytelling on this scale is moving, ground breaking, and beautiful. Harts Mill Inhabited was a groundbreaking show - arguably one of Australia's first architectural mapped video projections and one of the few with a full narrative. Harts Mill Reanimated will take that work further to showcase the journey of this historic building, promote the artform of Architectural Storytelling, and to share the appreciation of one of Australia's iconic historic precincts. To see more examples of Architectural Storytelling please visit illuminart's page:
http://projects.illuminart.com.au/architectural-storytelling-large-scale-projection-with-narrative/
In 2009 the Port Festival commissioned Cindi Drennan from illuminart to involve the local community in creating the projection show that told the story of the building through mapped projection. The twenty minute architectural projection was presented on three nights in October 2009. Produced by Emma Webb, it featured the music of Lou Bennett, the face of Kingsley Haskett, animation by Cindi Drennan and Danica Wells-Heitmann. It captivated over a thousand people from the Port Adelaide area and nearby with its symbolic imagery representing their love of the building, their concerns for its fate, and their hopes for an inclusive renewal of Port Adelaide's heritage areas. The animated storyline expressed a long running vision for preservation of the building and supported the community to make a stand for their values about the iconic heritage architecture of the Port, and eventually their ideas were influential in transforming the Mill Precinct to become an accessible public space.
The restaging of this groundbreaking Architectural Projection show supports a grass roots feeling around Australia, that iconic buildings are significant to our landscape and merit support, appreciation, maintenance and a space to enjoy them. It also celebrates this building and helps the community to appreciate what they have and share it together.
Some Of My Previous Work
illuminart is an award winning South Australian arts company, specialising solely in the design, creation and management of projection arts and hybrid media performance and installation. At the core our mission is to use projection and interactive technology in an impactful way for the positive benefit and wellbeing of communities. We have presented at VIVID Lights, and have work on display at the National Film and Sound Archive. We produce innovative projection sculptures, visual music instruments, and transform urban architecture with vibrant, meaningful stories that feature the buildings as central characters and icons in the projection.

See our work at: http://vimeo.com/illuminart, and http://illuminart.com.au
The Challenges
This project is not technically risky. The main risk to presenting any event is the weather, and we tend to present any outdoor event with a "plan B" wet weather date. When we promote the event and contact those who have tickets as rewards, we will be providing a plan A date which will go ahead rain or shine, but we will also promote a plan B date which we will use if the event has to be cancelled due to weather. Cancellations if they were to occur, are made through an online announcement at 4PM on the day of the show.