I respectfully acknowledge the Gadigal people of the Eora Nation, the tradition custodians of the land from where I launch this Pozible campaign.
My name is Victoria Hunt, and I am an Australian dancer and choreographer of Maori heritage.
I grew up in Queensland, knowing I had a Maori father, but I had never met him. Ever since I was little I'd wondered and longed to know and connect with that missing part. I would see Maori people in the street in Queensland and tears would come.
For the past 10 years I have been exploring and investigating my cultural heritage, finding and meeting my Maori father's family and ancestors for the first time. It has been an extraordinary journey and has resulted in the
Copper Promises
project that I'd like to talk about here.
Copper Promises
is a series of dance and installation works. It's through this work that I am coming to understand the depth of my cultural inheritance and to know my purpose as an artist. Last year my first full-length solo,
Copper Promises: Hinemihi Haka
was presented by Performance Space at Carriageworks in Sydney. The video and images you are looking at come from that production. I was very excited recently to be nominated for a Helpmann Award for Best Female Dancer for my performance – a very unexpected honour.
The work is a dance of my ancestral meeting house, Hinemihi. Seeing the house dance through my body... I am the landscape of the work. My body is the means to take us through that journey. "I am the house and the house is me. I dance the history of the house and she reveals my history".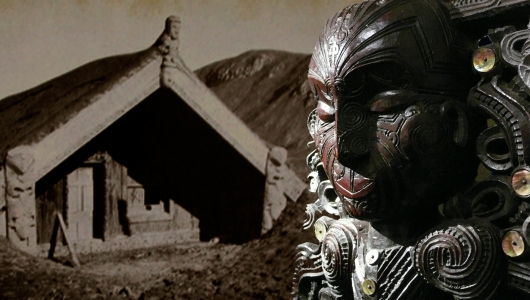 Photo by Sarah Waterson
Hinemihi is the marae belonging to the Te Arawa tribe of Aotearoa New Zealand. She represents the carved architectural body of an ancestor. She is the spirit of the tribe, the people, the dead and the spirit of the future of Hinemihi. She is also my spirit. I have weaved Hinemihi's story with my own experiences of finding family, of reconnecting with culture, and of learning from land, ancestors and peers. I collaborated with a highly skilled team of artists to create a world of rupture and foreboding, of resilience and joy. It is a lament, a pilgrimage and protest for ancestral treasures or taonga.
HINEMIHI marae holds particular significance for me as she was commissioned by my great great great grandfather and Chief, Aporo te Wharekaniwha, and identifies the ancestral lineage of the Ngati Hinemihi people. Wero, the master carver is my great great great great uncle and the tohunga Tumakoha te Whanapipi is my great great great great grandfather on my wahine line. It's no surprise I have inherited a role as Kaitiaki or guardian of HINEMIHI – my way to enact that role is through performance and visual art.
In truth, my life wouldn't exist if not for Hinemihi's shelter and protection of my ancestors on the night of June 10
th
1886 when Mount Tarawera erupted and wiped out the 'eighth wonder of the world', the Pink and White silica terraces. Entire tribes vanished under ash and mud. The sacred burial grounds were scattered, turning the land into a mass grave. No Maori could live there. My ancestors survived and were among the 60 people who took shelter in one of the only buildings not to collapse – HINEMIHI.
To non-Maori leaving the land was interpreted as abandonment. The land was acquired by the government. Hinemihi's carvings were looted, and she was sold for £50 to the British Governor of New Zealand, Lord Onslow, as a memento. She has stood in the grounds of Clandon Park Estate in Surrey, England for over 120 years and is now in the care and control of the UK National Trust. Many efforts have been made to bring her home to New Zealand , but sadly it has not happened. Key carvings, including the Pare (the main entry lintel) have ended up on international markets being sold for millions to be repurposed as fireplace surrounds and other decorative functions in private homes.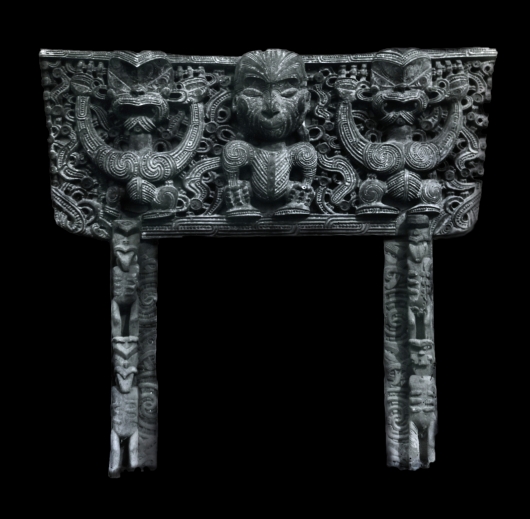 Hinemihi's Pare (door lintel) - repurposed as a fireplace surround in rich peoples houses. On sale in an auction house in Paris for over 2 million US dollars.
Copper Promises
, dancing Hinemihi, is my way of action and the work is deeply important to me. This is why performing it in London will be so amazing - to share what I have to say with an English audience who are Hinemihi's current custodians.
So what am I going to do in London? I've been invited to take part in the ORIGINS Festival of first Nations and the Ecocentrix: Indigenous Arts, Sustainable Arts Exhibition as well as special activity with the London Maori community and at Hinemihi.
It's going to be a VERY VERY VERY intense two weeks:
·Two performances of my solo
Copper Promises: Hinemihi Haka
at The Place for the Origins Festival on October 25 and 26.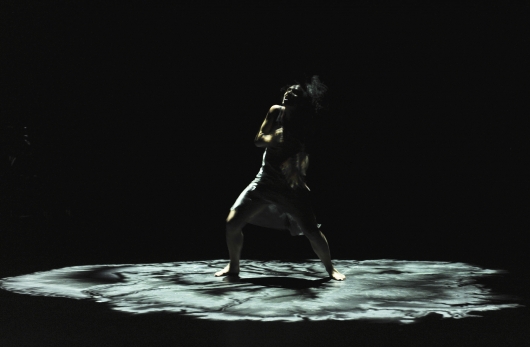 "Copper Promises: Hinemihi Haka", see more here [http://www.artfulmanagement.com.au]
Photo by Heidrun Lohr
·Two performances of my live installation, "
Day of Invigilation"
on October 24 and November 1 at the Bargehouse Gallery for Ecocentrix alongside a new video called "
Tangi".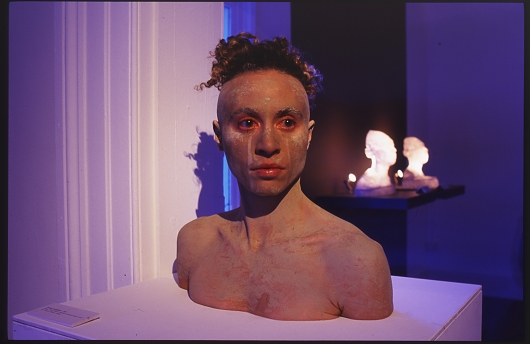 "Day of Invigilation", performance installation [http://www.indigeneity.net/events/]
Photo by Heidrun Lohr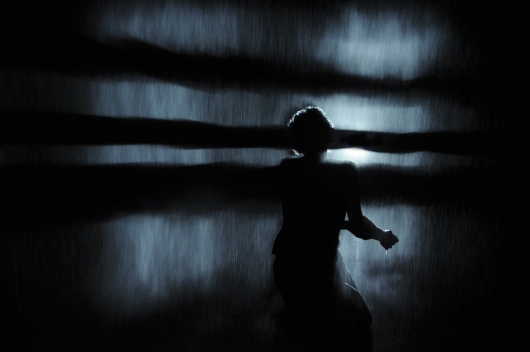 "Tangi", video installation [http://originsfestival.bordercrossings.org.uk]
Photo by Heidrun Lohr
Copper Promises: Hinemihi Encounter
is my way of bridging the UK, Australian and NZ Maori communities with links to Hinemihi and addressing repatriation creatively. It will be a documented performance ritual guided by cultural protocols at Hinemihi in Clandon Park. I want to make the most of the time there and to capture Hinemihi as she is now through photography and on film; to bring home……… to Australia, and to Aotearoa, as a virtual presence.
This is the first time I will present my full length dance solo work overseas and it is a fantastic opportunity to develop a network and attract other interest in the shows. The Origins Festival and Ecocentrix exhibition are drawing artists, curators and programmers from around the world so this is a really strategic move for me to make new connections and create new opportunities.
By backing this project, you will support me to take this next big step and to develop my career. You will be also helping Hinemihi and her descendants, my family (whanau), and the copper promises crew.
Arohanui, Wikitoria x
Production Credits & Project Team - THANK YOU!
Concept/Choreography/Dance: Victoria Hunt
Video & Lighting Design: Boris Morris Bagattini
[
http://soma-cg.blogspot.com.au/
]
Lighting Design & Production Manager: Clytie Smith
With Design & technical consultation in section two by: David Ferguson
Sound Design: James Brown
[
http://www.jamesbrownisdead.com/
]
With sound by: Horomona Horo, Densil Cabrera
& Bob Scott
Costume: Annemaree Dalziel
Installation Design: Hedge
Headpiece: Erth Visual & Physical Inc.
[http://www.erth.com.au/]
Cultural Informant and Dramaturgy: Charles Koroneho
[
http://www.tetokiharuru.com/koroneho.html]
Choreographic Consultant: Tess de Quincey
[http://www.dequinceyco.net/]
Original Producer: Fiona Winning
Producer: Rosalind Richards – Artful Management
[
www.artfulmanagement.com.au
]
Extra Big Thank You to Joy and Colin South, Bel & WaiAria, Hunt Whanau, John Marsh, Ruha Whanau, Macedone Whanau, MAU, Te Maru O Hinemihi, Clandon Park, Whakarewarewa Village, Charlies Camp, John Donald, WINTEC, Sarah Waterson, Liz Stokes, Linda Luke, Martin Fox, Kirk Page, Fiona Winning, Manuel Vason, Mat McCosker, Wade Marynowski, Barbara Campbell, Brian Fu'ata, Aroha-Yates Smith, Richard Nunns, Hirini Melbourne, Marrugeku, Atamira, Critical Path, Performance Space, UNSW and the many many people along the way... you know who you are - thank you again x
Some Of My Previous Work
Victoria Hunt is an Australian-born artist working across the spheres of dance, choreography, culture, performance art and education. Her tribal affiliations are to Te Arawa, Rongowhaakata, Kahungunu Maori, English and Irish. She has a BA in Visual Arts (Maj. Photo-media) from Griffith Uni, QLD '97. She is a founding ensemble member of the bodyweather dance company De Quincey Co. since 1999 and is a co-curator of The Weather Exchange since 2007.

Her work with Tess De Quincey spans thirteen years and over 40 productions. Highlights include a 3-month residency (Kolkata/India) and performance, Embrace: A Silent Thread; the Triple Alice Laboratories '99-03 in Central Australia; Dictionary of Atmospheres (Alice Springs Festival '05). In Sydney; Sky Hammer; Walking Species; City to City; Scent Trilogy; Shhh; Seep; Shiver; Embrace: An Immodest Green; Embrace: A Green Wave; No Cold Feet; Deep Tone; Continuum; Form of Scent; Form of Mist; Five Short Solos; The Stirring; Triptych; Run; Framed, ImproExchange and Platform events.

Victoria has studied with Min Tanaka (2007, Japan), Masaki Iwana (2010, France); Oguri (2010, Spain); Frank Van de Ven (2012, Aus); and Barbara Campbell (20014-08, Aus). Charles Koroneho (Aotearoa/NZ) has been a longstanding mentor, cultural informant and collaborator since 2003.

Victoria has toured internationally with New Zealand dance company MAU directed by Lemi Ponifasio, in REQUIEM at LIFT – London International Festival of Theatre (Lon/UK) 2007, New Crown Hope Festival (Vienna/AUS), KVS Theatre season (Brussels/BE), Pasifika Festival, Aotea Theatre (Auckland/NZ) 2006 and Sky City Theatre (Auckland/NZ) 2006.

In 2010 Victoria and Fiona Winning created Dancing the Dead: A Performed Conversation as part of two festivals, LiveWorks at Performance Space and InbetweenTime Festival in Bristol/UK. Her solo work, Copper Promises: Hinemihi Haka, was presented at Performance Space in 2012 and Victoria was nominated for a 2013 Helpman Award for Best Female Dancer in this work.

As an independent artist Victoria has been supported by the Australia Council, Arts NSW, Performance Space, Critical Path, Marrugeku - Indigenous Choreographic Labs, Te Toki Haruru, Ausdance NSW, Queen St Studio, UNSW (Faculty of Arts and Social Sciences), University of Sydney (Dept. of Performance Studies), The Cad Factory and Atamira Dance Company.

Victoria has created short films, photo essays and choreographed works for Gathering Ground (Redfern/Sydney); Emerald Cultural Festival (QLD); Ngiyagina Festival (NSW); Shopfront Youth Theatre; Eora TAFE; Kiss Club; Karmic Software; with Pork Collective for 2006-2010 Peats Ridge Festivals; and the Platform Series (Sydney). Since 2008, she has been the dance educator at EORA Institute of TAFE and provides professional movement classes for all enthusiasts, youth theatre companies and to the independent dance community.

The Challenges
I am a direct descendant in a long line of people bound to the illustrious ancestor Ngatoroirangi, navigator of the Te Arawa canoe. Living up to my heritage in the 21st century is rich with challenges!

Working as an independent artist means living with risk. The challenge is to thrive!