When our two boys were very small we spent a lot of time hanging out at the skate park. It occurred to us that the concrete waves and bowls would be really interesting to run, slide and jump off without wheels. We started imagining a performance that integrated dance with skating and BMX, located in Dulwich Hill skate park in Sydney. We had no idea what was possible and kept our expectations low with the first goal being to get nine street-style performers in to the skate park for a period of creative development.
Eventually, with a lot of sweat over grant applications and serious negotiations with local council, we got there. We embedded ourselves in the skate park for eight weeks, with results far beyond what we could have imagined. We presented the world premier of Concrete And Bone Sessions this year at the Sydney Festival.
Developing Concrete And Bone Sessions to be ready for an audience was one of the hardest things we have ever done. Some days it's blisteringly hot in the skate park. Other days there is an intense wind that cracks your lips. It rains and then in the next instant you can watch the steam rise as the sun dries the concrete, a rough surface that sometimes bites.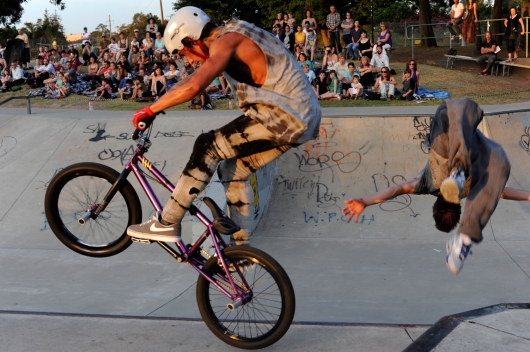 And now Santiago a Mil Festival, a world class arts festival in Chile want Concrete And Bone Sessions for January 2014. This is an amazing opportunity to bring a bunch of Australian skaters, BMXers, free runners, contemporary dancers and Bboys, to the Parque de Los Reyes skate park. We will have three weeks to choreograph, rehearse and perform alongside the local Chilean skaters and BMXers who use the park on a daily basis.
Being in the skate park all day every day allows us to create under the watchful eyes of the local Chilean skaters and BMXers. This is potentially hugely rewarding, as it was when we embedded ourselves in Dulwich Hill skate.
For the local skate park users in Chile to witness the Australian highly skilled and professional street-style artists engaging in choreography, movement and performance, could have an incredible impact in terms of people appreciating a skate park as a cultural space. Concrete and Bone Sessions challenges negative perceptions around skating culture, but also challenges the strict codes in play at the skate park, in terms of what is seen as 'skating' and what isn't, the localism, and rivalries.
It is a fascinating process to experience getting to know all the skate park users and building a creative exchange, all the while working towards presenting a world class explosion of urban street-style culture right in the skate park for an audience of hundreds of Chileans keen to see what Australian street styles are all about.
For Branch Nebula, this will be our most challenging undertaking: the opportunity to present at a high profile international festival. The added bonus is that we will also be representing Australia at the sixth world summit of the International Federation of Arts Councils and Culture Agencies (IFACCA), on in Santiago at the same time. This opportunity will enable us to network with some key players in the region from all over the world, exposure for the company and future touring possibilities for the show.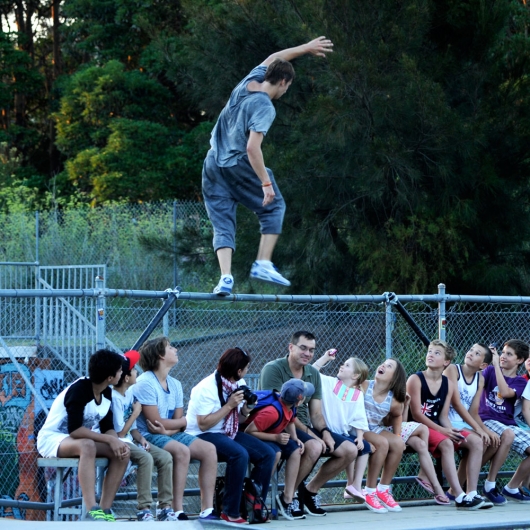 Credits and Thanks you's
Performers/Collaborating Artists: Jared Graham (Leerock), Antek Marciniec, Kat Williams, Marnie Palomares, Danny Campbell, Kathryn Puie, Michael Steingräber, Roland Chlouk, Cloé Fournier

Co Creator: Lee Wilson
Co Creator: Mirabelle Wouters

Sound/Composer: Bob Scott
Dramaturg: John Baylis
Production Manager: Holly Woollard
Stage Manager: Frank Mainoo
Community Liaison: Nick Power

Musicians: Inga Liljeström, Bree Van Reyk, Timothy
Constable, Hugh Coffey

Contributing Artists (2012): Ali Kadhim, Alexandra
Harrison, Simon O'Brien, Chris Danger O'Donnel,
Bboy Blond (Youngkwang Joung), April Caslick,
Denis Beaubois

Produced by Performing Lines

Branch Nebula is supported by Managing and Producing Services (MAPS) NSW, a joint initiative supported by the Australia Council and Arts NSW. MAPS NSW is managed by Performing Lines.

Your donation will go into the Performing Lines bank account, who will manage it for Branch Nebula.

Some Of My Previous Work
Branch Nebula is acclaimed for its innovative work with street-styles, their recent Sydney Festival (2013) production Concrete and Bone Sessions is a unique experience of urban creativity.
Watch the promo for Concrete And Bone Sessions here:
This is site-specificity of the most immediate kind, a visceral connection to a place of play, not its social role or its history, in a display of what is often regarded as fun but here as art without losing the integrity of its popular foundations. The outcome is a visual spectacle, impeccably choreographed so that star turns are embedded in and shoot out of the mesmeric poetry of the grand sweeping collective rides and runs that transform the concrete into a magic, enabling vessel.
Keith Gallasch Real Time Feb 2013
Branch Nebula works across disciplines in performance, dance and design to challenge mainstream cultural conventions. We often work with non-conventional performers to collaboratively devise work that defies categorization. We interrogate the audience experience and explore contemporary culture as a means of creating access and speaking to a broad audience.
And for something completely different here is the promo for our recent work Whelping Box:
Please visit
branchnebula.com
to explore all our work.
Here
is a special feature archiving Branch Nebula's history in Realtime.
Branch Nebula's Helpmann nominated
Concrete And Bone Sessions
premiered at Sydney Festival in January 2013.
Whelping Box,
a co-production with Matt Prest and Clare Britton, performed at Arts House in Melbourne in September. In July/August Branch Nebula created
sloap
working with local professional street-style artists, an international co-production with the Kiasma Museum in Helsinki Finland for the Urb Festival. The company has also started work on a new commission by CarriageWorks working with non-performers on a professional basis, sourced through the internet.
Branch Nebula's
SWEAT
, premiered at Performance Space Sydney in 2010, toured to Dance Massive in Melbourne (March 2011), and to the 'In Transit' festival at Haus der Kulturen der Welt in Berlin (June 2011). The Helpmann nominated
Paradise City
premiered at the Sydney Opera House in 2006 and toured to four international festivals in Brazil (2007), and to 11 venues all over Australia as part of Mobile States (2008). In 2004 Branch Nebula co-produced
Plaza Real
with Urban Theatre Projects. In 2001 they created
Sentimental Reason,
which premiered at downstairs Belvoir Street and toured to Kultureel Centrum nOna in Mechelen (Belgium), Performance Space (Sydney), and Perth Institute of Contemporary Arts.
Mad Red
, a full-length work, was their first production and was presented by the Victoria Festival in Ghent (Belgium) in 2000, before touring to Bern in Switzerland for the Auawirleben festival.
The Challenges
We have toured overseas before, but never on this scale. We have to remake the show for the new site, the Parque de Los Reyes skate park in Santiago. This means negotiating with local skaters in Spanish! We must respect their territory and find ways of working together so they can still use their park and we can make our show. Of course this is cultural exchange at its rawest and some would say finest. It will inevitably lead to friendly competitions to show off our skills and expertise to each other. We may be the first contact these Chileans have had with Australia. Then of course there is the festival audience and we hope they love our show as much as the Sydney audience did.
"#sydfest so far - brilliant Concrete and Bone Sessions on Tues AND it was local!
Concrete + Bone Sessions: WOW. A real #sydfest highlight for me. Super-impressed! So much energy, grit and skill. Perfect setting. 5 stars.
"Aerial arcs and whooshing waves of skaters, dancers & BMX riders. Crowd very happy! Concrete & Bone Sessions #sydfest Dulwich Hill skatepark
"CONCRETE & BONE SESSIONS is pretty exhilarating stuff - amazing location, kinetic wonderment and constant audience sounds of 'WOW!' #sydfest"
Killer show - even better in the heat!
If you havent been before go, check it out, its fantastic!
Branch Nebula have done it again. Concrete and Bones Sessions is magic. Lee Wilson and Mirabelle Wouters are bloody legends."