[Wednesday 30 April 2014:
The project reached its initial target, thank you, so that means there'll be two episodes of The 9pm Edict in May. We only have $304 in ongoing subscriptions, which isn't quite enough to fund podcasts in June — but there will be further fundraising before then, so stay tuned.

The video at the top of the page explains what will be happening in May, but essentially it's The 9pm Shire to be posted on Sunday 4 May, and The 9pm Caltrain on Tuesday 20 May. If you'd like to see the previous seven of the videos made so far, try the YouTube playlist. — Stilgherrian.
]
First off, this is absolutely not an attempt to monetise me sitting around on Twitter all day and complaining about things, OK? Of course not. How could you even suggest such a thing? I have never seen that thank-you note before. How very dare you.
This project is about The 9pm Edict, my podcast about the news and its frustrations. People claim to have enjoyed
the previous 23 episodes
. Some
subscribed on iTunes
. Some even want it to return. Cool. So do I. Let's do this thing, people!
Let's have a 9 O'Clock Resurrection!
Hey it worked for that other guy.
Put your money where you want my mouth to be!
No wait. That sounds wrong.
Mind you, in the world of The 9pm Edict, sounding wrong is 100 percent right, right? I mean, the podcast isn't on at 9pm, and sometimes it doesn't even contain an Edict.
This podcast is a lie.
The 9pm Edict is the $3000 bottle of Grange of podcasts.
It's also podcast that explains things that need to be explained. Such as why
Stephen Fry is a patronising racist who should be thrown off television
.
Or
how a conspiracy forced us to use alternating current electricity, which in turn led to wars, all because of Nicola Tesla
.
But mostly it's the podcast that
shouts at you very, very loudly
about pretty much everything. Just like
my Twitter stream
, really, but a bit more organised and with a better sense of narrative.
If you haven't listened to The 9pm Edict before,
listen now
.
Then give me your money.
(If you know me more for
my writing about information security and related issues
, or the Corrupted Nerds podcast, scroll down for some important news.)
The 9pm Monthly Cycle
Confused by the fact that there's both monthly subscriptions and one-off pledges? Here's a more detailed explanation.
The 9pm Edict will work to a monthly funding, planning and production cycle.
This project, The 9 O'Clock Resurrection, is really about kicking off that cycle. When the Pozible campaign ends on 29 April, I'll know how much money is in the production pool for May — all the one-off contributions plus the first month of the subscriptions — and I'll lock in the schedule for the month.
Here's how it looks as the campaign ends.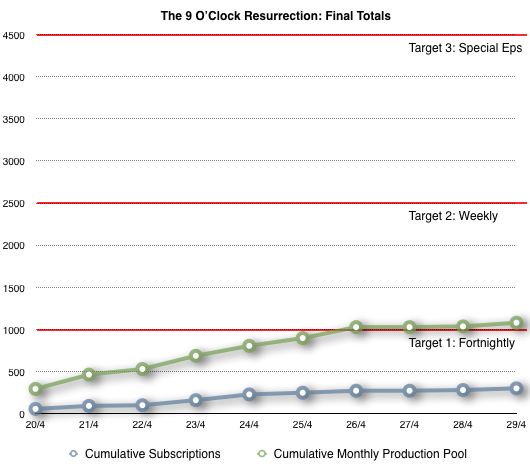 The upper line shows the total commitments so far, and that determines what happens in May.
The lower line shows the cumulative subscriptions, which provides the starting-point for June's budget.
I'll run another Pozible campaign around the third week of May, probably ending around 21 May. That will set the production pool for June — the subscriptions continuing from this campaign, plus any new subscriptions, plus any one-off pledges.
And so on around the loop every month.
In the coming weeks I'll work out some clearer and simpler ways of reporting this.
Future plans, including Corrupted Nerds
I do enjoy the writing that I do, but I also enjoy the broadcast-like work of audio and video podcasts and live streaming programs. This project is the first step in doing more of that as part of my media mix.

I thought long and hard about bringing Corrupted Nerds out of hiatus first. That'd be a natural extension of the writing I already do on information security and privacy and data mining and power, right? But it's also clear to me that I enjoy the cut and thrust and sheer joy of playing with political and social ideas more generally, and one look at my Twitter stream will show you how much of that stuff I'm already generating,

I decided that I would bring back The 9pm Edict first, and then do the same for Corrupted Nerds a few weeks after that. That said, the issues I discuss will overlap a bit.

Further down the track, I'm looking at moving from audio to video. I want to bed down the production process for audio first, because that's still a primarily solo thing, whereas video really needs another human — as well as a little more gear.

I also want to look at presenting it live, though that will have to wait until I have a more permanent physical location with better internet bandwidth.

I'll save telling you about some of my other media ideas for another occasion. Unless you ask nicely.
Some Of My Previous Work
Where do I start? I've been making media for most of my adult life.
Check my website
. Here's a link to
everything I've written for money
for the last few years.
In terms of audio, apart from many years of producing radio for the Australian Broadcasting Corporation and even managing a community broadcaster, I've recently been producing the
Corrupted Nerds
podcast. Nine episodes so far. Here's the latest.
You can
subscribe on iTunes
, on
SoundCloud
, or via
RSS
.
Corrupted Nerds is the spiritual successor to the Patch Monday podcast, some 150 episodes of which I produced for ZDNet from January 2010 to January 2013.
I should probably also link to the experimental and somewhat odd
Stilgherrian Live
internet video program.
The Challenges
Producing media, and managing other people who produce media, are what I've been doing for most of my adult life. There's no real challenge in terms of writing a script or making a podcast. I do this stuff every week.

The keys risks when producing any media to a defined schedule are that there won't be any interesting content, that the production crew runs out of time, or they're suddenly not available due to illness, accident or disaster. If you follow me on Twitter, you'll know that there's no shortage of opinionating and anger. No, it's those last things that represent the real risk.

It's no secret that I get hit the the occasional health problem. The black dog is my friend. The worst-case scenario — unless I'm completely incapacitated — is that the delivery of the finished podcasts and rewards gets delayed. But if that happens, obviously I'd keep you informed. Transparency, right?

If I die, you've blown your money.