UPDATE: BATCH NO_1 SOLD OUT IN FOUR DAYS ... DON'T MISS OUT NEXT TIME!
Exactly one week ago, we put Batch No_1 up for exclusive pre-sale on Pozible. What happened next? All 420 bottles of our first batch sold out inside four days.
Which is awesome for the folks who grabbed a bottle (or two or four), but not so great for everyone else just waking up to the news that there's a new modern Australian craft gin in town!
Soon we'll be launching Four Pillars Rare Dry Gin into the market, in Australia's best bars. So our next couple of batches are going to get swallowed up by the bar trade.
But then by the beginning of January (and hopefully even sooner) we'll be launching direct sales from our website to you, the gin-loving citizens of Australia.
The first people to get a look inside our online gin & cocktail store will be our first supporters on Pozible, The Four Pillars Batch No_1 Club. But after that we thought we'd give more people on Pozible the chance to reserve a place to get hold of a bottle from that next release to become publicly available.
And there won't just be gin, we'll make sure there are lots of other compelling offers available on a first-come, first-served basis to our Pozible friends and supporters!
You'll get your ten bucks back when you order, of course. This is just our way of making sure that we get gin to the people who deserve it most...the people who supported us in the very early days!
AND NOW BACK TO OUR STORY
Four Pillars is a small distillery in the Yarra Valley, proudly established in 2013, and our ambition is to make the best craft spirits in Australia.
Us three bald pillars (from left to right we're Matt, Stu, and Cam), the founders of Four Pillars, have always loved gin and cocktails. And Cam and Stu have worked in wine for more years than they'd care to remember. We just love great drinks, we love cocktails and we love craft.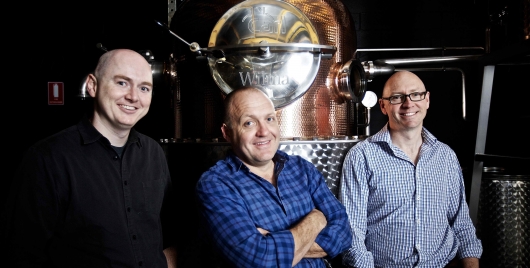 We actually started with the idea of making a kick-ass tonic many, many years ago but then we thought 'why the not go all the way and create a great modern Australian gin?'.
So after years of research, test-distilling, importing and commissioning a bespoke copper pot for CARL Artisan Stills, filing forms with the government, sourcing the best botanicals from across Australia and around the world, custom-making an amazing bottle and taste-testing we are finally able to bring you the first release of Four Pillars Rare Dry Gin. It is a perfectly-crafted classic gin and should fascinate and delight even the most hardened gin fanatic…amazingly smooth and refined yet complex and powerful, and combining just the right amount of spice with great citrus at the back.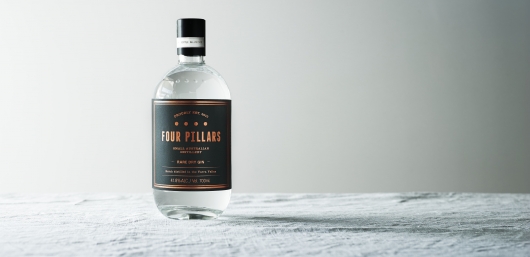 In December Four Pillars Gin will be available in Australia's best bars and specialist retailers, but we wanted our friends and supporters to get their hands on some before the rest of the country (and the rest of the world).
Four Pillars Rare Dry Gin will retail at around $70 once in stores, and each batch will comprise just 420 bottles.
So this is a chance to get hold of one (or four) of only 420 individually-numbered 700ml bottles from Batch No_1, for a great price, with shipping included.
And by supporting us on Pozible you'll get to join the Four Pillars Batch No_1 Club, giving you the right to be the first to purchase a bottle of any future new releases, starting with Batch No_1 of our barrel-aged gin, due to be released mid-2014.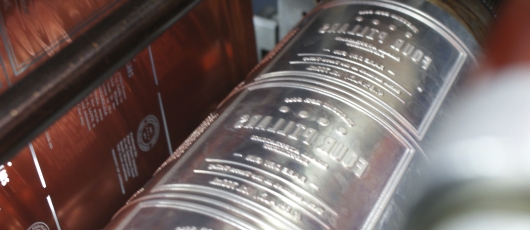 From the outset at Four Pillars we've wanted to elevate the craft of distilling and celebrate the craft of cocktail making in Australia. And that means that everything we make is crafted on four pillars: a great still (called Wilma), the best botanicals, pure water from our home in the Yarra and our love of the craft of distilling.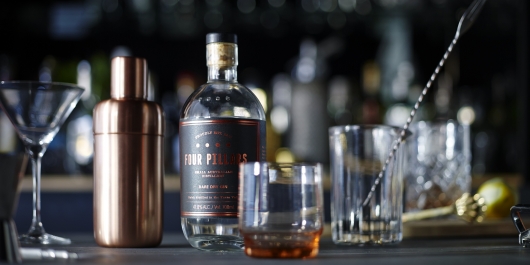 Our magnificent copper-pot still Wilma was handcrafted at the CARL workshop in Germany and she is the first of her kind commissioned in Australia. CARL make about 25 stills a year and are considered the finest still makers in the world. It took nearly a year to build Wilma and she's named after Cam's late mother. She loved her gin, so it seemed like a pretty good tribute.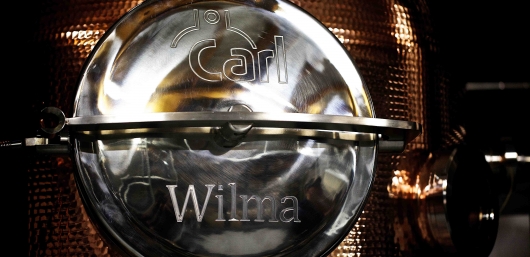 There's also a bunch of distillery-geek stuff about the levels of purity we can achieve with Wilma's 7-plate column, but when Cam starts talking about it he sounds a bit too much like Walter White, so we'll just say this… this is a gin with incredible purity, distilled to 93% ABV before we cut it to bottle strength!
We've been experimenting with botanicals for the best part of 18 months and we have settled on ten of them - a pretty equal mix of local and exotic. The native botanicals include Tasmanian pepper berry and lemon myrtle, and the exotics include juniper of course, cardamom, star anise and coriander seeds.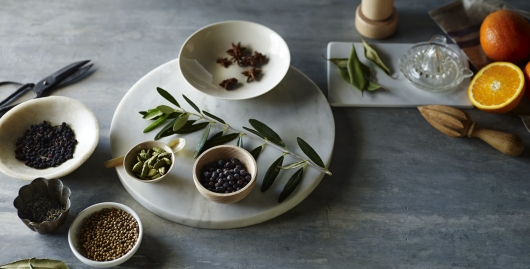 Perhaps most interesting is our use of whole oranges. It is quite unusual to use fresh stuff in gin but Australian citrus is highly aromatic and supports the spicier botanicals. Lemon myrtle is a beautiful, complex and unique alternative to the more common lemon peel. And the Tassie pepper is brilliant on the palate, giving warmth rather than heat.
And then there's the water. Clean and bright, our water is from the Yarra Valley and has been triple-filtered to ensure it's pure enough to match the purity of our gin.
A sense of craft and care comes with being small and taking everything personally. And we really are small - we're distilling at just 420 bottles per batch. And we're going to work incredibly hard to support and partner with everyone and anyone in this fledgling industry. Our hope is that alongside some other great producers in Australia we can help define a modern Australian distilling tradition.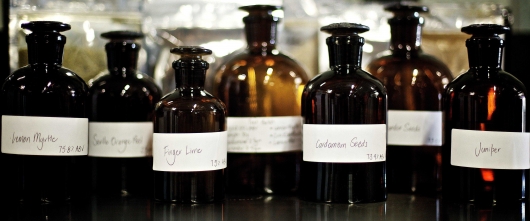 And as we didn't end up making that tonic water, we're partnering with Quina Fina from New Zealand to give you the best antipodean G&T. Quina Fina have taken that same sense of care to creating a tonic water in the best way possible; encapsulating provenance, history and ingredient.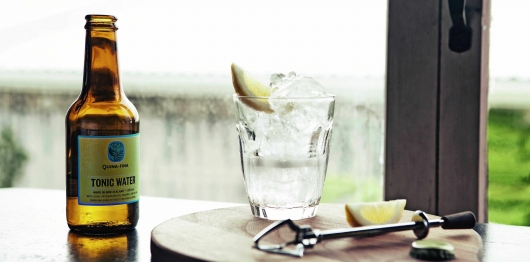 Plus, there's the drinking side of things! We're planning to develop a whole range of cocktails alongside the best bar people across the country. Those guys are the experts at crafting cocktails – we're just going to stick to making great spirits for them to work with. And we say spirits, because Four Pillars also intends to make some great barrel-aged cocktails, a barrel-aged gin and we hope a few other great things. And we will never rest until we have found the PERFECT Negroni - and jeez we are getting close…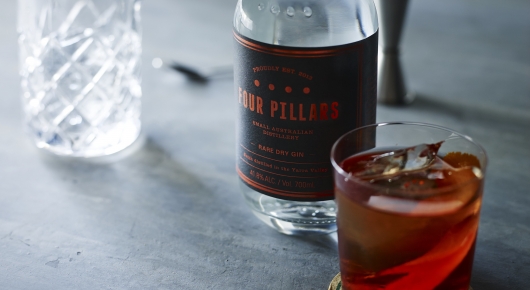 Join the community
Follow us on
Facebook
,
Twitter
,
Pinterest
and
Instagram
for updates on our upcoming launch and where you'll be seeing bottles of Batch No_2 of Four Pillars Gin popping up on the back bars come December, plus the best cocktail recipes from Australia's foremost barmen.
Our website at
fourpillarsgin.com.au
tells more of the Four Pillars story, so check us out there if you haven't already.
If you've got distillery enquiries you can talk to our Founder/Distiller, Cameron Mackenzie, on +61 450 674 68 or cameron@fourpillarsgin.com.au.
You can also email Stuart or Matt, the other founders of Four Pillars, at stuart@fourpillarsgin.com.au or matt@fourpillarsgin.com.au if you have any non-production questions.
If you've got any distribution enquiries please call our Australian trade distributor, James France at Vanguard Luxury Brands, on +61 408 411 859.
Join the party
We're really keen to work with all you people out there who are banging the drum for drinking better, not more. And we passionately believe in the potential for a whole new universe of modern Australian brands, ones that celebrate everything that's awesome about this strange country of ours, not just cliches, kangaroos and koalas.

So we're totally up for all types of partnerships and all types of collaborators - let's try to make more cool stuff in the world.

Give Matt a call on %2061 425 305 005 or drop him a line on matt@fourpillarsgin.com.au if you've got a little idea or some big plans we can get together on.


The legal stuff
Under the Liquor Act 2007, it is against the law to, or to obtain on behalf of, a person under the age of 18 years. All deliveries of Four Pillars Gin must therefore be received and signed for by a person over the age of 18 years. We are unable to post to PO Boxes.

VIC LICENCE NAME: The Healesville Distilling Company Pty Ltd
VIC LICENCE NUMBER: 36130104

Due to licensing restrictions we are unable to ship Four Pillars Gin internationally.
The Challenges
There are no obvious risks for our project (apart from the boat coming from China with 19,000 Four Pillars bottles on it sinking, that is). We have the still, we have the people, we have the first batches of gin on the way.

But there are many, many challenges we face daily. Not least being the masses of red tape and bureaucratic hoops to jump through to produce craft spirits in Australia. So to keep on producing beyond Batch No_1 and Batch No_2 we need the support of people like you. We want to create a community who want to drink better, learn more, and have a lot of fun along the way.