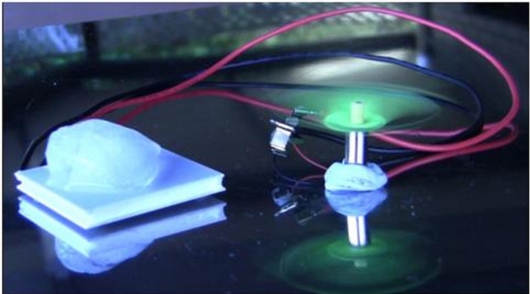 I am an inventor from Brisbane with a key interest in renewable energy. While sources of energy such as wind and solar continue to gain governmental, societal and industrial support there remain two key challenges to be overcome before they are truly competitive with fossil fuels; cost and intermittency. The ice battery seeks to address the latter.
Energy storage is seen as a requirement for renewable energy sources to be effectively implemented in the existing energy grid as intermittency, the inability to produce power all the time, can be compensated by storing energy when it is available to be distributed when it isn't.
Employing stored ice as a heat sink and ambient air as a heat source creates a temperature differential that can be exploited with the use of a heat engine (in the video a thermoelectric module was used). That is the basis to the Ice Battery but I would like your help to provide funding to manufacture and send prototypes to potential research partners or investors.
For any questions or comments you can contact me at
csmainstone@gmail.com
Technical Description
http://www.youtube.com/watch?v=5S59bs2Anm4
How the Ice Battery works:
Employing stored ice as a heat sink and ambient air as a heat source creates a temperature differential that can be exploited with the use of a heat engine.
Heat engines follow the First Law of Thermodynamics whereby one substance of high temperature, the heat source, must lose energy to a lower temperature substance, the heat sink. The heat source is typically from a fuel such as coal with a heat sink of 'room temperature' air or water. The ice battery however stores the thermal potential energy through the use of a low temperature heat sink absorbing energy from an atmospheric heat source.
The combined system efficiency of the Ice Battery can be calculated by multiplying the heat removal "Coefficient of Performance" ("COP") to freeze the ice and the generator efficiency, to melt it. For example a 5% engine efficiency combined with a refrigerant cycle "COP" of 8 has a system efficiency of 40%.
Energy stored:
Due to water's high latent heat of fusion (333 joules per gram) and specific heat capacity (4.19 Jkg°C) , one tonne of ice melting to 25°C liquid water absorbs 121.6 kWh of atmospheric energy, which must first pass through a heat engine, where a portion of the energy is intercepted to generate work and/or electricity. At an engine efficiency of 10%, this translates to an energy density of 12.16 kWh per tonne. To compare, Lead-acid batteries store 41kWh per tonne ($170kWh) and Lithium-ion batteries are capable of storing 128kWh per tonne ($470kWh).
http://batteryuniversity.com/learn/article/cost_of_power
http://www.allaboutbatteries.com/Battery-Energy.html
Advantages over existing technologies:
The three main areas the Ice Battery is superior to existing designs are; cost, use of abundant, inert materials and expected lifetime.
There is a potential for the cost per kWh for the Ice Battery to be an order of magnitude lower than the next cheapest battery, Lead-acid. The long term target is $20 kWh installed price. This will be a result of the low cost of water as opposed to Lead and the simple manufacturing process that can be used as no electrochemical electrodes are required. Should the battery be damaged and spill, water will cause less damage, or possibly benefit the environment when compared to the potential damage lead, cadmium or lithium can cause.
Part of the cost and environmental superiority will be due to the long lifetime of the Ice Battery. As there will be no chemical reactions, only thermal, the lifetime of the Ice Battery will only be limited by the heat engine, an easily replaceable, exterior component. The result is that the batteries will not have to be replaced as often, a significant bonus when considering the "energy stored on energy invested" as the embodied energy per unit of time will be lower.
A link to "energy stored on energy invested" concept is here:
http://www.greencarcongress.com/2013/03/stanford-study-quantifies-energetic-costs-of-grid-scale-energy-storage-over-time-current-batteries-t.html
Disadvantages over existing technologies:
The main disadvantage of the Ice Battery is its specific energy density, meaning that one tonne of ice stores less energy than one tonne of a Lead-acid battery or Lithium-ion battery. This limits the applications of the Ice Battery to stationary and grid storage.
Some Of My Previous Work
Aside from the Provisional Patent for the Ice Battery (AU2013900198), I also own an Innovation Patent for Reflective Track Blinds (AU2012100246).
Shortly after applying for the Ice Battery provisional patent I attempted to gain interest from CSIRO but was rejected instantly. I then submitted the Ice Battery through Unilever's Open Innovation platform, feedback after the idea was reviewed stated that they were unwilling to support the battery "as it is too early stage". That is why the purpose of this Pozible project is to enable the production of prototypes to be sent to universities and other potential supporters.
The Challenges
The funding provided will be sufficient to begin small scale production of Ice Battery prototypes. Included in the budget is a 5% allocation of finance to cover any unexpected costs. The main challenge with the Ice Battery will be in gathering interest from businesses and organisations to continue research and possibly to move into the manufacturing phase. The provisional patent expires 01/2014 (they only last one year) which is why an Australian Standard Patent will be filed, giving more time to promote the battery.