So you know what Bitcoin is and you think it's the bees knees, best bloody thing to happen since the democracy. Well, I'm with you there, my name is Gustaf and I've got a disease...
(Warning: Controversial content, skip paragraph if you can't handle the truth.)
Every night I lie in bed for hours kept awake by the stark paradox within which I live. I am consumed by an ineffable idea. The idea that the truth is simple and the simple truth is that we are not free. I know we'd like to believe that we are, and sometimes comfort and security feel like they are, but the truth is they are only cheap sedatives. Freedom is a simple and powerful concept and up till now, has proven difficult to uphold economically. However there is finally something that looks a whole lot better because before Bitcoin, broken economies are all that we've bloody-well known :)
You and I both know that digital currency promises an independent, better future but how many of your friends know this, 10%? 5%? 1%? The reality is that the Bitcoin community is still very small, far too small to be confident of its survival. And this is my goal, I want to facilitate and accelerate Bitcoin's global adoption through educational media. I wrote a book called, "The idiot's Guide to Bitcoin" and I am working on a new version to be published which will go to print under the name, "Bitcoin - A Citizen's guide"
It all started about two years ago, a mention in passing of a revolutionary entity known as Satoshi Nakamoto and his/her/their brainchild Bitcoin. It took a while for me to fully grasp the implication of what had been said but when the moment arrived, and I had crawled out from under that cosmic ton of bricks, I had finally found a channel for all my energy. I immediately committed to spreading the good word of Bitcoin. It was a little while later that I decided that the best way to do this was to write a book that promotes Bitcoin and makes it easy for everyone and anyone to get involved. I finished the Idiot's Guide to Bitcoin ebook about two months ago and released it for purchase @
www.idiotsguidetobitcoin.com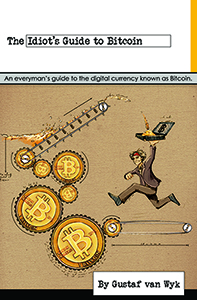 The Idiot's Guide to Bitcoin is, as the name suggests, an every-man's guide to the digital currency known as Bitcoin. I believe it is a vital contribution to the Bitcoin ecosystem and so do many others. The book has received so much support since I launched it and I just want to thank you all for that. Writing and promoting the book has been a tremendously fulfilling experience especially because I've been blown away by how positive and encouraging the Bitcoin community has been. Being at ground zero for the rise of Bitcoin has been a privilege as well as just plain incredible. Never before have I encountered such a concentration of the most innovative, enlightened and inspiring individuals. As a good friend of mine put it: "Innovation comes from the edges, so it comes as no surprise that innovators are found in the margins. They are the misfits among us, the ones who see and do things differently." We have discovered great power in Bitcoin and as such we have a duty to protect and nourish it. As pioneers on a new frontier it is our responsibility as Bitcoiners to ensure the future of Bitcoin and what a bright future it is!
So why am I asking you to fund a book that's already available. Well,
the Idiot's Guide to Bitcoin
is currently only in a digital form and is exclusively available from my little website. I want to turn it into something better, so to be honest there is still much work to be done but I'm an independent writer and have reached the end of my resources. In other words, I need all the help I can get to get it properly published.
It's time for the book to get the propulsion it deserves. It needs to be published and promoted on a global scale. If you're already part of the Bitcoin sphere, which I assume you are as you've read this far, then by helping me to publish my book you help support a global endeavour to further the Bitcoin cause and in so doing you guard your own interests. Every Bitcoin start-up, every Bitcoin investment, every miner, buyer, spender, freelancer, apologist, the entire Bitcoin network will benefit from an increased global awareness and facilitated global adoption as well as reference literature. So I passionately ask you to help me publish my book and help me spread the good word of Bitcoin.
The Challenges
To be honest it's just a question of continuing the work I've already been doing. The main obstacle to persistence is a lack of resources which is why we're here on Pozible in the first place, should the campaign be successful then there shouldn't be too much to worry about in terms of making the book available. The costs of publishing are accurately covered in the target of $15000. The words are down and illustrations done. I will however significantly expand the new edition and it will probably be called "Bitcoin - A Citizen's Guide" but as I mentioned it's just a question of continuing the work I've been doing and if the "Make It Pozible" campaign is successful I will be able to do so.