Hi friends!
JUST ANNOUNCED!
DKSTR
(FI)
The J Arthur Keenes Band
(CA)
Peaches the Wale
(NSW)
X in O
(QLD)
Tiasu
(MEL)
join previously announced
Sabrepulse
,
NNNNNNNNNN
,
Sexy Synthesizer,
little-scale,
Brainbeau
,
Victory Road
and
Chronic Sans
More details in our most recent update - including a look at the merch shirt you have access to as part of this funding!
*****************************
So, we made our target in just FIVE DAYS! But that is only the start of what we need to be able to put on this event. $5,000 covers part of our artist expenses (that's right - not even all of what we're paying the artists yet!), but we still need continued ticket and merch sales, to pay for the rest of their flights, advertising, venue costs, creating those merch rewards that you all clearly want, and other important aspects that will make this show amazing.
We do have some stretch goals that we are working on at the moment, and want to be able to tell you about soon - and have a few more artists that we are super excited to announce and of course, the tickets through Pozible are cheaper than any other way we will sell them after the funding period finishes (and some of the merch won't even otherwise be available!) so please don't stop contributing just because we met our target!
******************************
We are the team behind
SoundBytes
- Australia's longest running chiptune event, which has been running for the last five years. If you're into chipmusic, anywhere in the world, you may even have heard tales of our shows; we're the ones that had the super tricked out stage that included a giant light up game boy at the last show.
As well as SoundBytes, we've been behind
Blip Festival Australia
and
Square Sounds Melbourne
and have brought some of the biggest names in chipmusic to Australia including
Henry Homesweet
,
Bit Shifter
,
Hally
,
Patric Catani
and
Trash80
.
We're planning another Square Sounds Melbourne at
The Evelyn Hotel
on the 28th and 29th of March 2014 with more amazing artists to showcase to Australian audiences.
Chiptune, if you're not aware, is music made using (or sometimes emulating) old school video game consoles, and the other style we showcase for Square Sounds, is "retrotech' (music that has a retro synth aesthetic). They aren't the best known genres despite having a very devoted fan base here in Melbourne. As such, there are some names on our most wanted list for Square Sounds Melbourne 2014 that require a little more financial support than we can comfortably afford for a festival that is mostly a labour of love, so we're turning to Pozible - and you - to help make this a reality.
If you aren't able to watch the video at the top of the page it announces (approximately) a third of our line up to whet your appetite.
Drumroll Please....
NNNNNNNNNN
<JP>,
Sexy Synthesizer
<JP> and
Sabrepulse
<UK>
little-scale
<ADE>,
Brainbeau
<QLD> and
Victory Road
<NSW>
& visuals from
Chronic Sans
<MEL>
(FYI - She made the giant game boy & has something even BETTER is planned for the festival)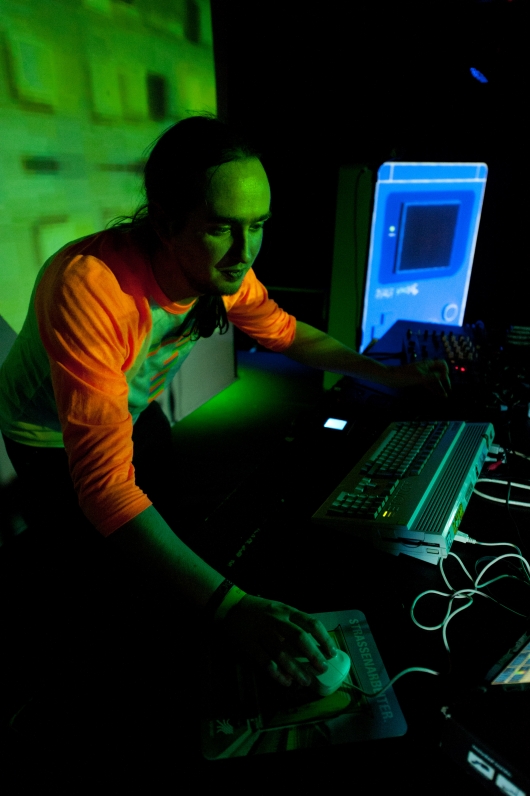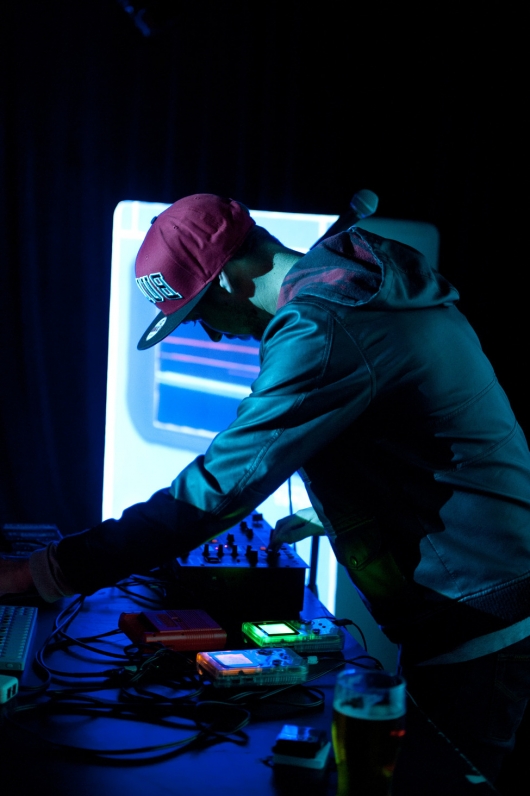 We hope to have the rest of the line up 100% confirmed by the end of the campaign, so keep watching this space because your pledges are helping to make that happen. We also have some awesome and exclusive rewards beyond simply buying tickets for the show. Even our international friends will be able to join in on the awesomeness, with rewards like audio from last year's event, exclusive merch and tracks from the artists performing at SSM14. There will also be not one but two amazing t-shirts. Our main art will be by
Enso
and the Limited Edition shirt will come from
8GB/Kiken Corp.
Our hopes are to show you guys WIPs for the shirts as we progress through the crowd funding
Please Note: All ticket holders will be required to show ID at the door as the venue is LICENSED. We will not take responsibility or refund pledges for anyone who buys a ticket and is turned away for being unable to pass an ID check
Some Of My Previous Work
We have so much stuff we can show you, but maybe we'll try and make it easy for you to find the awesome stuff.
How about we start with some video that appeared on Good Game about Blip Australia? You can find heaps more at
youtube
too.
Blip Festival 2012 - Melbourne, Australia
from
Lin Jie Kong
on
Vimeo
.
(That's just one of the THREE stories featuring us or our shows on Good Game. We were on once in 2009 at
SoundBytes
again in 2012 for a story about Chip Musicians on
Spawn Point
!)
You can find out more about our different shows on their websites
SoundBytes
,
Blip Festival
and
Square Sounds
. You can listen to tracks from some of the past featured artists at
Sound Cloud
We've also been involved with
PAX
,
Free Play
,
EB Games Expo
,
ISEA
and heaps of other events - so you may well have seen us around town (or around the internet) already!
The Challenges
The festival is taking place NO MATTER WHAT, with artists 100% confirmed, and some of them doing other shows to help support coming to Australia, it would break our hearts, and be really rude of us not to go ahead!
We know that we can come close to making enough to run the festival without this pozible campaign, but we might need to scale back the artists, look at sponsorship (we've tried though, it's hard - potential sponsors, hit us up!) or take a loss, but it will happen. Of course if 2014 happens, but isn't less successful than we'd like, then the biggest risk is that the festival won't continue in future years, meaning minimal opportunities for full line ups of major chipmusic artists to perform in Australia.
The major obstacle we have is that some of the unannounced artists may not be able to follow through with attendance- that's part of the reason we haven't announced everyone yet, but don't worry we have a virtually never ending 'want' list, many of them people we know, that we'll be able to ask.
We've done this before. We know the risks, we have an idea of what to expect. We're running this campaign primarily for the extra promotional opportunities it affords, and to create an easy way for some of the international fans who'd love to come to the show but can't to be involved.
One of the things we don't think is a risk is that you'll have a great time - seriously. Go to our
facebook
page and ask some of the fans. They'll vouch for us. :)