In March 2012, I released my debut EP, Flesh, with the support of 55 awesome people and Pozible. I'm very proud of it, but it is time to up the ante.
I'm very excited to be working on a new, as yet untitled EP, which will hopefully be complete and ready for release late this year. I learnt so much from the first one and I'm confident that this recording will sound even better. I have been in pre-production with the incredible Josh Schuberth of Endomusia Productions (Brett Winterford, Sara Storer, Alison Avron), working out arrangements and getting acquainted with each other's way of working. This has been very fruitful! I've also had a photo shoot with M Ellen Burns, which has resulted in some astonishingly gorgeous photos for the cover art. These will be revealed soon!
Would you like to be a part of it?
(This is where you enthusiastically shout, "Yes!")
I'm offering four distinct package types for supporters.
Digital: for those who don't want stuff to clutter.
Physical: for those who like stuff to hold.
Merch: for those who like to wear stuff.
Experience: for those who like doing stuff.
There are different levels of each, as well as an entry level package of just $1 for one pre-release digital track. That's a lot of choice! (See updates if it's not enough choice.)
Want something even more special? I've put together some Limited Edition packages as well. You can get me to hand paint you a pair of shoes, get a framed print of one of the beautiful photos, or have a house party gig. Have a look at the list to see what takes your fancy.
Please note all packages come with my gratitude!
Below is a pair of shoes I painted for myself to wear, based on my song Rainbows & Thunder.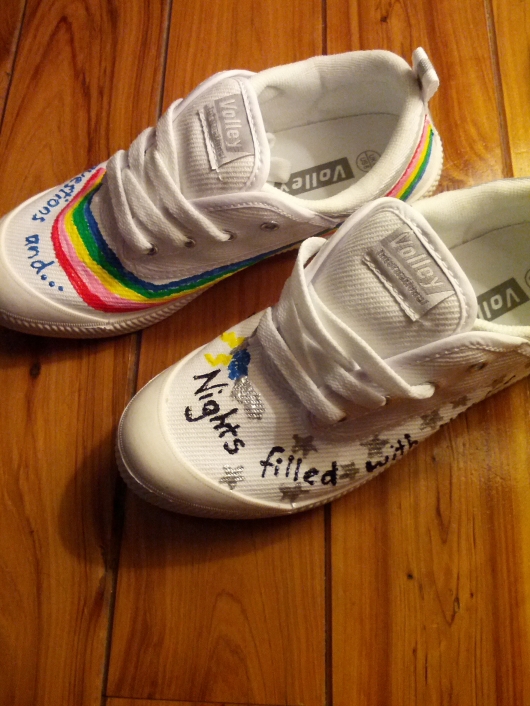 Acknowledgements
Thank you to Ben Hughes, Martin Ollman, Adam Thomas, Mark Coulson, Karina C, Neil Gardiner, Erk Scaresbrook, Stephanie Gilmour and Shane Perris for the use of their photos in the video.

Main project photo by Ben Hughes.

The Challenges
I have successfully completed a Pozible campaign previously for my first EP, Flesh, so I'm well acquainted with the obstacles that could arise and I've accounted for them with extra money and time budgeted this time around. I'm also mitigating potential issues by hiring a team of creatives (producer, graphic designer, etc) that have proven track records and that work well with me. I've already started the project: I have the artwork with the graphic designer and I've already been in the studio.

It's possible that I might have to spend longer in the studio, which would cost me more and may delay the release of the EP. I'd rather get it right and go into more debt than make something that doesn't make me weep with joy. Some of the rewards (like the house parties, the custom shoes and the skype singing lessons) will not be able to be fulfilled until after the release of the EP due to time constraints. This is reflected in the estimated delivery times.

If I don't meet my campaign target, I'll still be making the EP, but only releasing it digitally... which would be a shame because the art is truly beautiful!