Tyrone and Lesley
write and play songs on ukulele and double bass. They've played to audiences of adults, children and childish adults everywhere from The Sydney Opera House to the Melbourne Ukulele Festival. They need your help to make album number three the best that it can be: to record in a vintage hall and bring in some new musical textures.
They've released two albums so far:
Ukulele Heart
, and
Bear with Me
"…Ukulele Heart is full of inspired silliness …." (
Kamuke Ukulele Magazine Issue 4 2012)
They created a show around their children's songs:
Bear with Me,
which will soon tour to other parts of this once-great land.
"…one of the best, most well thought out shows I have ever attended. Absolutely brilliant!"
(Patron comment,Out of the Box, June 2012 QPAC)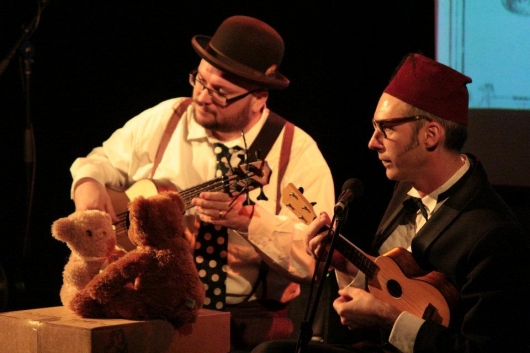 Nominated as finalists in the Queensland Music Awards two years running, Tyrone and Lesley are resolutely in their own category. Uke duo Bosko and Honey have suggested they write
…kids songs for adults.
Fan Madelaine Winstanley has thanked them for
…finally creating a children's CD that I don't want to throw out the car window.
Their
facebook
and
youtube
sites are worlds in themselves, populated with live videos such as and nifty animations. When they play live they're enchanting.
…Sweetly hilarious.
http://theukuleleentertainer.blogspot.com.au/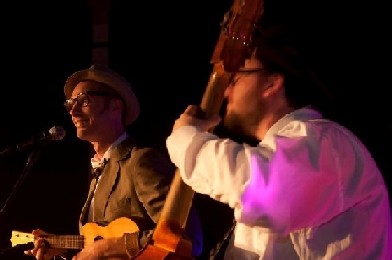 The third album is going to be beautiful. Work's started already. Songs of optimism and love will nestle alongside T&L's bittersweet absurdity. They closed their MUF 2013 concert with
You May As Well Smile
: a new song that heralds a further development in their sublime song-craft.
Tyrone and Lesley want to take a step forward with album number three. They want to record parts of it in antique halls that dot their home town of Brisbane, so that times gone by seep into the very sounds they produce, and dance with dust motes and musical notes in shafts of light.
Ukulele Heart and Bear with Me included light touches of drums and instruments such as accordion, French horn and vintage drum machines. While the music will retain its elegant minimalism, they'd like to bring in some other musicians to add further texture and richness to the songs. These ambitions are hardly sky-high: they're all about increasing the quality of the recorded sound and building a story around the music. But to take these steps Tyrone and Lesley need a leg-up.
The songs are going to be great: that's a given – classics you just haven't heard yet. With your help, we'll all get to hear them sooner.
Read more: take a look at the pledges and rewards. Guarantee you won't find anything like these offers anywhere else soon. Thank you in advance.
Some Of My Previous Work
you can read the story of Tyrone and Lesley
here
.
You can see Tyrone and Lesley on our
Youtube channel.
You can hear our first two albums are on
itunes
,
CDbaby
and
soundcloud
.
You can see a series of mini-documentaries which cover how we built a show around our songs.
You can find them here: Making Bear with Me
Part 1
and
Part 2
You can see some of David's other work in theatre, film and music
here
, and Samuel's other musical adventures
here
and
here
and
here
The Challenges
We do our own thing, in our own way, tend not to compare what we do to anything else, and are resolutely in our own category. We make great music for both adults AND kids in an market that prefers you do one or the other.That makes it harder for us to describe what we do, but we trust that when people investigate further they'll like what they find. In a world where you have to compare what you do to something else to get ahead, that's a risk in itself.

HAPPY ACCIDENTS: ARTISTIC RISKS
To record music on location can bring some unexpected surprises: that's why we're doing it . There's an element of getting it right in performance that requires a precision and spirit that you can only approximate in the studio. It's a risk, but're looking for happy accidents. Having said that, we have fallback options to ensure the music's captured. However we get it working, we'll be at the service of the songs: the ones we've got, and the ones to come.

CHALLENGES OF TIME AND RESOURCES
You'll note that none of the funds are allocated to go to 'us'. Your support will go directly to hiring stuff, or people with stuff who can help us take our songs a step forward. That's deliberate, but it means that as usual, we'll fit the pre-production and recording around everything else you have to do to survive as an artist. We've put out an album a year for (getting on to) three years, if you count the Christmas EP we'll complete as part of this project. We're up for these challenges.