ARENA CALCETTO IN VENICE
Arena Calcetto is a unique interactive landscape installation that combines art, architecture and fussball.
Arena Calcetto was made by over 100 designers and fabricators from 10 countries. The installation combines six sculptural timber towers housing bespoke fussball tables and individual, handmade players, and was showcased at the Australian Pavilion for the Venice International Architecture Biennale in 2012.
Click here to preview a short film about Arena Calcetto in Venice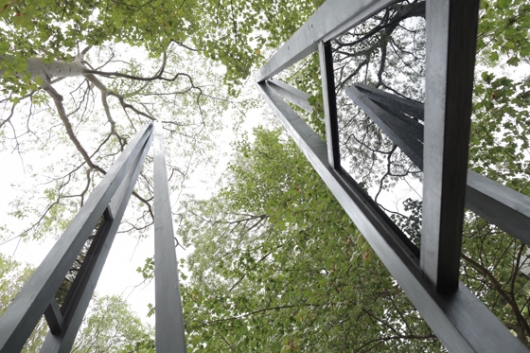 ARENA CALCETTO MAKES IT DEBUT IN SYDNEY
The beautiful Paddington Reservoir Gardens will be home to a fussball tournament like no other, as Archrival presents Arena Calcetto Sydney. Direct from the 2012 Venice Biennale, this installation invites you to meet, play and compete on a truly unique custom fussball table.
Archrival needs your support to commission 15 new fussball teams for this installation, to be made by a wide range of new creative collaborators. We need urgent funding to cover the material and fabrication costs of creating new fussball players, that will be displayed as part of Sydney's premiere public arts festival, Art & About 2013.
Click here to see more on Arena Calcetto at Art & About 2013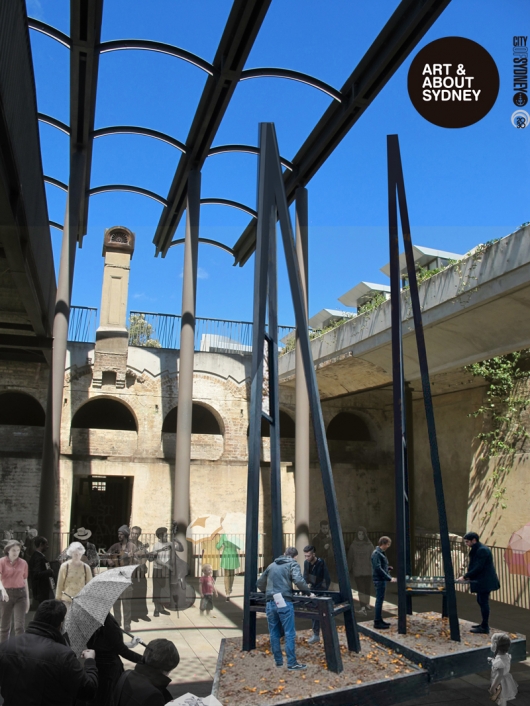 Arena Calcetto has played an important and inspiring role for emerging artists and designers. This project has mobilised a network of local and international creative collaborators, and provides a platform to showcase their innovative work within a uniquely collaborative installation format.
In Sydney, Arena Calcetto will create a vibrant forum where individuals can meet, play and compete in an inspiring setting - with a focus on the incredible custom-designed fussball players within the tables.
WHY FUSSBALL?
Arena Calcetto was designed as a playful metaphor to represent the competitiveness of our creative industries. Our organisation
Archrival
creates unsolicited and collaborative work, which maximises the creative talents of everyone involved. To increase the creative rivalry embedded within the Arena Calcetto project, Archrival created
Global Workshop
. This was an international design callout where designers were invited to create their own unique players for our exhibition at the Venice Biennale. Over 39 designers across 9 countries participated in this unique competition, and created hundreds of incredible fussball player objects.
We aim to continue this collaborative spirit by calling on new artists to create fussball teams for Arena Calcetto Sydney in 2013. These objects will be displayed within six outdoor tables in the Paddington Reservoir Gardens, and in participating shopfront window displays on Oxford Street. In this way Archrival will provide an important opportunity for new designers to showcase their work as part of Art & About 2013.
You can see our incredible gallery of past participants here:
Global Workshop Portfolio 2012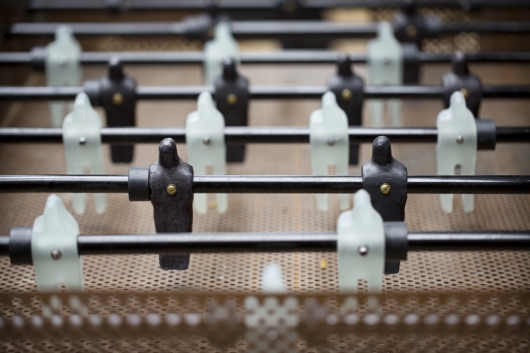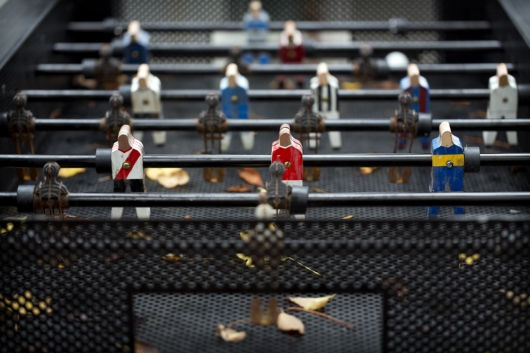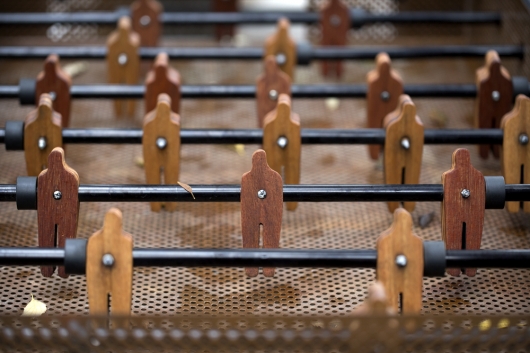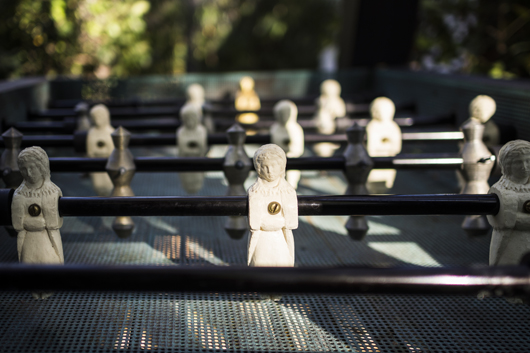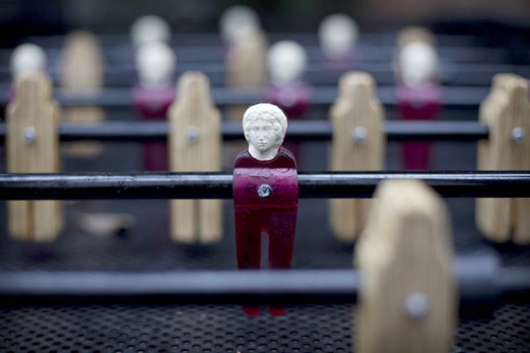 WHY ARCHRIVAL NEEDS YOUR SUPPORT
The towers have been fabricated. The contractors are ready to install the work. The fussball tables are ready and waiting. But a critical part of Arena Calcetto is yet to be made - new fussball teams for Sydney!
Archrival is a non-profit organisation that is run by passionate team leaders, volunteer designers and a wide range of collaborators and sponsors. Our goal is to foster innovative design through experimental projects like
Arena Calcetto Sydney
. As a small emerging practice, we need your support to get new artists involved, and to facilitate their important artistic contributions to this unique design project.
With your help, we can offer collaborating artists with materials and fabrication support. We want to provide the opportunity for these passionate collaborators to present their inspiring work at Arena Calcetto Sydney for Art & About in 2013.
FESTIVAL DATES & DETAILS
Art & About
will run from September 20 - October 20, 2013. Our installation Arena Calcetto will be on display in the gardens until October 31.
The venue is Paddington Reservoir Gardens, which is open daily to the public. It's on the corner of Oatley Road and Oxford Street, Paddington NSW.
Find the exhibition venue on Google Maps
MORE ABOUT THE VENUE
Paddington Reservoir Gardens is
an award winning public park designed by Tonkin Zulaika Greer
. Archrival's six timber towers with fussball tables will be displayed in the sunken reservoir for Art & About 2013.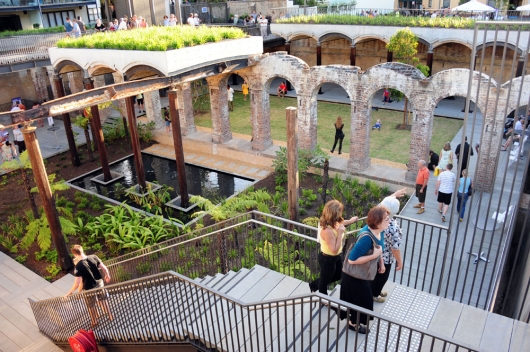 Watch a
short film
on the design and history the Paddington Reservoir Gardens
Some Of My Previous Work
Archrival has created public work for a range of local and international festivals and events, involving hundreds of project collaborators to date.
Past projects include
Eleventh Hour
(Carriageworks, Sydney Fringe 2011),
Concrete Colony
(Hyde Park Barracks, Sydney Festival 2012),
Arena Calcetto
(Australian Pavilion, Venice Biennale 2012),
Everest
(Pier 2/3 Walsh Bay, Sydney Art Month 2013) and
Mirror Mirror
(Australian Technology Park, Vanishing Elephant runway show for Mercedes Benz Fashion Week 2013).
You can see some of Archrival's past projects captured in short films here:
EVEREST with carterwilliamson and the Living Room Theatre (2013)
https://vimeo.com/59786683
ARENA CALCETTO at the Australian Pavilion for the Venice Biennale (2012)
https://vimeo.com/55242884
ELEVENTH HOUR for Sydney Fringe (2011)
https://vimeo.com/31239445
For more information about our work please visit
www.archrival.org
The Challenges
Archrival has presented Arena Calcetto at the Australian Pavilion for the 13th Venice International Architecture Biennale in 2012.
With a dedicated design and install team, as well as our experienced installers at
Showtech Australia
, we are confident in our ability to present this large scale work at Art & About 2013. We are supported by a range of
project sponsors
and new collaborating artists who are committed to creating innovate fussball players for Arena Calcetto Sydney.