Starting as a student project back in April 2012, HERO is now an active business with heaps of potential for substantial growth .
The concept started with one idea in mind: what if having safe sex in Australia could save lives in Africa? We came up with a 1 for 1 concept, for every condom we sell in Australia, we donate 1 to an AIDS organisation in a developing country. But that was just the start, from that initial idea we expand our vision. Why couldn't HERO also be good to the Earth?
With the idea we knew we had our tagline: Have sex. Save a life. Save the world.

HERO was very fortunate and through our partner, HIV medical researcher Kabo Matlho, we were able to go to Botswana and witness first hand the effects that HIV and AIDS are having on the local community. It was devastating to see how much this affected day to day life in Botswana. It was through talking to Government bodies and NGOs that we found out condom availability was only one of the problems. While people in Botswana want to use condoms, the free condoms currently available smelt terrible, broke often and did not feel nice to use. It was then that we knew we couldn't just donate condoms to the right places, we needed to go one step further and research what the local people wanted in a condom. That way, we could produce something everyone would WANT to use.
Botswana needs a condom they can call their own, a condom that is strong, the right size and the right thickness. On top of all that, we need to market the condom well, making it a brand that everybody wants to use. With the right support, we know we can make a real difference in Botswana.

In 2011, 1.7 million people died as a result of AIDS. It is currently the fourth biggest killer in the world and the World Health Organisation says that within a few years it is likely to become the third biggest killer.
HIV/AIDS in Botswana is at epidemic levels. Despite awareness and the continued prevention measures put in place by the government and NGO groups, HIV/AIDS prevalence remains high. The 2008 Botswana AIDS Impact Survey III (BAISIII) showed a national HIV prevalence rate of 17.6%. When compared to the 17.1% prevalence seen in the BAISII survey of 2004, it is a problem that is growing quickly.
Due to gender norms and inequality, young girls and women are the worst off in this crisis. Women are regularly and repeatedly denied information about, access to and often the power to use condoms. This is of huge concern, as it means that women in the reproductive age bracket are disproportionately affected.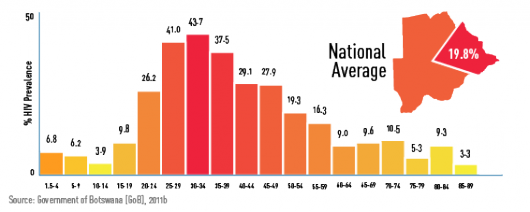 In the end, whether it is through donating customised condoms to developing nations or through minimising our effects on the environment, we built HERO as a business that could make a difference. Botswana is one place we know we can.

HERO needs your help. After meeting with people, NGOs and government organisations in Botswana, we knew that merely donating condoms would not be enough. Your money will help us to do so much more:

We have already started this step, but our sample is small. If we are going to make a significant difference, we need to make sure that every aspect of our condom is suited to the Botswana market. The best way to do this is through analysing the market in more depth. Working with YOHO (Youth Health Organisation) and NACA (National AIDS Coordinating Agency), we can administer surveys to a much wider audience.

With this information on hand, we will be able to create designs that match our analysis, checking these regularly with partners in Botswana to ensure they will be well received. We will also research the most suitable and appealing sizes, fits, colours, flavours and scents for the Botswana market.

Every condom needs to be tested. We will be sending our different designs and a range of different types of condoms over to our contacts in Botswana for the "tedious" job of testing them. Once we hear back, we can start on production.

Using all the information gathered, we will put everything together and start production. Using our manufacturing plant in Malaysia, we will start the three month process of producing our first run of 500,000 custom made Botswana condoms.

After the product is packed and shipped, we can start planning our marketing campaign. We want to launch this condom in style, utilizing our contacts in Botswana to get local celebrities and artists onboard to generate excitement for this new brand. This will not only help with the adoption of our new brand of condoms, but also with the education of locals about condom use.

After the implementation of this program, we will continuously review and analyze the results to ensure that the condoms are being well received and that the marketing and distribution is efficient and effective. We will strive to continuously improve our processes, making sure we are having the impact needed to make a big difference in Botswana.

HERO donated over 72,000 condoms to Botswana before we even sold 1 in Australia! This was necessary to gain trust with NGOs in Botswana in order to establish distribution channels for our donations. We now have amazing NGOs such as YOHO (Youth Health Organization) and NACA (National AIDS Coordinating Agency) on board to not only help distribute our donations to the people who need them, but to educate as well!
HERO is currently landing on shelves in pharmacies, university co-ops and adult shops throughout Australia. Although we are making good progress, it is quite a slow process and is taking longer than we first thought.
We initially planned that it would be easier to get into supermarkets, which would provide us with much greater sales that would result in a higher quantity of donations. Unfortunately, getting ranged in grocery is a tough nut to crack, so we are building up our sales in other retail outlets and hope to soon be ranged in your local supermarket.
Your support will provide a kickstart to our donations, but will also allow us to provide education and to effectively market this product in Botswana. Together with your help, anything is pozible (see what we did there? :) ).

Any financing over $60,000 will be used to provide antiretroviral treatment to expectant mothers with HIV. This treatment will help ensure that expectant mothers will not pass on the HIV virus to their newborns.
If you would like to follow what we are doing, check us out at:
HEROcondoms.com.au
facebook.com/HEROcondoms
twitter.com/HEROcondoms