If you missed my Pozible deadline and would still like to offer your support, further donations of financial assistance can be placed with The Institute for Music in Medicine. This can be done online via the following link:
http://www.imim.com.au/Donate-to-IMIM.html
Please be sure to enter 'Donation Michal' alongside your name. A receipt will then be forwarded to you. Alternatively you may post your donation to PO Box 1480, Geelong, Victoria 3220.
All donations are tax deductible.
If you have a few minutes please watch my video to learn more about me and my project.
---
Three years ago I sat in bed, tears streaming down my face. I was watching ABC iview after a woman I worked with suggested I watch an episode of Australian Story called Heaven Sent. It was the story of a man who travelled to the USA with his family to pursue an unusual speciality which involved playing the harp for people who were dying. It was in this very moment that I knew that I would follow in his footsteps no matter the sacrifice. I now know this man, Peter Roberts, as a friend and a wonderful mentor. Peter has seen me through the ups and the downs and continues to be a huge support as I prepare to move to Portland, Oregon in August this year to start my Music-Thanatology training.
Receiving the letter below brought up a lot of emotion and marked a very important moment in my life.
"Dear Michal,
We very much enjoyed meeting you last year. We appreciate the time, energy and good will that you have extended to the various stages of the application process. We are happy to invite you to enter the Lane Community College Music-Thanatology Training Program as a member of the class of 2015. Please accept our warmest congratulations!"...
I have faced many obstacles along the way but I have never lost focus or stopped believing that I am on the right path.
Peter completed his Music-Thanatology training in Missoula, Montana as part of the class of 1996. He has done a huge amount of work raising awareness of this field in Australia and would one day love to see the training be made available here. It is my long term goal to assist him with this vision after completing my training.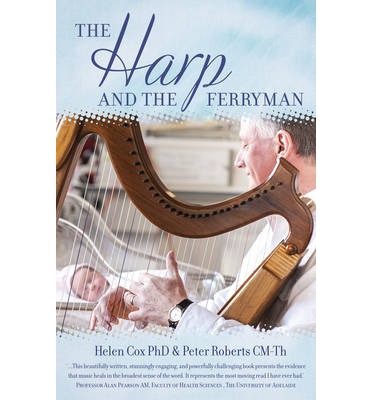 You may still be wondering what Music-thanatology actually is???
Music-thanatologists use live music, specifically harp and voice to support and comfort people facing life threatening illness. They can be asked to play in the very last moments of a persons life and even beyond. It's not about playing peoples favourite tunes or lovely relaxation music. Music-Thanatologists are trained to use music in a very particular way, continually responding to each persons needs. The music is offered to bring emotional comfort, help to relieve physical pain and assist with breathing difficulties but the heart of the offering is to bring about a deep sense of peace in often difficult and trying circumstances.
Going through a difficult time in my life is what led to me wanting to commit my life and my heart to this work.
Often the first question I get asked when I tell people about this is "What draws a young woman like you to want to work in palliative care?". It's a valid question because up until 7 years ago I had never considered that I would work with or have such a deep compassion for those facing the end of their life. I now can't think of anything more meaningful I could do with my life.
At the age of 22 I was diagnosed with widespread thyroid cancer. Unfortunately it was a late diagnosis and the disease had already spread into my lymph glands and both of my lungs. After major surgery and 5 treatments of radiation I still live with a small amount of disease in my lungs but my prognosis is good and I currently live free of any symptoms.
After getting through the initial shock of my diagnosis and the stress and discomfort that comes with the treatment I now feel blessed to have had this experience and to live with a constant reminder of my own mortality. I believe this experience has developed my compassion for those who are dying and I'd be extremely grateful for the opportunity to use this to serve others.
However, I can't do it on my own and the financial barrier is a significant one! If you feel drawn to support me please pledge what you can. Every dollar counts!
---
MY BUDGET
Music-Thantology Course Fees - $20,000 over the 2 years (includes Lane Community College fees, harp and voice lessons, books and other class materials)
Living Expenses - Approximately $30,000 (2 years rent, food and general living expenses)
Other expenses include flights, health insurance and medical bills. My health insurance will not cover me for a pre-existing condition so I will need to pay for any medical expenses related to monitoring my health while in the USA.
See below for additional cost of obtaining a student visa.
---
THE VISA STORY...
It has been quite a process researching my visa options but the short version of the story is that I will need to apply for a student visa which seems like the obvious solution however this is a non-credit certification training and does not make me eligible for a student visa. To become eligible I will need to enrol in extra credit classes. This is going to cost an additional $9000 per year in college fees on top of the expenses I have outlined in my budget above.
As daunting as it is facing this additional financial commitment, I am excited about the added learning opportunity and I have decided to enrol in a Certificate of End of Life Care which will compliment my Music-thanatology training.
---
UNDERSTANDING MY REWARDS SYSTEM
I spent a lot of time reflecting on what I could offer as a reward in return for your pledge and I hope I am right in coming to the conclusion that those who wish to support me would be happy to see their support carried forward rather than paid back.
So with this in mind, I have decided to offer volunteer music-vigils when I complete my training. This means that you will not only be supporting me through the training, you will be directly funding the work that I do when I return to Australia. I will use a credit system to log the number of volunteer music vigils I will commit to. For every $1 donated I will log 1 credit and for every 100 credits ($100) I will complete 1 music vigil on a volunteer basis for someone who is being cared for at home or at a hospital/hospice other than the one I am employed by. I will commit to volunteering one day a week until all of your love and support is paid forward.
For transparency purposes I will log these vigils on my blog and continually update this on my return so you can see how many people have been offered a music vigil thanks to your support.
---
LEARN MORE ABOUT MUSIC-THANATOLOGY...
The Institute for Music in Medicine
Australian Story - Heaven Sent
Music-Thanatology Association International
Lane Community College's Music-Thanatology Training Program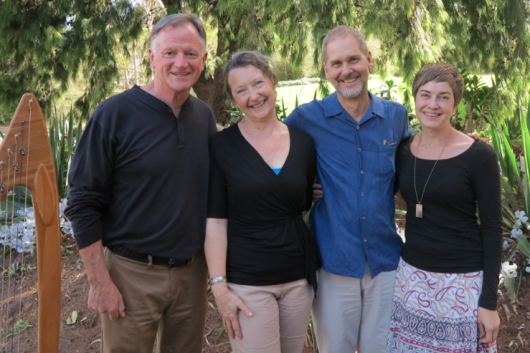 I'm pictured here with Music-Thanatologists Peter Roberts, Mary Werner and Lawrence Duncan at a wonderful event facilitated by the Institute for Music in Medicine in March this year. Mary and Lawrence travelled all the way from Missoula, Montana to share with us.