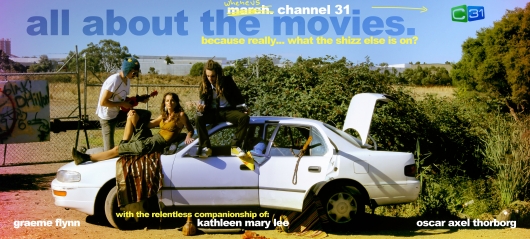 Short Description.
Blistering political satire through cinema and wine. It's a sit com.
Project Description.
All About The Movies season 2 picks up roughly where season 1 left off, following the tragic tales of three wayward bound protagonists stumbling through a meaningless existence with the delusional aid of wine and cinema.
Oscar, a film student with nothing but malice, Merlot and misapprehensions of his knowledge of the celluloid art.
Oscar Axel Thorborg wrote the first season of All About The Movies prior to University, whilst dreaming of a life as a poor film student. Currently living as a poor film student he finds this particular lifestyle less glamorous and noble than he had imagined and is now dreaming of making straight to DVD B-Grade slashers in order to pay for wine and dog biscuits.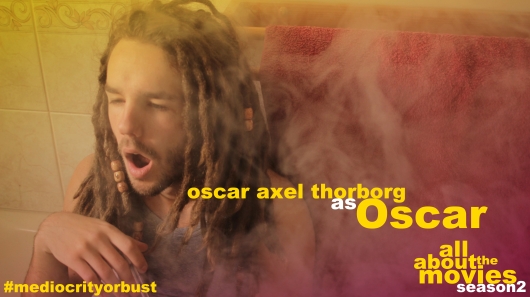 Ben, a naïve guitarist who has not only boarded the failboat of struggling musicians, but is quaintly and hopelessly going down with the ship.
Graeme Flynn is the only English born actor in the show and thereby carries the whole British Empire's reputation upon his performance. Since arriving in Australia Mr Flynn has thrilled the nation with his works in the 48 Hour Film Festival, a Guy Cleeve film and his ability to sport a classic Frank Zappa moustache without appearing to be a complete git.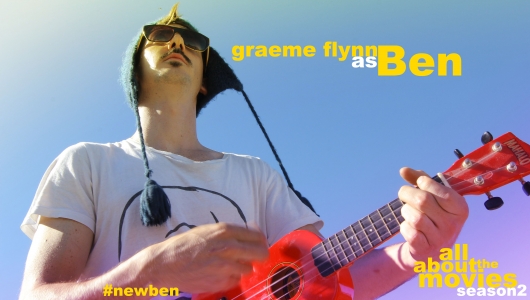 .
Annie, a well-travelled hippie with a chequered past and a somewhat murderous relationship with authority figures. (Daddy issues)
Kathleen Mary Lee is possibly the most multi-talented person involved in the All About The Movies project. She is a gifted film maker, photographer, actor, musician and all-round indie sensation. If you believe there is an art form out there Kathleen hasn't conquered yet, please call in and inform her so she can come around your house and show you how it's done.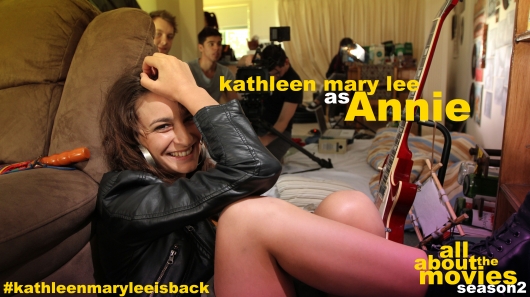 Each of our six episodes boils down to a parody of and or surrounding some of our favourite films. This season we're looking to throw together some huge blockbuster titles and some more obscure (POSSIBLY FRENCH) cult flicks. We don't want to give too much away but here's a peak at some of our upcoming episode titles.
Ep 1. Curse of the Black Marketeer
Ep 5. Reminder
Ep 6. The Decent, the Depraved and the Dreadful
This season takes place within the span of a week in our Heroes lives. As the film references become more obscure, the humour more sadistic and the characters borderline masochistic, one struggles to see how any of this can help you, the viewer, become a better human being. It won't, but join us and learn that when the chips are down, it means they're just closer to the dip. Or some such nonsense.
About Us.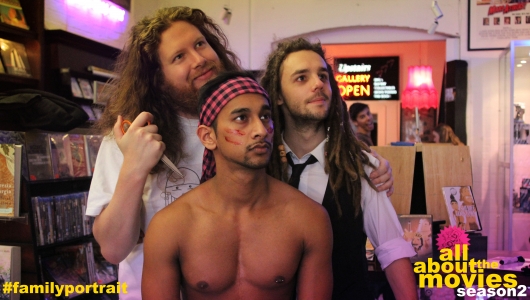 We, the people of All About The Movies, believe there are many shows on television. That's fact, check your program guide. For all your usual desires there are programs to fill, satisfy and quench those consumer needs. However sometimes we want something different. The spice of life, the variety of the world, the Skittles in the MnMs bowl. If you feel that there is something missing from your television/YouTube experience, then join us, help create something weird and wonderful and most importantly unique.
We guaranteed; more vague film parodies, more dreadlocks, more absinthe, more character's called Ben, more murders, more egg sucking, more truels, more deus ex machinas, more cult video stores being torched, more scenes involving French bread sticks, more nonsensical phrase and more reasons to Google references, than any other show currently being crowd funded or mass produced by soul sucking corporate entities.
This is not your usual sitcom. This is All About The Movies, and it's motherflippin' nonsense.
Budget.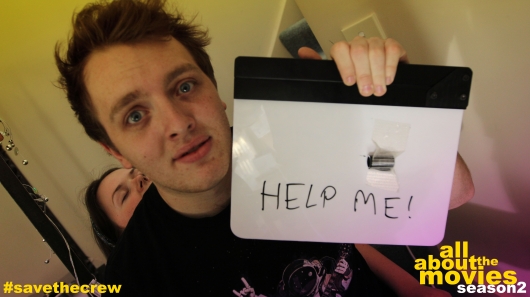 We're attempting to raise $2000 in order to increase the production values of the show. In layman's terms, more money = bigger explosions.
We will be spending YOUR money on:
Catering: $250
- Feeding the hard working cast, and maybe even the crew.
Art Department: $300
- It's all about the Mise en Scene! More stuff to fill up your screens!
Special and Practical Effects: $400
- Explosions, Gunshots and Blood. Oh yes... there will be blood.
Equipment Hire: $400
- If all goes to plan we'll shoot our finale on a RED Epic. (big boy camera)
Lighting: $450
- Battery powered LED's for our night shoots. Film requires light, this is just science.
Location: $200
- Sometimes we have to pay to film places. These places are exotic and therefore require financial restitutions.
Last Words.
On behalf of all the beautiful people whom together strive in creating this homage to the silver screen; we'd like to extend to you our warmest gratitude for taking the time to check out our progress thus far. Any donation will help us, and some of our prizes are totes out of this world.
Cheers all, have a lovely day.
Oscar Axel Thorborg and Justin Sebastian