UPDATE
Our Pozible Crowd Funding Campaign has now ended. If you would like to purchase tickets to Z DAY please go to:
Z DAY TICKETS HERE
Z DAY is a Live Action Role Playing Event that will be held in Sydney in 2013. If you've played video games like 'Left 4 Dead' and 'DAYZ', been addicted to TV Shows like 'The Walking Dead' and can't wait to see movies like 'World War Z' then you are going to love Z DAY!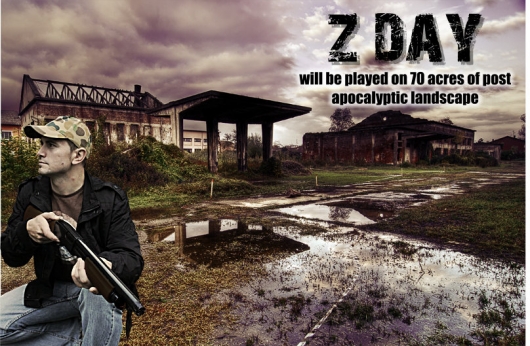 This is a physical outdoor open world experience played on a 70 acre property in Sydney. Once you drive through our gates you will be immersed into a post apocalyptic landscape. It'll be like playing a 3D video game but everything that happens will be real and not virtual! The action and events will be unscripted. We will set up some parameters and missions but the rest will be up to you and your fellow players and every session has the potential to be different.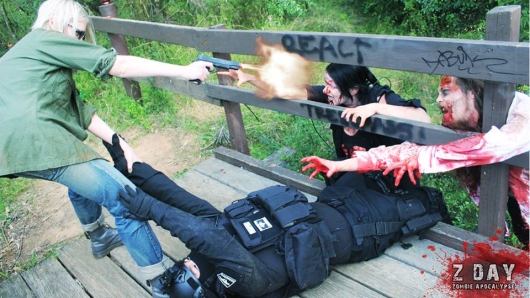 The setting is a world ravaged by a previously unknown virus. Once the virus broke out into the general population it quickly spread to create a global pandemic. Although vast areas and huge numbers of population have been lost to the infection, governments have been able to establish small containment lines known as Safe Havens. These last bastions are strongly guarded and remain the last hope of humanity. Outside the Safe Havens lie the Quarantine Zones and it is here that you will pick up the plot and play your role in Z DAY.
You will choose to play as either a Survivor, a Zombie or a member of Spec Ops. Each player class has a specific role with objectives and rules for that class.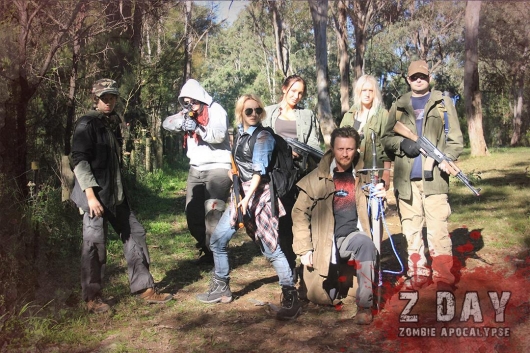 As a survivor you will need all of your wits and skills to avoid a gruesome death in your quest to find and hold onto the essentials for life in this new world - food, water, shelter & weapons! Playing solo or with a group of your friends you will be competing against other Survivors for limited resources whilst trying to stay alive.As a Zombie your goal is simple... BRAINS! Hunt down as many Survivors as you are able either alone or with your own horde of un-dead companions. Zombies will also be assisted by Non Player Characters (NPC) who will be staff members taking on the role of the infected! Finally if you choose the role of a Spec Ops operator you will have a specific mission as well as side missions to achieve before you are extracted from the Quarantine Zone.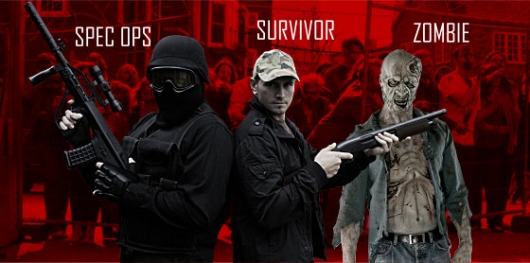 Z DAY will use a customised Infrared (I.R) weapons system that will give players an authentic first person shooter experience. I.R weapons will range from assault rifles through to sniper rifles and even claymore mines. Weapons will have corresponding ranges e.g a sniper rifle will shoot further than an assault rifle but have limited ammo.
Zombies will have a special hand held IR device that will enable them to affect a 'kill' but this will only be effective at close range simulating a melee. Human players will need to ensure they stay out of arms reach from Zombies if they wish to survive. All Players will wear I.R receivers on their front and back that will be attached to a harness. This system gives us the ability to record player 'hits' and 'kills' and present each player with a detailed game score at the end of their session.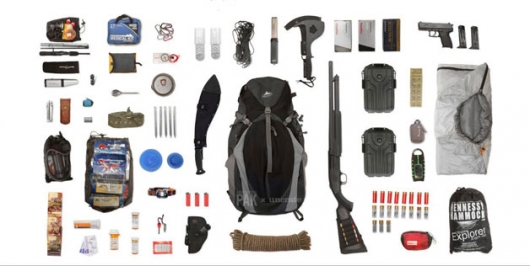 Z DAY will be heavily layered with all the elements that make the zombie genre so entertaining. Realistic props, survival equipment, weapons systems and authentic characters that will leave you pumped and wanting more of this unique adrenalin charged experience.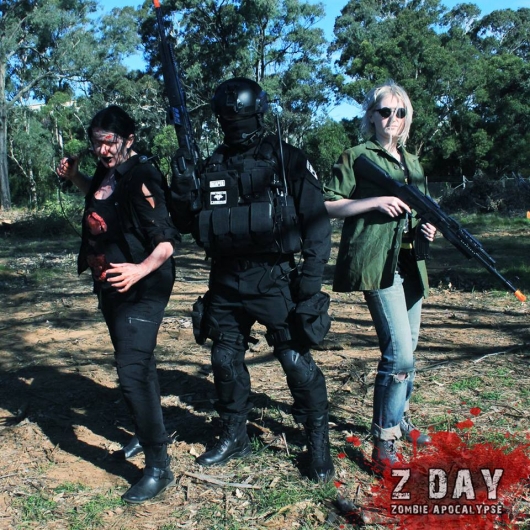 We are not aware of anything else like Z DAY in Australia. At Respawn Productions we are excited to be able to offer you this unique experience and we're confident we can deliver everything from exciting game play to an immersive and engaging environment that puts you in the dead centre of the Zombie Apocalypse!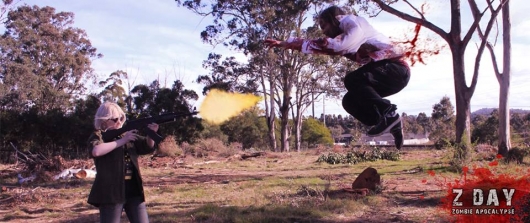 PROGRESS SO FAR
Of course to make this dream come true we need your help. We've been working on this project for the last 6 months and in that time located and secured a suitable property to hold the event on. We've developed a unique I.R Weapons system with working prototypes and we've got our marketing up and running including website, forum and social networks. What we need now to finish the preparation is some seed money to help us to put our weapons system into production and to complete the building of sets on the Z DAY property. Please check out the range of rewards we have on offer for your help and support in making Z DAY come to life.
Thank you from
Stephen & Daniel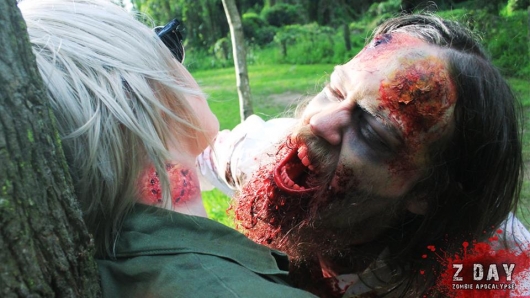 POZIBLE REWARDS
For those of you looking to get tickets to Z DAY please check out the range of rewards on the right of this page.
All rewards includes tickets to this event. When you pledge money for one of the rewards your are helping us fund Z DAY and at the same time reserving your booking at the special rewards price.
No money is transacted until after we have reached our funding target and you can use the safety of PAYPAL to purchase your reward, When the campaign is over we will contact you to book in your session begining from late August to October 2013.
The Challenges
The biggest challenge to this project is publicity. We know we can put on a great experience, we just need to let as many people as possible know about it. We need you to help us spread the word. If the public support us in a big way we'll release more Z DAY dates and run it over a longer season.