Ok this is an amazing opportunity to own a true OOAK piece of Art and Literature.
I am blending my written creativity with the sculpting talents of a young talented sculptor from the US to create a unique resin piece for you to paint or if you would like myself to paint for you and display in your abode accompanied by the short story that inspired the piece.
---
This is the descriptive text Jake is using to creat the sculpt:(see concept sketch below)
I stepped slowly out of the kitchen, turned and was greeted by the figure sitting in the rocking chair. Upstairs is where you need to be the old woman said and as I moved thru the room to the other door I glanced back and saw that her frail body was sitting rocking back and forth with eyes that could not see, the lids had been sown to the top of the cheek, and I could see the bloated orb underneath writhing against the thin folds of skin as if she could see thru the translucent membrane.
The old woman with sown eyes lifted and grew into a thing of revulsion, the left eyelid split open and the soulless window that stared back at me penetrated my very being, and the other was straining against the translucent skin following my every movement. My gaze drifted and as I took in the sight before me as her mouth was devoured by rows of sharp needle like teeth. Frail thin legs grew thick and sinewy as I heard the bones crack forming into backward facing knees with webbed clawed toes on scaled reptilian feet.
Her now undulating skin blistered into pustules of cream and green and spilled out all over here like a demonic boil. Blood and puss spilled now from the ample sores, and her arthritic nobly hands melded into a three fingered hand with razor sharp talons.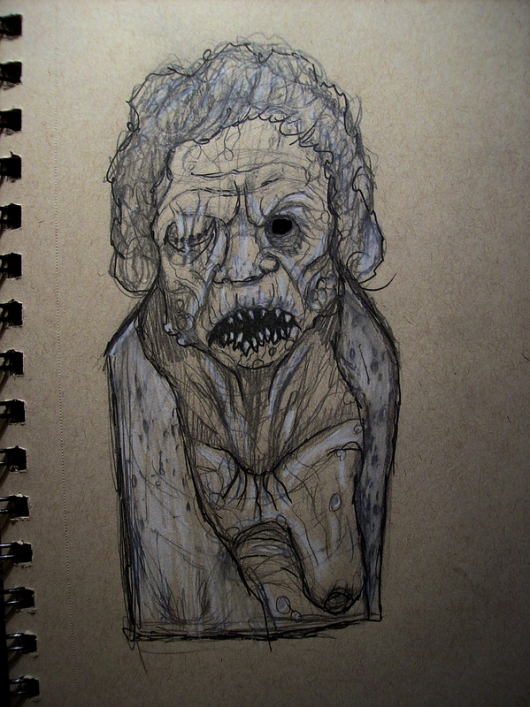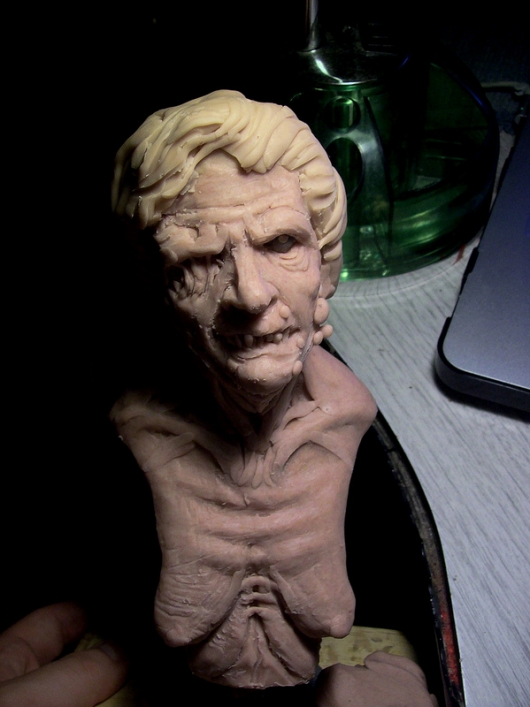 This is the initial sculpt after just 1 hr
---
Why have just a written piece to enjoy! Why not have a physical piece to enjoy as well.
I have commissioned Jake Corrick from Pennsylvania in the USA to sculpt my first piece of hopefully many characters to come. All will be dark themed and at times mildly disturbing but that is the nature of my writing.
My work has been called confronting and at times brutal, as well as serene and intelligent!
Mix this with Jakes ability to create a 3 dimensional being from my words and you have the pages brought to life before your eyes. His work is organic and unique. Disturbing but amazing. Together we hope to create a collection of pieces for you to be enthralled with.
I have collated my short stories together to create a compilation novel that I will draw from and add to, but I hope to create more characters from my body of work. ( The Hulk from Mama's Boy is next)
The funding is to help pay for the master sculpt and then the raw materials to make the master molds and purchase the finest SmoothOn resins all of this is in ecxess if the funding limit I have chosen but I want to see my idea come to life.
At this stage the rough sketch has been created from my wording and I hope to have a rough clay soon.
Followed by a sign off and then a fully moulded and cast piece for you to either paint yourself or have me paint for you in the colours of your choice.
see more of my writing at www.lulu.com/spotlight/graeme/hawke
Poetry at www.booksie.com/ian_dawn
facebook at www.lulu.com/spotlight/Graeme_Hawke
View Jake Corricks work at www.facebook.com/jakecorrick.sculpture
www.rawartists.org/jakecorricksculpture
www.facebook.com/misfitmonsters