It's time to put the tissues down, and bust out a new HARD-COPY issue of Bona Food Magazine. As some of you know, our May issue didn't get through the print-run. Increased overheads played a part, and well, most good food lovin' businesses are in similar work-for-the-love-of-it shoes. And since we like to keep the magazine cheap and accessible, we had to make the executive decision to sacrifice the last issue to the realm of virtual reality.
But onwards and upwards, as they say.
We want to ensure the next issue is placed in your hands, minus the dilly-dallying. Education through community and delicious food is what it's all about. So we're calling on community. We want to help you cook, create and share good, whole food with your friends and family and hope you can help us keep this ball rolling.
If you're new to Bona Food, or just need a refreshing blast of colour and nutrients, you can view ALL, yes ALL of our past issues at our website
www.bonafood.com.au
You'll also find all the details regarding stocking the magazine, ordering and advertising in our pages in that general vicinity too.
For any more information about the July/August issue, let your thoughts spill through your fingertips and direct them here -
hungry@bonafood.com.au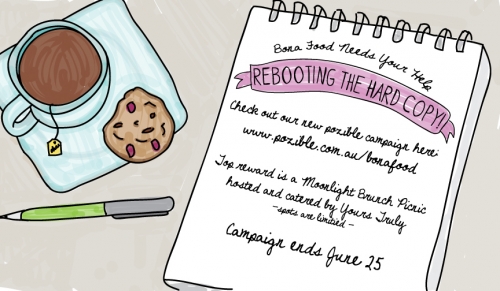 CHECK THIS OUT!
For our grande prize:
We're hosting an evening at a secret location in Adelaide (TBA)
for 30 special guests who can help us over the line for this campaign!
We'll be creating a smorgasboard of healthy foods that we can indulge in
over yum drinks and tea and good conversations with like minded awesome people.
Every single body who comes to will leave with a satisfied appetite and a happy
digestive system as well as a Good, Whole Food bag filled with some take home
treats that you can share with your family (or keep to yourself, no judgement)
and a bunch of vouchers and offers from some wicked Adelaide businesses who care about your health!
Spaces are limited and we don't do things by halves!
Get ready, get pledging!
x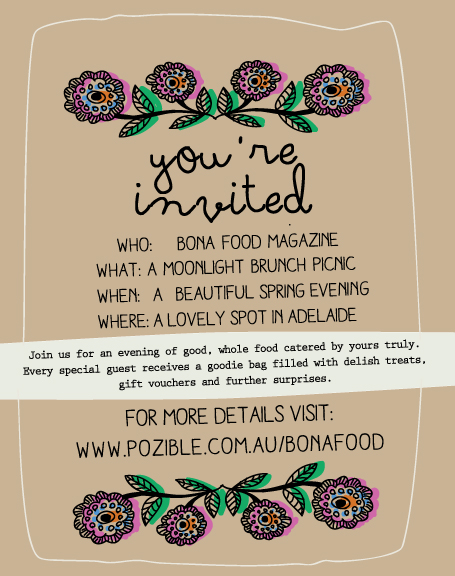 NOTICE FOR OUR INTERNATIONAL FRIENDS:
Since it would be counter-intuitive to fly you here for the event
(though Adelaide is totally worth a visit - come! ) please bid high if you're so inclined!
We'll be happy to put together an alternative care package to send you
for your goodwill - for more details contact us : hungry@bonafood.com.au