WE'RE SO CLOSE! 2 DAYS LEFT TO PLEDGE WITH ONLY AROUND $5K LEFT TO MAKE OUR TARGET OF $100K
IT'S ALL OR NOTHING SO IF WE DON'T REACH $100K WE DON'T SEE ANY $
SO PLEASE DIG DEEP AND PLEDGE. FORWARD THIS TO YOUR FRIENDS. WE WILL BE THE 2ND BIGGEST DOCO IN AUSTRALIAN CROWDFUNDING HISTORY IF WE MAKE IT AND IF WE GET TO $104K%20 WE'LL BE THE BIGGEST!
2 DAYS LEFT
from
liam taylor
on
Vimeo
.
Out takes from The Ride East Coast Pozible trailer. the boys try to come up with a metaphor for their friendship and the result is hilarious!
We can guarantee many more laghs like this if we reach our target and get the doco off the ground.
MAXI AND JESSE ARE CHEETAHS??
from
liam taylor
on
Vimeo
.
MAXI CLEO BACHELOR VIRAL
from
liam taylor
on
Vimeo
.
CONGRATS MAXI - CLEO BACHELOR OF THE YEAR 2013!! SO STOKED FOR SUCH A DESERVING WINNER.
WATCH THIS SHORT VID AND YOU'LL HEAR JUST HOW DEDICATED MAXI IS TO GETTING THE RIDE EAST COAST OFF THE GROUND!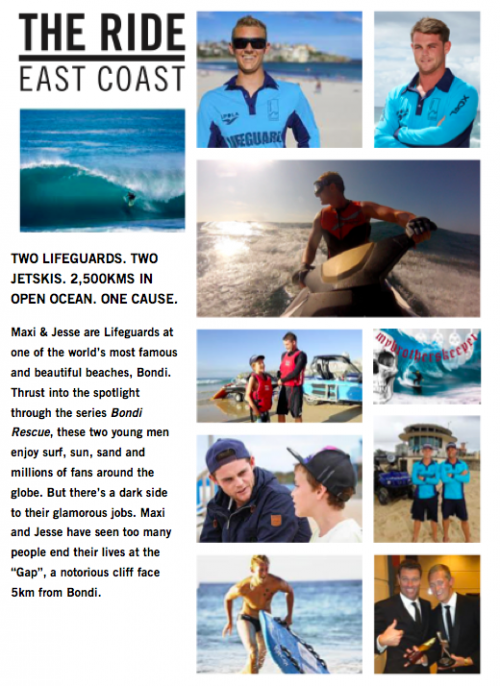 The boys want to help prevent more deaths, and send the message to young people that it's ok to seek help. So they're taking to the ocean for a gruelling 2,500 km ride on jetskis. They're seeking personal redemption, adventure and to raise the profile of mental health charity headspace.
Throughout their trip Maxi and Jesse will visit various headspace centres along the coast to meet people that have been affected by suicide. They'll share their personal stories and try to give people a laugh and a taste of their adventure.
Between these two young lifeguards - Maxi 21 and Jesse 23 - they've been involved in 12 body retrievals, all from suicides, all under 30 years old. Two weeks prior to the most recent retrieval that features in this teaser, Jesse lost one of his own friends to suicide. Thats why we we are passionate about telling this story.
1 in 4 youths aged 12-25 will suffer from a form of depression.
30 percent of youths at some stage will contemplate suicide.
Suicide is the biggest killer for young Australians.
HELP US TELL THIS STORY BY PLEDGING YOUR SUPPORT...
WHERE YOUR MONEY IS GOING: