**********UPDATE**********
ARTS COMMUNITY GETS BEHIND THE RED RATTLER

5 COLLECTABLE ARTISTS; LIONEL BAWDEN, BROWN COUNCIL, GREEDY HEN, TEXTAQUEEN, AND JUSTIN SHOULDER DONATE WORKS TO CAMPAIGN
Almost 500 donations have helped get us close to our base level target just to keep doors open, but with less than 2 weeks remaining on the SAVE THE RAT campaign, we're not there yet.
In the final countdown, 5 Australian artists have backed the campaign by donating original works to help The Red Rattler to its goal of $60,000. This target will put this independent community space in a secure position to purchase 40% of the Rat building, and continue to operate as cost-effectively as possible to keep The Rat an accessible, inclusive and affordable creative space for all users.
This is a limited opportunity to acquire an art reward and save The Red Rattler Theatre Inc from closure. Check out the donated works in the rewards section on the right.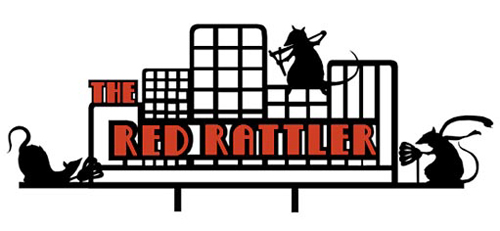 Save the Rat
Since its inception, the Red Rattler Theatre (affectionately known as the Rat) has shown the resilience, mettle and cunning of the furry creature it has been nicknamed for.
Now it needs your help!
The Marrickville warehouse that is home to the Rat was originally purchased by the 5 founders of the Red Rattler, to realise an alternative creative space and live performance venue that wouldn't be at the mercy of landlords and developers.
Five years on, two of the founding partners prepare to move on to new projects and the Red Rattler is embarking on a journey to become a self-sustaining, community-owned space.
This is where you come in.
We need to raise at least $40,000 so that the Red Rattler can buy a 40% share of the building it lives in.
With Sydney's live performance venues constantly facing the threat of survival, supporting the Red Rattler will help to ensure a viable future for the Theatre, where it can become fully self-sufficient and community owned – and not under risk of suffering the fate that other iconic Sydney venues have recently been faced with.

Since it opened 4 years ago, the over 400 performances and events have proven the vibrancy of the space and the demand for an affordable, professionally operated venue for alternative and experimental performance and creative work. We know the venue can support itself, pay the mortgage and continue to thrive as a safe space for artists and audiences. We need your support in raising the cash to make this a reality.
The Red Rattler is the only independent, not-for-profit, performance space that is completely volunteer run, with a commitment to sustainability and inclusiveness.
---
What is the money for?
If we reach our base goal of $40,000…
…we will be able to follow through with proceedings to secure a loan to buy a 40% share of the building. If we hit this base amount, it will make things tight for theatre operations for a while – we can keep things running, but important improvements will have to go on hold, meaning in the short to medium term we can't upgrade facilities for artists or audiences. We may even have to raise drink prices a little to make sure we can operate cost effectively (believe us – we don't want to do this as much as you don't want us to!)
The real goal of $60,000…
… puts us in a secure position to purchase 40% of the building, without having to freeze necessary improvements to the venue. We can continue to operate as cost-effectively as possible to make the Rat an accessible, inclusive and affordable creative space for all users.
Over $60,000…
…we can make a dent in the mortgage for the Rat, keep up building improvements and work even further towards our sustainability plans.

---
What's in it for you?
The big thing is of course that the Rat will continue to operate and start to be owned by YOU, the community of:
Artists – so we can continue to run a professionally equipped venue at accessible rates, providing a space to present your creative practice. This includes being able to offer special support for charities, not-for-profit organisations, and community organisations and collectives.
Audience members and Rat lovers - so that this safe, supportive and inclusive environment will continue to operate, for you to enjoy the work of your favourite artists or discover new creative worlds.
But, we've put together a few special rewards for you as well to say an extra special thanks. Apart from our love and eternal admiration, we have rewards including; special invites to our Rat festival in June; Rat badges, tees and totes - with extra special designs from well-known Sydney tattoo artist (and Rat super-friend), Megan Oliver; an opportunity to adopt a rat to scurry the walls of the Red Rattler carrying your name; and the chance to host your own event at the Rat.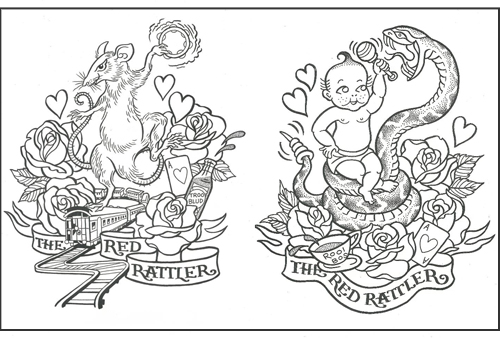 Above: Save the Rat tee designs from Megan Oliver
Check out the Rewards to the right for more details and pics as designs are finalised.
Save the Rat and contribute to our future - every bit of support helps!
And please spread the word so we can spread the love and keep this unique and iconic venue open and accessible for all!

Come play with us online:
Twitter (@red_rattler)