Homecooked is Melbourne's yearly comics festival with a focus on the great work being done by Australian comics creators! Our goal is to help them to do great new works, and to encourage the Melbourne community to make their own comics.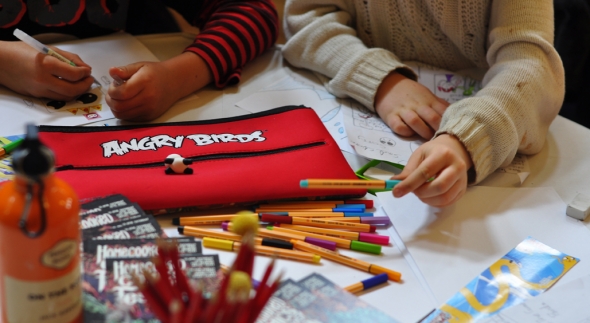 Started by the City of Darebin in 2012, Homecooked was originally a Sunday afternoon festival held in Batman Park (yes, Batman Park).

Homecooked now takes place at the beautiful Northcote Town Hall, and is run by Melbourne's open comics studio, Squishface -- specifically, fest director Sarah Howell and fest co-ordinator Clea Chiller -- with support from City of Darebin and a host of awesome partners.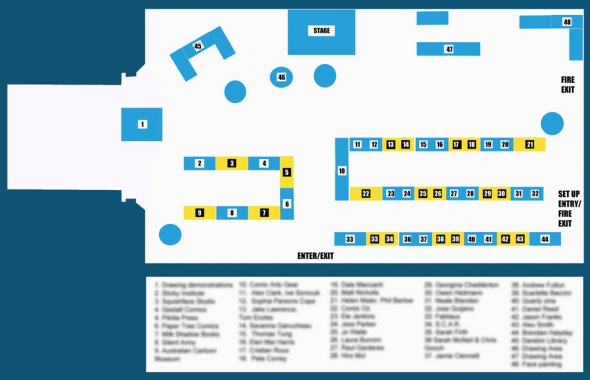 This year's Artists Market takes place on Sunday May 1st, is free to the public and will feature the biggest lineup yet of local artists and new books (there's a bunch of new faces with excellent-looking work! Exciting)!

So why do we need your help?

This year we have half the funding but all of the ambition. We have again invited some inspiring interstate guests to help inspire your comic making and need your support to bring them here!

On Saturday the 30th of April (the day before the Artists Market), we're presenting a program of panels and workshops for anyone excited about comics storytelling, and featuring a host of Australian comics pros (think Wolfgang Bylsma, Tom Taylor and Rebecca Clements) plus a smattering of smart, cool people from outside the world of comics (think Kaaron Warren, Sam Twyford-Moore and Corrie Chen)!

You can pick up tickets to the workshops day at TryBooking or through this crowdfund (see right) -- but let us tell you a bit about our interstate travellers:

Wolfgang Bylsma (WA)

Wolf is Editor-in-Chief of Australia's leading independent graphic novel publishing house, Gestalt, which he co-founded in 2005. For more than a decade, Wolf's helped change the nature of the comics industry in Australia and built reputations and careers for Australian talent in the international market.




Kaaron Warren (ACT)

An award-winning horror writer, Kaaron started writing early, penning her first short story at 14. Since then she has published countless short stories, four short story collections and three novels. In 2012 she won the Australian Shadows Award for her collection Through Splintered Walls.




We have a chock-a-block program of panels and workshops. Kaaron will be teaming with horror genre academic Naja Later and comic artist Sophia Parsons Cope for our Horror/Dark Fairytale Comic Writing workshop, which will guide you through the process of creating a concrete plan for your own frightening story!

Where: Northcote Town Hall
When: 12:30pm - 4:15pm
Tickets: $60 (available through this Pozible)

To help with our crowdfund, Wolfgang has donated a portfolio review for 3 aspiring Melbourne comic artists. You will get the chance to discuss your work with a industry professional and receive priceless advice on advancing your work to the next level.

Where: Northcote Town Hall
When: 10am - 11am
Tickets: $70 (available through this Pozible)

Wolf's also on our panel, Marketing for Small Press and Self Publishers with writer/podcaster/festival director Sam Twyford-Moore. This panel will be a great opportunity to hear how to get your comic out there and what the future of our industry might look like.

Where: Northcote Town Hall
When: 2:00pm - 2:45pm
Tickets: $15 or $45 for a full day pass (available through this Pozible)

---

Please dive in and give us a hand by picking a reward (see them all at right)!

We know it's tough out there for a cartoonist... so if you can't chuck us any dosh we understand! It is endlessly helpful to share this page around, so please do that if you'd like to support us!

You can also look into volunteering for the fest if that sounds fun (and it is)! Drop Clea a line: cleachiller@gmail.com

How The Funds Will Be Used
Flights: 1200

Accommodation: 717

Credit card fees: 88

Pozible fees: 110

Marketing: 85

Any extra funds raised beyond the set goal will go towards the travel and accommodation of interstate and international guest artists for Homecooked Comics Festival 2017.



The Challenges
The guests are coming, the festival is happening and the stage is set! The only foreseeable problem is if we do not meet our funding goal.

If this happens, all events will go ahead as planned, and contingency money will be used to cover expenses. This outcome would mean next year's Festival would need to be scaled back to the one-day format employed in 2012-2014.

If the 2016 Festival is fully funded, however, we will continue the expanded two day format for Homecooked in 2017, with a focus on providing new opportunities for local creators.

In the event that a particular guest needs to pull out (in case of personal emergency, for example) and is unable to fulfill a particular reward, we will work with those who requested that reward to sort out an appropriate replacement.