'Judy Horacek's New Cartoon Book' will be a wide-ranging, eclectic, sprawling mass of funny. Covering everything from from anxiety to superheroes to zebras, it will be both hilarious and thought-provoking. The cartoons are mostly from my regular gig in The Age (Fairfax), along with cartoons from various other places where my freelance work has been published.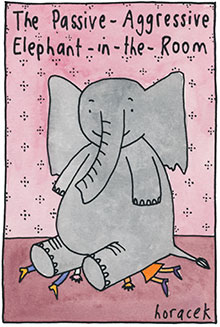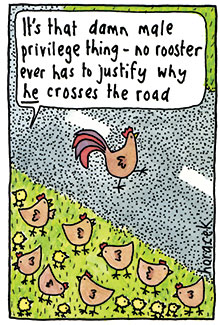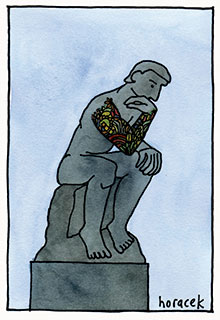 I love cartoons because they reflect back to us who we are, and how ridiculous we can be. The cartoons in this book are a mixture of just plain silly, with more than a smattering of cartoons about my social concerns - feminism, the environment, social justice and left-wing causes. Some of them aim to change the world (yep, probably delusional, but still worth a try), some have no function other than to make you laugh. They are very funny (except for the ones that are very sad, I do those kind of cartoons too). Check out the brilliant rewards and come join me on The Journey to make this book a Reality!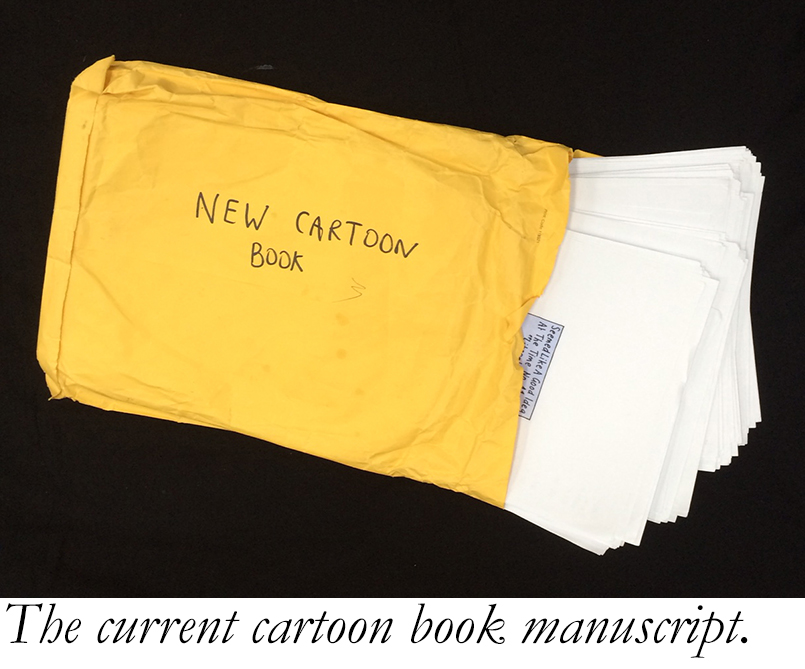 Who is Judy Horacek?
I'm an Australian cartoonist, one of the very few professional female cartoonists in Australia – in fact there aren't many of us in the entire world. For the past few decades, I've drawn cartoons about silly and ridiculous things, and also about more serious things I care deeply about, such as the environment, social justice and feminism. My cartoons can be found on toilet doors and fridges all over the place. I've been published widely in Australia and overseas in newspapers, books and journals. Currently I am published three days a week in The Age and in the past I've had regular cartoon gigs in The Australian and the Canberra Times. . Two major retrospective exhibitions of my cartoons have been held, one at the National Gallery of Victoria and one at the National Museum of Australia, both of which subsequently toured regional areas.
I've never been anything other than freelance, which has meant that my cartoons have been published in lots of different, disparate places. It's always been an important part of my work to periodically gather a bunch of cartoons together and get them published in a book. It's high time for a new collection, containing the cartoons I've done over the past few years, since my last collection came out.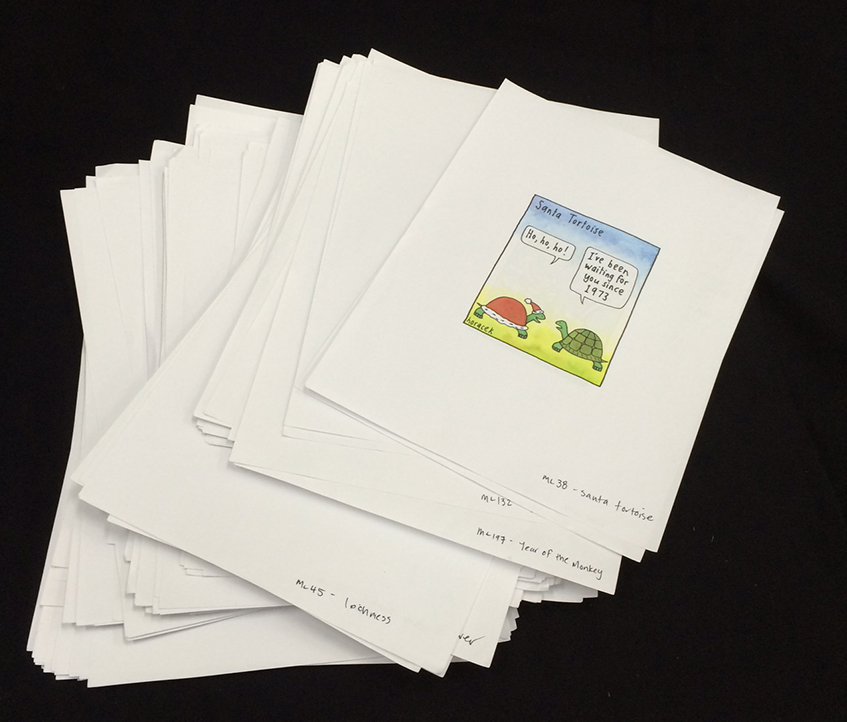 My previous eight cartoon books (yes eight) have all been published by mainstream publishers, but this time I want to go it alone and self-publish - and that's where you come in. I've already done all the cartoons, they're all scanned and ready to become a book, but I need your help with the money side!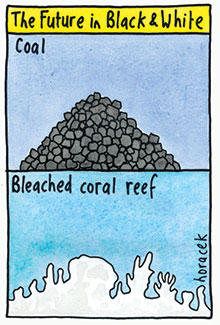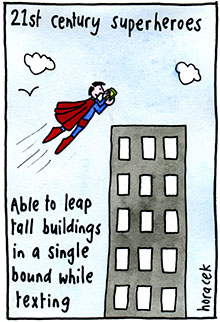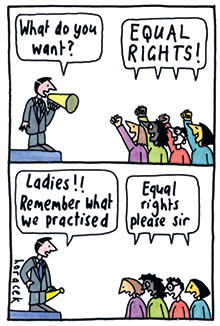 My previous cartoon collections
Life on the Edge (Spinifex Press 1992, 2nd edition 2003); Unrequited Love Nos. 1-100 (McPhee Gribble, 1994); Lost in Space (Allen & Unwin 1997); Woman with Altitude (Hodder Headline 1998); If the Fruit Fits (Hodder Headline 1999);
I am woman, hear me draw (National Museum of Australia, 2002, 2nd edition 2013); Make Cakes Not War (Scribe Publications 2006); If you can't stand the heat (Scribe Publications 2010)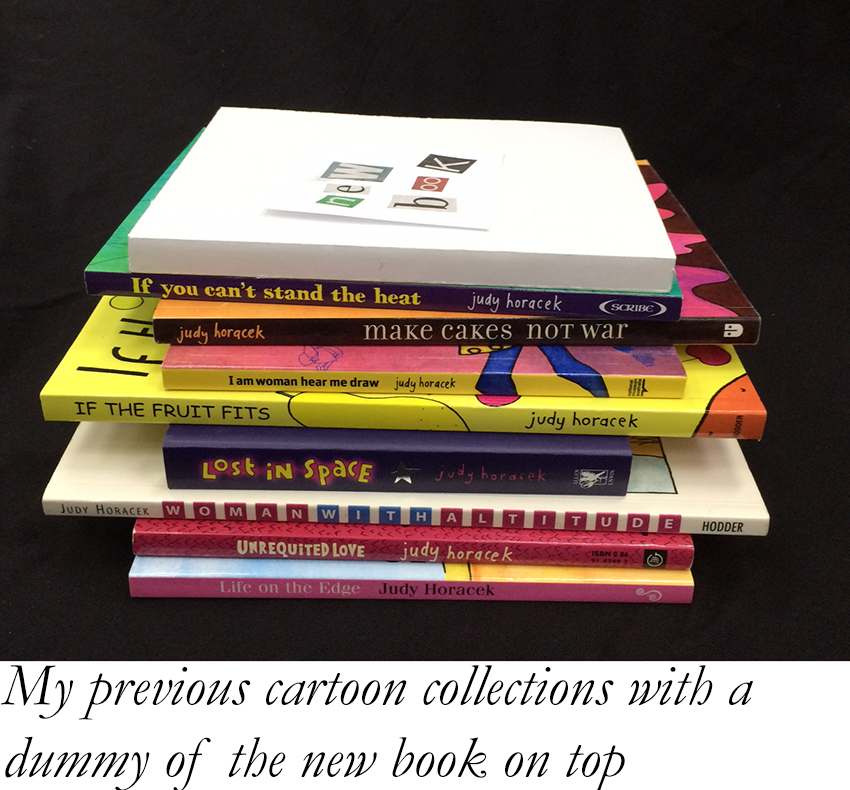 What people have said about my cartoon books:
"What has always appealed to me about Judy's work is not just her withering disdain for politicians, lazy men and housework but that somehow she knows exactly how we are feeling at the right time" Christine Gordon, Readings
" ...one of Australia's best cartoonists and should be a worldwide phenomenon. She brightens the day with wit and intelligence." Lucy Sussex, Sunday Age
"her cartoons about the joys and disappointments of being human...strike the deepest chord", Rachel Gibson, The Age
"combines verbal puns, simple lucid illustrations and a healthy dose of feminism to create humourous one-liners that tend to go beyond the topical and ephemeral." Sasha Grishin, Canberra Times
"Horacek manifests her whimsy, angst and wry observations in her seemingly simple drawing", Kevin Kearney, Sun Herald
And also
Yes, I am the Judy Horacek who created the picture book 'Where is the Green Sheep?' with Mem Fox, the classic children's book so beloved by millions of children. Mem and I have now done four picture books together, the newest will be out in November 2016, and it's called 'Ducks Away!' I've also done three picture books on my own, including 'Yellow is my Colour Star', about my favourite colour.
My cartoons have been printed on greeting cards, fridge magnets, aprons, teatowels, mugs. There was even a snowglobe for a while of my most famous cartoon 'Woman with Altitude' (alas, it is no longer available)
If you need to know even more, check out my website, www.horacek.com.au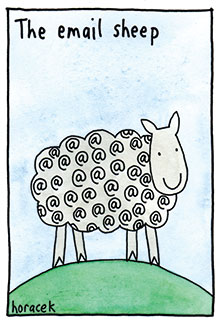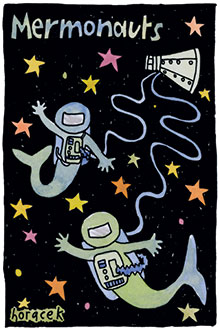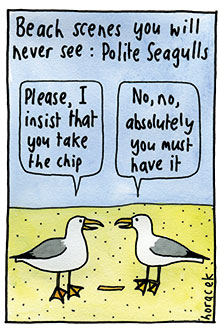 How The Funds Will Be Used
The funds sought are to produce 2000 copies of a 186 page book (at least 180 cartoons) in full-colour on good quality paper stock, 180mm high x 140mm wide. The printing will take up the largest part of the money, that is $8,800. $3,000 will go to the brilliant graphic designer (Fiona Edge of Design Edge) who will make the book look wonderful, inside and out, (with my help) and up to $2,000 to the clever and fearless print wrangler (Russ Radcliffe of High Horse Books) who will take charge of all the publishing niceties and negotiate all the printing arrangements. I've worked with them both before on other projects, and they are fabulous.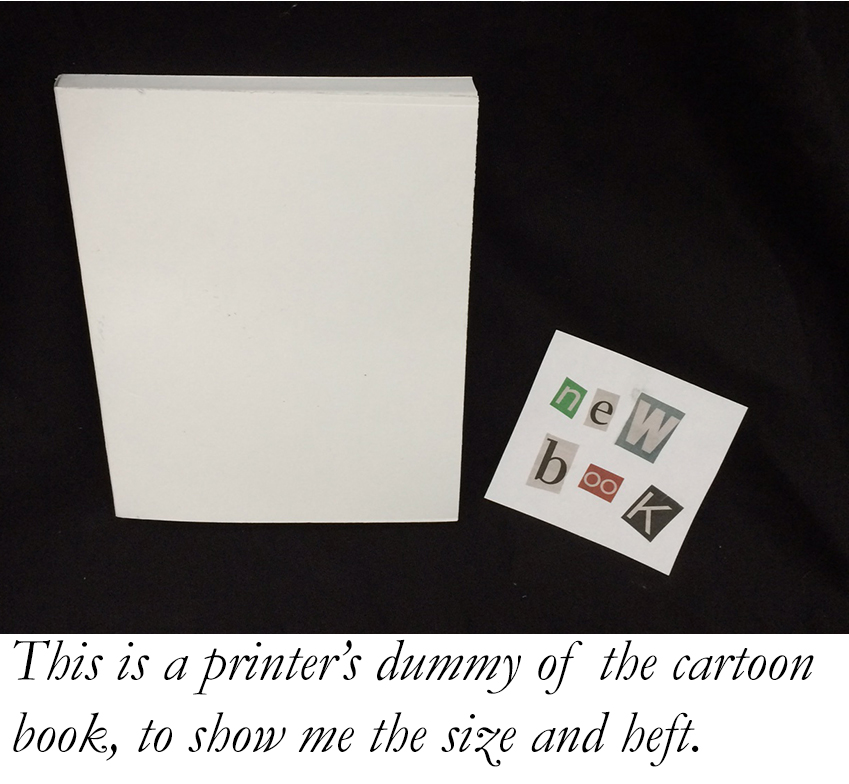 I willl cover the costs associated with the rewards myself (such as reward items that I need purchase, posting of the thank you cards, postage and handling for the delivery of the rewards.) I have also set aside a contingency sum, just in case anything goes wrong.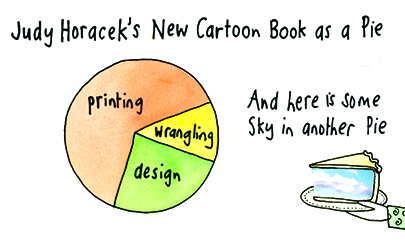 And if we go over...
If the project goes over the goal I've set, and makes it up to $15,500, I'll be able to make the book longer, going from a 186 page book to a 224 page book, which means a lot more cartoons!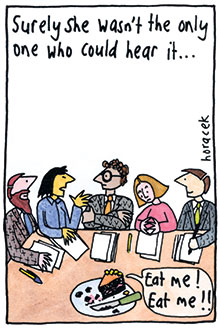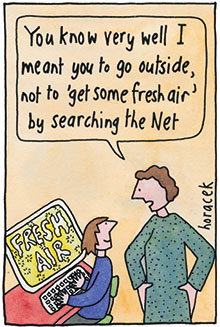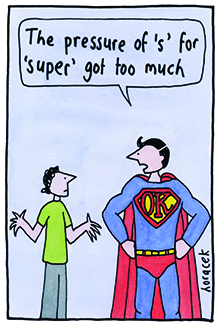 Stretch Goal Number Two
If the project gets to $19,800, I'll be able to get the printing done in Australia, rather than overseas. This is something I would love to do. Printing in Australia costs more, but would be a wonderful to be able to support the local industry, and keep the 'book miles' down. If we get to this point, you'll be supporting not only a local Australian artist (me) but also a local Australian industry, and everyone will be very happy, filled with a warm glow of doing good. And you get a brand new cartoon book to boot - what could be better than that?
The Challenges
This is my first self-published book, but I have always been very involved in the production process of my previous books, so I'm very familiar with what needs to be done production-wise. I know the help I need and how to get it, and I've got great people to work with me. The cartoons are all already done, so that's one huge box ticked.
One challenge of making any cartoon collection is making sure only the very best cartoons go into the book - taking out any that might have dated or might be too obscure for a wider audience. The cartoon testing for this book has already begun, and by the end of that process I'll have the feedback of lots of people to help me decide which cartoons make the final cut. The next challenge is putting the cartoons into some sort of kind of nebulous but coherent order, to make sure that the ideas and the humour flow through the book - you don't want an absurd slapstick cartoon to bump up against a cartoon about grief for example. That bit usually takes me a while - kind of like writing a novel with cartoons instead of sentences.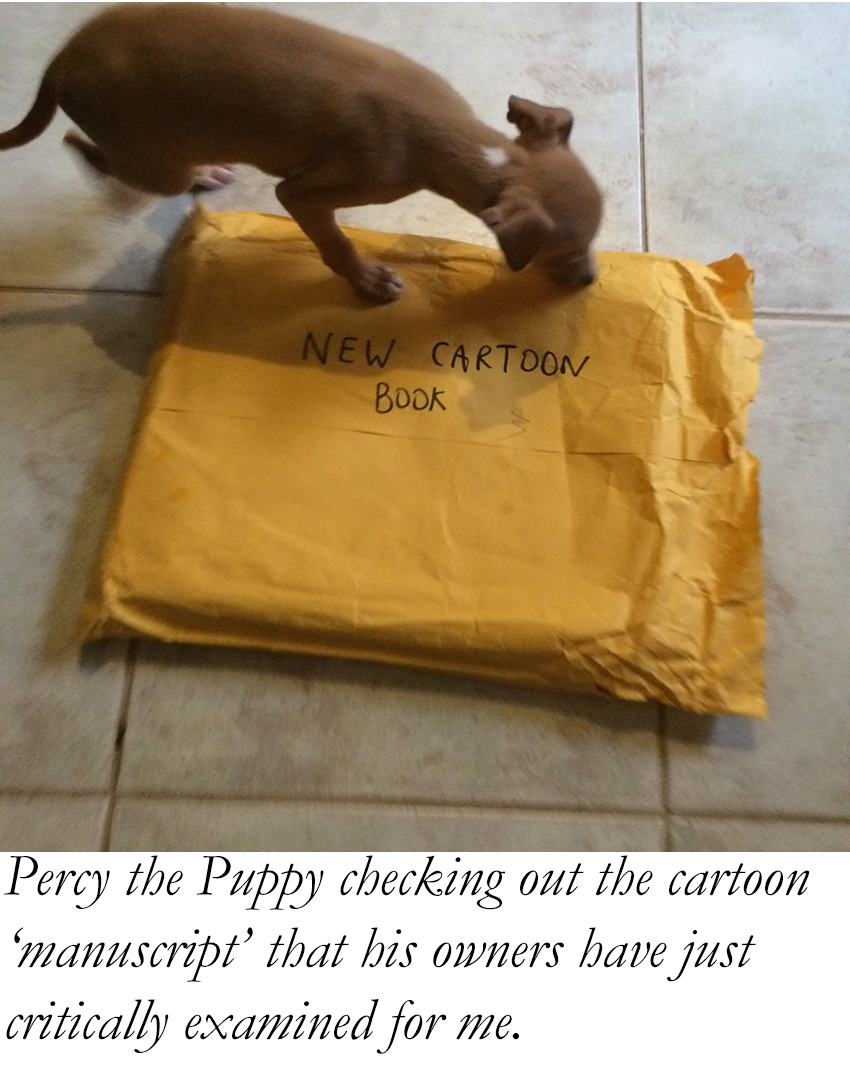 An incredibly important thing is to make sure that this book is a beautiful and completely professional looking product, so I'm utilising an excellent designer to ensure it looks absolutely gorgeous, and a publishing expert to make sure everything goes smoothly in the production and printing process.
And after that, after all the pledges have been filled and you are all happily reading your wonderful new cartoon books, laughing happily to yourselves, I'll be distributing the cartoon book to select bookshops, so it's available to the general public.